Continuous improvement is generally a good thing, but it doesn't mean the growth will continue. Missouri's Drew Lock was a starter as a true freshman back in 2015, and after a rough start to his career, he improved his PFF grade each season. His 88.9 grade tied for 14th in the country in 2018, a massive improvement from a paltry 43.7 grade as a true freshman, but is it enough to warrant a first-round pick?
Lock has had his name thrown around as a potential top-10 selection for the 2019 NFL Draft on the back of prototypical NFL size and a strong arm that is capable of making big throws from both a clean pocket and from an off-balance base. It's easy to see the high-end plays in Lock's game, but 35 impressive throws do not a season make. Let's get back to the year-to-year improvement. While it's encouraging to see Lock tidy up parts of his game each season, that's also something we saw with 2016 first-round pick Paxton Lynch who was solid up and down as a true freshman and solid as a sophomore in 2014 before posting a strong 86.5 overall grade in his draft season in 2015. It was an encouraging sign that Lynch showed improvement every year in college, but he's struggled mightily when given an opportunity to perform at the NFL level.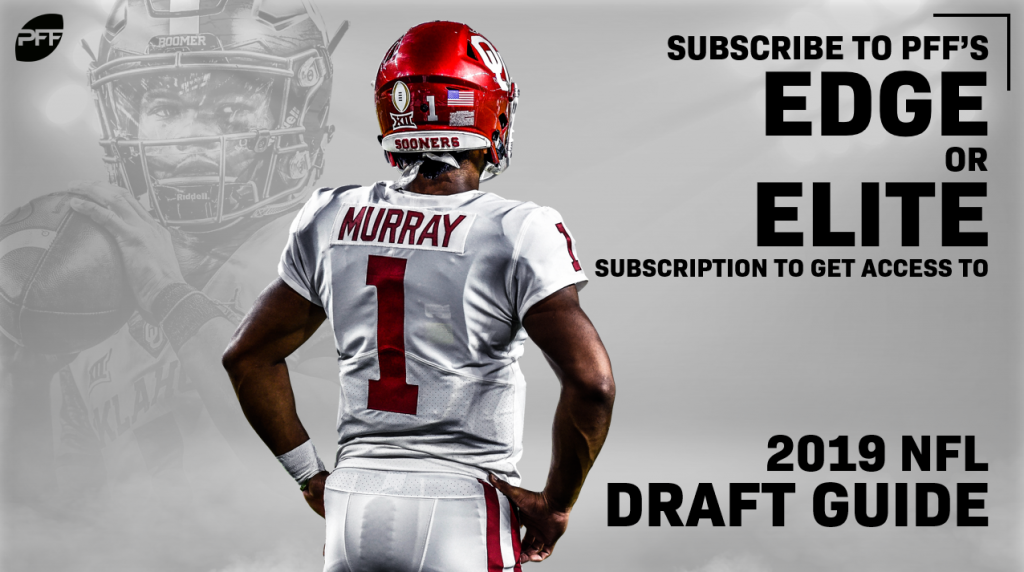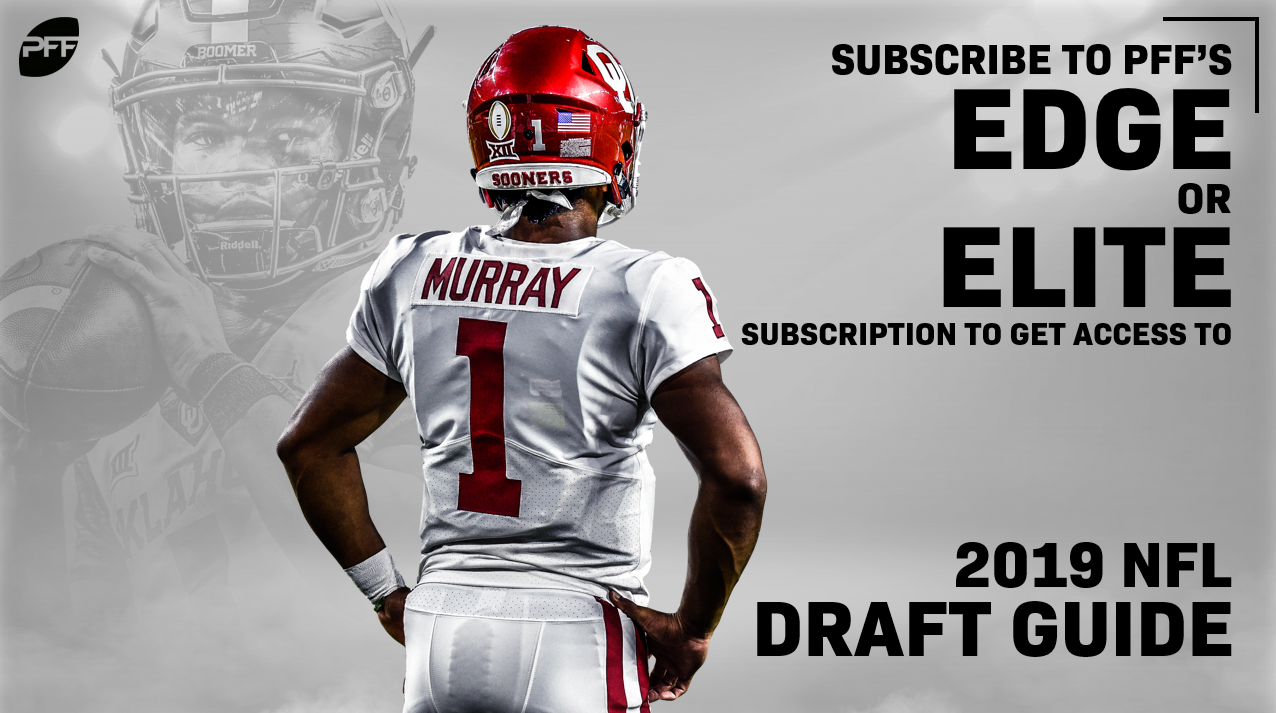 Back to Lock, even with the increased production, there are still questionable parts to his game. From missed throws to questionable pocket presence, Lock's footwork and feel in the pocket lead to inconsistent play that he'll need to improve upon at the next level.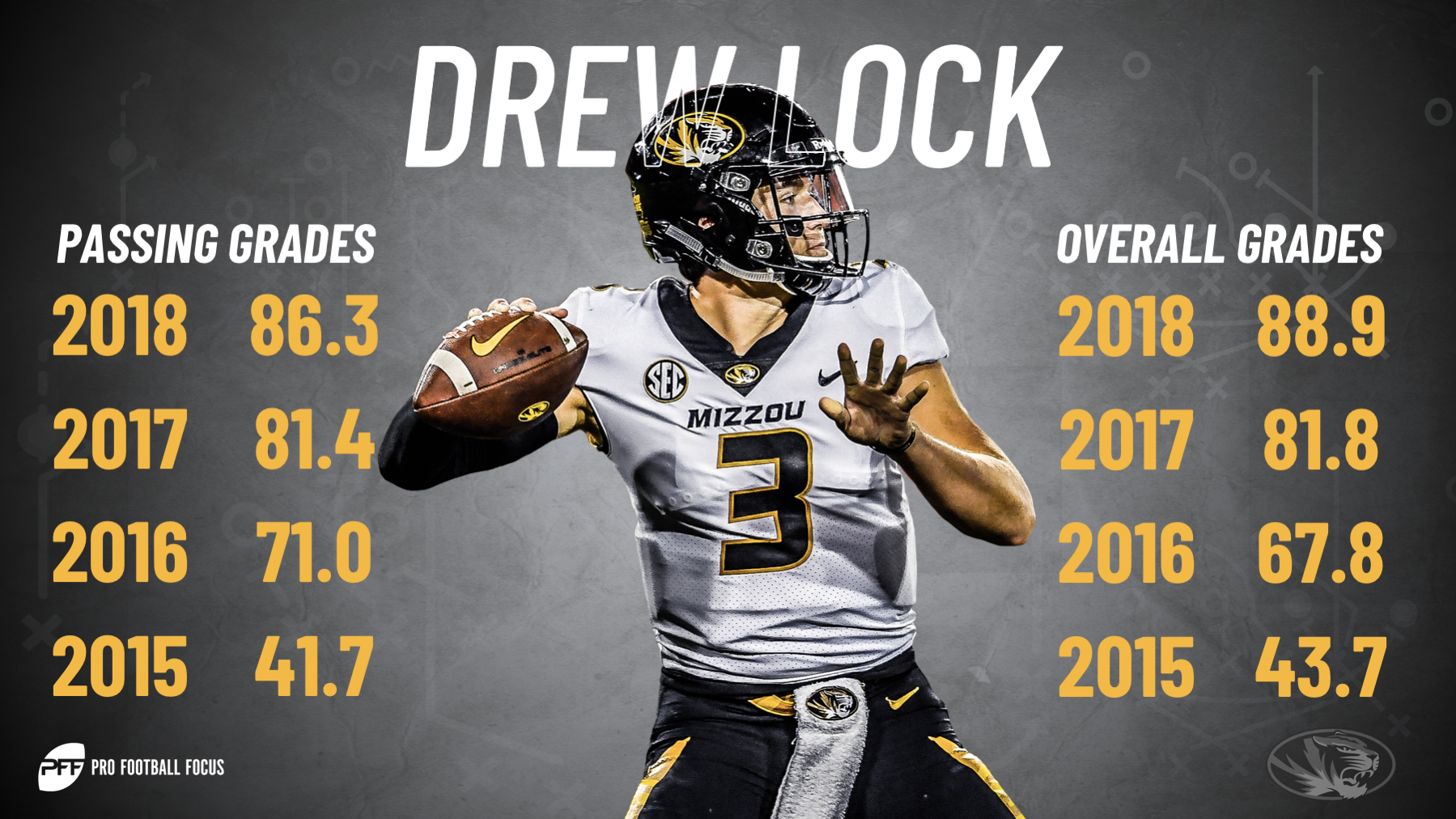 Let's take a look.
The Good: NFL Throws
Let's start with the good parts of Lock's game. We hear scouts tout a quarterback's ability to "make all the throws," and while that statement is devoid of context, it's likely the first statement made about Lock. He has enough arm to drive the ball to all parts of the field and he has enough touch to drop it in a bucket, something he had plenty of opportunities to do in Missouri's offense.
Here's a look at Lock's touch when throwing in between the cornerback and the safety.
And here's another throw that highlights Lock's ability to fade away from his throws but still get enough on it from a velocity and ball location standpoint. It's these types of throws that will get the phrase "arm talent" thrown around when watching Lock.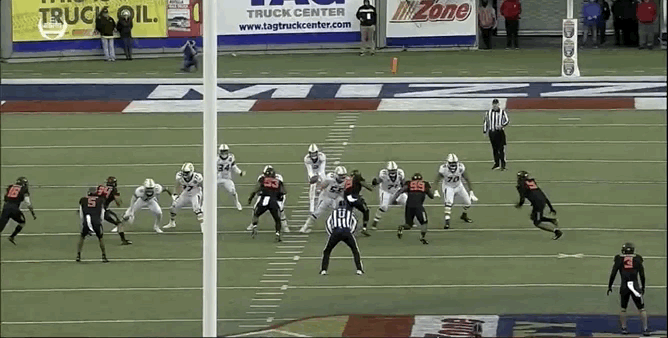 Finally, he shows off the zip to get the ball into a perfect spot along the sideline against Purdue.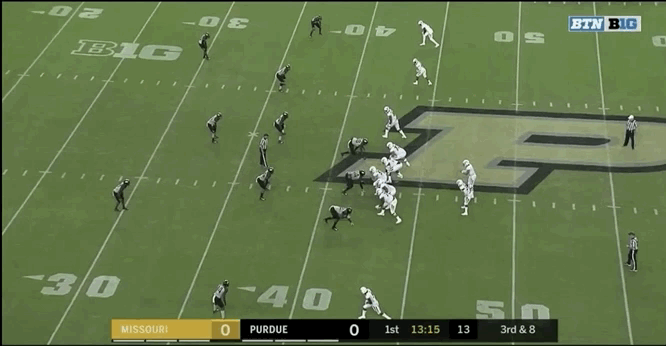 Lock certainly has the #BigTimeThrows in his arsenal and he tied for first in that department in 2018.
Now let's discuss the negatives.
Footwork and pocket presence lead to far too many negative plays
The PFF system is all about production, so a missed throw is a missed throw and the reason "why" the pass was missed is not a factor in the raw grading. The "why" component is a very important part of the equation and one that we use hundreds of columns of data to sort through to find the proper context for each player.
In the case of a quarterback, the data leans strongly toward those who hit open throws and avoid negatively-graded plays. For Lock, this has been an issue, despite his taking strides over the years.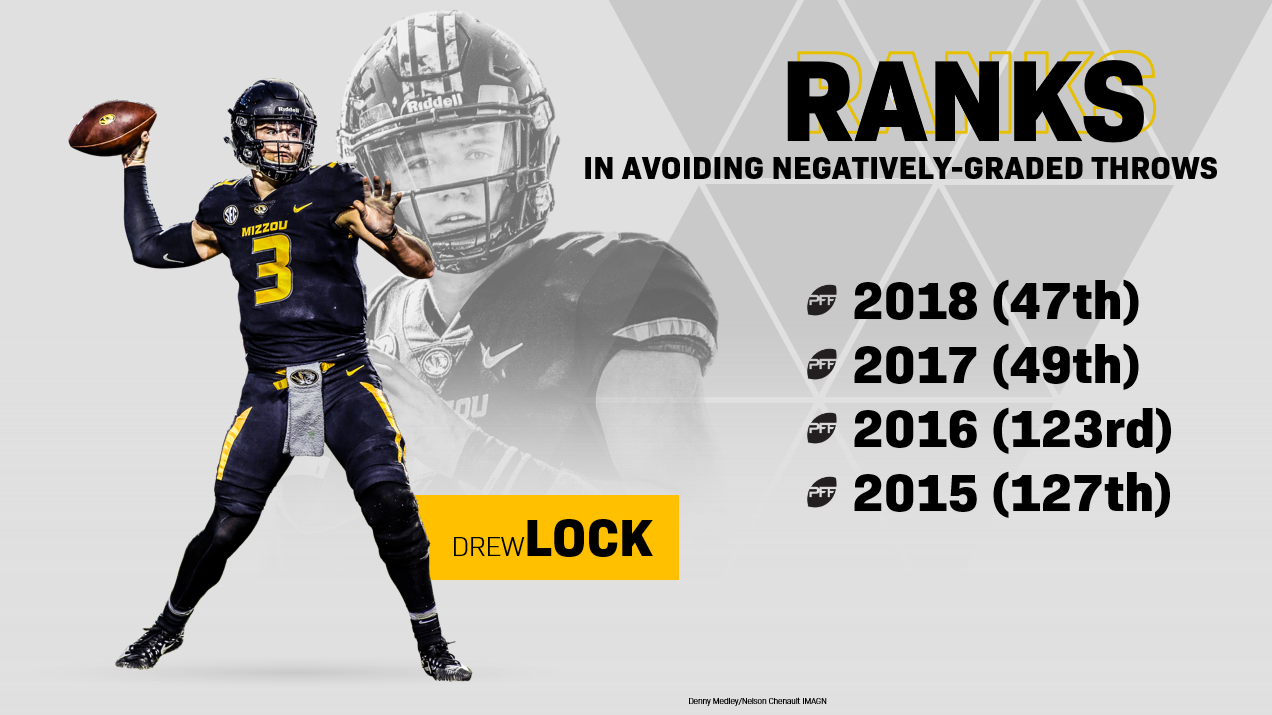 Now back to the "why." It's just as easy to watch Lock play and see him throw off balance and hit a deep crossing route as it is to see him use the same footwork and miss the throw. If evaluating Lock's "traits," it's also easy to note that he throws with "poor footwork" far too often, much like other quarterbacks in the past, namely the reigning NFL MVP Patrick Mahomes. The problem with this type of traits-based analysis is that the "how often" component is far more important than the "why."
Lock missed more throws and made fewer important throws than Patrick Mahomes during their respective college careers, so the fact that they share the same trait of throwing with an unideal base is where the comparison ends. Mahomes was, and is, a better quarterback than Lock. In fact, Lock ranked 47th at avoiding negatively-graded plays a season ago, compared to Mahomes' ranking of 10th in the same category during his final year in college.
Now for the specifics. Lock will miss far too many passes, and many of them pop up on plays in which it looks like he can do a better job of stepping into his throws.
This is where a better comparison comes in. Jay Cutler was a first-round quarterback in 2006, and when firing through his 2005 tape, there are many similarities to Lock's game. The big-time throws are prevalent. The arm strength is evident. The bad plays, often paired with poor footwork, timing, or pocket mechanics, are rampant.
These four throws from Cutler's game against Wake Forest sum up the full experience.
The full Jay Cutler experience, 2005 vs. Wake Forest pic.twitter.com/qq0ihXIFEr

— Steve Palazzolo (@PFF_Steve) March 28, 2019
And here's a look at comparable easy misses.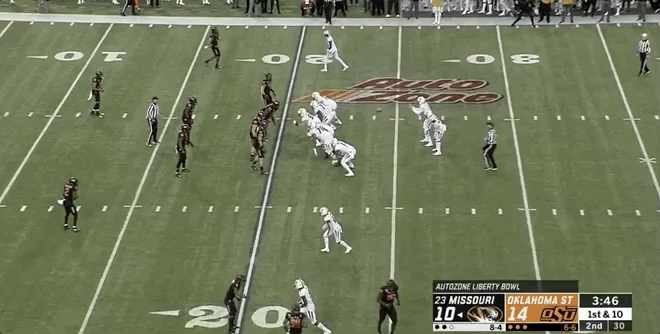 Much like 2005 Jay Cutler pic.twitter.com/80gAnCplF7

— Steve Palazzolo (@PFF_Steve) March 28, 2019
And an example of both quarterbacks being dangerously late to the flat.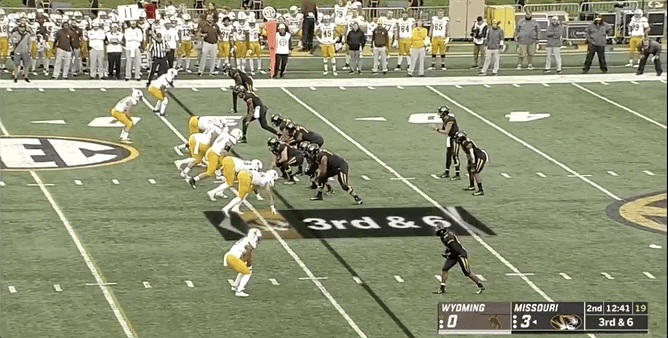 And Jay Cutler, late and dangerous to the flat pic.twitter.com/aRd2yUJUQj

— Steve Palazzolo (@PFF_Steve) March 28, 2019
Final Word
When it comes to drafting quarterbacks in the first round, any sliver of hope that a signal-caller can become a franchise cornerstone validates the potential risk of missing, or "wasting" the pick. The benefit of hitting on a quarterback far exceeds the downside of missing and Lock has enough positives to warrant a shot in the back end of the first round. However, his negatives make for a low-percentage play, and despite his year-over-year improvement, there's still much to work on in order to become a top-15 NFL quarterback.