With the 2019 regular season in the books, it's time to look back and recognize the top rookie performances across the league. Some positions, such as wide receiver, had worthy players miss the cut, while other positions were tough to find performances deserving of a spot on the team. Regardless, these 22 players were the best of the bunch when taking into account PFF's play-by-play grading and playing time.
The highest-graded rookie quarterback in the NFL wasn't Kyler Murray, Dwayne Haskins or Daniel Jones; it was the sixth-round pick, Gardner Minshew. His 70.3 overall grade on the season ranked 20th among 32 qualifying quarterbacks. Despite some concerns over his arm strength coming into the NFL, Minshew was one of the top deep-ball passers in the league this season. His 129.0 passer rating on passes 20 or more yards downfield was the highest mark in the league, and his PFF grade on those throws trailed only Russell Wilson and Deshaun Watson.
Jacobs' performance as a runner this season wasn't only tops among rookies, it was one of the best performances of any running back in the NFL. Among all players with 100 or more carries, Jacobs' 86.9 rushing grade trailed only Lamar Jackson and Nick Chubb. That largely stemmed from just how difficult he was to bring down. Jacobs forced a league-high 69 missed tackles on 242 rushing attempts, and his 3.5 rushing yards after contact per attempt was tied for fifth at the position. You'd like to see his involvement in the passing game increase, but all in all, it was an outstanding debut for the rookie out of Alabama.
Brown earned PFF Offensive Rookie of the Year honors, making his place on this list a formality. There were concerns about Brown's ability to beat press coverage and win on the outside coming out of Ole Miss, but there were no such worries about his after-the-catch ability. That skillset has carried over nicely to the professional level. Brown led all wide receivers this season in yards after the catch per reception with 8.9, and his 16 broken tackles after the catch ranked tied for fourth at the position. That kind of game-breaking ability with the ball in his hands — combined with the ball tracking and downfield wins that we've seen from Brown — has him looking like one of the steals of the draft.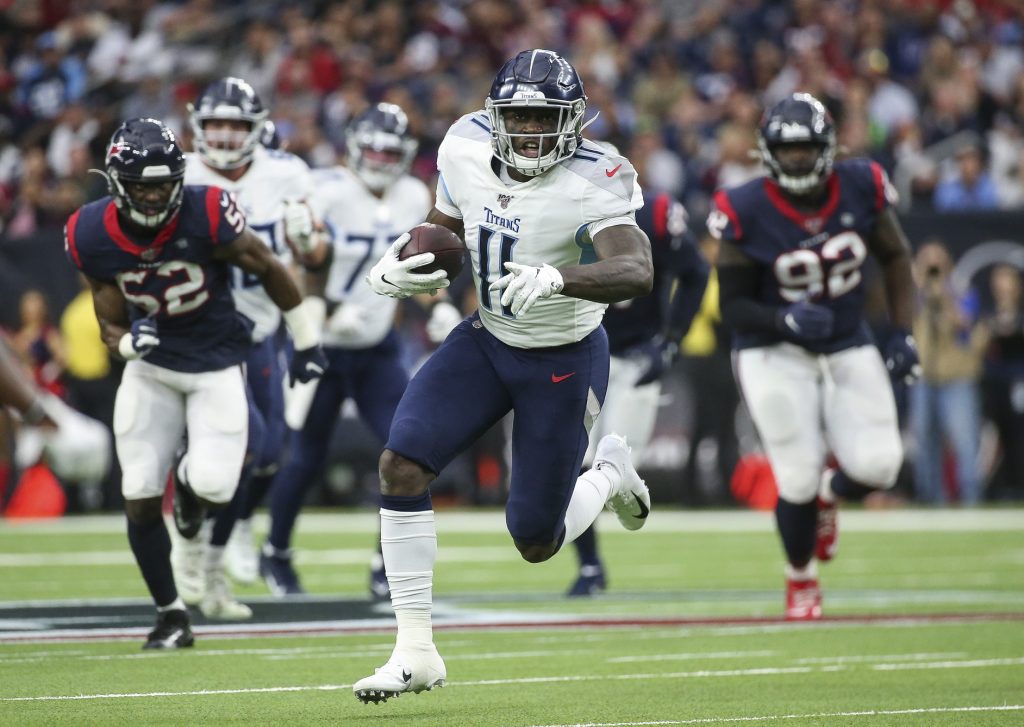 Troy Taormina/IMAGN
Speaking of draft steals, McLaurin immediately stepped into the Redskins' lineup as a third-round pick and became their No. 1 wide receiver with the look of a budding star. Among all wide receivers who ran 250 or more routes this season, McLaurin's 86.5 receiving grade ranked sixth, sandwiched between DeAndre Hopkins and Mike Evans. Speed and deep-threat ability were never in question for McLaurin, but the most impressive aspect of his game this season has been his performance in contested-catch situations. McLaurin's contested-catch rate of 60.0% was one of the best marks in the NFL.
If it weren't for Brown's brilliance after the catch, we would be talking more about just how absurd Samuel's numbers have been in his rookie season. His 8.5 yards after the catch per reception trail Brown, but they're 1.8 yards more than the next closest qualifier (Chris Godwin). His acceleration and elusiveness in the open field has been a perfect fit for Kyle Shanahan's offense. There is plenty of room for improvement, though, as his 10 drops on the season are tied for the second most of any wide receiver in the league. Still, he's already made a massive impact on San Francisco's passing attack in his first year out of South Carolina.
The rookie tight end class wasn't the deepest group to pull from, but Moreau ended the season as the best of the bunch in PFF overall grade on his 373 offensive snaps. He wasn't featured as a receiver for Oakland, taking a clear back seat to Darren Waller, but he was effective in the opportunities that did come his way. Moreau's receiving grade was north of 80.0 behind 21 catches on 23 targets for 174 yards and five touchdowns. He was particularly effective in the red zone, catching all seven of his targets inside the 20-yard line — including two contested catches and all five of his touchdowns.
Taylor was the only rookie tackle in the NFL this season to play 500 or more offensive snaps and record a pass-blocking grade higher than 60.0. It was not an outstanding season for rookie tackles, but Taylor had a decent start to his career on the right side of the Jaguars' offensive line. His 63.8 overall grade ranked 22nd out of 38 qualifying right tackles, and he was one of 20 players at the position to allow a pressure rate lower than 6.0%. In a disappointing season for the Jaguars' line as a whole, Taylor's solid play as a rookie was a silver lining.
The Texans' offensive line was better than most people expected it to be coming into this season, and there's reason to believe that it could be better with Howard back and healthy at right tackle next season. Howard's 59.3 overall grade is a little misleading because it is skewed by his opening week performance at left guard in which he earned a 40.3 overall grade. His 63.4 grade at right tackle, just behind Taylor, is a better measure of his play, and it was a promising start for his prospects there moving forward.
Jenkins stepped into the middle of the Packers' line this season and gradually worked his way to become one of the top-10 graded left guards in the NFL in his first season. Aaron Rodgers is consistently among the quarterbacks with the longest average time to throws, and that makes life difficult on his blockers at times. Despite that, Jenkins did not allow a single sack in 571 pass-blocking snaps. He fit right in on one of the top pass-blocking lines in the NFL, earning the highest grade of any rookie guard in the league this season.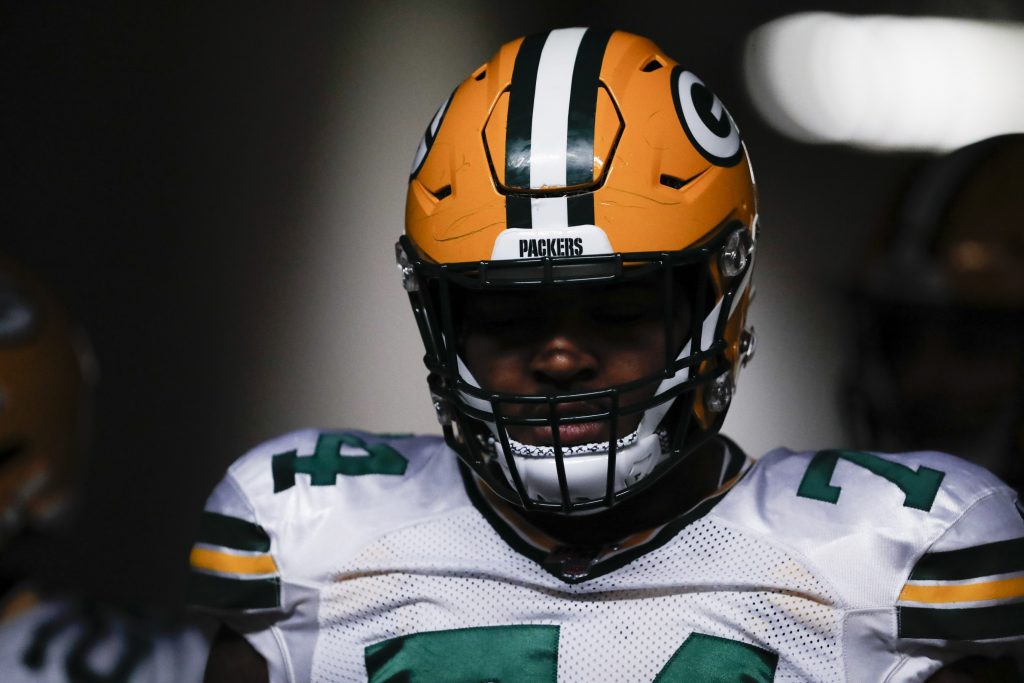 Raj Mehta/IMAGN
Risner's college career at Kansas State was exquisite. He played four years of 600 or more snaps, and his lowest overall grade came as a freshman at 87.9. That production was primarily at tackle, though, with a season of play at center in 2015. It remained to be seen how he would play when kicked inside to guard. We haven't seen the same elite-level play that we saw from him in college, but Risner's play at guard was solid as a rookie this season. His 63.5 overall grade at left guard ranked 19th among 39 qualifiers at the position.
The Saints have had one of the best offensive lines in the NFL this season, and as a rookie, McCoy has been a big part of that at the center position. His 76.1 overall grade not only led all rookie centers, but it ranked fourth among all centers in the NFL this season. It was a well-balanced effort for McCoy, as he was the only center to record a pass-blocking grade and a run-blocking grade each above 75.0.
You just don't see rookies edge defenders come into the NFL and have the kind of impact that Bosa has this season, and it's why he was named PFF's Defensive Rookie of the Year. His 80 total pressures as a rookie were 14 more than any rookie edge defender has recorded in a single season since the start of the PFF era back in 2006. The havoc that he created in opposing backfields all year landed him an 86.7 overall grade that was nearly identical to the 86.6 overall grade posted by his brother, Joey Bosa, back in his rookie season of 2016. The Bosa brothers have some work to do to rival J.J. Watt and T.J. Watt, but Nick's stellar debut has them on their way.
Outside of Bosa, Allen holds the highest pass-rushing grade of any rookie edge defender at 70.2. Allen also ranks second to Bosa in total pressures (49), pressure rate (13.7%) and pass-rush win rate (15.7%), making him an easy choice for the second edge slot on the PFF All-Rookie Team. When Allen has gotten to the quarterback, he has made the most of it. Of his 49 pressures, 26 were either sacks or quarterback hits. That mark is tied for eighth at the position with Chandler Jones and Danielle Hunter.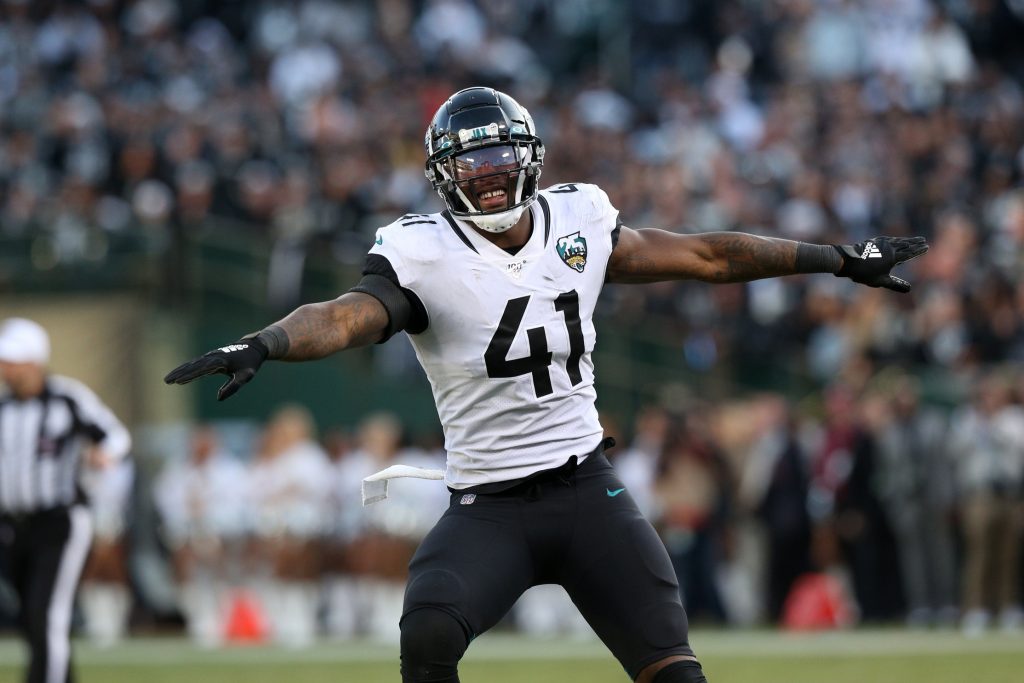 Cary Edmondson/IMAGN
There were a handful of interior defensive linemen taken in the first round of this past year's draft, but Lawrence was the only one to put together a season with 500 or more defensive snaps and an overall grade higher than 70.0. He's been at his best as a run stuffer in the middle of the Giants' defensive line. Lawrence's 76.3 run-defense grade ranks 21st among 117 qualifying interior defenders this season.
Coming out of Tennessee, Tuttle was passed over by every team in the NFL before the Saints took him on as an undrafted free agent. That decision is looking like a good one through 17 weeks. Tuttle has been a rotational piece on the Saints' defensive line, playing 340 defensive snaps across all 16 games this season and managing a 73.0 overall grade. That ranks 30th out of 117 qualifying interior defenders — not too shabby for an undrafted rookie.
Okereke hasn't seen quite as much playing time as some other rookie linebackers, but when he has been on the field, no player from the class has a higher PFF grade. Okereke has been strongest in the most important area for a modern-day NFL linebacker: coverage. His 79.2 coverage grade ranks 10th among all off-ball linebackers, and though he doesn't have any official interceptions to this point, he is due for one. Okereke has dropped two interceptions and had a pick-two on a two-point conversion that won't show up on the stat sheet.
This second spot came down to Devin Bush and Greenlaw, but Greenlaw edged him out in both overall grade and coverage grade to earn the All-Rookie nod. Greenlaw's success in coverage wasn't limited to his big tackle on the goal line that clinched the NFC West. He was one of the best linebackers in the league at limiting receiving production. Among linebackers who were targeted 50 or more times this year, only Darius Leonard, Jayon Brown and Eric Kendricks allowed a lower passer rating than Greenlaw's mark of 83.6.
The first significant game action that Dean saw this season in Week 9 against the Seattle Seahawks was one of the worst cornerback performances of the season. He allowed nine receptions for 155 yards in that outing alone. Since then, he's been one of the best cornerbacks in the league. Among all cornerbacks with 25 or more targets since Week 10, Dean's passer rating allowed of 29.1 was the lowest in the NFL by over 10 points, and his forced incompletion rate of 30.3% also led the position group. That strong finish to the season gives plenty of reason to be optimistic about his pairing with Carlton Davis in 2020.
Gardner-Johnson has been a bit of a Swiss Army knife for the Saints' defense, playing 50 or more snaps as a slot cornerback, box safety free safety and edge defender. Most of his time has been spent at slot corner, with 268 snaps, and his play there is the biggest reason for his inclusion on this list. Among all defenders with 25 or more slot targets, Gardner-Johnson's 77.3 coverage grade ranks fourth. His 29.6% forced incompletion rate on those slot targets is the best in the league. The slot receiver is becoming a bigger and bigger part of NFL offenses, and Gardner-Johnson is proving his worth by taking those passes away.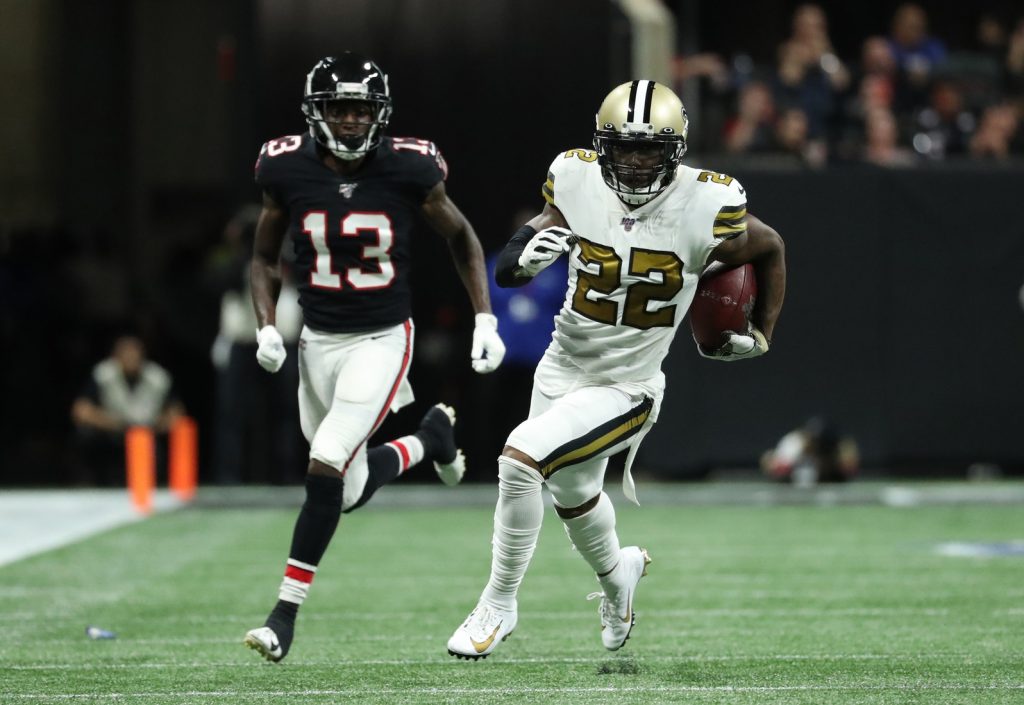 Jason Getz/IMAGN
Looking at the season from start to finish, Ya-Sin hasn't had a smooth ride to a spot on the All-Rookie Team. A 55.0 coverage grade through the first nine weeks of the season set him back, but we saw improvement from the Temple product as the campaign wore on. From Week 10 through the end of the season, Ya-Sin picked up a 76.1 coverage grade while allowing just a 67.7 passer rating into his coverage. That's the kind of performance the Colts expected when drafting him in the second round, and it's what they'll look for next season.
Thornhill's torn ACL is a big blow for the Chiefs as they prepare for their Divisional Round matchup. He spent the majority of his time lined up deep at free safety for Kansas City, and when looking at the lack of success opposing teams had targeting the Chiefs 20 or more yards downfield, it's easy to see his impact. On those passes against the Chiefs this year, opposing quarterbacks combined for a 40.9 passer rating. That was the third-best rating of any team in the league, behind only the Buffalo Bills and the New England Patriots.
The Packers have been looking for a playmaker at safety for several years now. It looks like they found one in Savage. He has five quarterback pressures, two interceptions, two dropped interceptions and two forced fumbles for Green Bay this season. Savage has been at his best in coverage, where his 74.2 grade ranks 29th among 94 qualifying safeties in 2019. He'll be an integral part of the Packers' secondary limiting big plays and making some big plays of their own this postseason.
SPECIAL TEAMS