Zone coverage is more prevalent than man coverage in today's NFL. Only three teams ran man coverage on over 50% of their defensive snaps in 2019, and all three of those teams stem from the Bill Belichick coaching tree.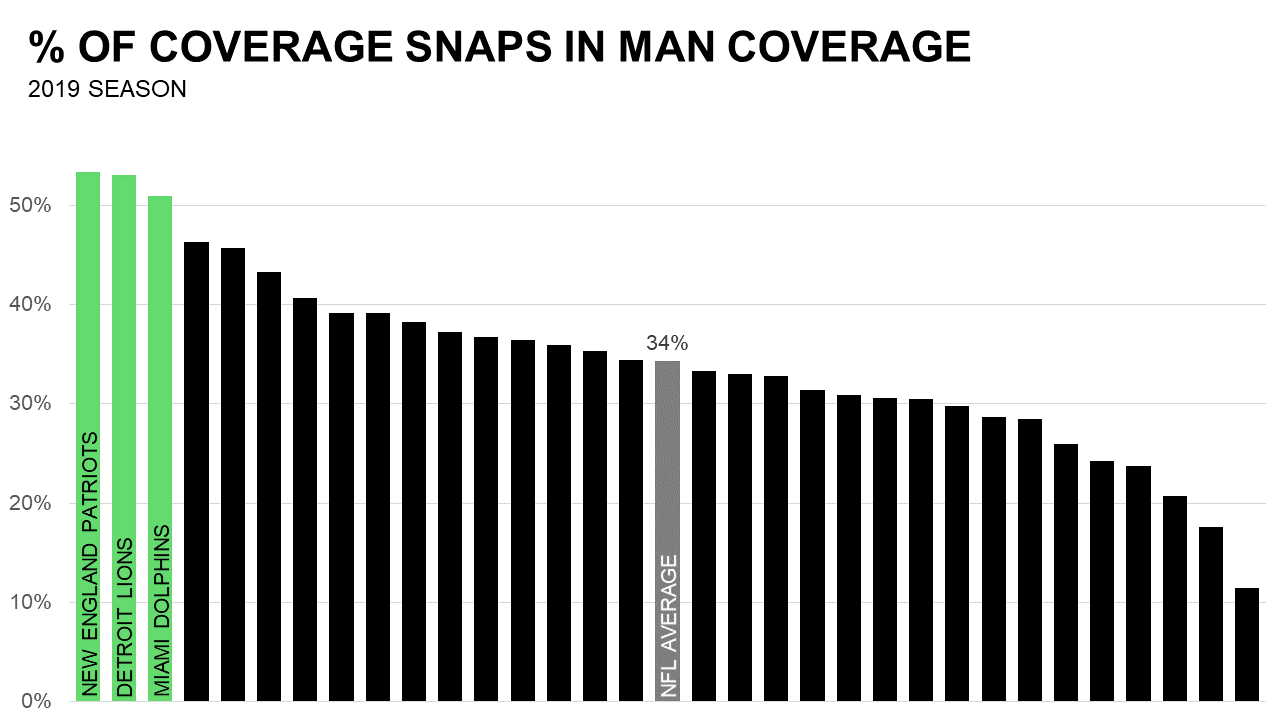 [Subscribe to PFF EDGE or ELITE to gain access to  our fantasy football rankings and projections, PFF Player Grades, premium content and more.]
On average, man coverage was used on just 34% of defensive snaps. Part of the reasoning for that is that it's difficult to find cornerbacks who can stick to the league's top wide receivers in man coverage without getting exploited ─ it's no easy task. That's reflected in the PFF coverage grade splits in man vs. zone. Just one cornerback crossed the 80.0 PFF coverage grade threshold with at least 150 coverage snaps in man last season. In comparison, 10 players reached that threshold in zone. 
The cornerbacks who can hold their own in man coverage against the opposing team's top options are some of the more valuable defensive players in the NFL, though. These were the players who did that last season ─ the highest-graded man-coverage cornerbacks in the NFL among 67 players with at least 150 man-coverage snaps in 2019.
Man-coverage grade: 84.1
Gilmore is the best cornerback in the NFL right now. I will not be taking inquiries at this time. He plays on the team that plays more man-coverage snaps than anyone else, and all he does is ball out. Last season, Gilmore allowed just 29 of the 66 passes thrown his way while in man coverage to be completed, giving up just one touchdown while coming away with five interceptions. His passer rating allowed of 39.2 is lower than that of an incompletion. Don't throw the ball his way. It's as easy as that.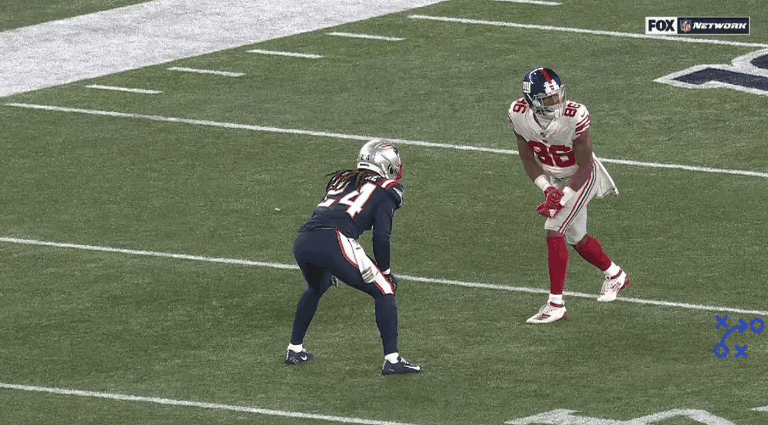 As this play highlights, even if the receiver catches it at first, it's no sure he's coming down with that ball.
Man-coverage grade: 79.6
The Ravens traded Kenny Young and a fifth-round draft pick to the Los Angeles Rams for one of the best cornerbacks in the NFL. Let that sink in. Sure, Peters' aggressiveness ─ a big contributor to his league-high 27 interceptions since being drafted in 2015 ─ has led to him getting burnt on occasion. Peters is right enough when he does gamble and talented enough to where you are more than happy to live with those occasional miscues, though. Looking strictly at his time with the Ravens in 2019, Peters put up an even higher man coverage grade (86.9) than Gilmore from Week 7 through the postseason. It's safe to say Baltimore is happy with their transaction.   
Man-coverage grade: 74.5
White's PFF grade might have fallen a bit short of his tremendous rookie season (90.1 coverage grade in 2017) over the last two years, but the way that he's limited production points to the fact that he's certainly in the mix for best cornerback in the NFL behind Gilmore. The Bills didn't run as much man as teams like the Patriots and Ravens, but White was lights out when they did over the course of the regular season. He allowed just 13 of the 33 passes thrown his way to be completed with seven forced incompletions. It's hard to get much better than that.
Man-coverage grade: 74.4
The most impressive part of Humphrey's 2019 season to me was how seamlessly he transitioned between the slot and an outside role. That is not an easy thing to do, and as his top-five appearance on this list would indicate, Humphrey had some success in both alignments. 
Marlon Humphrey: Forced incompletions in man coverage by year | Rank among cornerbacks
| | | |
| --- | --- | --- |
| Season | Forced incompletions | Rank |
| 2017 | 9 | t-15th |
| 2018 | 8 | t-7th |
| 2019 | 10 | t-3rd |
Humphrey has consistently been one of the better cornerbacks in the NFL at forcing incompletions in man coverage since entering the league in 2017. His 10 forced incompletions in man last season were a career high and trailed only Gilmore and Darius Slay.
Man-coverage grade: 74.0
I've said it before, and I'll say it again ─ the signing of Amukamara by Las Vegas is a good one that almost no one is talking about. Amukamara isn't flashy and he's not going to shut down one half of the field, but he's a solid veteran with a track record of consistent play. With the uncertainty and youth that the Raiders have at the cornerback position, they needed someone like him. Amukamara just qualified for this list with 166 man-coverage snaps in 2019, but he wasn't tested often in man and limited production well enough when he was to earn a top-five spot on this list. I would expect him to start outside in Paul Guenther's defense, even with young guys like Trayvon Mullen and Damon Arnette in the fold.   
Man-coverage grade: 73.4
Nelson's 2019 season flew under the radar, but by many metrics you look at, it was one of the better seasons of any cornerback in the NFL. His man coverage grade is one such metric. The Steelers are another team that doesn't run a ton of man coverage (23rd highest rate in the NFL last season), but Nelson played well when he was asked to man up. He allowed just 12 of the 28 balls thrown into his coverage to be completed, of which just eight were first downs. Minkah Fitzpatrick gets a lot of recognition for his impact on the secondary ─ and deservedly so ─ but Nelson had quite the impact himself in his first year.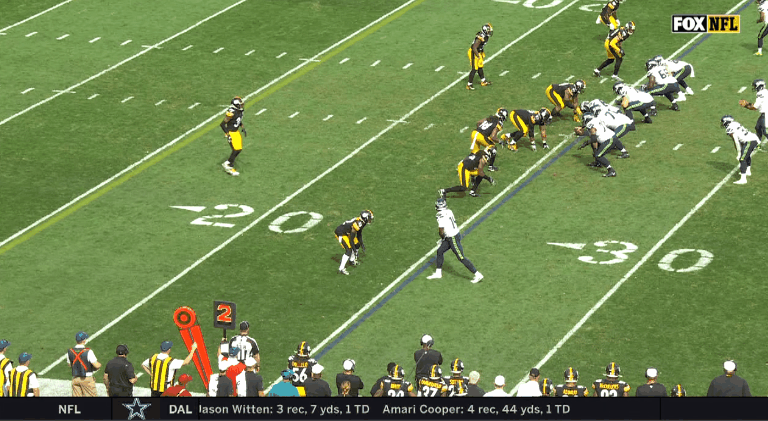 He just eats D.K. Metcalf alive on this attempted back-shoulder throw by Russell Wilson.
Man-coverage grade: 73.2
The PFF database tells a clear story on Jackson. You do not want to test this guy deep. Since the start of the 2018 season, Jackson has twice as many interceptions on passes 20 yards downfield (six) as he does receptions allowed (three). That's one of those stats that doesn't seem real, but I can assure you it is. A big part of his success stems from his ability to stick with guys down the field in man coverage. In total, Jackson allowed a passer rating of 14.4 into his coverage in man last season. With Gilmore and Jason McCourty also more than capable outside, New England has a luxury of riches at the position heading into 2020.
Man-coverage grade: 72.2
Roby is an interesting case. After some up-and-down seasons with the Denver Broncos ─ highlighted by coverage grades above 75.0 in both 2015 and 2017 ─ he bounced back a bit in his first year in Houston after just a 58.6 coverage grade with Denver in 2018.  Oddly enough, he graded significantly better in man coverage (72.2) than he did zone (56.0) with the Texans last season. His ability to make plays on the ball in man is a big reason why. Since 2017, only Marshon Lattimore has forced incompletions on a higher percentage of his targets while in man coverage than Roby has.
Highest forced incompletion rate since 2017 | 43 cornerbacks targeted 75+ times in man coverage
| | | |
| --- | --- | --- |
| Rank | Player | Forced incompletion percentage |
| 1 | Marshon Lattimore | 26.0% |
| 2 | Bradley Roby | 25.4% |
| 3 | Chidobe Awuzie | 25.0% |
| 3 | Marlon Humphrey | 25.0% |
| 5 | Stephon Gilmore | 24.1% |
Man-coverage grade: 71.2
Jackson falls into the category of true number one cornerbacks that might not get recognized as such nationally. Forget man coverage for a second ─ among the 46 cornerbacks with at least 1,000 coverage snaps lined up outside total since 2017, Jackson's coverage grade of 89.1 ranks fifth. His natural athleticism and speed lend itself well to sticking with wide receivers one on one. That showed in the postseason last year in the form of multiple pass breakups while in man.
Man-coverage grade: 68.7
Technically, this spot belongs to Tramaine Brock Sr. who had a real bounce-back year in 2019, particularly after joining the Titans. However, since Brock remains a free agent, I wanted to take the number 10 slot to highlight the 11th highest-graded cornerback in man coverage last season ─ Jalen Ramsey. 
An interesting component of this with Ramsey is that the Rams bumped their man usage significantly once he joined the team. From Weeks 1 through 6, the Rams utilized man coverage on 19% of their coverage snaps (30th in NFL). That number rose to 34% over the remainder of the season (18th). His PFF grading may fall under the good-not-great category bar an outstanding showing in 2017, but that doesn't mean you should mistake Ramsey for merely being good. He remains one of the top cornerbacks in the NFL.