By now, you have probably already heard that the 2020 wide receiver draft class is deep with talented pass-catchers and playmakers. Whatever you need, this group has it. So, if you are looking for the best slot receiver in the group, look no further than LSU's Justin Jefferson.
[Editor's note: Check out PFF's 2020 Mock Draft Hub, NFL Draft Big Board and NFL Mock Draft Simulator. PFF Elite subscribers can also download the 1,100-page 2020 NFL Draft Guide.]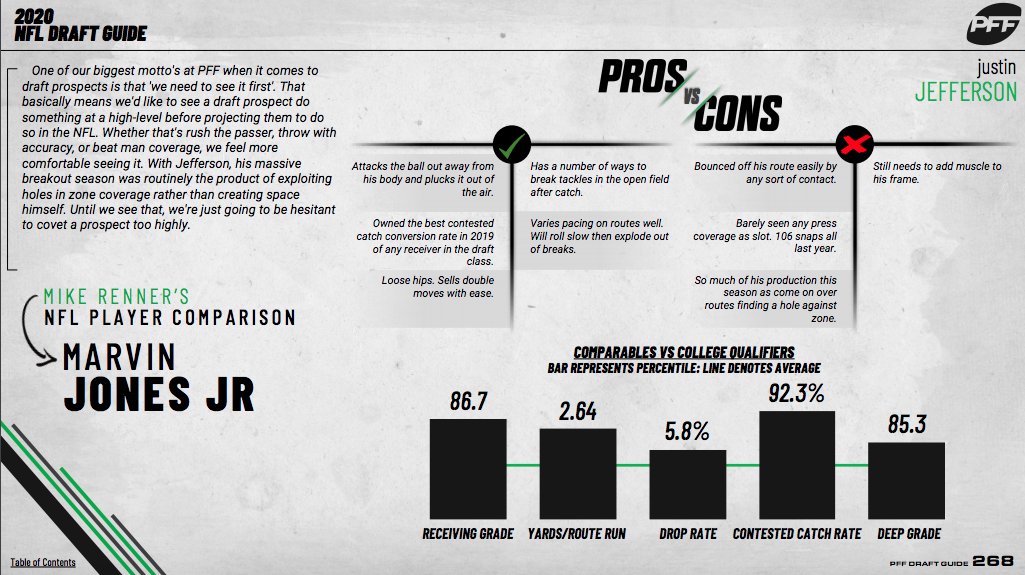 Jefferson's past production in the slot
Justin Jefferson ran 575 of his 583 total routes from the slot a season ago with LSU. His production was second to none, as he led the nation with 109 slot receptions and 1,518 slot receiving yards.
Averaging an impressive 2.64 yards per slot route run — 12th in the class — Jefferson also displayed his toughness with a second-ranked 24 missed tackles forced from the slot and a national-best 37 explosive plays of 15 or more yards from the inside.
He ended the 2019 campaign with a career-high PFF receiving grade of 86.7 in 2019, 14th among the 130 draft-eligible FBS receivers who saw at least 50 targets. He also recorded a contested-catch rate of 92.3% that ranked first among the 98 draft-eligible pass-catchers who saw at least 10 contested targets.
Highest contested-catch rates among 98 draft-eligible FBS wide receivers (min. 10 contested targets)
| | | | | | |
| --- | --- | --- | --- | --- | --- |
| Rank | Name | Team | Contested targets | Contested catches | Contested-catch rate |
| 1 | Justin Jefferson | LSU | 13 | 12 | 92.3% |
| 2 | Easop Winston Jr. | WASH STATE | 15 | 11 | 73.3% |
| 3 | Frank Darby | ARIZONA ST | 10 | 7 | 70.0% |
| | FBS WRs | | 1,990 | 925 | 46.5% |
Put simply, Jefferson has all the physical traits to take full advantage of his off-ball alignment as a slot receiver.
At 6-foot-1, 202 pounds, he has a 37.5-inch vertical jump with a 33-inch arm length, which gives him the ability to go up and haul in those contested passes. His 4.43 speed combined with 9 1/8-inch hands and a 10-foot-6 standing broad jump help him track the ball in flight and win possession at the top of his routes.
Coverage recognition and route adjustments
Joe Brady's offensive system at LSU required its wide receivers to convert routes and read coverages during the post-snap phase of a pass play. This is one of the most fundamental skills for a wide receiver to possess when ascending from the college level. 
Because of the slot receiver's proximity to the quarterback and the often-available open space in the middle of the field, Jefferson was required to be precise in his coverage recognition, and he was expected to adjust his routes to help Joe Burrow come away with timely completions.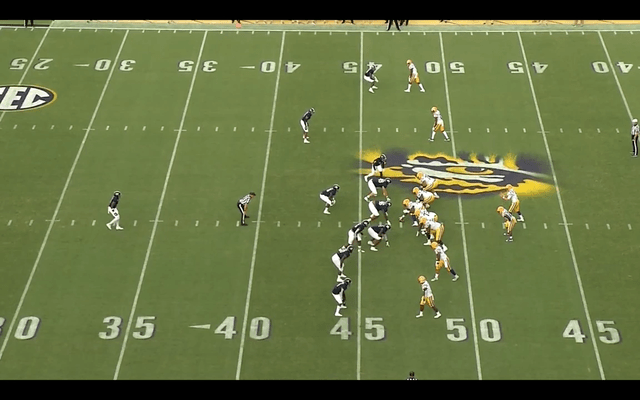 Take the above play as an example. Here, lined up in the slot to Burrow's right, Jefferson takes a free release underneath the slot defender, stems his route vertically to achieve depth and crosses the field on his "over" route to find the dead area in zone coverage.
By throttling down and reducing his speed on the crossing route, Jefferson helps Burrow by adjusting to a less-than-perfect pass. He then displays the catch-and-run ability that turned a 10-yard reception into a 44-yard pass play.
On this play, the LSU pass-catcher showed that he has both the patient route-running and the high football I.Q. that's required to read the depth of the free safety and recognize the open area vacated by the blitzing defenders. These are the vitally important elements that will be needed for him to excel as a slot receiver at the next level.
Much unlike college football, NFL defenses will disguise their pre-snap alignment before rotating into a more complex look during the post-snap phase of the play. So, it's imperative that NFL wide receivers can accurately read coverages and make proper adjustments during the post-snap phase. And after playing in Brady's pro-style system at LSU, Jefferson has the experience and will be ready to perform in the slot against more complex coverage schemes.
A Fearless Fighter For the Ball
Jefferson not only has the speed to provide a vertical stretch against pass coverage, but he also has the toughness to attack the ball on dangerous slant routes.
Last year, Jefferson caught 49 of his 53 targets that came from passes thrown between 1 and 9 yards downfield. That 92.5% catch rate ranked first among the 122 FBS wide receivers with at least 30 such targets, while his 125.6 passer rating when targeted ranked fifth among that same group.
He was often called upon to convert his pass pattern into a slant route in order to provide quick relief for his quarterback when he was faced with a blitzing defense.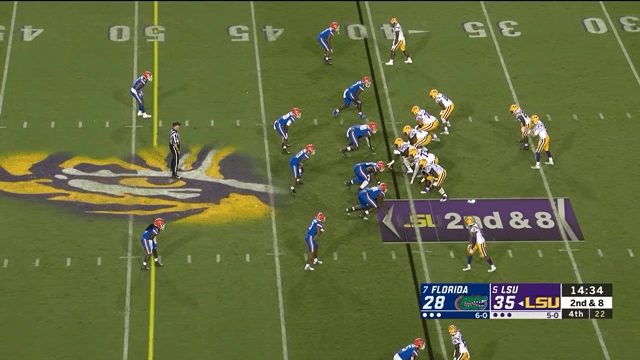 Here, from his left slot position, Jefferson gets an early pre-snap read on the blitzing defense. Displaying his chemistry with Burrow, Jefferson smartly adjusts his route to a quick slant behind the blitzing safety. He then breaks multiple tackles to turn a would-be five-yard reception into a first down.
As we said before, though, Jefferson is more than just a reliable short-yardage chain-mover. And yes, while he did haul in more receiving conversions (combined first downs and touchdowns, 72) than any other wide receiver in the 2020 NFL Draft, he can also produce big plays in the vertical passing game.
The LSU wideout's 38 explosive plays of 15-plus yards are actually more than any receiver on the draft board. Altogether, he caught nine of his 18 deep targets for 316 yards and six touchdowns. His 85.3 receiving grade on those targets ranks among the top 40 players at his position.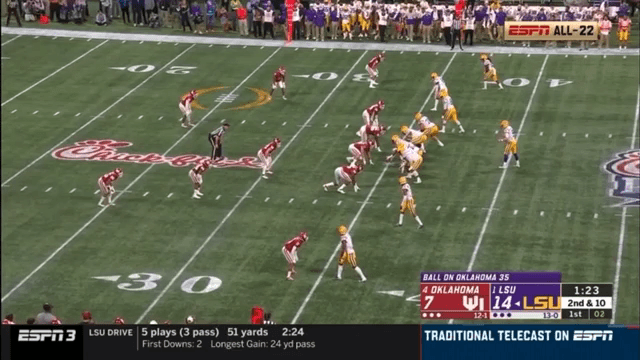 Occasionally, Jefferson will show off his 4.4 speed from the slot when he is locked in man coverage, as he can quickly eat up the cushion as he explodes past the defender. A fluid route-runner, Jefferson has the ability to separate once he is on top of coverage where he tracks the ball with ease.
Even though he is considered to be the best slot receiver in the 2020 draft class, Jefferson should not be mistaken for a player who fits into just one role or only one specific scheme — he is a versatile player with a diverse skill set, and his football I.Q. should allow for more latitude when designing opportunities to get the ball in his hands.
The early names to come off the board will undoubtedly be Jeudy, Lamb and Ruggs. Still, after the top three receivers have been chosen, I believe that it would be hard for teams to look at the production and talents of Justin Jefferson without making him the fourth receiver to hear his name called by Roger Goodell.