Everybody wants explosive plays in the NFL. The league has known that for as far back as anybody can remember, and in today's game, the most reliable way of producing them is by throwing the ball deep.
Thanks to PFF Premium Stats 2.0 — which is available with a PFF ELITE subscription — we can see how quarterbacks perform in this critical area each season, but let's go a step deeper and rank those quarterbacks by PFF grade on deep passes, rather than by any production-based deep passing metric that is heavily influenced by the receiver at the catch point and the coverage the ball was thrown into.
To try and keep this relevant to all 32 NFL teams, we dug into the past a little bit for numbers on certain quarterbacks while the rest are 2019 numbers only. For the Cincinnati Bengals, we ranked Andy Dalton rather than embarking on the pointless exercise of comparing Joe Burrow's college stats to NFL equivalents (though if you wanted to see Burrow's deep passing numbers, you'd find them in PFF's 2020 NFL Draft Guide).
Without any further digressions, here is how the league's quarterbacks graded on deep passes, passes thrown at least 20 yards downfield, in 2019.
[Editor's note: Subscribe to PFF ELITE today to gain access to PFF's Premium Stats and new Player Grades experience in addition to the 2020 NFL Draft Guide, 2020 Fantasy Rookie Scouting Report, PFF Greenline, all of PFF's premium article content and more.]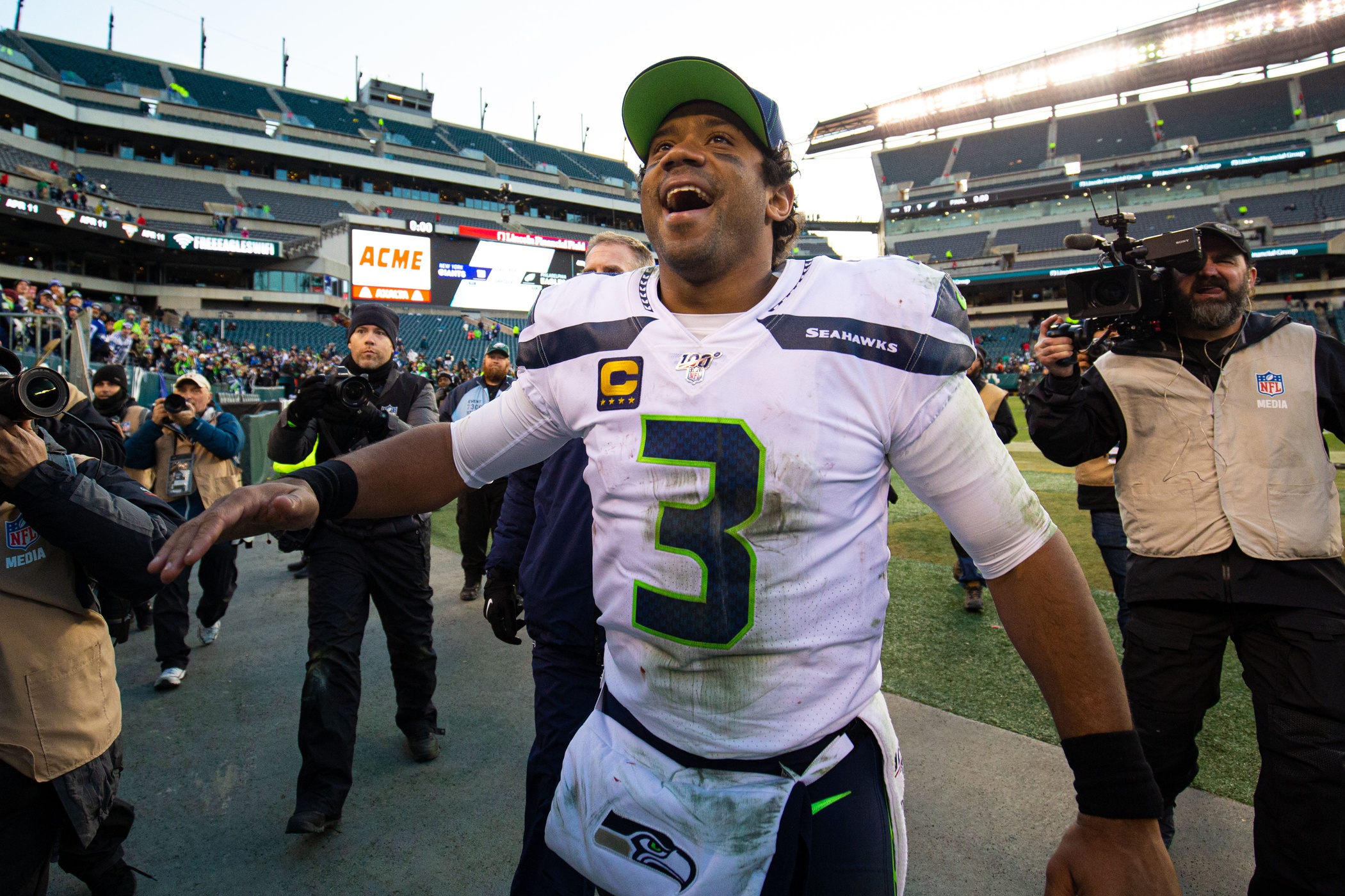 42.3% completion percentage, 13.9 yards per attempt, 119.2 Passer Rating
Nobody throws a prettier deep pass than Russell Wilson, and it turns out that's not only backed up by PFF grade but also by his production. Wilson had the second-most completions on these passes last season, trailing only Jameis Winston, and Wilson also tied for the second-most deep touchdowns. Wilson produced five more big-time throws (PFF's highest-graded throws that take into account ball location accuracy, etc.) than any other quarterback last year, and they came at the cost of just one turnover-worthy play.
44.6% completion percentage, 15.1 yards per attempt, 102.8 Passer Rating
Only Jimmy Garoppolo — who benefits hugely from the scheme in San Francisco when it comes to deep shots — had a higher adjusted completion rate on deep passes than Deshaun Watson last season. Watson has the arm to make special deep passes, and while he made a lot of big plays, only three passers threw more interceptions on deep shots than the five Watson managed over the regular season.
49.0% completion percentage, 16.7 yards per attempt, 129.0 Passer Rating
Gardner Minshew has one of the weaker arms in the league, so this is proof that exceptional deep passing is not about arm strength but rather accuracy, timing and anticipation. Minshew led the NFL in passer rating on deep targets a season ago and was one of the league's best in terms of accuracy, too. He didn't have a single turnover-worthy play on 49 deep shots as a rookie — that's impressive.
46.1% completion percentage, 15.2 yards per attempt, 110.2 Passer Rating
One of the areas the Cowboys' improved passing attack manifested itself last season was in Dak Prescott's deep passing performance. Prescott threw for the third-most yards on these plays and had the third-most completions. With CeeDee Lamb added to the mix this year, he could appear even higher on this list come next season.
34.5% completion percentage, 12.6 yards per attempt, 112.9 Passer Rating
With no Roethlisberger for almost all of last season, we have pulled up his 2018 statistics to include him on the list. Roethlisberger was an excellent deep passer of the football that year, and that was contrasted starkly with the combination of Mason Rudolph and Devlin Hodges, who combined to replace him in 2019. Both young players were among the worst deep passers of the ball despite plenty of attempts, which is a big reason the Steelers offense didn't look anything like itself last year.
*Numbers taken from the 2018 NFL season
41.9% completion percentage, 15.2 yards per attempt, 94.5 Passer Rating
Here's another standout performance from a rookie passer, as Kyler Murray showed well despite not having a huge amount of help when it came to receiving weapons deep down the field. Murray's deep pass was one of his strengths in college, and he showed that it should still be a notable strength in the NFL, especially if his receivers can win more consistently on the outside and give him more reliable places to go with the football. Murray had just two turnover-worthy plays on 62 deep attempts a season ago.
42.9% completion percentage, 14.8 yards per attempt, 76.5 Passer Rating
As always seems to be the case, Matt Ryan's overall play was better than the box score numbers would indicate. His completion rate was good, but six turnover-worthy plays hurt him overall, with five of those plays resulting in an interception. Ryan, of course, has some elite playmakers to throw the ball to downfield, so we should expect him to feature high on this list because of the favorable looks he will regularly see.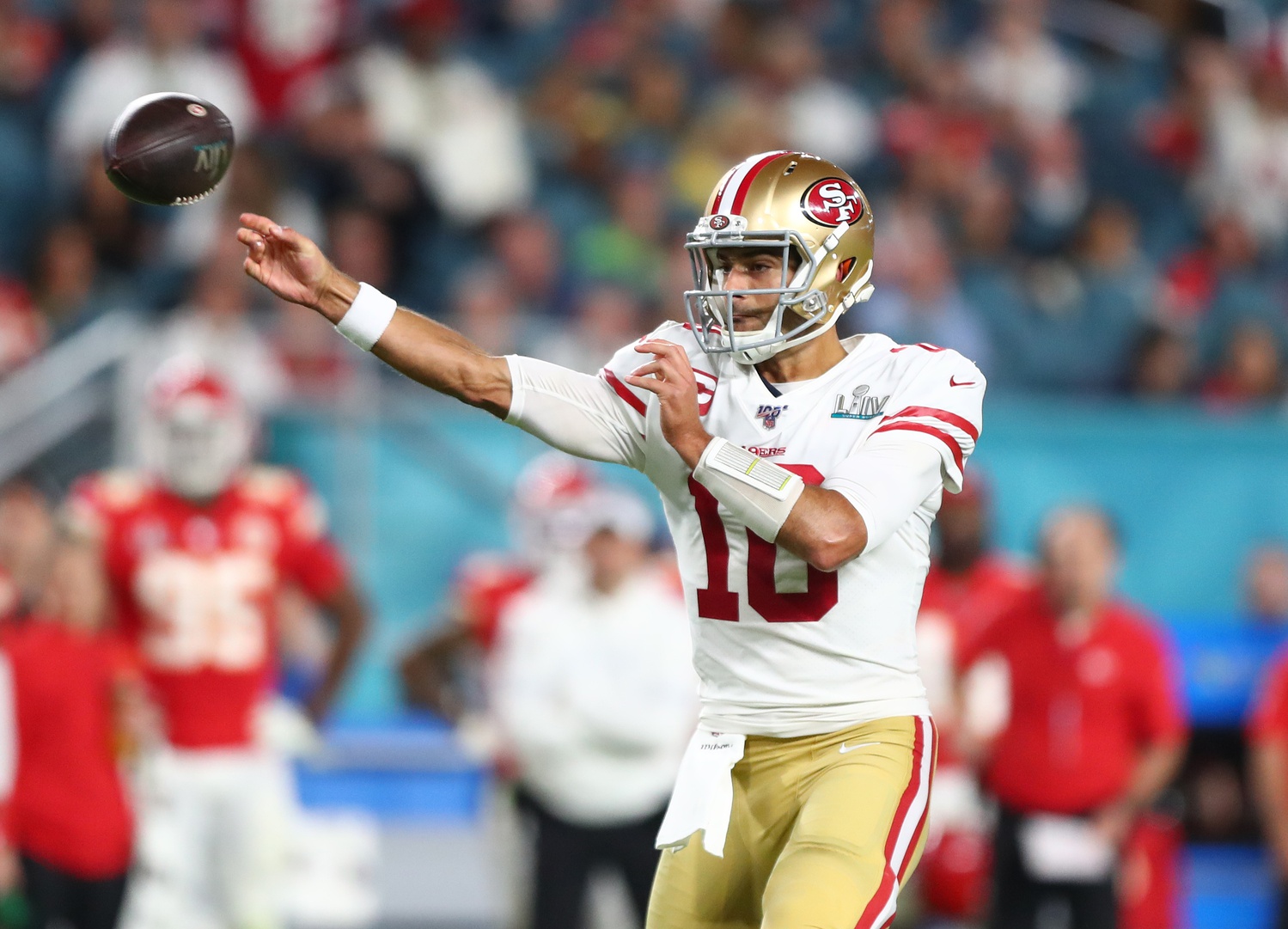 61.3% completion percentage, 21.0 yards per attempt, 105.2 Passer Rating
Jimmy Garoppolo has an excellent grade on these plays, but he attempted just 31 deep shots all season — the fewest among full-time starting quarterbacks. Even Mason Rudolph, who only started eight games, had six more deep shots than Garoppolo did all year. The San Francisco quarterback also benefitted from Kyle Shanahan's scheme regularly presenting him with wide-open targets downfield, but to his credit, he hit them when called upon. He led the league in completion rate on these passes by over 10 percentage points and in adjusted completion rate by 20 percentage points.
50.1% completion percentage, 18.1 yards per attempt, 122.9 Passer Rating
Arguably the best quarterback in football right now, Patrick Mahomes was a devastating deep passer in 2019 despite battling through a series of injuries throughout the year. Mahomes had the second-best passer rating on deep targets but did enjoy a little luck in that only two of his five turnover-worthy plays actually ended up picked off. No passer could match the 13 touchdowns Mahomes managed on deep targets — they were two more than the next closest quarterback.
35.1% completion percentage, 10.7 yards per attempt, 79.4 Passer Rating
Heading into the 2019 season, we thought Carson Wentz might have the best receiving corps in the league to throw to. By the end of it, they were all hurt and he was tossing passes to a former college quarterback and AAF star in Greg Ward. DeSean Jackson being missing especially crippled Wentz's ability to win deep down the field regularly, and though his passing itself was solid, the production the offense had on these attempts was lackluster at best.
33.3% completion percentage, 11.1 yards per attempt, 111.2 Passer Rating
Rodgers may be a declining version of the player we saw some years back, but he is still capable of things few others are. He is one of just six passers with 1,000 or more yards on deep shots last season and managed to throw 11 touchdowns to only one interception on those plays. Only Wilson and Watson had more big-time throws on deep throws than Rodgers did last season, and he did that with only one receiver, Davante Adams, who truly has 100% of Rodgers' trust.
40.4% completion percentage, 13.6 yards per attempt, 97.1 Passer Rating
Not surprising for a quarterback with as much Y.O.L.O. in his play as Winston has, Jameis led the NFL in yardage (1,351), completions (40) and attempts (99) on deep shots but was fourth in big-time throws, 12th in both completion rate and adjusted completion rate and 15th in passer rating, all despite having one of the best receiving pairings in football. Winston was incredibly productive, but it always came at a cost, one that NFL teams have apparently decided is too much to live with for a while.
37.8% completion percentage, 14.7 yards per attempt, 112.7 Passer Rating
Ryan Tannehill's arrival last season changed the team's fortunes and transformed the Titans offense. Tannehill still wasn't the best deep passer in the world, but what made a difference was that he didn't make mistakes on those attempts. On the 37 deep attempts after he got in the lineup, he didn't have a single turnover-worthy play or interception, even if his numbers became a little inflated by work done after the catch by the likes of A.J. Brown.
40.2% completion percentage, 11.7 yards per attempt, 102.1 Passer Rating
Tom Brady has never been the league's best deep passer, but like everything else in New England, his deep passing suffered from the lack of quality receivers in 2019. Brady's numbers were solid if not spectacular, and that's with nobody winning on a consistent basis. Transporting him into an offense with some of the best deep targets in football should see him catapulted back into the top 10 in 2020.
39.3% completion percentage, 14.1 yards per attempt, 119.7 Passer Rating
Cousins' overall deep numbers weren't spectacular, but when he hit on a shot it tended to be an absolute dime. Cousins had 16 big-time throws on his 61 deep attempts and suffered from three drops on those deep passes. A highlight reel of only his best deep passes would be as good as that from any quarterback in the league, but he missed on more than he should have given his ability to make those passes.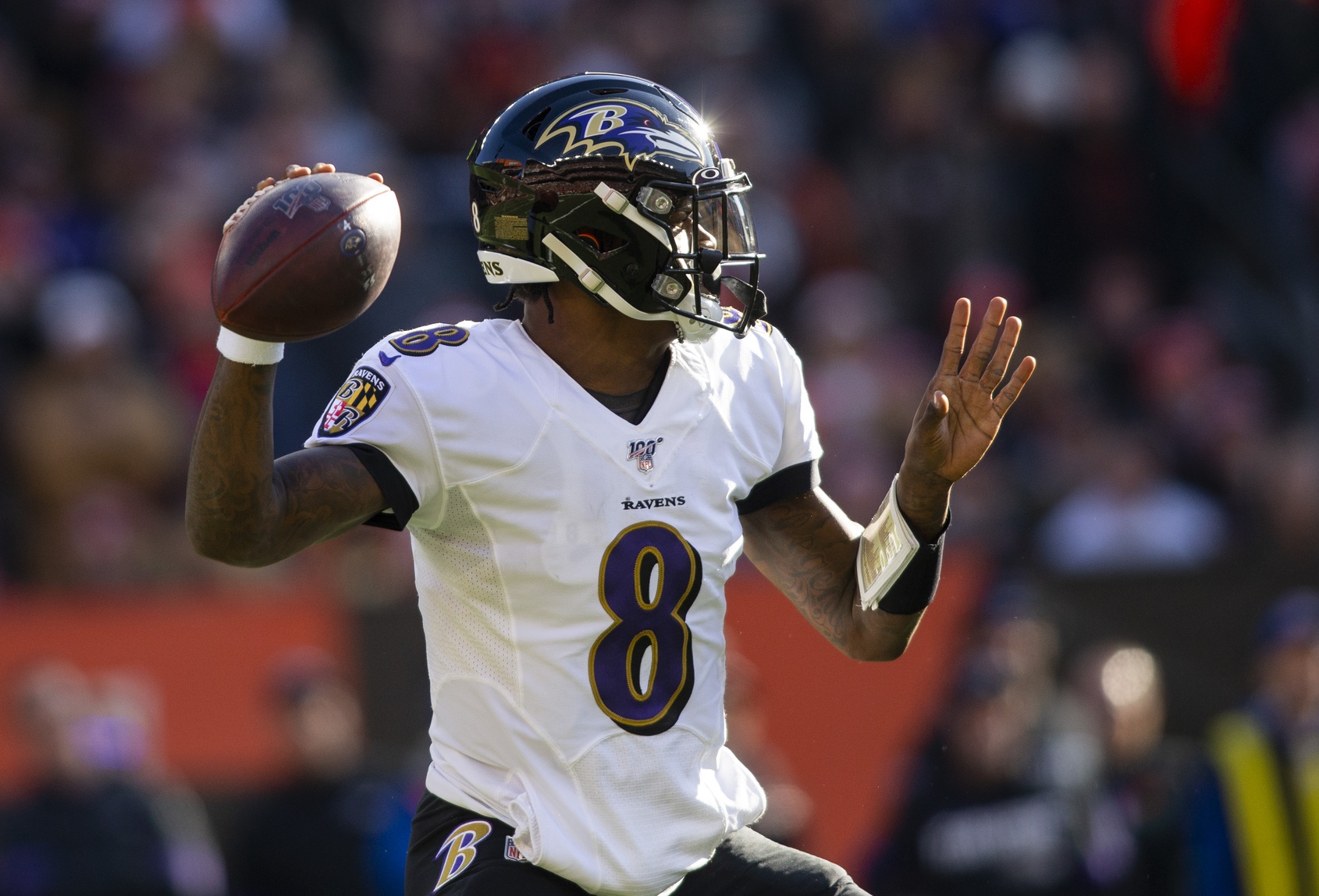 40.0% completion percentage, 12.6 yards per attempt, 111.9 Passer Rating
Every passing list Lamar Jackson finds himself in the middle of this offseason is a massive win for both him and the Ravens, given where he started from as a passer. A year ago, he was at the bottom end of nearly every list, particularly when it came to accuracy. He was in the middle of the pack in terms of accuracy on deep passes a season ago, but he had just two of his 55 shots intercepted and showed that he was more than capable of punishing defenses with these plays if they tried too hard to stop the run.
37.5% completion percentage, 11.8 yards per attempt, 93.1 Passer Rating
It's not that Derek Carr is bad at passing deep, it's just that it seems to be near impossible to convince him to try it. He had just 48 deep attempts last season, which was one of the lower deep shot rates (9.4%) in the league. His completion rate and other numbers weren't terrible on those plays; the Raiders just need to find a way to coax him into attempting more of them and must surely be hoping that Henry Ruggs III will be the player to help that.
41.1% completion percentage, 14.5 yards per attempt, 86.9 Passer Rating
On the flip side, nobody has ever had to convince Matthew Stafford to throw deep when the opportunity presents itself, and even in an injury-shortened season saw him attempt eight more deep passes than Carr did all season long. Stafford passed for six deep touchdowns but had 16 big-time throws, and he perhaps deserved a little more when it came to putting points on the board from his passes.
46.7% completion percentage, 15.7 yards per attempt, 75.7 Passer Rating
You have to go a long way back to get a large enough sample size for Teddy Bridgewater, to the point those games likely mean nothing anymore, but the alternative was including Kyle Allen, which just doesn't seem like fair use of anybody's brainpower. Allen was awful when it came to deep passing, but Bridgewater — much like Carr — was actually good at it when he convinced himself to actually throw deep. The encouraging sign for Panthers fans is that after a couple of games, Bridgewater did start to open up and take more shots, but even with those, only Garoppolo threw it deep less often.
35.5% completion percentage, 11.4 yards per attempt, 71.7 Passer Rating
Another in the long line of "it wasn't quite as bad as it seems" for Baker Mayfield and the Browns. Only four quarterbacks had more big-time throws on deep shots than Mayfield's 23, but those plays resulted in just seven touchdowns. By comparison, Mahomes had four fewer of these big-time throws but they ended up in six more scores. The downside was that only Philip Rivers had more negative plays than Mayfield on these passes, as the 2017 Heisman Trophy winner ended the season with nine turnover-worthy plays and seven interceptions.
30.4% completion percentage, 9.7 yards per attempt, 44.0 Passer Rating
Only Drew Brees and Jimmy Garoppolo (and Bridgewater if we move the sample size low enough) threw deep at a lower rate than Goff. Despite 662 dropbacks, Goff took a shot deep just 56 times (8.9%) and scored only one touchdown on those plays, despite having plenty to work with in terms of receiving talent. In his defense, it wasn't all Goff, as the Rams had one of the worst offensive lines in football, and Goff often just didn't have the time to let deep plays develop.
48.4% completion percentage, 13.0 yards per attempt, 107.2 Passer Rating
Few players throw a better deep ball than Drew Brees when he's at his best, but as he ages, his effectiveness and frequency of deep passing has declined. Only Garoppolo threw deep less often, even adjusting for the games he missed injured, and by late in the year his arm looked alarmingly weak. Does Brees still have this string to his bow? The Saints likely need it if they are to win that elusive second championship.
34.2% completion percentage, 11.3 yards per attempt, 59.1 Passer Rating
Nobody had more interceptions (nine) or turnover-worthy plays (12) on deep targets in 2019 than Rivers did. That's especially concerning given that he had some pretty legit receivers to play with. Game flow and situation can only account for so much, and the Colts will be desperately hoping that isn't an indicator of his arm just being cooked. However, Rivers did also suffer from the second-most drops in the league, and accounting for those drops jumps his completion rate up five places on its own.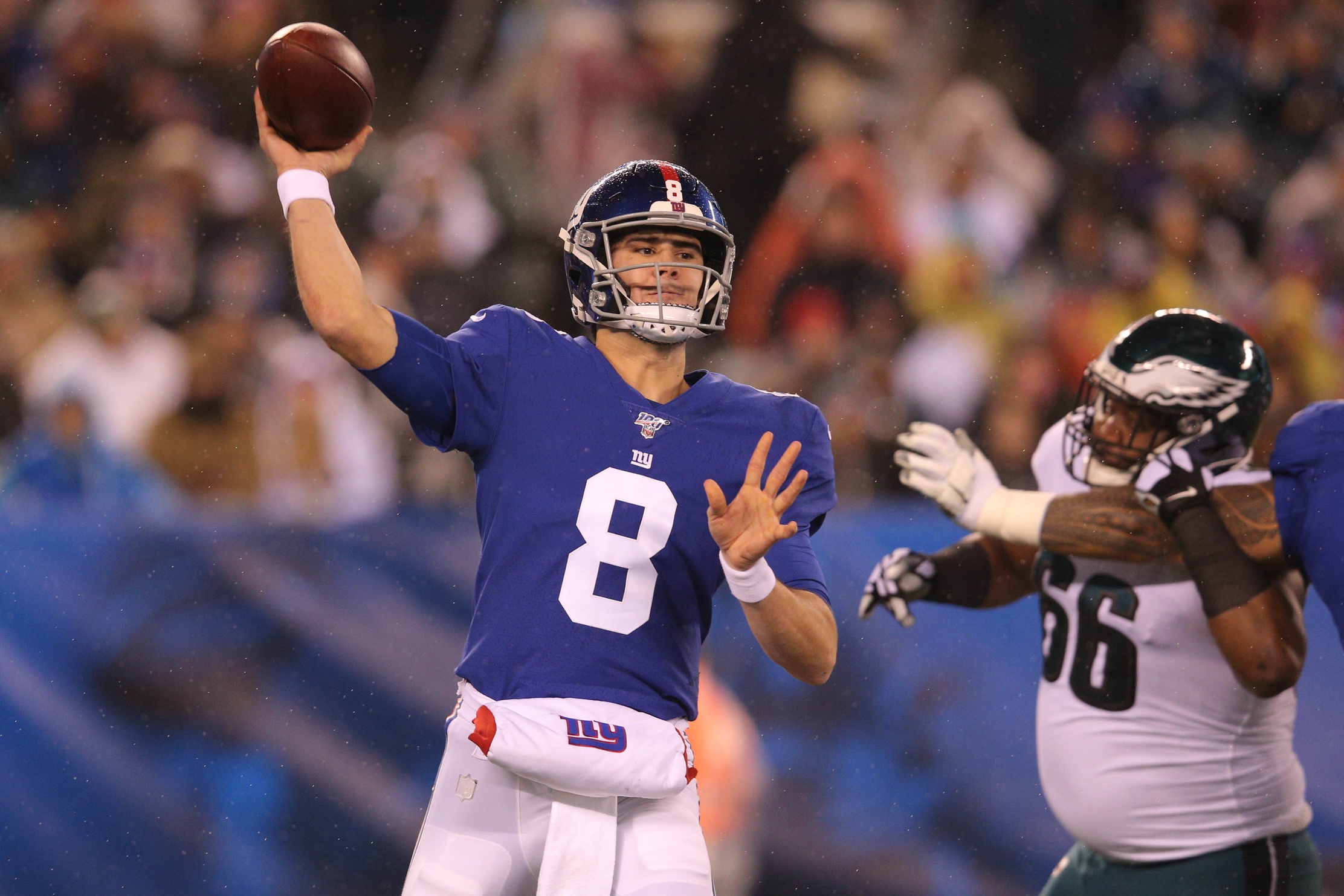 29.6% completion percentage, 9.2 yards per attempt, 74.2 Passer Rating
The narrative surrounding Daniel Jones was so concentrated on his high mistake rate that I didn't realize quite how bad his deep passing numbers were. He was the first player on the list to complete under 30% of his deep pass attempts and had one of the lowest yards per attempt figures in the league. Jones has plenty to work on this offseason, but deep passing should absolutely be part of the equation. The Giants will be hoping that having his receiving corps healthy and together will help in Year 2.
40.0% completion percentage, 11.5 yards per attempt, 109.9 Passer Rating
Ryan Fitzpatrick might be the only quarterback in the league who can rival Jameis Winston for Y.O.L.O. energy, but Fitzpatrick was actually uncharacteristically conservative last year. While Winston went deep on 15.8% of his dropbacks (fourth), Fitzpatrick was all the way down in 16th at 12.9%. Dialing back his aggressiveness actually seemed to help his efficiency, though his PFF grade doesn't match the output, thanks in large part to DeVante Parker Mossing players like Stephon Gilmore down the stretch.
32.1% completion percentage, 10.6 yards per attempt, 66.6 Passer Rating
While Andy Dalton was a pedestrian deep passer, the Bengals will be hoping that Joe Burrow is entirely different. Though college comparisons are weak at best, Burrow was the best-graded deep passer in the nation in 2019, posting the best adjusted completion rate as well as the most completions, yards and touchdowns. Burrow had just two turnover-worthy plays on 83 deep shots, and though his arm is far from the strongest in his draft class (let alone in the entire NFL), he has the other skills to still be an effective deep passer.
34.4% completion percentage, 10.4 yards per attempt, 62.4 Passer Rating
The best thing that can be said about Mitchell Trubisky's deep passing is that it's no worse than his regular passing, and his PFF grade ranks around the same place in either scenario. Trubisky completed just 34.4% of his deep shots for only 10.4 yards per attempt, and that's with Allen Robinson II winning jump balls at a high rate. Ultimately it's just another part of Trubisky's game that has likely cost him the starting job in favor of Nick Foles, whose numbers last season may have been even worse than Trubisky's.
31.3% completion percentage, 10.8 yards per attempt, 82.0 Passer Rating
We need to go back some way to get a representative snapshot of Tyrod Taylor's play, and if we include all plays back to 2016, he doesn't fare particularly well. Taylor throws a pretty deep pass, and he used to drop dimes with regularity early in his career. However, over the past few seasons, he hasn't been as efficient with those deep shots and has never been aggressive with the frequency with which he goes deep. This is a number that will have Justin Herbert starting for the Chargers sooner rather than later. If Tyrod wants to keep that job longer than people expect, he needs to up his efficiency on those deep targets.
*Numbers taken from the 2016-19 NFL seasons
27.9% completion percentage, 9.0 yards per attempt, 51.1 Passer Rating
Jacoby Brissett has never been an aggressive quarterback, but lack of aggression combined with inefficiency when you actually take the shot is a first-class ticket to a backup role. Brissett had awful deep passing numbers despite having multiple players who could run blazing 40-yard dash times, and that's a big reason the team has pivoted to Rivers at the position for 2020.
25.9% completion percentage, 7.2 yards per attempt, 41.4 Passer Rating
There's not much to like about Haskins' numbers from his rookie season except the mitigating circumstances that he was really without many viable passing targets, with only really rookie Terry McLaurin showing up reliably. Even McLaurin was responsible for dropping one of Haskins' best passes, which would have moved the needle on his numbers given his low sample size, but the PFF grade accounts for that, and the grade was also bad. Washington needs Haskins to take a step forward in this area, just as the Giants do with Daniel Jones.
29.4% completion percentage, 9.8 yards per attempt, 75.9 Passer Rating
Darnold is now entering his third season of football with as many questions surrounding his prospects as there were when he was drafted. About the only thing in his favor is that he remains as young as some first-year players, and he has at least flashed the skills needed in certain games. Despite having one of the league's best deep threats in wideout Robby Anderson, Darnold was inefficient throwing deep, completing just 15 of his 51 deep shots in 2019.
24.1% completion percentage, 8.7 yards per attempt, 64.4 Passer Rating
The player with arguably the league's strongest arm is arguably the league's worst deep passer. If that doesn't put into context how we evaluate quarterbacks at draft time, nothing will. Allen can get the ball as deep as he wants it pretty much any time he wants to, and though he dialed it back in Year 2, he still went deep at the sixth-highest rate in the league. However, his adjusted completion rate was one of the worst figures in all of football, and he had the highest rate of uncatchable, inaccurate passes on those targets. Allen needs to find the touch to go with that cannon because it's frankly inexcusable that a player with his kind of arm talent is this bad at passing deep.
27.3% completion percentage, 8.7 yards per attempt, 55.9 Passer Rating
Drew Lock took just 11 deep shots over the season, so this number comes with a significant sample size caveat, but it felt more worthwhile than analyzing Joe Flacco's struggles. Lock completed only three of those 11 pass attempts for 96 yards and a score, but he also had one picked off. Obviously, he would need to improve from here if he is to succeed in Denver.