PFF is dedicated to being your one-stop shop for all things fantasy football this offseason, featuring tools, rankings and analysis for dynasty, best-ball, re-draft, DFS and more.
With the offseason now underway, dynasty fantasy football is in the spotlight. Scoring rules and roster types can change strategy in a hurry, just like in any fantasy league, but the main differentiator with dynasty is the reality that this is your team forever. Premiums can and should be put on younger players, although performance peaks certainly vary by position.
% of top-12 fantasy producers (PPR) by age over the last 10 years pic.twitter.com/PTySzVXBq5

— Ian Hartitz (@Ihartitz) February 8, 2022
What follows are my pre-free agency dynasty fantasy rankings by position for one-QB, full point-per-reception (PPR) leagues. The PFF fantasy squad's rankings will be updated throughout the year and include additional information for rookie drafts and IDP formats.
---
Click here for more PFF tools:
Rankings & Projections | WR/CB Matchup Chart | NFL & NCAA Betting Dashboards | NFL Player Props Tool | NFL & NCAA Power Rankings
Best Bets Tool
---
No upcoming rookies were included in the below ranks; we'll get to that once the landing spots are decided. Check out the 2022 PFF Draft Guide for analysis on the upcoming draft class.
Jump to a Position Group:
---
Quarterback
The top three quarterbacks here all combine youth with multiple seasons of high-end fantasy (and real-life) play.
Things get a little tougher after that, but I slightly lean toward Burrow over the position's more prominent dual-threat talents thanks to his absolutely spectacular marks in the position's most stable metrics.
Jackson versus Murray is a bit of a coin flip. I gave the edge the man responsible for the most productive season ever by a quarterback in terms of fantasy points per game.
Both Prescott and Wilson possess yearly overall QB1 upside and aren't old enough to have any sort of real imminent concerns about their physical ability falling off.
Fields and Lance might not wind up as better real-life quarterbacks than their fellow 2021 signal-callers, but their demonstrated willingness to take off and run could make them fantasy darlings for however long they work as their respective franchise's starter. Fields gets the nod over Lance thanks to his superior rookie year tape as a pure passer.
Justin Fields pic.twitter.com/2tsbcAy69y

— Ian Hartitz (@Ihartitz) February 1, 2022
Watson would be my overall QB4 if there were no concerns regarding his future in the league.
Stafford and Rodgers were both top-11 fantasy quarterbacks on a per-game basis in 2022 while playing the best ball of their career. It'd be rather shocking to see Rodgers hang up the cleats anytime soon while he remains on top of his game.
Lawrence has been put in about the worst possible situation to start a career. I still give him the slight nod over Jones due to his heightened rushing floor and long-term upside.
Hurts is someone I'd consider selling if people are willing to treat him as a top-10 quarterback. The rushing floor is obviously tantalizing in fantasy land, but his inability to run a "real" offense during the first six weeks of 2021 resulted in the Eagles morphing into by far the NFL's most run-heavy team. Credit to head coach Nick Sirianni for putting his player in the best position to succeed based on the talent available, but I'm just not sold on the franchise sticking with Hurts past his rookie contract.
Wilson doesn't turn 23 until August. Let's see what the 2021 NFL Draft's No. 2 overall pick can do with better health for both himself as well as the Jets' wide receiver room.
Cousins, Tannehill and Carr represent upside QB2 options that are perfectly fine mid-round targets in Superflex formats should you find yourself going after other positions in the first few rounds. Just realize it's fair to wonder if we've already seen the peak from each, and neither necessarily has a vice-like grip over their organization in terms of their long-term future.
Tua versus Mayfield was one of the tougher battles to decide. Ultimately, Tagovailoa's youth and potential upside with a better surrounding cast wins out over Mayfield, who has shown too scary of a floor in the Browns' run-first offense to overly risk gambling on the highs he demonstrated during the second half of both 2018 and 2020.
Each of Ryan, Wentz and Garoppolo represent quarterbacks that figure to have the opportunity to keep starting for at least a few more years (if not many more). The problem is none have shown all that consistent of a fantasy ceiling in recent years, and their future situations are far from guaranteed to bring out better versions.
The likes of Winston and Trubisky are my favorite late-round darts to fill out a roster. Each has (briefly) demonstrated the ability to be a high-end fantasy performer, and they have a bit more youth on their side compared to most of the quarterbacks in our low-end QB2 range. There's a chance both are nothing more than backups in 2022, but this year's relatively weak quarterback draft class could lead to surprise starting opportunities, which would boom the ol' ADP.
---
2022 NFL Draft position rankings:
Top 10 players at every position
QB | RB | WR | TE | iOL | OT | DI | EDGE | LB | CB | S
---
Running Back
Youth is more important to prioritize at running back than any other position. There's also a strong case to be made that we should make a habit of not expecting too much from running backs that have eclipsed 1,500 career professional carries. One single year of exceptionally high volume doesn't historically correlate with an immediate dropoff. We're better off picking the younger talent over the veteran with all else equal when it comes to running backs.
Taylor deserves to be called the best real-life running back in the NFL at the moment. The fact that he just turned 23 in January makes him the easy overall RB1.
Harris and McCaffrey are the best examples of receiving running backs being borderline cheat codes in fantasy land. I'm happy to buy the current discount on CMC, too. Humans aren't good at predicting future injuries, and I'm not about to fade the all-time leader in fantasy points per game over a pulled hamstring and a sprained ankle.
Each of Williams, Swift, Gibson and Mixon could vie for the top tier of backs should their respective franchises ever decide to fully unleash them as the running back. The same is true for Barkley — there's just more uncertainty here due to the possibility he takes his talents elsewhere in 2022 and beyond.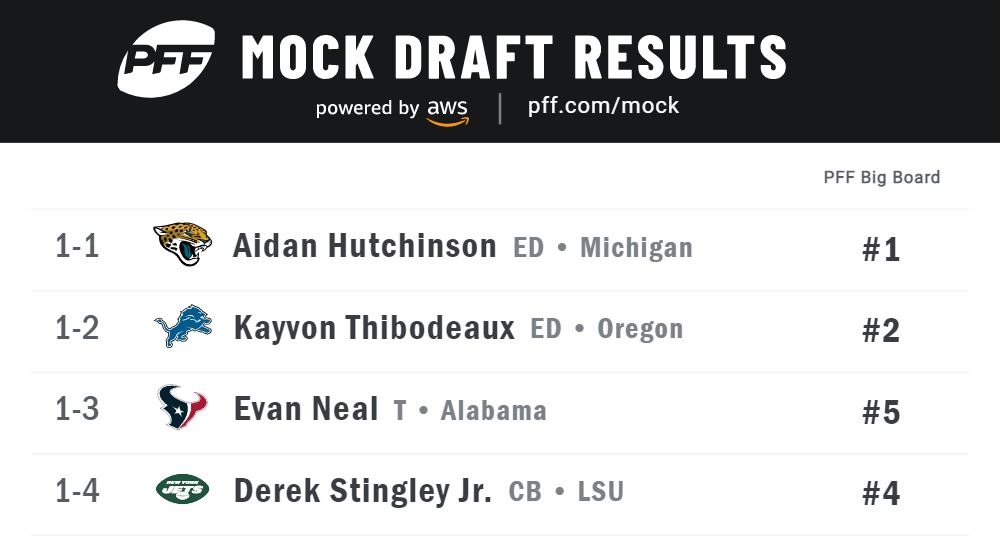 Ekeler, Kamara, Chubb, Cook and Henry are all objectively fantastic real-life running backs, but we've probably already seen the best from each if the history of age and experience at the position are any indication.
Akers is one of the trickier running backs to rank. He could be a legit top-five option if the Rams decide to feature him with the sort of role we saw in the divisional round, but the split backfield that was on display in the NFC Championship game and Super Bowl could render him as more of a weekly mid-tier RB2. Either way, he's still just 22 years old and figures to be even more recovered from his Achilles injury by next season. The small sample of inefficiency during the Rams' Super Bowl run is outweighed by the fantasy-friendly role regularly afforded to Sean McVay's RB1. Also, note that Akers passed the eye test better than the numbers indicate.
Cam Akers doing cool shit in the year 2022 pic.twitter.com/EZEoEYDnhN

— Ian Hartitz (@Ihartitz) January 19, 2022
The bulk of our RB2 range consists of talented young backs that either don't have a great demonstrated three-down usage ceiling (Dobbins, Carter, Mitchell, Sanders), face regime changes that could threaten their overall role (Montgomery, Jacobs, Etienne) or are simply starting to get a little long in the tooth (Zeke, Jones).
Singletary, Dillon, CEH and Fournette could push for legit RB1 status should their respective squads feature them as the workhorse, but we've seen enough issues from each in consistently getting that role to warrant some skepticism for their near-term ceilings.
Mattison stands out as a prime later-round target for zero-RB enthusiasts. He's an RB1 whenever Cook misses time with injury and might just be good enough to feasibly see more of a split role anyway in a new offense. Throw in Cook's current legal situation, and Mattison stands out as arguably the best handcuff in all of fantasy football … next to Pollard, who could feasibly work as the Cowboys' RB1 as early as 2023 should they decide to part ways with Elliott's atrocious contract by then.
Free agency could make a major difference for Gordon, Penny, Edmonds and Michel. Each has demonstrated the ability to handle robust workloads at times during their respective careers and could feasibly push for RB1 production in the near future depending on the landing spot.
Later round darts I like: Evans has a chance to work as the Bengals' pass-down back as early as 2022, and the team could feasibly get out of both Mixon's and Perine's contracts whenever they want, should they desire. … Evans hasn't been healthy enough to give the Titans any sort of meaningful run. He remains a former third-round pick who is feasibly set up for a robust role should Henry miss any time. … McFarland remains the theoretical handcuff for Harris in Pittsburgh, with Snell and Ballage being potential cut candidates.
Wide Receiver
Each of the top five receivers is under 25 years old and has already demonstrated high-end dominance. The latter statement is less true for Lamb than the others, but the Cowboys' wide receiver room could be empty enough in 2022 to finally afford their 2020 first-round pick the sort of robust role that his talents deserve.
Kupp, Adams and Hill certainly seem capable of continuing to rack up WR1 seasons. I'll just take the three-plus years of youth on the side of our big-five receivers. Ultimately, the stacked nature of the position and extended longevity involved are why you should prioritize wide receivers over running backs in the early rounds of drafts.
Check out the Jan. 28 edition of The PFF Fantasy Football Podcast for more general strategy thoughts on dynasty roster construction.
Higgins and Samuel are in offenses that have enough high-end talent around them to feasibly lose out on yearly absurd volume, but I give them the slight edge over Diggs thanks to the age discrepancy.
D.J. Moore, Johnson, Waddle, McLaurin, Ridley and Godwin have all demonstrated an ability to supply WR1 goodness during their respective careers, but their gaudy target totals are at risk considering the uncertainty at hand in their quarterback rooms. There's an argument to be made that each could benefit from an upgrade under center, although raw volume usually wins out over slightly enhanced efficiency.
For goodness sake, get Moore a quarterback.
Free D.J. Moore pic.twitter.com/mva0Ily2GZ

— Ian Hartitz (@Ihartitz) January 4, 2022
Elijah Moore, Smith and Pittman have enough youth on their side to get the nod over veterans Allen, Cooper, Evans, Lockett and Hopkins. Again, nobody is suggesting that the latter receivers are toast, but we'll take the middling downgrade in near-term expected production when it comes with a positive three-plus years of age difference.
Bateman and Hollywood sure look like Lamar Jackson's future top two receivers. The problem is that Mark Andrews' status as the Ravens' No. 1 pass-game option doesn't look to be changing any time soon.
Claypool is one of my favorite buy-low candidates in dynasty. The 23-year-old talent scored 11 touchdowns as a rookie and would have finished with over 1,000 total yards in 2021 with full health — all with a subpar Big Ben under center. Who's to say that Claypool wouldn't work as the passing game's No. 1 receiver with a different signal-caller? The price of admission is reasonable enough to find out.
The rest of our WR3/high-end WR4 group: Thomas, Aiyuk, Williams, St. Brown, Jeudy, Mooney, Davis, Cooks, Renfrow, Sutton, JuJu and A-Rob each has flashed rather elite ability in the past year (or two), but there's enough uncertainty with each's 1) quarterback room, 2) future team, or 3) available target share to render them as higher risk investments as opposed to our WR2 group.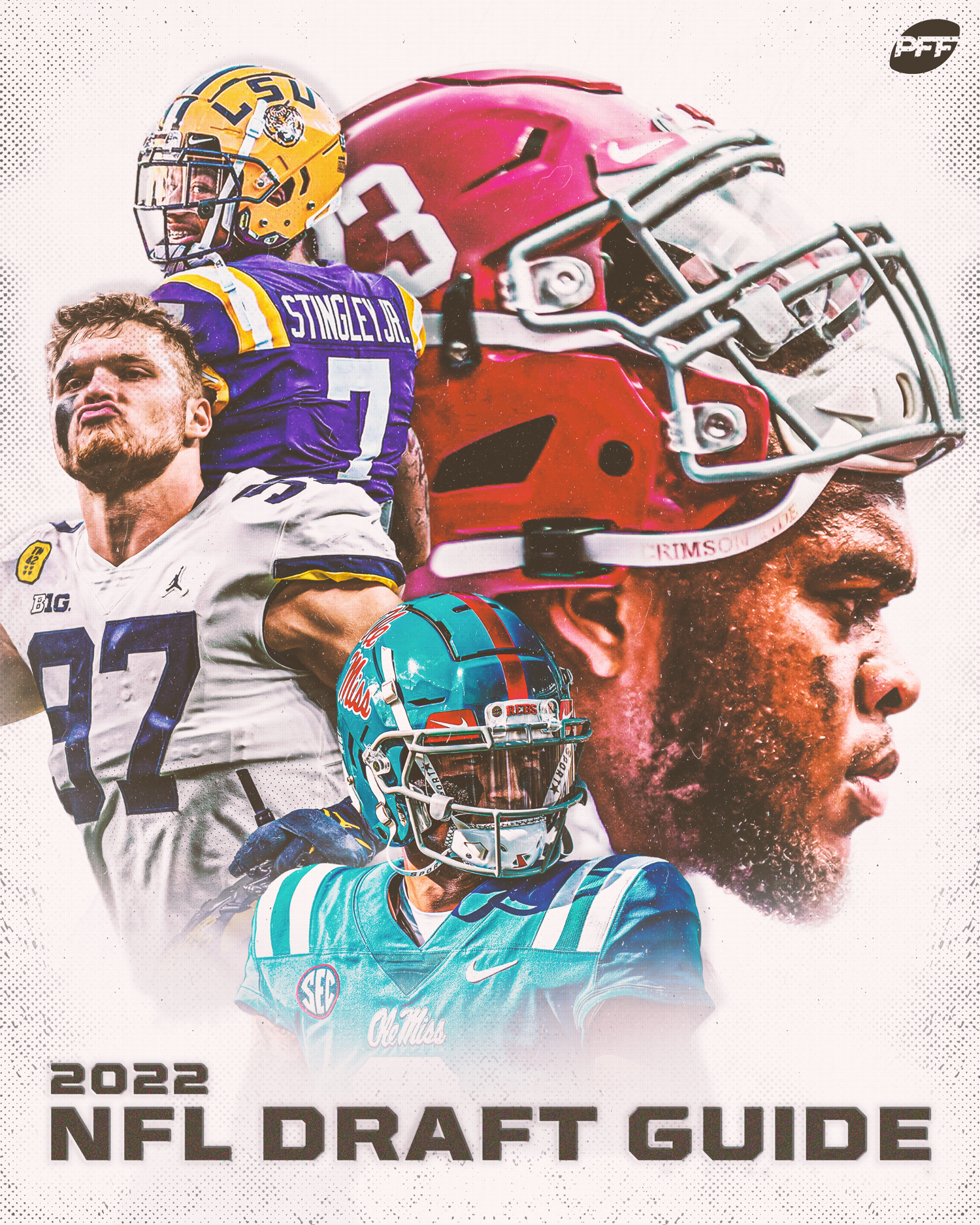 Some of my favorite later-round receivers: Palmer could work as Justin Herbert's No. 2 wide receiver as soon as 2022, pending Williams' free agency. … Looking for the next Deebo Samuel? How about Curtis, who simply wasn't healthy enough to do anything in 2021 but stands as Washington's expected No. 2 pass-game option in 2022 and beyond. … Peoples-Jones might just be the Browns' lead outside receiver in 2022. Even a moderate improvement from Mayfield could help DPJ work as a boom-or-bust WR3 more weeks than not. … Edwards might not be T.O. or Randy Moss, but the rising third-year receiver still has youth on his side and has never been cheaper.
Tight End
Andrews snapped Kelce's overall TE1 streak in 2021 and looked as good as ever doing so. His ability to keep on keeping on even with a revolving door of quarterbacks earns the 25-year-old talent the nod as the position's top available player.
Pitts essentially plays wide receiver, as he ran 80% of his routes from the slot or out wide. Regardless, fantasy football wants to call him a tight end, so we'll benefit and fire up the 21-year-old unicorn as a top-five option at the position for the next decade.
Kittle is my pick for the best tight end alive. There's unfortunately too much target competition in San Francisco for him to replicate that status in fantasy land. Kelce didn't look washed in 2022 by any stretch of the imagination, but Father Time is undefeated. Kelce is only 144 days younger than Rob Gronkowski, who sure seems like a prime candidate to join his buddy TB12 in retirement sooner rather than later.
Each of Waller, Hockenson and Goedert could feasibly work as their respective offense's No. 1 pass-game option in 2022 and beyond. It's just not as much of a certainty as our big five at the position.
Knox, Fant, Freiermuth and Kmet each enter 2022 as youthful starters. Unfortunately, the latter three tight ends aren't in as good of an overall offensive environment for the time being.
Schultz would rise up these ranks should the Cowboys decide to give him a long-term deal, although that might be unlikely with Blake Jarwin quietly carrying the 13th-most valuable contract at the position.

Smith remains just 23 years old and has followed a similar career trajectory as Goedert (aside from injury): talented, overqualified No. 2 tight end with true TE1 upside should he ever be given a featured role. Conklin is an unrestricted free agent.
Gesicki, like Pitts, is a wide receiver that we choose to call a tight end, so his landing spot could truly make or break his fantasy value. A similar sentiment is true for Ertz, who could again be in the TE1 conversation if the Cardinals decide to keep him as Kyler Murray's starting tight end.
Some later round darts I like: Njoku is an unrestricted free agent and has flashed with his limited career opportunities. The thought of him pairing up with Justin Herbert for the next decade is incredibly appealing. … Jordan is just 21 years old and stands as the Texans' starting tight end at the moment. You could do worse with a late-round pick. … Arnold has flashed legit fantasy goodness as (another) tight end that is essentially a wide receiver. … Tremble is potentially my favorite late-round option at the position thanks to his gaudy athletic profile, youthfulness and projected status as the Panthers' starting tight end of the moment and future with Ian Thomas set to hit free agency.