A lot of cool stuff happened in the 2021 fantasy football season that we didn't necessarily see coming this time last year. A few examples:
Show me anyone who saw all four of these events coming, and I'll show you a liar (but maybe ask them about what Bitcoin looks like in 2023 just to be safe). Still, the former three events did include a major personnel change of sorts, while the latter was built on the Ravens finally embracing something more closely resembling a pass-oriented attack for the first time in the Lamar Jackson era.
What follows are my top-10 fantasy storylines to follow throughout the offseason that might just define the 2022 season, listed in no particular order. These will be primarily based on potential player movement and guys taking a huge leap forward; ultimately, we're just trying to take an early gander at what the entire industry will be freaking out about during the summer.
---
Click here for more PFF tools:
Rankings & Projections | WR/CB Matchup Chart | NFL & NCAA Betting Dashboards | NFL Player Props Tool | NFL & NCAA Power Rankings
Best Bets Tool
---
1. Is Cam Akers going to get his job back?
The Rams' starting running back has been a borderline fantasy cheat code during the Sean McVay era:
2017

:

Todd Gurley

finishes as the overall PPR RB1.

2018

: Gurley finishes as the overall RB3 despite missing the final two games of the season. Don't worry:

C.J. Anderson

exploded for 20-167-1 and 23-132-1 rushing lines during Gurley's two-week sabbatical.

2019

: Gurley posts RB14 production despite looking like a shell of his former self for most of the season. That's what 14 total touchdowns — none of which were longer than 13 yards — can do for a man.

2020

: Finally, McVay utilizes a somewhat consistent committee between

Malcolm Brown

,

Darrell Henderson

and

Cam Akers

, although the latter back broke out enough to post PPR RB16, RB13 and RB10 finishes in three non-injury-induced starts from Weeks 12-14.

2021

: Henderson seized the starting job with Akers (Achilles, IR) sidelined for the season, ultimately working as the PPR RB12 in Weeks 1-10 before the Rams' bye. Late-season injury woes prevented Henderson from keeping on, but that did open up the door for ex-Patriots talent

Sony Michel

to work as the RB10 in Weeks 12-17.
The primary reason for this consistent high-end production revolves solely around volume. Gurley surpassed the 300-touch mark with ease in 2017 and 2018 while regularly posting snap rates north of 90%. The latter point is something that also came to fruition for each of Anderson, Akers, Henderson and Michel at one point over the years; Sean McVay loves himself a true three-down back during an era in which most offenses are trending toward multiplayer committees.
Akers' speedy recovery from his Achilles injury could have him suiting up for playoff football; the bigger question in fantasy land is whether or not he'll be asked to once again function as this offense's undisputed lead back. McVay said last offseason that there are no "limitations" on how the Rams can use Akers; we'll see if that attitude holds with the 22-year-old talent coming off arguably the single-most debilitating injury that a running back can suffer.
Volume is king in fantasy land. Each of Akers, Michel and Henderson have proven capable of providing RB1 production when leaned on as this offense's starter, but a committee of sorts could render each as non-viable fantasy options more weeks than not. It sure seems likely that McVay will decide on a featured back at some point — that's his thing, after all — and that player will undoubtedly skyrocket up fantasy draft boards of all shapes and sizes.
2. Are the Bills going old or young at wide receiver?
Josh Allen ranks sixth in passing yards (8.712) and fourth in passing touchdowns (71) over the past two seasons while orchestrating the league's fourth-most pass-heavy attack in non-garbage time situations. It's a good time to be a pass-catcher in Buffalo.
Obviously Stefon Diggs isn't going anywhere, and the Bills figure to lean on Dawson Knox for at least another year through the end of his rookie contract. However, the team can save $6.1 million against the cap by parting ways with Cole Beasley at any point during the offseason. Plus, Emmanuel Sanders only signed a one-year contract back in March.
It's not like Beasley and Sanders are completely washed, but they'll be 33 and 35 years old, respectively, when next season comes around. Every penny counts when your quarterback is making $258 million.
There's also the reality that the Bills might just already have two tailor-made improvements on this very roster. Gabriel Davis is on the squad through 2023 and finished second to only Diggs in PFF receiving grade and yards per route run among all Bills receivers. Isaiah McKenzie will be a free agent himself but figures to come back at a more affordable price than either Beasley or Sanders. Credit to the 26-year-old talent for ripping off electrifying 6-65-2 and 11-125-1 receiving performances in the only two games he's been leaned on since 2020. 
There's more than enough pass-game volume in this offense to enable multiple high-end fantasy options; monitor this depth chart throughout the offseason and be ready to pounce in best ball drafts of all shapes and sizes once we figure out who is staying and who is leaving.
3. Which second-year quarterback will emerge as the most fantasy-friendly option?
There have been plenty of stud second-year fantasy quarterbacks in recent years:
The intriguing part about this trend is the reality that several of these quarterbacks weren't overly expensive to draft. None of Herbert (ADP QB8), Hurts (QB12) or Burrow (QB13) required an early-round pick to acquire, while Jackson (QB14) and Mahomes (QB16) were true late-round darlings before exploding onto the scene.
The industry seems more acutely aware than ever that dual-threat quarterbacks offer one of the highest floor/ceiling combinations in all of fantasy, but the respective struggles from Trevor Lawrence, Zach Wilson, Trey Lance, Justin Fields and Mac Jones (at least from a fantasy perspective) figures to lead to somewhat reduced 2022 expectations.

Resident PFF ranking expert Nathan Jahnke's early 2022 top-250 fantasy rankings pits Lance (QB10)  as the front-runner, with Jones (QB16), Fields (QB19), Lawrence (QB21) and Wilson (QB25) pulling up the rear. Lance and Fields did prove capable of providing true QB1 upside during their stints under center, while Jones, Lawrence and Wilson are cheap enough to at least be solid late-round darts in fantasy formats of all shapes and sizes.
There's still a lot to be unwrapped regarding each quarterback's respective depth chart, play-caller and roster; just realize history tells us that at least one of these second-year talents figures to leap into the upper hierarchy of fantasy quarterback performance, and each looks like he could feasibly be had at a plenty reasonable cost.
4. Which star NFL quarterbacks will be traded?
Three objectively stud quarterbacks have been the focus on trade rumors for the better part of the last 12 months: Aaron Rodgers, Russell Wilson and Deshaun Watson. Each could easily simply return to his current team considering 1.) it's not a given the Packers or Seahawks decide to part ways with their long-time franchise quarterbacks, and 2.) Watson's legal issues complicate the entire situation.
Still, there's little doubt that Rodgers, Wilson and Watson are capable of elevating pretty much any offense in the league on the field if given the opportunity. Their respective departures might doom their current offenses, but the following four teams could suddenly boast a plethora of high-end fantasy options if they're able to acquire one of these high-end quarterbacks:
5. Will wide receivers leap running backs in terms of whom the public prioritizes in the early rounds of fantasy drafts?
Fewer running backs have finished as top-24 producers among all skill-position players in 2020-2021 than fantasy football has seen since 2013-2015:
| | | | |
| --- | --- | --- | --- |
| Top-24 | RB | TE | WR |
| 2021 | 8 | 2 | 14 |
| 2020 | 8 | 2 | 14 |
| 2019 | 12 | 1 | 11 |
| 2018 | 9 | 3 | 12 |
| 2017 | 10 | 2 | 12 |
| 2016 | 10 | 0 | 14 |
| 2015 | 5 | 4 | 15 |
| 2014 | 8 | 2 | 14 |
| 2013 | 8 | 1 | 15 |
| 2012 | 9 | 0 | 15 |
Looking at top-12 finishes tells a similar story: Wide receivers have generally made up the bulk of fantasy's top-overall performers over the years.
| | | | |
| --- | --- | --- | --- |
| Top-12 | RB | TE | WR |
| 2021 | 4 | 1 | 7 |
| 2020 | 3 | 2 | 7 |
| 2019 | 6 | 0 | 6 |
| 2018 | 5 | 0 | 7 |
| 2017 | 7 | 0 | 5 |
| 2016 | 6 | 0 | 6 |
| 2015 | 1 | 0 | 11 |
| 2014 | 4 | 0 | 8 |
| 2013 | 4 | 1 | 7 |
| 2012 | 5 | 0 | 7 |
A general rule of thumb in fantasy: Don't hate players, hate average draft position (ADP). Zero-RB zealots figure to be out in full force during the offseason pointing to numbers like the charts above; just realize every season and correspondingly fantasy draft is different. What worked in 2021 won't be the exact correct strategy for how to approach 2022; be on the lookout for overcorrections, and do your best to focus more on what we expect to happen next season instead of reflecting on the past.

6. Will the Broncos bring back Melvin Gordon?
There arguably wasn't a more impressive back in all of football on a per-touch basis than Javonte Williams, who averaged a league-high 0.31 missed forced tackles per carry and ranked sixth in yards after contact per rush (3.4). The rookie did so in style.
Free Javonte Williams pic.twitter.com/Pa4ZMhuenY

— Ian Hartitz (@Ihartitz) November 30, 2021
Of course, Williams didn't exactly take over in fantasy land, finishing as the RB25 in PPR points per game. This was one spot ahead of teammate Melvin Gordon, who is an unrestricted free agent in 2022.
All Williams did during Gordon's one missed game was post 23-102-0 rushing and 6-76-1 receiving lines on his way to functioning as the week's overall RB1. Yes, plenty of that production occurred in garbage time. Also yes, style points don't matter in fantasy land; these are the sort of performances that great players can post in spite of bad offenses when given a true three-down role.
There's a scenario where Williams begins to flirt with the position's top-five players if 1.) Gordon doesn't return, 2.) the Broncos don't add a higher-end backup, and 3.) one of Aaron Rodgers, Russell Wilson or Deshaun Watson find their way to Denver. Of course, the return of Gordon and/or addition of a fellow high-round/priced back could render Williams back to borderline RB2 status despite his obvious talents. Williams and Gordon literally tied each other with 191 carries through the first 16 weeks of 2021; it's tough for anybody to work as a consistent fantasy RB1 with this sort of split usage.
7. What will the Cowboys' wide receiver room look like come May?
Obviously CeeDee Lamb is the Cowboys' alpha No. 1 receiver of the present and future, but things are a bit more complicated behind him. Dak Prescott and the Cowboys' top-ranked scoring offense are certainly a group that should be able to enable multiple high-end fantasy receivers; it's just unclear who will be at his disposal in 2022.
It'll be tough for the Cowboys to get out of

Ezekiel Elliott

's contract before 2023 at the earliest, but they could save $20 million against the cap and only eat $2 million in dead money by releasing

Amari Cooper

after June 1 (per

Over The Cap

). Cooper will still only be 28 come Week 1 of next season, although he was banged up for much of 2021 and posted three-year lows in PFF receiving grade (72.9) and yards per route run (1.51).

Michael Gallup

(ACL) figured to have a competitive market before getting injured in Week 17, but perhaps the Cowboys will be able to bring back the unrestricted free agent at a discount.

No. 4 receiver

Cedrick Wilson

joines Gallup as an unrestricted free agent after the season. This is also true for No. 5 receiver

Noah Brown

and even sporadic 2021 contributor

Malik Turner

.
Add it all together: Lamb is literally the only wide receiver who has played a snap for the Cowboys this season and is guaranteed to be back in Dallas. Obviously it's not a guarantee that any/all of the other receivers will take their talents elsewhere; just realize it was already going to be hard to keep Lamb outside of the position's top-five options, and that point will be doubly true if he's looking at one of the largest workloads of any player in the league.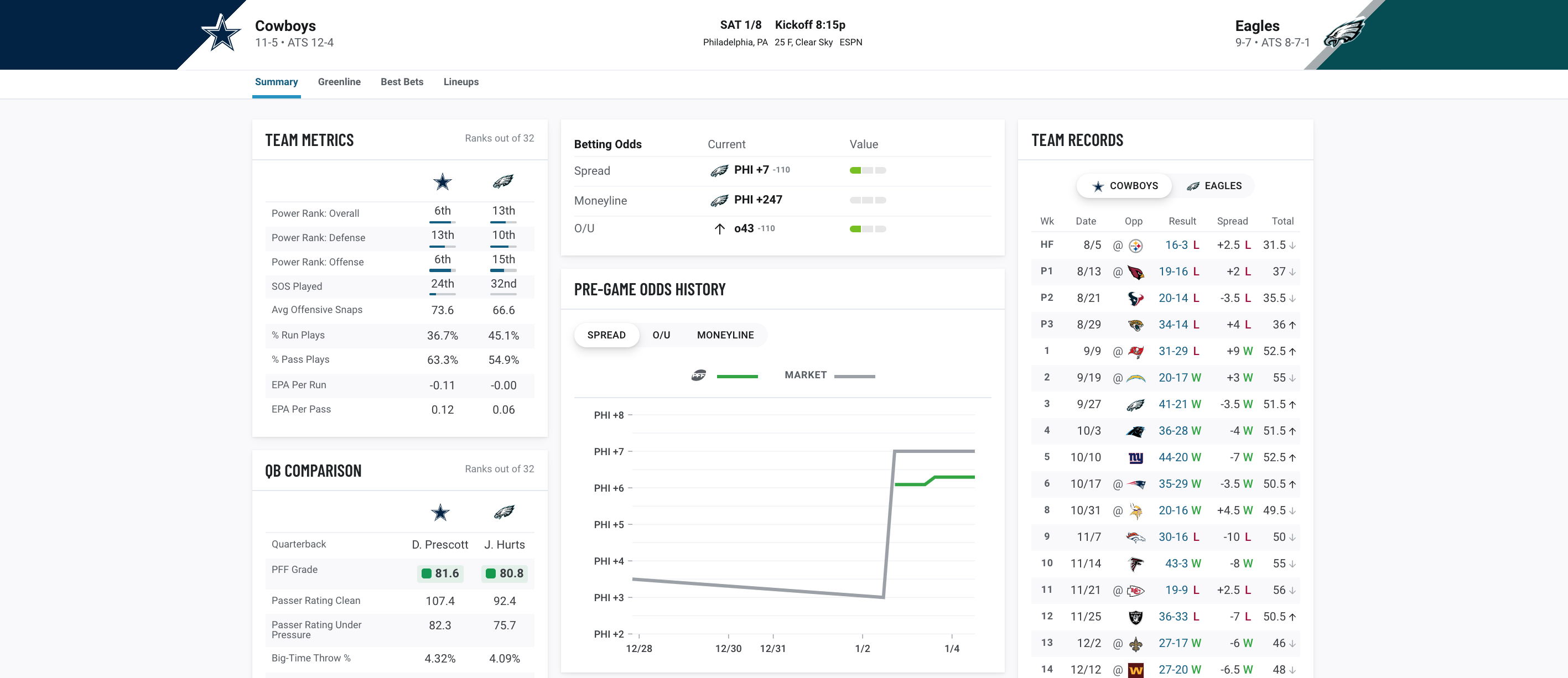 8. Are the Eagles and Dolphins content with their current situations under center?
Neither team qualified as an exceptional landing spot for our aforementioned big-three quarterbacks that could completely shift any given offense for the better, but that doesn't mean there wouldn't be some serious fantasy ramifications if either the Eagles or Dolphins decide to move on from Jalen Hurts or Tua Tagovailoa.
In Hurts' case: He's a high-floor QB1 thanks to one of the largest rushing workloads the position has ever seen. Overall, Hurts' 139 rush attempts are the fifth-most in a single season by a quarterback in NFL history; just nine more carries will leave him behind only 2019 and 2020 Lamar Jackson. This is obviously great for Hurts' personal fantasy value, but moving on would probably lead to more consistent volume for the likes of DeVonta Smith and Dallas Goedert, while historically dual-threat quarterbacks haven't enabled high-end fantasy running backs.
In Tua's case: He's not much more than a low-ceiling QB2 (as evidenced by his standing as the QB24 in fantasy points per game in 2021), but his willingness to feed Jaylen Waddle the 11th-most targets in the league (133) might not be replicated with a more aggressive quarterback under center. It's certainly possible having healthier versions of DeVante Parker and Will Fuller, as well as even a mediocre offensive line, could also depress Waddle's outrageous volume.
9. Where will the top wide receiver free agents go?
Historically, wide receivers have proven capable of posting high-end fantasy production into their second contracts, while the majority of running backs have fallen off hard following their third or fourth year in the league. Most free agent receivers inked to contracts paying north of $10 million per year have (understandably) at least functioned as top-two receivers in their passing games.
The following unrestricted free agents certainly seem like viable contenders to land a contract worthy of a starting spot in the 2022 offseason if their current employer decides to part ways with them:
10. Which rooks will turn out to be high-end fantasy producers in year one?
I won't pretend to have a major grip on the upcoming rookie class just yet, but that's what PFF's 2022 NFL Draft Guide is for.