With the NFL draft just days away, I banded together 12 of PFF's sharpest minds and pitted them against each other in a five-round dynasty rookie draft. This one is a two-quarterback Superflex format — a follow up to the standard dynasty rookie mock we did in March. 
The goal is to see how things play out with 12 different voices in order to get a sense of how the incoming rookies have moved during the pre-draft process. 
More of PFF's 2021 NFL Draft tools here: 
2021 NFL Draft Big Board | 2021 NFL Draft Guide | 2021 NFL Draft Stats Export | NFL Mock Drafts | NFL Mock Draft Simulator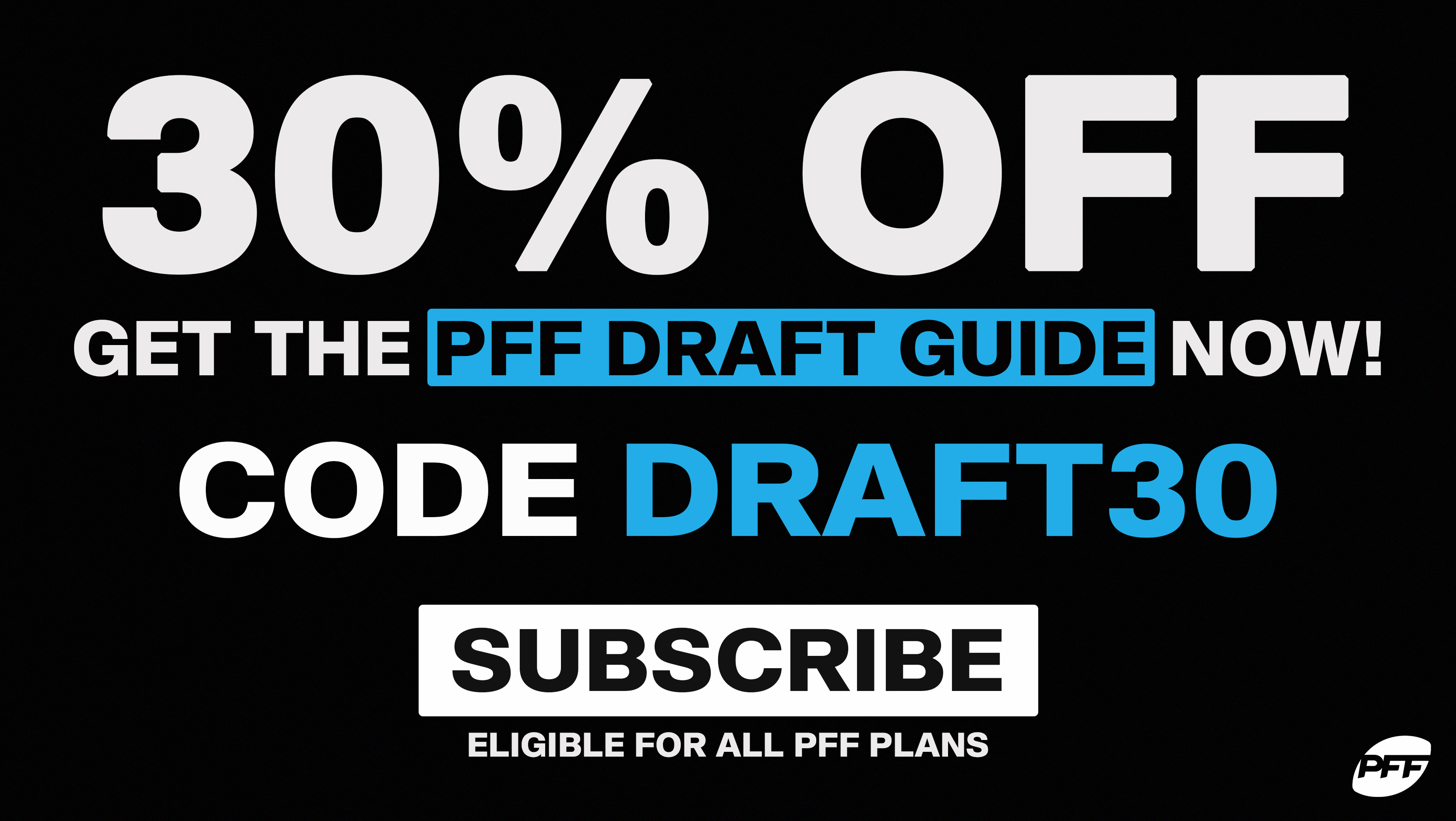 The chart below shows all 60 rookie selections, and it's followed by pick-by-pick analysis on each selection either by the analyst who made the pick or myself. 
Shoutout to Ian Hartitz, Nathan Jahnke, Jarad Evans, Jon Macri, Kent Weyrauch, Kevin Cole, Sosa Kremenjas, Danny Cross, Ben Brown, Mario Pilato and Ben Cooper for participating. Literally couldn't have done it without them. 
Happy mock draft Monday! 
| | | | |
| --- | --- | --- | --- |
| Round | Player | Position | Fantasy Analyst |
| 1.01 | Ja'Marr Chase | WR | Ian Hartitz |
| 1.02 | Trevor Lawrence | QB | Sosa Kremenjas |
| 1.03 | Najee Harris | RB | Ben Cooper |
| 1.04 | Justin Fields  | QB | Kent Weyrauch |
| 1.05 | Javonte Williams | RB | Andrew Erickson |
| 1.06 | Trey Lance | QB | Kevin Cole |
| 1.07 | Kyle Pitts | TE | Ben Brown |
| 1.08 | Zach Wilson | QB | Danny Cross |
| 1.09 | Travis Etienne | RB | Jarad Evans |
| 1.10 | DeVonta Smith | WR | Nathan Jahnke |
| 1.11 | Mac Jones | QB | Jon Macri |
| 1.12 | Jaylen Waddle | WR | Mario Pilato |
| 2.01 | Rashod Bateman | WR | Ian Hartitz |
| 2.02 | Elijah Moore | WR | Sosa Kremenjas |
| 2.03 | Kadarius Toney | WR | Ben Cooper |
| 2.04 | Rondale Moore | WR | Kent Weyrauch |
| 2.05 | Terrace Marshall Jr. | WR | Andrew Erickson |
| 2.06 | Tylan Wallace | WR | Kevin Cole |
| 2.07 | Kenny Gainwell | RB | Ben Brown |
| 2.08 | Trey Sermon | RB | Danny Cross |
| 2.09 | Nico Collins | WR | Jarad Evans |
| 2.10 | Michael Carter | RB | Nathan Jahnke |
| 2.11 | Khalil Herbert | RB | Jon Macri |
| 2.12 | Elijah Mitchell | RB | Mario Pilato |
| 3.01 | Demetric Felton | WR | Ian Hartitz |
| 3.02 | Dyami Brown | WR | Sosa Kremenjas |
| 3.03 | Chuba Hubbard | RB | Ben Cooper |
| 3.04 | Amon-Ra St. Brown | WR | Kent Weyrauch |
| 3.05 | Jermar Jefferson | RB | Andrew Erickson |
| 3.06 | Seth Williams | WR | Kevin Cole |
| 3.07 | Davis Mills | QB | Ben Brown |
| 3.08 | Pat Freiermuth | TE | Danny Cross |
| 3.09 | Jaelon Darden | WR | Jarad Evans |
| 3.10 | Rhamondre Stevenson | RB | Nathan Jahnke |
| 3.11 | Kylin Hill | RB | Jon Macri |
| 3.12 | Javian Hawkins | RB | Mario Pilato |
| 4.01 | Jamie Newman | QB | Ian Hartitz |
| 4.02 | D'Wayne Eskridge | WR | Sosa Kremenjas |
| 4.03 | Tutu Atwell | WR | Ben Cooper |
| 4.04 | Kellen Mond | QB | Kent Weyrauch |
| 4.05 | Cade Johnson | WR | Andrew Erickson |
| 4.06 | Shi Smith | WR | Kevin Cole |
| 4.07 | Jaret Patterson | RB | Ben Brown |
| 4.08 | Amari Rodgers | WR | Danny Cross |
| 4.09 | Brevin Jordan | TE | Jarad Evans |
| 4.10 | Kyle Trask | QB | Nathan Jahnke |
| 4.11 | Dazz Newsome | WR | Jon Macri |
| 4.12 | Anthony Schwartz | WR | Mario Pilato |
| 5.01 | Cornell Powell | WR | Ian Hartitz |
| 5.02 | Josh Palmer | WR | Sosa Kremenjas |
| 5.03 | Damonte Coxie | WR | Ben Cooper |
| 5.04 | Sage Surratt | WR | Kent Weyrauch |
| 5.05 | Mike Strachan | WR | Andrew Erickson |
| 5.06 | Chris Evans | RB | Kevin Cole |
| 5.07 | Pooka Williams | RB | Ben Brown |
| 5.08 | Stevie Scott | RB | Danny Cross |
| 5.09 | Tamorrion Terry | WR | Jarad Evans |
| 5.10 | Larry Roundhouse III | RB | Nathan Jahnke |
| 5.11 | Dax Milne | WR | Jon Macri |
| 5.12 | Ihmir Smith-Marsette | WR | Mario Pilato |
Ian Hartitz: I woke up this morning and chose violence — and also one of the best WR prospects of the last decade that just so happened to outplay "Justin freaking Jefferson" the last time we saw him. Good times.
Andrew Erickson: It was extremely surprising to see Trevor Lawrence available at the 1.02 spot in a 2QB/Superflex league. Quarterbacks in this format are currency — and ones that possess elite potential will never be cheaper to acquire than in rookie drafts. Get this: Lawrence already has a QB7 ADP in Superflex dynasty start-up leagues with zero NFL snaps under his belt. Madness.  
Erickson: After the top two QBs in the class, Najee Harris would be my selection at No. 3 overall. He's my No. 1-ranked rookie in standard 1QB leagues, as I have the utmost confidence in him being a fantasy bell cow in the NFL for the next four or five years. Harris ranks first in rushing TDs (39), third in PFF rushing grade (93.3) and fourth in forced missed tackles (128) since 2019. The Pittsburgh Steelers would be an ideal landing spot.
Kent Weyrauch: QB2 IRL and in fantasy! His rushing ability will be the Konami code on the back of an above-average passing profile to boot.
Erickson: I was contemplating drafting one of the available quarterbacks here but ultimately settled on UNC running back Javonte Williams. The tier drop-off from Lawrence/Fields to Wilson/Lance was spacious enough for me to feel that the workhorse running back was the direction to go. Williams' aggregate total missed tackle percentage (46%) was 11 percentage points higher than the next running back in 2020. The missed tackle rate was decimal points better than last year's leader in the category, Washington Football Team running back Antonio Gibson. 
Erickson: If Trey Lance was a weapon of mass destruction, he'd be a tank. He is versatile on the ground due to his mobility and has a rocket launcher for a right arm. The parallels between the two are uncanny. The kid's got a super-high ceiling, and I agree he should be selected ahead of Zach Wilson in rookie dynasty drafts.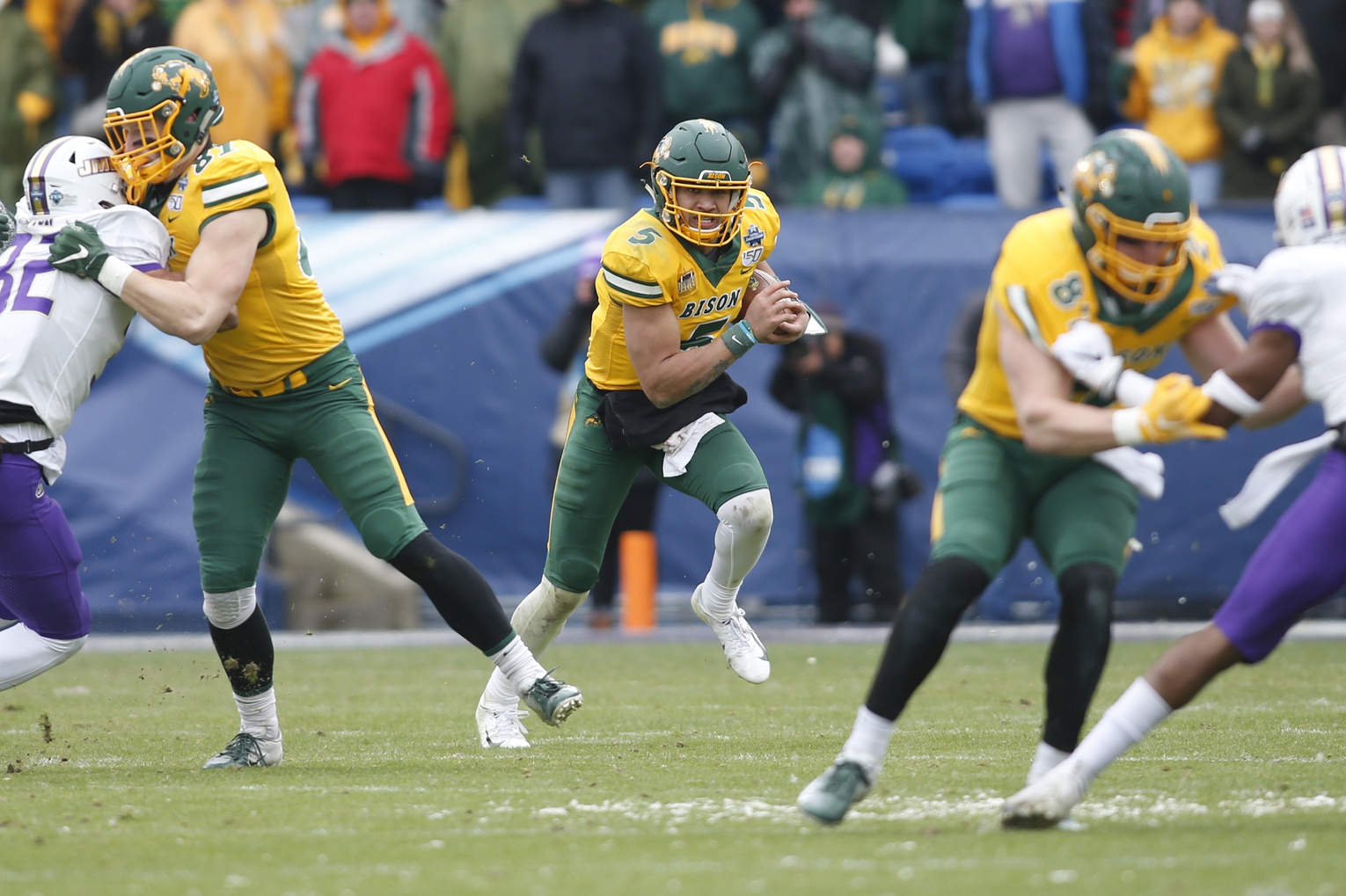 Ben Brown:  With all of the talk about generational talents, no one fits that mold like Kyle Pitts. He is the type of player we haven't seen at the tight end position before. He made Kyle Trask look like a competent quarterback, which is more than enough reason for me to grab him with the seventh overall pick. The two-quarterback format caused the other drafters to gravitate toward QB, but I think Pitts is the player to target at a position that is historically weak for fantasy. 
Danny Cross: Happy to snag the likely No. 2 pick in the NFL Draft here in a Superflex format. QBs are never guaranteed, but the Jets will give Wilson every opportunity to become a long-term starter in the league. 
Jarad Evans: Getting the last of the Big 3 running backs at 1.09 is a steal. If Travis Etienne rediscovers his 2019 form — when he tallied 2,047 total yards and 23 touchdowns — he could easily end up being the No. 1 running back in this entire class, regardless of the landing spot. 
Nathan Jahnke: It was an easy choice, as there is a clear drop-off after the top four QBs, top three RBs and the top TE. The top receivers left on the board are the ones most likely to be future long-term fantasy starters. DeVonta Smith was the top WR left on my board. 
Jon Macri: Going with the value pick here with Mac Jones. The landing spot could be huge for his Year 1 Superflex potential. If the 49ers really do spend the No. 3 pick on him — even better. #LetMcCorkleCork
Mario Pilato: Since there is no quarterback worth picking in this spot, I went with the best player available. Jaylen Waddle is easily the best pure slot receiver in the class. 
FIRST-ROUND OVERVIEW
Aside from a few players being drafted a spot or two higher/lower than consensus ADP, there weren't too many surprises in the first round. With the format changed from a 1QB format to 2QB, we saw five quarterbacks drafted. The last rookie mock draft had just two. Mac Jones went from a fourth-round rookie pick (40th overall) to No. 11. 
The sheer thirst for QBs caused the likes of Rashod Bateman, Rondale Moore and Kenneth Gainwell to fall outside the first round altogether. Jaylen Waddle and Travis Etienne maintained their first-round status but fell the most among skill position players. Interestingly enough, Ja'Marr Chase went two spots earlier in this mock. 
This rookie selection order is definitely going to change after the NFL Draft, which is why it's important to remember the players who were consensus first-rounders pre-draft. Draft capital tends to skyrocket ADPs — see Clyde Edwards-Helaire — and that makes other players better values. 
Hartitz: There's a non-zero percent chance the Packers select Rashod Bateman, although it would be the franchise's first skill-position talent taken in the first round since they drafted Aaron Rodgers back in 2005 (not counting Jordan Love, lol). Bateman has all the size and athleticism we could ask with plenty of shake-and-bake skills as well. Give me PFF's consensus WR4 as the WR4 in fantasy land as well.
Sosa Kremenjas: This was a tough decision — nearly went with Rondale Moore, but I think Elijah Moore gets drafted earlier. The major difference between the two could ultimately boil down to team/fit.
Erickson: Toney is the cover boy for my "fade list," and he wouldn't be my selection here over some of the other receivers on the board. I can say with certainty that he goes in Round 1, making it likely that fantasy managers overdraft him in rookie drafts. Draft capital matters more for rookie running backs than it does for wide receivers. 
Weyrauch: Quite possibly the most explosive wideout in this class pound-per-pound, Rondale Moore might have to prove he can compete on longer routes at the next level, but on quick, short routes he will easily dominate.
Erickson: Terrace Marshall Jr. has risen substantially up my rookie rankings since the start of the pre-draft process, and there's a clear tier break between him and every receiver left on the board. Since the start of 2019, TMJ owns the league's highest passer rating generated (158.3) when targeted from an out-wide alignment.
Erickson: Love the selection of Tylan Wallace by Kevin Cole. Wallace isn't held in as high regard as some other WRs because of his torn ACL in 2019, but he showed last season that he can still ball. Another year removed from the injury should do wonders for him in the NFL.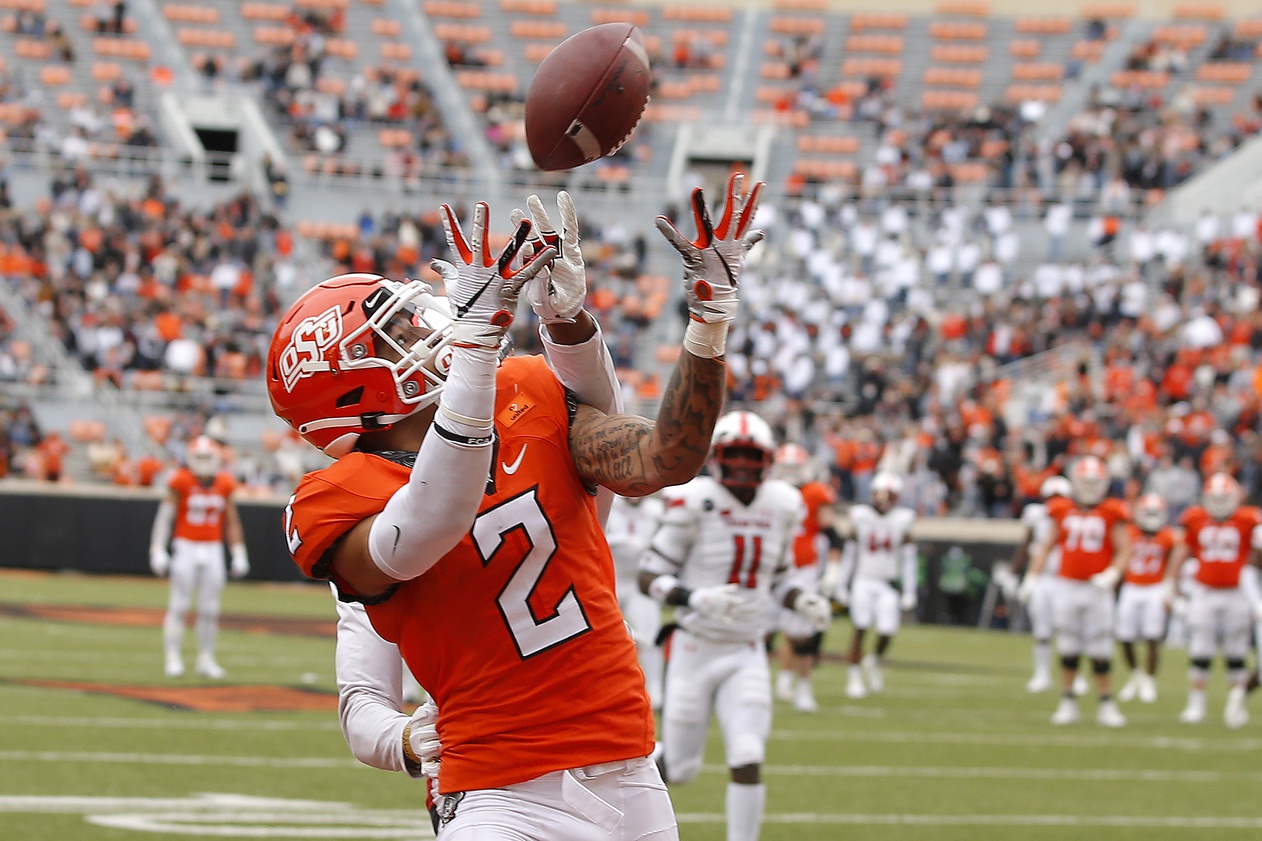 Brown: Kenny Gainwell took the top spot in my text analytics piece on running backs, and he was a player I was targeting before that study. He held off Antonio Gibson to be the lead back at Memphis, forcing Gibson to the wide receiver position. His upside, especially as a pass-catching back, is unmatched in this draft class. In a PPR format, he could easily lead the position in fantasy points his rookie season.
Cross: After missing out on the second tier of WRs, I'm looking for a high-floor RB here. Landing spot will determine who among the five RBs from 2.08-3.03 will offer the most upside.
Evans: Nico Collins is this year's, Chase Claypool. At a burly 6-foot-4 and 215 pounds with 4.42-second speed and a 37.5-inch vertical, Collins possesses all the physical traits necessary to be a beastly contested-catch weapon downfield at the NFL level.
Jahnke: The top few players remaining on the draft board are running backs after the run on wide receivers to start the second round. Michael Carter was the top one on my board.
Macri: Khalil Herbert may not get a ton of work as a receiver out of the backfield, but coming off a season where he posted a 91.3 rushing grade and over 1,100 yards on the ground gives me faith he can be effective in the NFL.
Pilato: I was between Chubba Hubbard and Elijah Mitchell at this pick. I went with the guy that has a three-down NFL skill set. Elijah's test scores match his film; he is an electric player.
SECOND-ROUND OVERVIEW
Ideally, we'd like to acquire a running back in the first round and a second-tier wide receiver in the second round in 2021. There are solid WRs across the board, and the drop-off is much less significant than it is for running backs. Hence, we see six receivers selected to start the second round, with five running backs bringing up the rear. 
Hartitz: WR/RB hybrids are like crack to me. Demetric Felton is listed as a wide receiver for a reason: He started his career at UCLA as a slot receiver. However, he switched full-time to RB in 2020 and had three games with at least 25 carries. Felton was back to working with the receivers at the Senior Bowl and didn't look out of place by any stretch of the imagination; here's to hoping the NFL continues to do a better job getting the most out of hybrid talents like Felton in all facets of the game.
Kremenjas: Enjoyed seeing Dyami Brown still on the board at this spot. If he can go to a team that will utilize his vertical prowess, he could become a major weapon and a great value.
Erickson: Chuba Hubbard's boom-or-bust profile makes him worth the dart-throw early in the third round. With a solid landing spot, we could easily see his value gain steam up to the middle of the second round, which is where he was selected in our first mock draft. But a poor destination could absolutely tank his fantasy value. 
Weyrauch: Featuring a solid dominator rating of 24% at USC and an early declaration, Amon-Ra St. Brown will likely be a very good WR2 in the NFL.
Erickson: In hindsight, I probably should have drafted Rhamondre Stevenson instead of Jermar Jefferson. Grindingthemocks.com has Stevenson's expected draft position as RB5, while Jefferson isn't even in the top 10. When drafting running backs this late in rookie drafts, you have to heavily factor in draft capital. 
Erickson: A round of applause for Kevin Cole, who once again flaunts his fantasy expertise by selecting Auburn WR Seth Williams. I stated my claim for Williams on the PFF Fantasy Podcast because he checks off too many boxes that we covet in wide receiver prospects. 
Brown: Outside of the top five quarterbacks assumed to go in the first round, Davis Mills offers the most intriguing tool set of the next tier. He has an NFL-caliber arm according to most scouts and is really only knocked for his decision-making. In a QB-focused draft, I am reaching a bit but want to take a shot on the player with the highest ceiling in the lower tier of quarterbacks.
Cross: An excellent TE prospect overshadowed by the freaky Kyle Pitts, Baby Gronk is a projected second-rounder according to the PFF Draft Guide. He'll need the requisite TE development time but should play a high snap share and be involved in the passing game for years to come.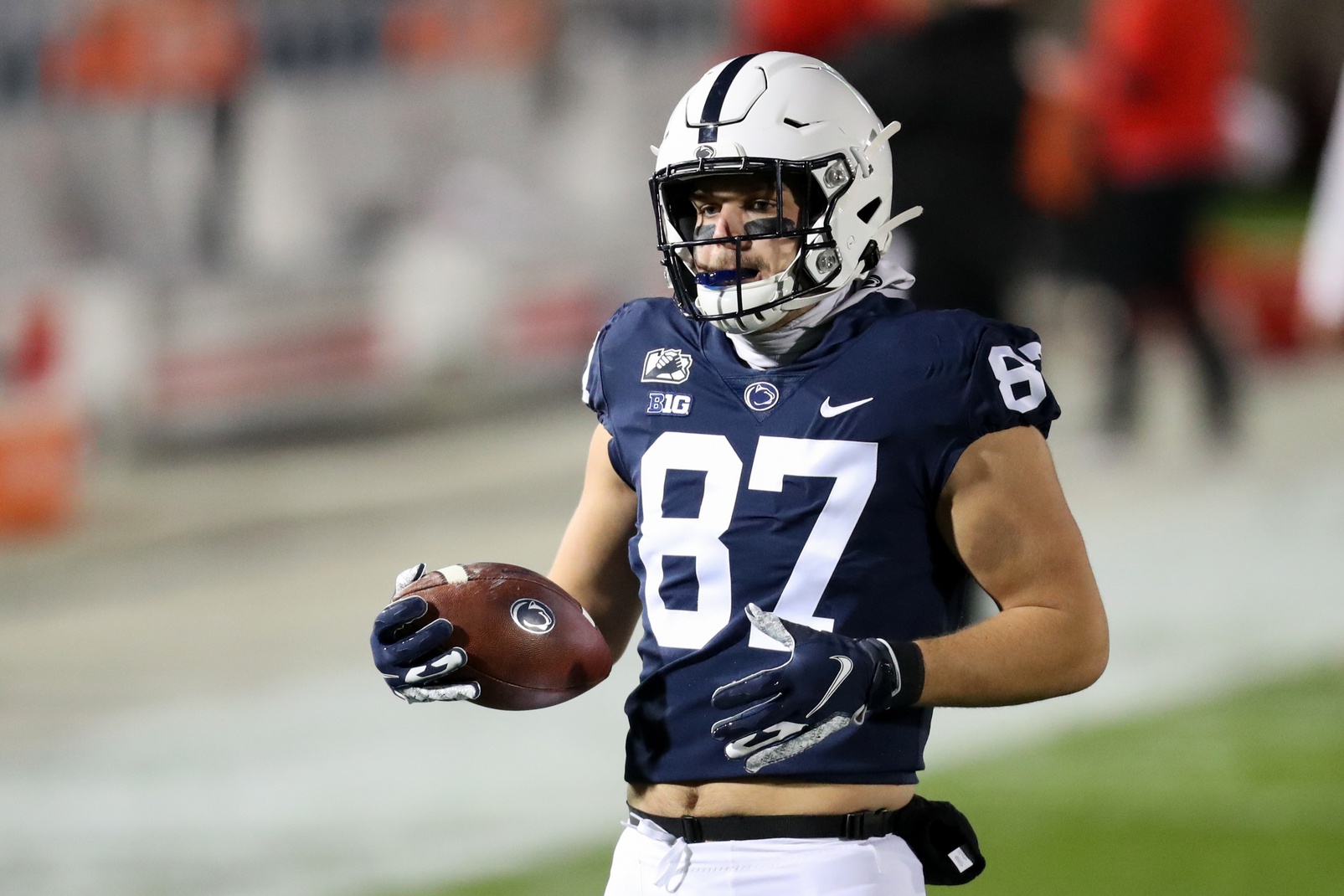 Evans: Jaelon Darden is a dynamic blur with the football in his hands — he led the nation with 23 forced missed tackles and ranked third with 571 yards after the catch. Athletic slot receivers can be impact fantasy studs — look no further than Tyler Lockett, Cooper Kupp and Tyler Boyd to see Darden's fantasy impact potential.
Jahnke: Best available back while most of the rest of the draft will be wide receivers. 
Macri: After grabbing Khalil Herbert in Round 2, I wanted a pass-catching back here and Kylin Hill is my guy. Averaging almost 10 yards per reception for his college career is solid for a guy with 67 career receptions.
Pilato: A home-run threat every time he touches the ball. Javian Hawkins also has a superior running back dominator rating of 30%.
THIRD-ROUND OVERVIEW
We saw tight ends being drafted for the first time since Round 1, so if you miss out on Pitts, the third round is where you might expect to see the next tier come off the board. Tight end Pat Freiermuth is being pushed down the draft board because he's not generational. Any other season he would be a surefire second-round rookie pick, so scoop up the value with him in the third round. I guarantee his NFL career is better than plenty of players selected ahead of him. 
When it comes to drafting RBs/WRs this late, keep in mind that the hit rates are extremely low. I've collected the players drafted in this round dating back to 2017 and found that wide receivers have a slightly better hit rate in this round (32%) than running backs (11%). 
Players taken in these rounds usually don't have high draft capital attached to their name. Draft pedigree equates to opportunity, and running backs fall by the wayside because their path to touches is more difficult. Most of the time, offenses only have one running back on the field. 
Meanwhile, teams run out three- and four-receiver sets frequently, giving WRs with lesser draft stock a slightly better chance of seeing on-field action. The first step to scoring fantasy points is getting into the game. 
Hartitz: My favorite late-round rookie QB as of today after talking to PFF's own Anthony Treash, Jamie Newman has the sort of dual-threat ability that arguably makes him the most fantasy-friendly signal-caller still on the board. Critics will suggest this is a reach, but scholars will look back at this pick years from meow and marvel at the courage to make such a move.
Kremenjas: Love D'Wayne Eskridge's game. He has the ability to create YAC, work vertically to take the top off the defense and had some of the most absurd production and efficiency in college football last year.
Erickson: The so-called "speedster" underwhelmed in the testing drills at his pro day, highlighted by a 4.42 40-yard dash that leaves a lot to be desired from a prospect that weighed in at a meager 155 pounds. Don't love the prospect, but the value's not bad for a player that was a solid producer in college. Grindingthemocks.com has him projected as the WR22 (133 overall). 
Weyrauch: At this point, I'd say there is surplus value on any decent QB left in the pool for Superflex. Kellen Mond might not be nearly as clean of a prospect as the top names, but he still has athletic upside and a big arm for long-term potential.
Erickson: You can't teach an old jackrabbit new tricks. South Dakota State's Cade Johnson was featured as one of my top-five sleepers in this class and was my selection in the fourth round in our first mock draft. Grindingthemocks.com has him projected as the WR23 (140 overall). 
Erickson: Some fantasy football analysts love to hate on him, but NFL media outlets just seem to love Smith. Grindingthemocks.com has him pegged as the WR10 off the board. 
Erickson: I'm all for taking fliers on uber-productive running backs, even if they are undersized. Buffalo's Jaret Patterson is by far the highest-ranked running back in this class in terms of dominator rating (33%).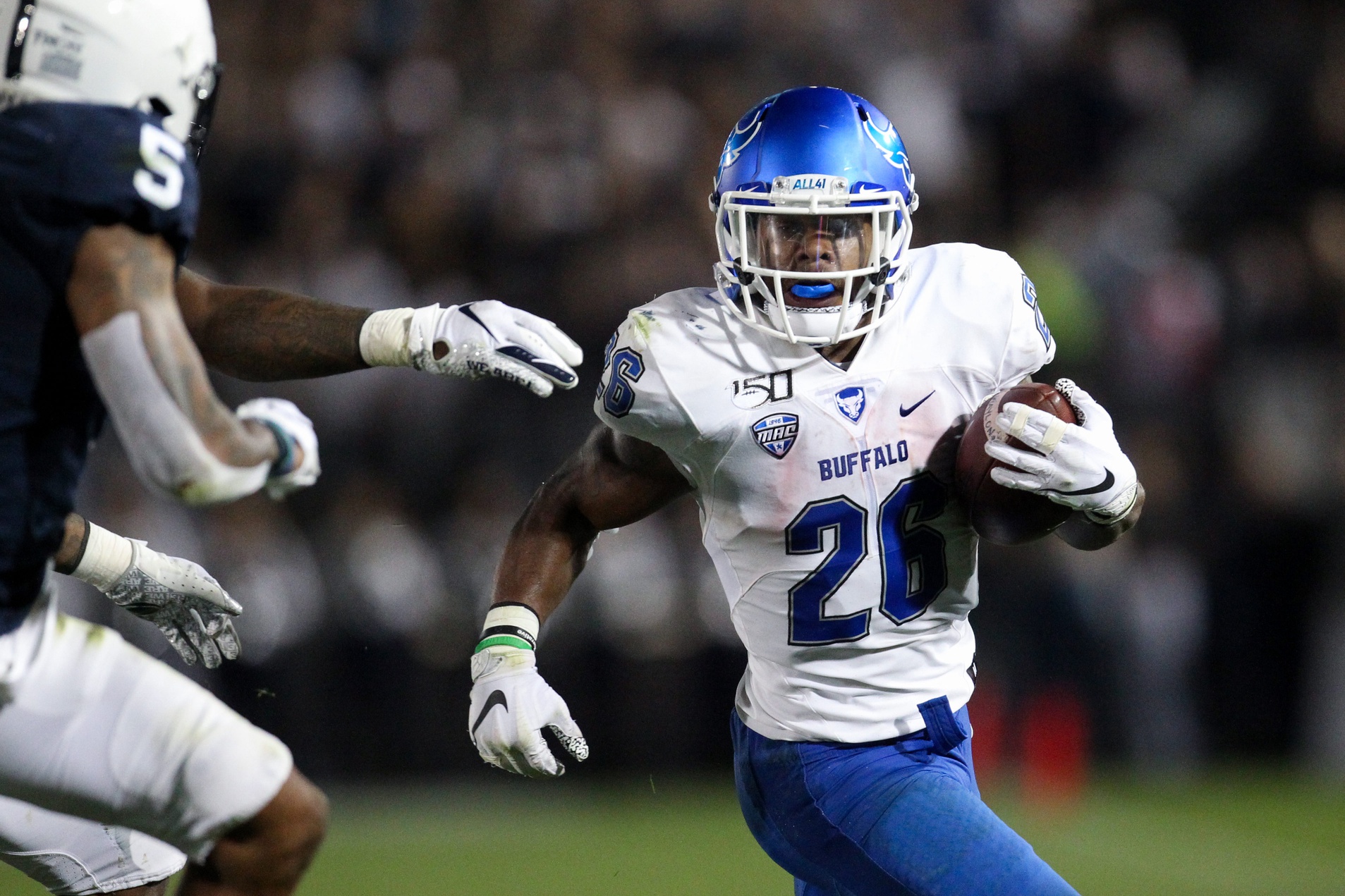 Cross: Fascinating prospect with the build and tackle-breaking ability to handle carries in the NFL. A year after Antonio Gibson transitioned seamlessly from college WR to NFL RB, let's see if Rodgers can find a home in a creative offense willing to scheme him some touches.
Evans: I like the idea of targeting developmental tight ends toward the end of rookie drafts because any of these players currently on the board will probably take a few years to develop anyway. Brevin Jordan is a dynamic playmaker with the football in his hands — he looks like a jumbo running back after the catch.
Jahnke: There is a big drop-off between Trask and the next quarterback. In a 2QB league, Kyle Trask was worth the risk this late.
Macri: Dazz Newsome may be strictly a slot receiver, but there's nothing wrong with that for fantasy. Plenty of teams can utilize his skill set — I'm banking on a decent landing spot and a chance to improve his hands in the NFL.
Pilato: With no QBs left worth drafting, I went with the WR highest on my board. Anthony Schwartz offers a blazing 4.29 40 speed. He can stretch the field and blow the top off of defenses. Simply put: He. Can. Fly. 
Hartitz: Powell had the fifth-highest playmaker rate among draft-eligible WRs last season. The metric rewards big plays, scores and broken tackles, things that Cornell Powell regularly demonstrated with the Tigers. He's an older prospect who isn't spectacular in any one area, but we shouldn't hold his inability to unseat Tee Higgins or Justyn Ross for a few years against him.
Erickson: Josh Palmer's Senior Bowl performance dramatically increased his draft stock. His combined grade (8.0) and win rate (81%) in one-on-ones versus defensive backs was easily the best at the event. Don't be surprised to see him drafted on Day 2. Grindingthemocks.com has Palmer's expected draft position at WR24. 
Erickson: Memphis has produced a plethora of NFL talent in the past few draft classes — I think that may have been Ben Cooper's approach with the selection. Outside of that, there's not much upside I can find in Coxie's profile. He's not a great route runner, and his 16 drops over the past two seasons show that we aren't exactly talking about the world's most sure-handed receiver. Not to mention, ran a 4.77 40-yard dash at his pro day. 
Erickson: Sage Surratt's NFL player comparison in PFF's Draft Guide is late-career Dez Bryant, i.e. when Bryant wasn't good at football anymore. No thanks. 
Erickson: Mike Strachan is a chiseled 6-foot-5 and 226-pound WR from Charleston who finished his career with an absurd 52% dominator rating — by far the highest mark of any receiver in this class. Greek gods wish they were built like him. Still cannot believe Kent took Surratt instead of him. 
Erickson: Love the selection here by the one and only Kevin Cole. Running back Chris Evans is a long-shot to be anything in the NFL, but he has an ideal size/speed profile and coveted three-down skill that could thrust him into fantasy relevance. 
Erickson: I can't see Pooka Williams being anything more than a scatback at the next level, and those type running backs tend to be roster-cloggers on dynasty teams. I've owned Nyheim Hines since the inception of my dynasty league team and have never known an appropriate week to insert him into my starting lineup. 
Cross: Has the size if not the speed; productive for three straight seasons at Indiana starting at 18 years old. Stevie Scott has handled a ton of goal-line carries and brought down 26 catches as a sophomore. A worthy late-round lottery ticket.
Evans: Tamorrion Terry scored 10 touchdowns in the last two seasons, averaging a whopping 56.8 yards per play on those scores — the highest rate in college football. That type of big-play ability is more than worth a dart in the fifth round of rookie drafts.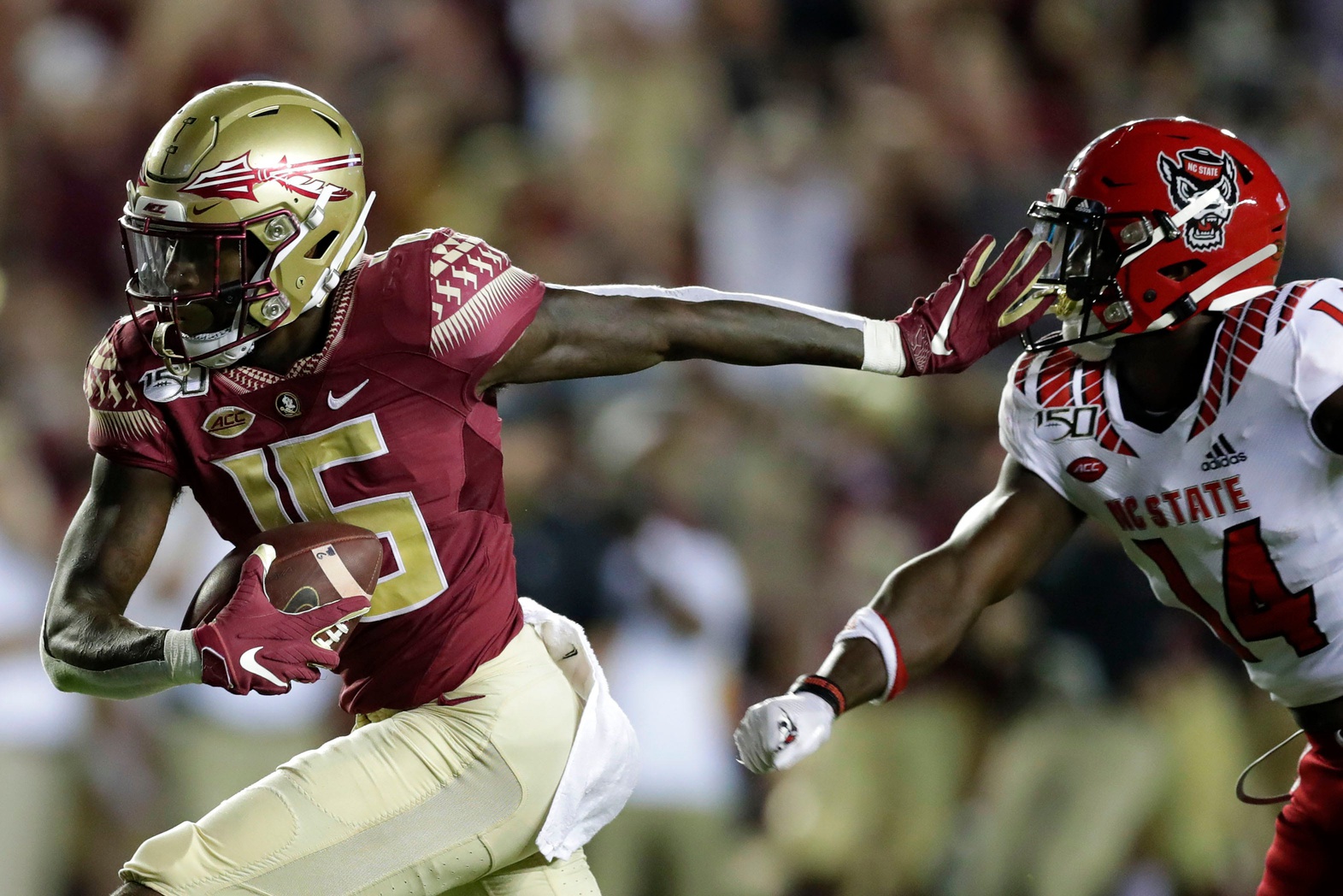 Erickson: In my final pre-draft rankings, I advised targeting players who boast the highest level of size, speed and athleticism in the late rounds. Larry Roundtree III is not that running back. 
Macri: Milne posted a 90.0 overall PFF grade in 2020 en route to over 1,100 yards and eight touchdowns as Zach Wilson's favorite target. Now he just needs to prove he can continue to win against better competition.
Pilato: Mr. Irrelevant! Don't let the poor QB fool you, Ihmir Smith-Marsette can play. He had a great pro day and has some upside with his size and speed.
ERICKSON'S HIGHEST-RANKED SNUBS
Austin Watkins is one of my favorite sleepers in this class, and Simi Fehoko is 6-foot-4 with 4.40 wheels. Don't overlook either of these guys if a team commits to drafting them on Day 2 or early on Day 3. NFL talking heads seem to like Fehoko a ton. The NFL numbers adore his athletic profile. 
Per NFL Next Gen's statistical models, Ja'Marr Chase has a 24% chance of making the Pro Bowl in his first three NFL seasons. Stanford's Simi Fehoko's is the next-highest WR at 15%.

— Ben Baby (@Ben_Baby) April 22, 2021