The 2021 NFL Draft Class is littered with versatile wide receiver prospects, and that creates a hurdle for evaluators. North Texas slot wide receiver Jaelon Darden is 5-foot-8 and 174 pounds. You'll be hard-pressed to find an NFL team that is going to evaluate him and Michigan outside wide receiver Nico Collins (6-foot-4, 215 pounds) in the same manner. 
That's why I think it's important to hone in on the wide receiver position a little closer: slot versus outside. We can create more accurate rookie rankings by grouping these types of players together.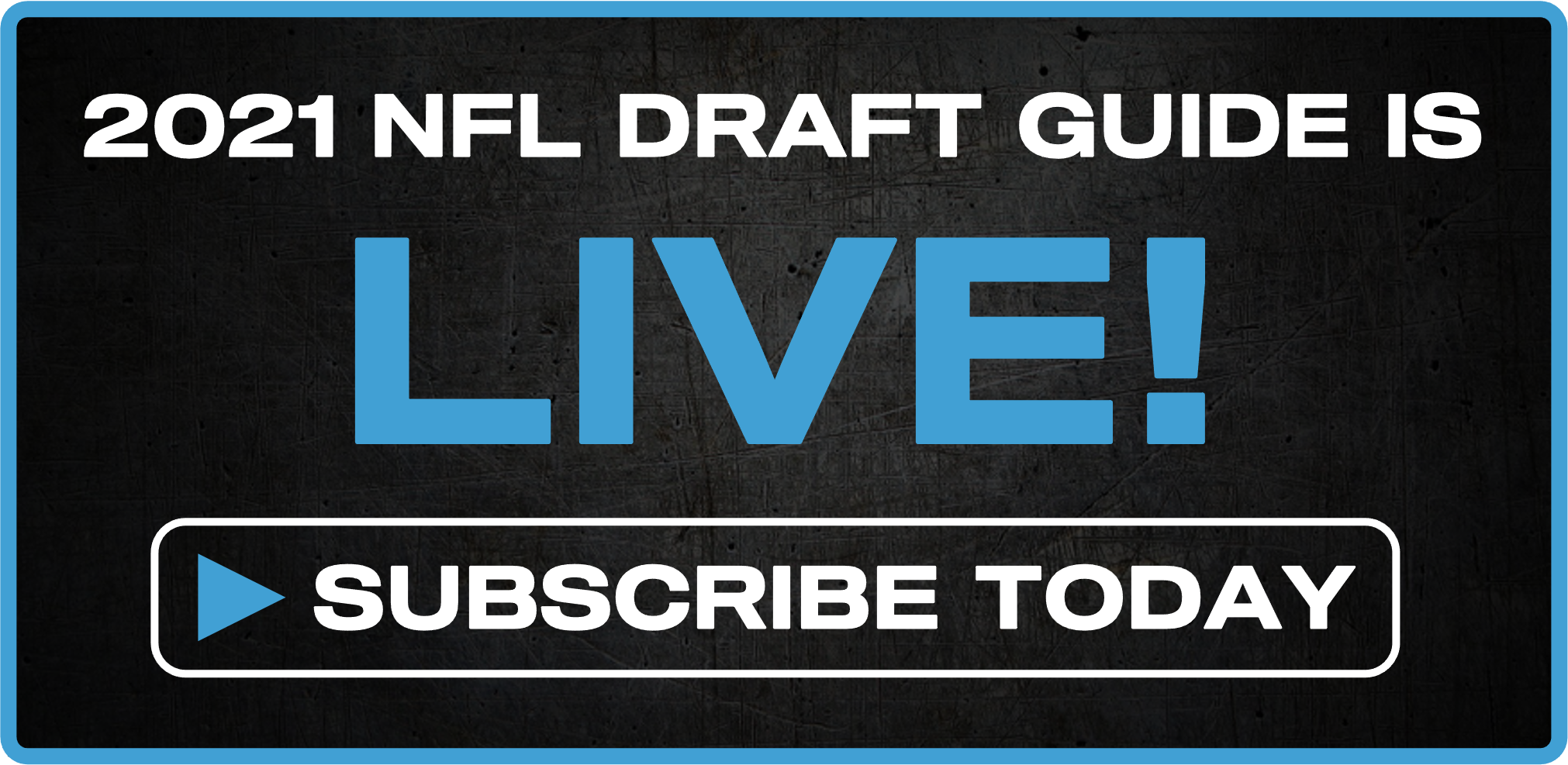 The following is a breakdown of my top eight slot receivers in the 2021 NFL Draft. I'm limiting the group to receivers who saw at least 50% of their snaps from the slot in college. Guys like Rashod Bateman and Terrace Marshall Jr. are not included despite their uptick in slot usage in 2020. 
Career slot snap share: 77%
Waddle is my No. 2 overall wide receiver and No. 1 slot receiver for 2021. The explosive playmaker has terrorized defenses with his speed from the slot over the past three seasons. Waddle is PFF's highest-graded player when lined up in the slot (93.1) since the start of his freshman season in 2018.
Slot receiving grade since 2018 (minimum 100 targets)
| | |
| --- | --- |
| Player | PFF receiving grade |
| Jaylen Waddle | 93.1 |
| Elijah Moore | 89.5 |
| Cade Johnson | 89.5 |
| Rondale Moore | 89.1 |
| Jaelon Darden | 88.6 |
| Kadarius Toney | 85.1 |
Waddle's impressive grade is fueled by his insane 20.4 yards per reception (first), 11.0 yards after the catch per reception (first), 4.19 yards per route run (first) and 150.6 rating generated when targeted (first).
It's clear that Waddle is by far the best slot receiver in this class, but that doesn't mean he will be pigeonholed as such in the NFL. Waddle's twitchiness and route running can transition to the perimeter better than any other receiver on this list.
Justin Jefferson's final college season slot snap rate (98%) did not compare to his rookie season with the Minnesota Vikings (30%) — a reminder that not all college slot receivers will carry their "slot" designation to the next level. 
Talented wide receivers find a way to win wherever they line up. Plus, Waddle's talent with the ball in his hands goes beyond offense. His 24.7 yards per punt return is the best mark in the PFF college era among players with at least 10 punt returns in a season. 
He's a highlight reel waiting to happen. 
Career slot snap share: 92%
Elijah Moore was one of my biggest winners after collegiate pro day numbers came out. The slot receiver's 40-yard dash ranked fourth and his short shuttle/three-cone third among 2021 draft class WRs who tested at their pro days. He's up to No. 20 overall on PFF's Big Board.
Moore burst on the scene in 2019, taking over as the featured receiver in the Ole Miss offense. He's been PFF's second-highest-graded slot receiver (90.0) since then while ranking first in receiving yards (1,738), fourth in contested catch rate (61%) and fifth in yards per route run (2.95).
Some view slot receivers as less valuable than outside WRs for fantasy football, but make no mistake: Moore's role didn't hinder him from making big plays downfield.
Among the 2021 draft class, Moore finished ninth in air yards (1,182), fifth in catches of 20-plus yards (11) and fourth in deep-ball yards (490). He ranked second in yards and catches on deep targets from the slot. 
Moore's aDOT from the slot (10.8) is the third-highest among 2021 draft prospects dating back to 2019. 
Elijah Moore had the lowest drop rate among SEC WRs last season

— PFF Draft (@PFF_College) March 16, 2021
Career slot snap share: 87%
Rondale Moore melted faces in college football as an 18-year-old true freshman in 2018, posting over 1,200 receiving yards and 114 catches — the most in the country. That earned him a 37% dominator rating, which is one of the highest ratings of any receiver during their breakout season.
From the slot, specifically, Moore finished first in receptions (102), second in receiving yards (1,157), 16th in yards after the catch per reception (7.9) and 17th in average yards per route run (2.65).
Moore's elusiveness and electricity with the ball in his hands are top-notch. Since the start of the 2018 season, he ranks second in forced missed tackles from the slot (44) despite playing only seven games over the last two years.
What gives Elijah Moore the slight edge for me over Rondale is that the former possesses a more vertical threat to his game. Rondale only caught two passes over 10 yards downfield in 2020. In his breakout freshman season, he only caught 11 passes at the intermediate level.
At just 5-foot-7, I would expect most NFL teams to view Rondale Moore as "slot-only," which could ultimately hurt his draft stock. His projected first-round draft capital from months ago seems unlikely. 
Career slot snap share: 70%
Kadarius Toney's missed tackle rate per touch (35%) since 2018 ranks No. 1 among the 2021 WR draft class (minimum 100 touches). The guy turns into a modern-day Dante Hall with the ball in his hands, which has cemented his draft stock in the first round. 
The dynamic Florida receiver has predominantly played the slot since 2018, ranking sixth in yards after the catch per reception (8.9) and second in passer rating generated when targeted (148.7).
It wasn't until the 2020 season that we saw his best production. Toney compiled 784 receiving yards from the slot (80% of his total receiving yards), and the majority of his yards came on explosive plays — 23 of his catches went for 15-plus yards.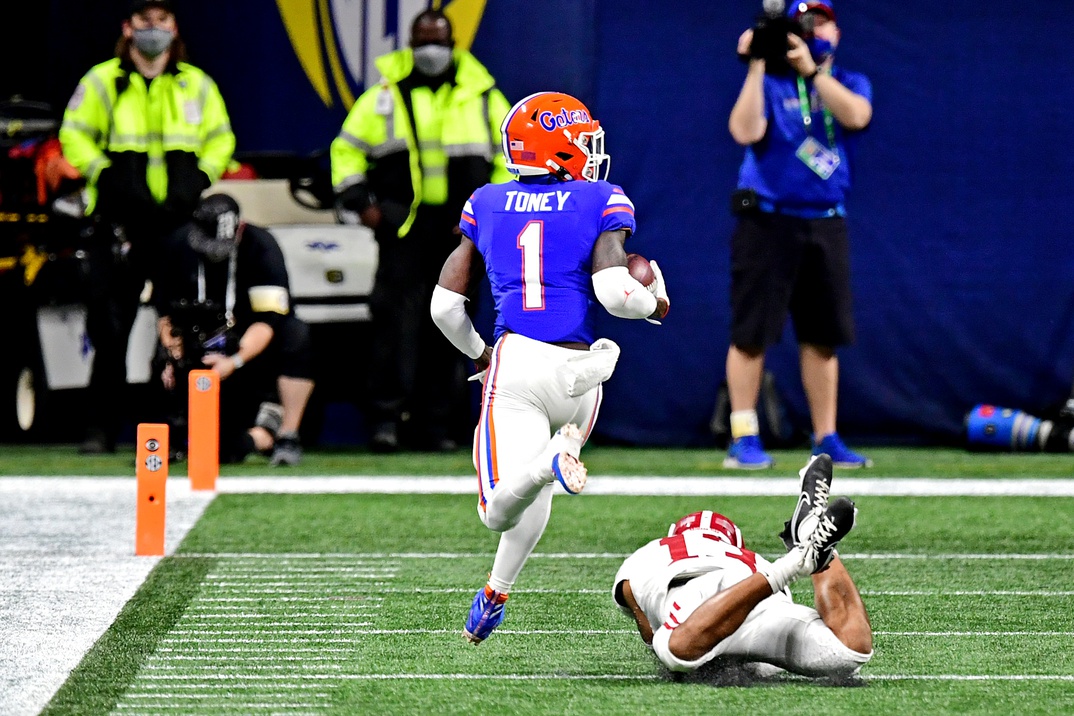 Toney's late breakout age (21.5 years old) and lack of overall production are red flags on his profile, but NFL general managers are enamored with his "upside" potential. 
At 6 feet and 192 pounds, Toney has a leg up on some of the smaller slot receivers in the class. His size provides a much higher chance that he transitions to the outside, which could also be a reason why the NFL generally likes him more than fantasy football analysts. 
Among qualifying receivers on this list (at least 40 targets when lined up wide) Toney trails only Cade Johnson in career PFF receiving grade from the outside (72.3).
Career slot snap share: 94%
Jaelon Darden was classified as a "sleeper" just a few months ago, but those days are over. Everybody loves the Mean Green machine from North Texas.
Darden posted gaudy numbers as a senior — 19 touchdowns and 1,190 receiving yards in just nine games. That earned him a dominator rating of 61%, which is the type of dominance small-school players have to demonstrate to have a chance at the next level.
Darden dusted his opponents from the slot in 2020: fifth in PFF receiving grade (87.6), second in receiving yards (935), second in forced missed tackles (19) and first in receiving touchdowns (16).
He trailed only Heisman-winner Devonta Smith in yards per route run from the slot (5.94 versus 3.91). 
PFF's Kevin Cole ran NFL comparisons for Darden, and Jamison Crowder emerged as one of the top slot receiver comps. We can only hope that Darden is drafted by the Carolina Panthers and fills in nicely as Sam Darnold's new and improved slot receiving target.  
Career slot snap share: 82%
Cade Johnson is another small-school prospect generating NFL draft buzz. The South Dakota State football season was canceled, so Johnson didn't have the chance to grow his draft stock, but we can't forget what he did in 2019 from the slot, finishing seventh in yards per route run (3.57) and seventh in yards after the catch per reception (10.3).
Johnson measured in at 6 feet and 184 pounds at his pro day, which is a major difference from where he was listed previously: 5-foot-9 and 174 pounds. Johnson bulked up during the year off. 
The size is great for his draft stock and could make a team more comfortable moving him outside — an area where he has excelled when called upon. 
Since 2017, Johnson ranks No. 1 in the class in yards per route run (4.23) on the outside with 37 catches on 55 targets. 
Career slot snap share: 69%
Amon-Ra St. Brown played in the slot during his "best" seasons back in 2018-2019. He finished 22nd in PFF receiving grade (72.3) and 34th in average yards per route run (1.96) among the 2021 class. 
He was more efficient operating from the outside, with a 77.9 PFF receiving grade (13th) and 3.22 average yards per route run (second). The USC coaches noticed the slot/outside split.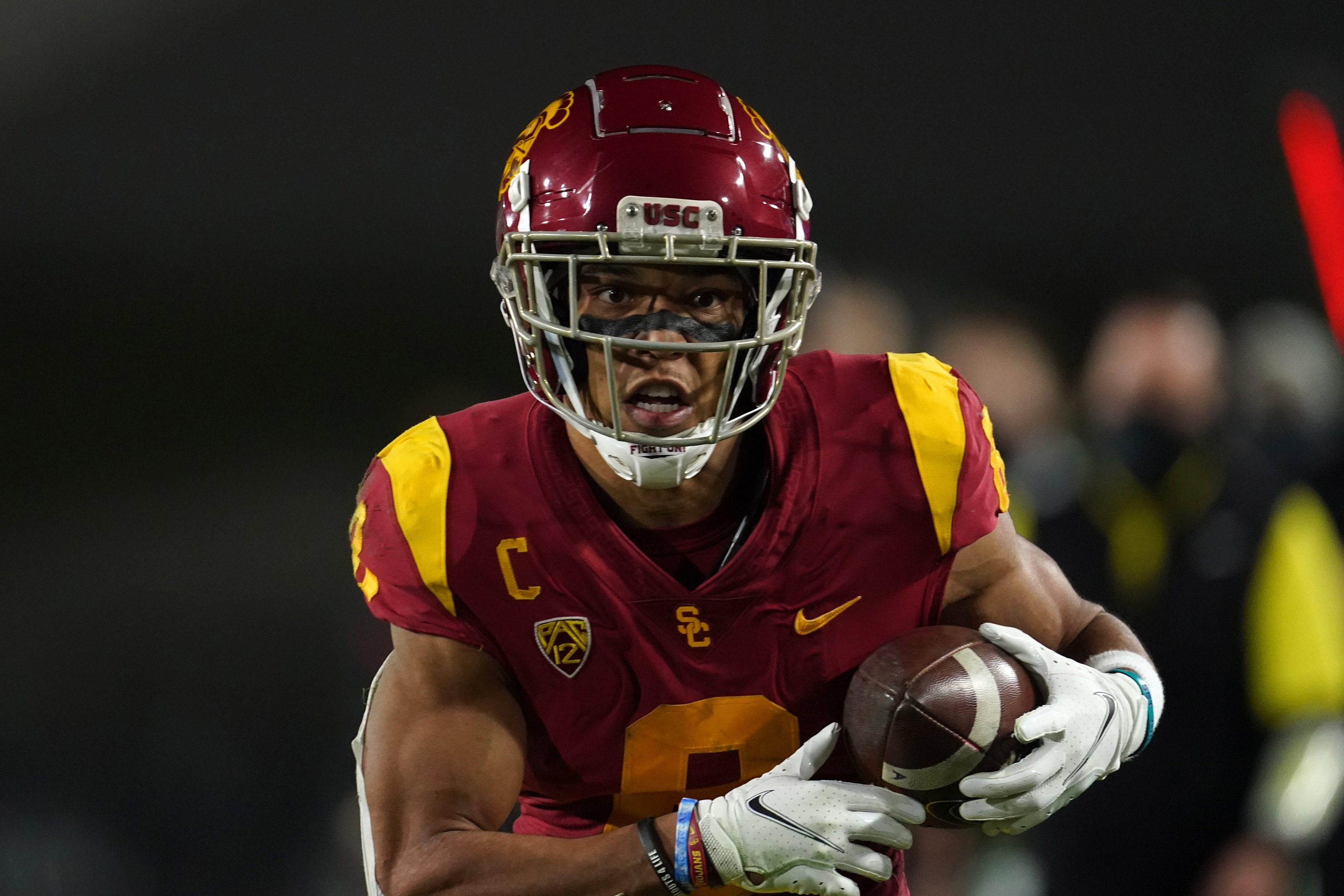 In 2020, St. Brown saw his smallest slot snap rate of his career (35%) and underwhelmed from that area of the field, finishing outside top 50 in grade and yards per route run.
ASB's numbers from the outside weren't much better, which puts him into no man's land for NFL scouts and coaches. He has the experience to play both outside and inside but failed to post elite production from either. St. Brown's ceiling as a fantasy commodity doesn't look very high.
Career slot snap share: 60%
Amari Rodgers finally broke out during his final season at Clemson, posting over 1,000 yards and seven touchdowns. It's been tough for Rodgers to produce even in an elite college offense because he's been playing alongside studs like Tee Higgins and Justyn Ross. 
A-Rod exclusively played as the Tigers' slot wideout and led the nation in receptions (68) when lined up inside. His claim to fame was creating yards after the catch, as he finished first in that category in 2020. His 9.6 yards after the catch per reception from the slot is the highest among any player over the past two seasons.