We are back with our second positional writeup of draft prospects using text analytics, this time focusing on the running back position. Our quarterback article was the first in the series.
Thanks to math and feature engineering, we can use natural language processing to compare prospects to their contemporaries and those from the past, and then tie in advanced descriptive stats that we have built previously to gauge how well a prospect who fits within a certain mold performed in the NFL. 
For this series, we took prospect write-ups from The Athletic's Dane Brugler, one of the best football film analysts out there, over the past seven seasons (including 2021) and used latent semantic analysis (LSA) to derive similarity scores between the text in prospects' scouting reports.
After building our dataset to span seven seasons, we can create a prospect's score in a number of ways. We decided to use a weighted average of similar players' WAR, using the similarity score derived above as the weights. For example, if a player has a similarity score of 0.60 with a player who has earned 7.0 WAR since being drafted, and a -0.3 similarity score with someone that has earned 4.0 WAR, his overall score would be +3.
Using the analyses above, we can look at 2021 prospects in a couple of ways. First, we can examine player comps of interest for notable prospects. Second, we can rank the players in each position group by the score derived above. These scores have correlated well with draft position and future WAR generated at the NFL level, although a more robust analysis using more seasons and sources of data is beyond the scope of this article.
Let's take a look at the top running back prospects coming up in this April's draft. 
View PFF's 2021 NFL Draft position rankings:
QB | RB | WR | TE | T | iOL | DI | EDGE | LB | CB | S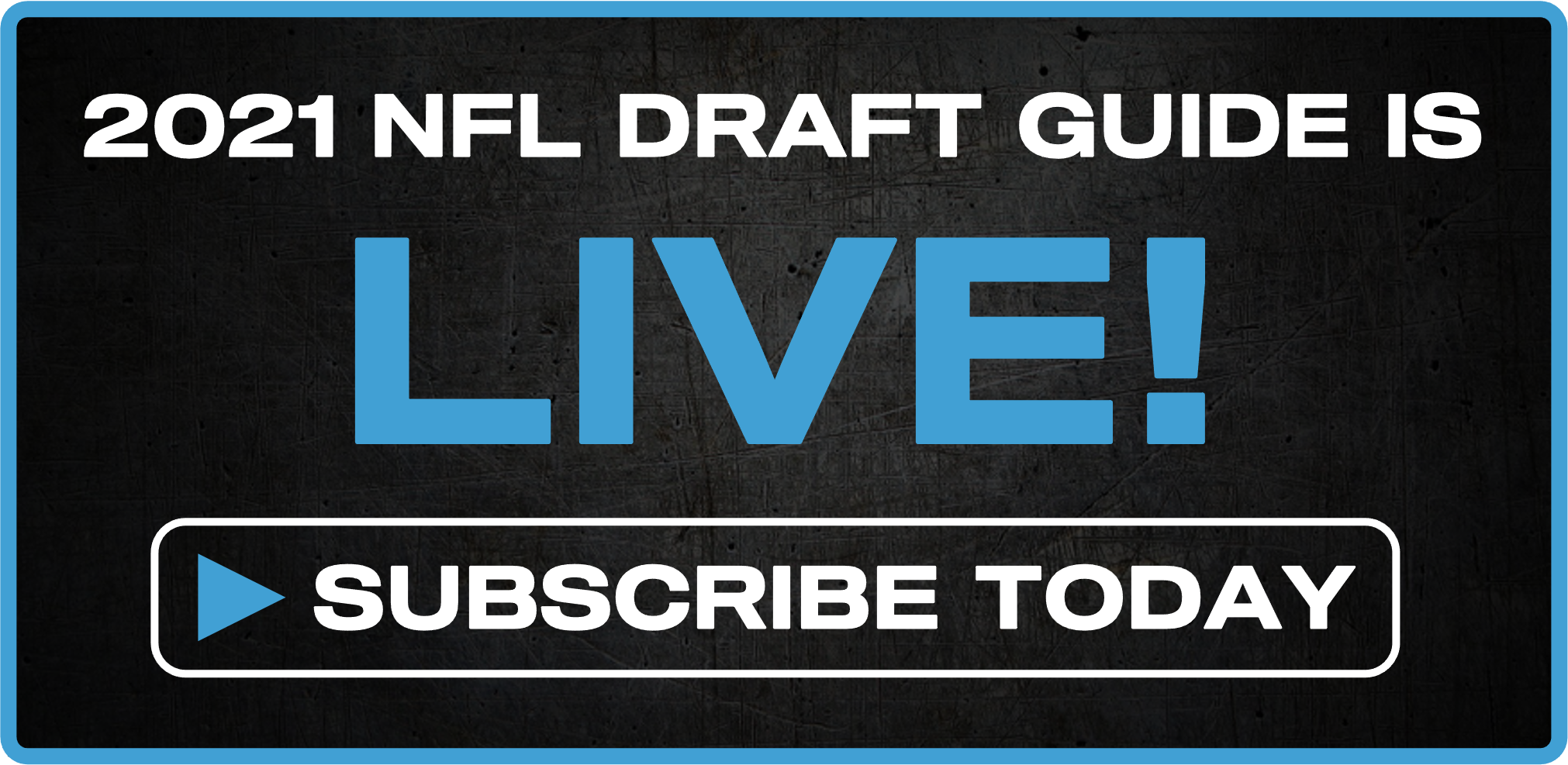 Gainwell leaps over the assumed top three running backs in this draft class and takes the No. 1 spot in this exercise. He is the reason why Antonio Gibson stayed at wide receiver in Memphis' spread offense, despite Gibson having the running ability to be one of the best rookie running backs last season. 
Devontae Booker and Elijah McGuire are Gainwell's two closest comparisons, but after that, his top 10 is basically made up of the best young running backs in the NFL. Jonathan Taylor is third, followed by Myles Gaskin, Alvin Kamara, Miles Sanders, Dalvin Cook and Christian McCaffrey. There isn't a better group of running backs to comp closely to than that collection.
Gainwell's 88.8 career receiving grade is the best in this class and is the 14th best receiving grade for a running back during the PFF era. With a second- to third-round grade by Dane Brugler, Gainwell should be another reason why teams decide to wait at the running back position. 
Etienne has seen his status slip as the top running back in this draft class, with his breakeven percentage at 40% to be the first running back off the board. He does finish ahead of Alabama's Najee Harris in this exercise, with Miles Sanders and Jonathan Taylor being his two closest comparisons. Nick Chubb is the only other noteworthy back in his top five, but Etienne also has first-round running back selections Sony Michel and Clyde Edwards-Helaire in his top 10.
There are a handful of misses in his top 10 comparisons, with Royce Freeman representing the low-end of Etienne's outcome range. It is hard to envision this floor becoming reality, however, as Etienne has the highest career rushing grade of any running back during the PFF era.