It's only February, but NFL Draft season is in full swing.
PFF.com is going to be stuffed to the gills with content on all of your favorite draft prospects, as PFF draft guru Mike Renner has been grinding tape all throughout the college football season. His work has already produced the second version of PFF's Draft Guide, available to grab with a PFF Edge or Elite subscription.
Compared to Mike, I'm late to the party when it comes to draft evaluation. Still, I come armed with PFF's database to help me watch the tape, and I thought we could go through that journey together in this article.
The first player I looked at was the Heisman Trophy winner, Alabama WR Devonta Smith. Next up was LSU's Ja'Marr Chase, followed by Alabama's Jaylen Waddle and Florida's Kyle Pitts.
For this installment, I want to look at Minnesota's Rashod Bateman, a player who seems to be flying under the radar a lot in this draft process compared to many others but who may have the potential to be a Day 1 impact playmaker in his own right. Let's fire up a reel of all of his targets and see what comes of it.
The same caveats as before still apply: This is not a complete picture of his game, as it will lean toward plays where he was actually open. But it will give a good snapshot of his route-running ceiling, as well as his skills when the ball does get sent his way — including a look at how he wins.
For a first impression, this method makes a lot of sense, and we can go back and fill in the blanks later.
Timeline
Here are my thoughts in chronological order as I sifted through Bateman's tape. Each takeaway is labeled with +/- (or double plus or minus for significantly good or bad things) and a ~ for neutral.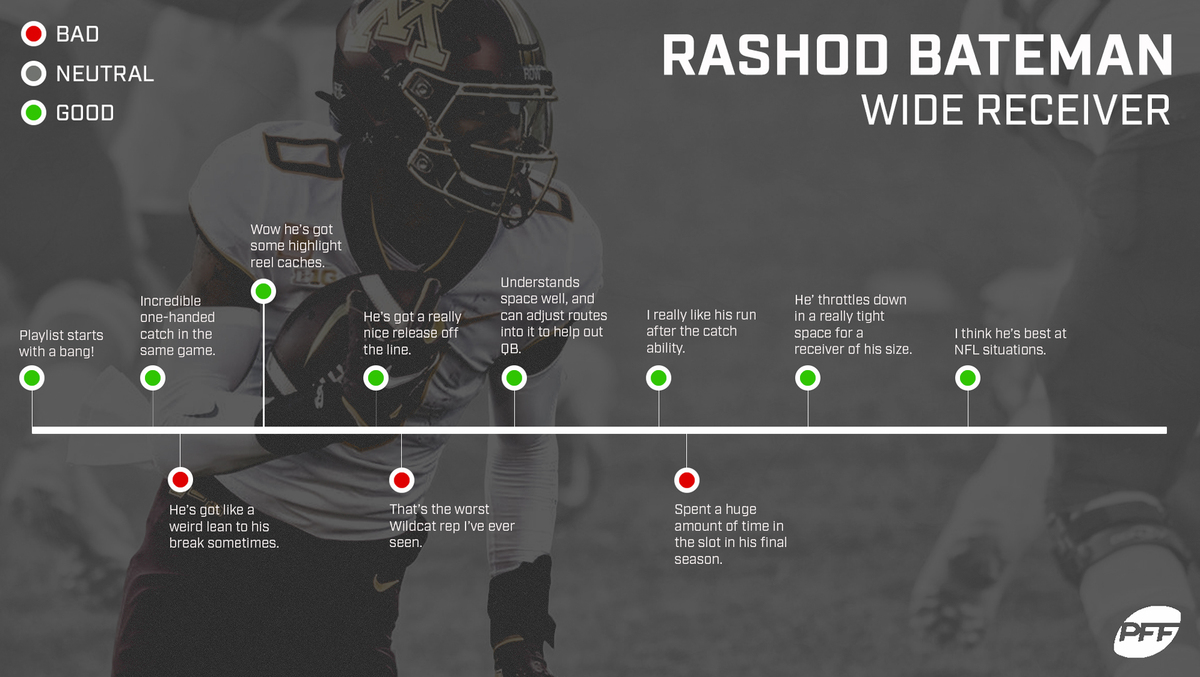 + Playlist starts with a bang!
Bateman made a great move in the open field after the catch to cut inside a cornerback and gain extra yardage that I wasn't expecting. That already sets the bar higher than I was expecting given some of the talk about him.
The same thing happens a couple of plays later. He catches and just swats a couple of defenders aside for big yards after the catch. OK, it was South Dakota State, but these are still instinctive, impressive, athletic plays.
++ Incredible one-handed catch in the same game
Bateman torched the cornerback off the line running vertically, gliding straight past him before stacking him as he ran down the sideline. They tangled legs a little bit, which slowed Bateman up a touch, but he just plucked the pass out of the air one-handed for a deep touchdown. That's a seriously impressive play from start to finish, and the latter part of it isn't affected by the level of competition.
– He has a weird lean to his breaks sometimes
I thought initially that Bateman was cutting off the wrong foot, but he isn't as much as he's starting to lean into the break on the step before he actually makes the cut, giving the whole sequence this strange roll to it as opposed to a single sharp movement.
I'm not sure it's actually causing any problems or giving the corner enough of a tip to be able to jump the route, but it's a little strange to see.
+ Wow, he has some highlight-reel catches
Bateman makes another one-handed snag despite a defender all over him committing pass interference. He possesses rare skills when the ball arrives, allowing him to make circus catches that not many receivers can pull off. Finding one of those in a player's tape is impressive; finding a collection of them speaks to something to celebrate about a skill set. 
+ He's got a really nice release off the line
Bateman's footwork against press coverage is good, quick and smooth. His hands are quick and decisive in defeating any kind of contact. He's usually into his route quickly and without major issue. PFF's Mike Renner gave him a Keenan Allen comp, and I can certainly see why from those traits, which are consistent throughout his tape.
– That's the worst Wildcat rep I've ever seen
The things you see when working through tape. Minnesota is taking on Penn State in 2019 and for some reason tries to plow straight ahead with a Wildcat quarterback with very little disguise or imagination to the play at all. Needless to say, it didn't work. Now, back to Bateman targets…
+ Understands space well and can adjust routes into it to help out QB
This is something NFL receivers need to understand, but not all of them do. Bateman reads space on the fly and can adjust his route into it to give his quarterback somewhere to go with the ball. There's a play against Iowa in 2019 where the hitch he was running was well covered, but the underneath hook defender jumped out wide to shut it down, so Bateman just ran in behind him to the vacated space for an open pitch and catch.
+ I really like his after-the-catch ability
Bateman is decisive with his moves and then just goes for it, often breaking through the first tackle because of how early he decides what he's doing and where he's going. He broke 36 tackles in his college career on just 147 catches. That immediacy in terms of the first move he pulls on defenders with the ball in his hands will translate to the next level and create bigger plays than would normally be there with the pass play that was called.
– Spent a lot of time in the slot in his final season
This Minnesota offense is a quirky one — the unit put its best receiver in the slot (Tyler Johnson before Bateman) and exploited the subsequent free releases, but it makes it harder to evaluate those players.
Bateman went from playing just 12.7% of his snaps in the slot in 2019 to 61.2% inside this year, and I'm not convinced that it helped him. He can certainly do it, but his skill set is perfectly suited to play outside as a traditional X-receiver, and we just saw less of that this year than we should have, even considering the coronavirus-affected season.
+ He throttles down in a really tight space for a receiver of his size
Measurements will be interesting for Bateman because there are games where he doesn't look 6-foot-2, 209-pounds — such as against Nebraska's Lamar Jackson, who has basically the same listed height and weight. If his listed numbers do hold up, though, his ability to stop on a dime and change directions in tight spaces is really impressive and more akin to what you expect from a smaller player at the position.
+ I think he's best at NFL situations
The best aspects of Bateman's game are the ones that actually surface the most in the NFL, and there's a good chance he becomes a better player at the next level than he was in college, particularly in his final season when he was primarily a slot receiver.
The Bottom Line
Rashod Bateman was the receiver that I had seen the least tape from heading into this process compared with the others that we have covered, and I came away pleasantly surprised by what he showed over the past two seasons.
I understand why there is less buzz around him than some of the other top receivers in this draft class — he doesn't have many "special" traits — but he is good at everything, and I don't think he has been helped to look his best with how the Minnesota offense deployed him. He has the classic skill set to be an excellent X-receiver at the next level — a player who can win one on one on the outside, defeat press coverage at the line of scrimmage, win at the catch point and make things happen after the catch.
In truth, the negatives often thrown at Ja'Marr Chase by people who aren't enamored with him as a prospect seem to actually fit the bill better for Bateman, in that his best asset may be circus catches and he doesn't blow you away with special traits that receivers usually need at the NFL level. While he may not be special in any area, he is impressive in a lot of them — more than you need to find success in the NFL.
The fact that Bateman's best traits are the ones that most closely resemble the role he will have at the next level also bodes extremely well for him, and he could be the ideal receiver for a team that doesn't pick at the top of the draft to target. He can actually potentially outproduce those elite prospects by landing in a better situation early in his career.
Bateman is a clear step down from the likes of Chase and DeVonta Smith to me, but he is an impressive prospect in his own right and somebody plenty of teams should covet.
---
Courtesy of PFF's 2021 NFL Draft Guide, find PFF's top draft prospect, biggest riser and wild card to watch at each position here: