I broke down my top five rookie sleepers in the 2021 NFL Draft Class back in March, but after another month of pre-draft analysis, it's time to take another look at my favorite under-the-radar prospects.
I'm having second thoughts on Missouri running back Larry Rountree III, for instance. His lackluster pro-day testing showed underwhelming athleticism and explosion, issues that could keep him from being taken early in the draft. Until we see if that's the case, I'm opening up another slot on the Top 5 Rookie Sleepers 2.0 list — players who could soon become draft-day bargains.
View PFF's 2021 NFL Draft position rankings:
QB | RB | WR | TE | T | iOL | DI | EDGE | LB | CB | S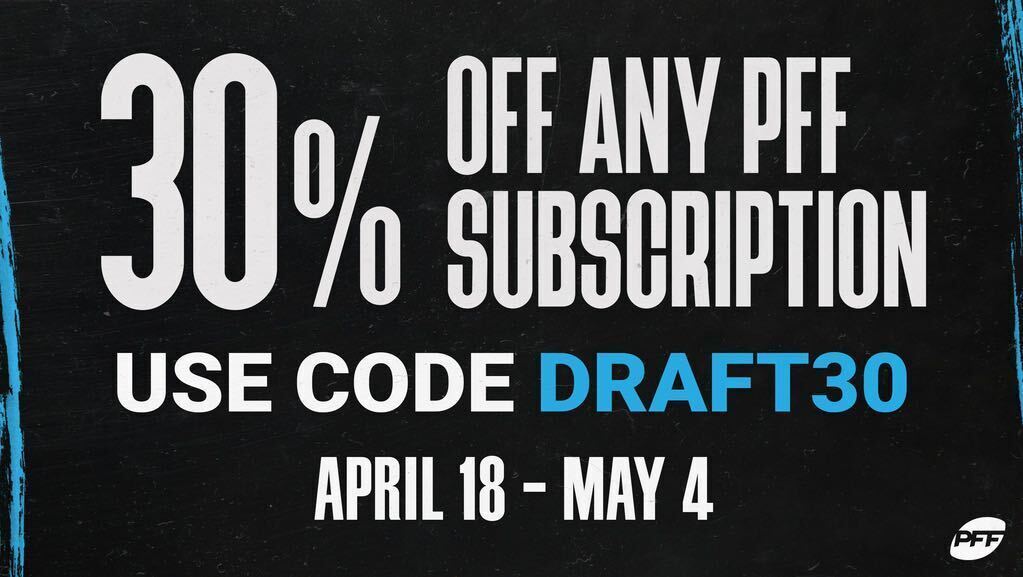 The criteria for "true sleepers" remains the same — small school and/or Day 3 draft picks who could surprise early in the NFL. Here is the final pre-draft list of rookie sleepers with late-round potential.
DYNASTY RB12 | BEST BALL RB87
Every draft class has its fair share of bruising running backs who love to make contact, and Rhamondre Stevenson fits that mold this year. The Oklahoma senior ranks second since 2019 in yards after contact per attempt (4.7) among 2021 draft-eligible running backs behind only Khalil Herbert.
Because of his physical nature and size, Stevenson should be viewed as an early-down grinder and someone who could earn goal-line work. He's a longshot to become a three-down workhorse at the next level, but the big back does possess some pass-catching chops.
His PFF receiving grade (83.8) ranks fourth-highest and yards per route run (2.11) fifth-highest in the class. Natural receiving skills helped elevate Stevenson's career yards per play from scrimmage (3.40) to third in the class. 
Stevenson earned a career-high dominator rating (25%) last season after Trey Sermon's departure. His career dominator rating (14%) pales in comparison to most running backs in this class — a big knock on his overall profile. But his limited usage/production during his first season at Oklahoma can be chalked up to splitting reps with Sermon. The existence of a mobile quarterback in Jalen Hurts also took away touches. 
Stevenson boasts the seventh-highest career PFF rushing grade in the class (91.6) and size that is lacking among this year's backs (six feet, 230 pounds).
Rhamondre Stevenson cooked the entire Florida defense

— PFF Draft (@PFF_College) December 31, 2020
Per fantasy writer David Zach, only four running backs drafted on Day 2 or earlier have averaged at least 30 receiving yards per game in their final college seasons: Saquon Barkley, David Johnson, Joe Mixon and Antonio Gibson. This year, Najee Harris and Stevenson could join the fray. 
However, there is one glaring difference between Stevenson and the aforementioned running backs: open-field speed. The Oklahoma runner is not fast — 4.63 40-yard dash (18th percentile) — and will struggle to get the edge in the NFL without being contacted by a defender.
Still, for what Stevenson lacks in breakaway speed, he makes up for in size and sneaky lateral quickness. His 7.02 three-cone drill (55th percentile) is excellent for a colossal man.
Like most "sleeper" rookie running backs, draft capital will ultimately decide Stevenson's fate. If he sneaks into Day 2, don't be shy targeting him in rookie drafts. 
Grindingthemocks.com currently shows a projected EDP (expected draft position) of No. 92 overall — ahead of Kylin Hill, Kenneth Gainwell and Michael Carter. 
DYNASTY WR13 | BEST BALL WR10
I've gone back and forth on Seth Williams. At one end of the spectrum, there's plenty to reinforce him as a justifiable sleeper in the class. He's an early declare, ranks No. 1 in team air yards share (47%) from 2020 and owns a top-10 career dominator rating in the class (30%). 
Williams also broke out at an early age (19) in 2018 while playing alongside future New York Giants wide receiver Darius Slayton. 
The big-bodied wide receiver was able to post impressive stats the past two seasons despite playing with Auburn quarterback Bo Nix, who did not help his cause. Only 63% of Williams' targets were deemed catchable over the past two seasons — the fifth-worst rate in the class among those with at least 100 targets. 
He was heavily featured downfield and in the end zone at Auburn, good signs for his potential usage at the next level. Heading into last season, Gabriel Davis had a similar profile — and he had a solid first year with the Buffalo Bills.
Davis was the better separator of the two, but they have similar builds and athletic testing numbers.
Seth Williams vs. Gabriel Davis
| | | | | | | |
| --- | --- | --- | --- | --- | --- | --- |
| | Height | Weight | Vertical | Broad | Bench | 40-yard |
| Seth Williams | 6-foot-3 | 211 | 37 | 124 | 12 reps | 4.50 |
| Gabriel Davis | 6-foot-2 | 216 | 35 | 124 | 14 reps | 4.54 |
Alshon Jeffery was among PFF's Kevin Cole's  potential comps for Williams. Cole also found the same statistical comparison between Davis and Williams.
In Ben Brown's text analytics piece, Williams again drew the Davis comparison, along with other "X" receivers like Michael Pittman Jr. and Courtland Sutton. 
I don't like to bet on WRs who rely on contested catches as the league moves away from that type of receiver. There were times in college when Williams was locked down by future NFL cornerbacks — Jaycee Horn ate his lunch when Auburn played the Gamecocks. 
But separation woes aside, Williams still has enough backing in his profile that I would be willing to take a shot on him in the third round of rookie drafts. There aren't a lot of receivers with his size in this draft class, which could ultimately help him earn higher draft capital. 
DYNASTY WR19 | BEST BALL WR113
UAB's Austin Watkins was an air yards monster in 2019, finishing third in total air yards (2,062) and first in team air yards share (45%). The cousin of Sammy Watkins, Austin's 19.1 aDOT since 2019 leads all wide receivers in the 2021 class.
He also ranks fifth in catches (22) and receiving yards (787) and third in contested catches on 20-plus yard targets. Watkins makes up for a lack of straight-line speed with precise route-running and a big catch radius.
His usage changed in 2020 — a lower aDOT (15.7 compared to 19.6) sapped some of the overall production, but the skills are there to reprise a downfield role at the next level.
Per PFF's NFL Draft Guide, Watkins had one drop on 100 catchable passes in his career.
His biggest knock is underwhelming athleticism, which was confirmed during an uninspiring pro day: 4.50 40-yard dash (48th percentile), 7.35 three-cone (3rd percentile) and 4.39 shuttle (19th percentile). 
.@UAB_FB WR Austin Watkins Jr. making a name for himself in front of national ESPN audience and checking all the boxes for the @seniorbowl tonight. We see you @Golden_Ticket6! ????

*NFL body ✅
*Deep ball production ✅
*Red-zone skills ✅ pic.twitter.com/EpNpsmc1X5

— Jim Nagy (@JimNagy_SB) September 25, 2020
Since the start of the 2018 season, Watkins is PFF's fifth-highest-graded WR (87.5) when lined up from an out-wide alignment. He played 94% of his snaps from the boundary in college. 
Highest-graded WRs from an out-wide alignment since 2018 | 2021 draft class
| | |
| --- | --- |
| Player | PFF receiving grade |
| Tylan Wallace | 91.0 |
| DeVonta Smith | 90.9 |
| Tre Walker | 89.7 |
| Damonte Coxie | 89.1 |
| Austin Watkins | 87.5 |
| Ja'Marr Chase | 84.3 |
| Rashod Bateman | 84.0 |
The former Blazer was the focal point of his team's passing attack from 2019-2020. He led the team in catches (92), receiving yards (1,596) and touchdowns (nine) and earned a 33% career dominator rating that ranks fourth-best in the class behind Mike Strachan, Rashod Bateman and Cade Johnson. 
Watkins blossomed late in his football career (currently 24 years old, 21-year-old breakout), but that's because he spent his early years at Dodge City CC before transferring to UAB. We have seen JUCO transfers with late breakout ages (Brandon Aiyuk) find success as NFL rookies, so I can't knock Watkins too much for his age-adjusted production. 
Watkins' consistency in creating separation and infallible hands are worth a late flier in rookie drafts in deep dynasty formats. 
DYNASTY RB11 | BEST BALL RB69
Louisville's Javian Hawkins stands out among his peers in running back dominator rating, having posted a solid 25% rating over his career (eighth-best in the class) and a 30% rating in his second season as a starter.
Hawkins is a home-run threat and could present fantasy managers with a ton of upside if he is able to beef up his size to withstand NFL defenders. He currently stands at 5-foot-8 and 183 pounds, so it's going to be difficult to see him running over anybody at the next level. The undersized back relies more on his elusiveness, which has produced the fifth-best forced missed tackle rate in the class since 2019.
His jitterbug archetype will entice teams to manufacture touches for him both on the ground and through the air. He's proven capable as a pass-catcher — he didn't drop a single pass on 21 career targets — and his explosiveness in space will be a nightmare for teams to defend.
Hawkins could carve out a role on an NFL squad as a combustible change-of-pace back. 
DYNASTY WR12 | BEST BALL WR104
Cade Johnson finished as the No. 6 WR in my 2021 slot receiver rankings and deserves to be recognized as a sleeper in this class. He's flying under the radar because he didn't get to play in 2020. The South Dakota State football season was canceled, which meant that Johnson's only chance to increase his draft stock was to ball out at the Senior Bowl. And that's exactly what he did.
Johnson showed everybody at Mobile how he earned a 34% dominator rating in college (third-highest in the class), grading out as one of the best receivers in the one-on-one drills. The guy wins with speed and has been doing it ever since his redshirt sophomore season when he caught 67 balls for 1,332 receiving yards and 17 touchdowns at 20 years old. That production earned a 45% dominator rating — the fourth-highest rating in a season by any receiver in the class.
Johnson bulked up during his year off. He measured in at 6 feet and 184 pounds at his pro day, which is a major difference from where he was listed previously: 5-foot-9 and 174 pounds.
The size is great for his draft stock and could make a team more comfortable moving him outside — an area where he has excelled when called upon. 
Since 2017, Johnson ranks No. 1 in the class in yards per route run (4.23) on the outside, with 37 catches on 55 targets. 
HONORABLE MENTION:
Chris Evans boosted his draft stock tremendously after an impressive showing at his pro day. He flashed his athleticism by clocking in at 4.44 seconds on the 40-yard dash and 6.56 on the three-cone drill.
Evans looked the part of Michigan's next feature back after a stunning true freshman season in 2016 when he finished fourth in the nation in missed tackles forced per attempt (0.32). Alas, 2016 would be his peak, and his production declined for the rest of his college career.
He ended up splitting time with other backs from 2017-2018, was suspended for the entire 2019 season and saw little usage in 2020. All in all, Evans handled just 16 carries over the past two years. 
His middling usage in college is a real concern, but if an NFL team likes him enough to invest decent draft capital, he's got some real juice to work with. There's virtually no tread on his tires, and he can provide a team with excellent pass-catching chops.
Evans flaunted his receiving prowess at the Senior Bowl, which garnered interest from NFL teams. Few backs in this class offer an ideal size/speed profile and coveted three-down skill set like Evans, which makes him a quintessential late-round RB to target in dynasty rookie drafts. Just keep in mind that he turns 24 at the start of the season.
Evans currently sits as the seventh-ranked RB on PFF's Big Board — a far cry from where he will be drafted in fantasy football. 
Mike Strachan is easily one of the best small-school wide receiver prospects in the 2021 draft class. In his junior season in 2019, Strachan rewrote the University of Charleston record books. The 6-foot-5 and 226-pound behemoth finished with 78 receptions for 1,319 yards and 19 touchdowns in his final season with the Golden Eagles. He finished his career with an absurd 52% dominator rating, by far the highest mark of any receiver in his class. 
Strachan's combination of ideal size, track speed background and humongous catch radius will ensure the Division II standout gets his name called on Day 3. Teams are bound to take a late-round flier on Strachan's freaky traits.  
Fantasy gamers should follow suit. 
just drafted WR Mike Strachan in the fifth round of a rookie mock draft.

All 6-foot-5 and 226 pounds of him.

the value was too good to pass based on his Greek god buildpic.twitter.com/DkaWVwbGRr

— Andrew Erickson™ (@AndrewErickson_) April 17, 2021
---
More of PFF's 2021 NFL Draft tools here: 
2021 NFL Draft Big Board | 2021 NFL Draft Guide | 2021 NFL Draft Stats Export | NFL Mock Drafts | NFL Mock Draft Simulator