With every other NFL draft expert conducting their own 2021 NFL mock drafts, I banded together 12 of PFF's sharpest minds and pitted them against each other in a four-round rookie mock draft.
The goal was to see how things play out with 12 different voices in the mix rather than going by one individual's set of rankings or predictions. This way we can start to identify overvalued and undervalued players and when/where dynasty gamers can expect prospects to come off the board in their own fantasy drafts. 
The following reveals all 48 rookie selections with analysis on the pick provided by myself and/or the analyst in the draft slot. We conducted the mock draft assuming the league settings were a traditional 1QB PPR 12-team dynasty league. 
And shoutout to Ian Hartitz, Nathan Jahnke, Jarad Evans, Jon Macri, Kent Weyrauch, Kevin Cole, Sosa Kremenjas, Danny Cross, Ben Brown, Mario Pilato and Ben Cooper for being willing draft participants. Literally couldn't have done it without them.
Happy mock draft Monday! 
2021 Dynasty Rookie Mock Draft
| | | | |
| --- | --- | --- | --- |
| Round | Player | Position | Fantasy Analyst |
| 1.01 | Najee Harris | RB | Andrew Erickson |
| 1.02 | Travis Etienne | RB | Nathan Jahnke |
| 1.03 | Ja'Marr Chase | WR | Jarad Evans |
| 1.04 | Javonte Williams | RB | Jon Macri |
| 1.05 | Rashod Bateman | WR | Kent Weyrauch |
| 1.06 | Jaylen Waddle | WR | Sosa Kremenjas |
| 1.07 | Kyle Pitts | TE | Ian Hartitz |
| 1.08 | DeVonta Smith | WR | Kevin Cole |
| 1.09 | Rondale Moore | WR | Danny Cross |
| 1.10 | Trevor Lawrence | QB | Ben Brown |
| 1.11 | Justin Fields | QB | Ben Cooper |
| 1.12 | Kenny Gainwell | RB | Mario Pilato |
| 2.01 | Elijah Moore | WR | Andrew Erickson |
| 2.02 | Kadarius Toney | WR | Nathan Jahnke |
| 2.03 | Zach Wilson | QB | Jarad Evans |
| 2.04 | Terrace Marshall Jr. | WR | Jon Macri |
| 2.05 | Tylan Wallace | WR | Kent Weyrauch |
| 2.06 | Jaelon Darden | WR | Sosa Kremenjas |
| 2.07 | Trey Sermon | RB | Ian Hartitz |
| 2.08 | Chuba Hubbard | RB | Kevin Cole |
| 2.09 | Michael Carter | RB | Danny Cross |
| 2.10 | Dyami Brown | WR | Ben Brown |
| 2.11 | Amon-Ra St. Brown | WR | Ben Cooper |
| 2.12 | Trey Lance | QB | Mario Pilato |
| 3.01 | Jermar Jefferson | RB | Andrew Erickson |
| 3.02 | Nico Collins | WR | Nathan Jahnke |
| 3.03 | Pat Freiermuth | TE | Jarad Evans |
| 3.04 | Brevin Jordan | TE | Jon Macri |
| 3.05 | D'Wayne Eskridge | WR | Kent Weyrauch |
| 3.06 | Amari Rodgers | WR | Sosa Kremenjas |
| 3.07 | Khalil Herbert | RB | Ian Hartitz |
| 3.08 | Rhamondre Stevenson | RB | Kevin Cole |
| 3.09 | Seth Williams | WR | Danny Cross |
| 3.10 | Pooka Williams | RB | Ben Brown |
| 3.11 | Jaret Patterson | RB | Ben Cooper |
| 3.12 | Tutu Atwell | WR | Mario Pilato |
| 4.01 | Cade Johnson | WR | Andrew Erickson |
| 4.02 | Kylin Hill | RB | Nathan Jahnke |
| 4.03 | Tamorrion Terry | WR | Jarad Evans |
| 4.04 | Mac Jones | QB | Jon Macri |
| 4.05 | Dazz Newsome | WR | Kent Weyrauch |
| 4.06 | Demetric Felton | WR | Sosa Kremenjas |
| 4.07 | Trevon Grimes | WR | Ian Hartitz |
| 4.08 | Larry Rountree III | RB | Kevin Cole |
| 4.09 | Elijah Mitchell | RB | Danny Cross |
| 4.10 | Sage Surratt | WR | Ben Brown |
| 4.11 | Cornell Powell | WR | Ben Cooper |
| 4.12 | Javian Hawkins | RB | Mario Pilato |
Andrew Erickson: Lucky for me, I was "randomly" assigned the first overall pick so it was easy to lock-and-load Najee Harris at this spot. He's my No. 1 ranked rookie overall because he has the chance to immediately step in as a bell-cow back in the NFL.
Nathan Jahnke: Travis Etienne's big-play potential and ability to catch should lead to some dominant fantasy performances. The relative lack of depth at running back compared to wide receiver convinced me to stick to RB this high. 
Erickson: The Clemson star's upside will ultimately make him a consensus top-three selection in most rookie drafts. 
Jarad Evans: Elite wide receivers are worth their weight in gold in dynasty, and Ja'Marr Chase has PFF's highest pre-draft grade by any wide receiver prospect since 2015. Chase is going to be a fantasy football superstar for years to come.
Jon Macri: Javonte Williams broke onto the scene in 2020 by breaking tackles (pun intended) at a rate that went unmatched — not just this year but since PFF began tracking the stat in 2014. Williams' 0.48 missed tackles was a PFF record and something that, along with his speed, should make him one of the more coveted backs in this draft and lead to decent opportunities in the NFL.
Erickson: Williams rounds out the "Big Three" at running back, and I love the value of him here at 1.04. Like Harris, he has the prototypical profile to be a workhorse at the next level if a team commits to him with solid draft capital. 
Kent Weyrauch: Rashod Bateman has arguably the best analytical profile of any receiver in this class and possibly recent classes as well. His biggest knock was playing for Minnesota in the Big Ten. Bateman broke out as a true freshman and continued to dominate thereafter. He should contribute to an NFL team immediately, even if his ceiling isn't as high as players like Chase or Waddle.
Erickson: The Bateman hype train is on a runaway course. He was originally my No. 4 wide receiver when I first put together my rookie WR rankings, but he's now up a spot to No. 3. The analytics community absolutely loves him (myself included) as a top-three WR, but the NFL has him more as a fringe Round 1 pick as the fifth receiver off the board.
It's more probable than not that Bateman ends up being a Day 2 pick, but that's no reason to shy away from drafting him in any capacity. Just take the discount if he falls in rookie drafts. 
Sosa Kremenjas: Arguably the WR1 in this draft class, Jaylen Waddle felt like an easy pick at this spot. Waddle has electric speed and oozes big-play potential. Walk in the card!
Erickson: Waddle is my No. 2 wide receiver, so to see him drafted outside the top-five is blasphemy to me. He's being mocked as a top-three WR in almost every media draft and for some reason still continues to slip in rookie drafts.
I think there's concern about Waddle because of the way Henry Ruggs III played as a rookie, but the former was clearly the better prospect. Their career numbers at Alabama are extremely telling. 
| | | | | | |
| --- | --- | --- | --- | --- | --- |
|   | Games | Receiving yards | Yards per route run | 100-yard games | PFF grade |
| Henry Ruggs III | 41 | 1702 | 2.23 | 4 | 78.7 |
| Jaylen Waddle | 33 | 1999 | 3.57 | 8 | 91.6 |
Ian Hartitz: To have Kyle Pitts fall to me at 1.07, in this economy, was absolutely fantastic to see. We've seen the likes of Travis Kelce, George Kittle and Darren Waller essentially serve as fantasy football cheat codes at the position; Pitts seems to have the look and profile of the next highly productive tight end.
Kevin Cole: Even if you're not sold on the Heisman Trophy winner, you can't pass up a potential top-10 pick in the NFL Draft at 1.08. Smith has a BMI profile that makes him an outlier for successful NFL receivers, but his resume of multi-year production is tough to beat.
Danny Cross: Even the most QB-averse drafter should consider Trevor Lawrence in this spot, but Rondale Moore's freshman season was too insane to pass up at this point. Back in 2018, he racked up 114 catches for 1,258 yards and 12 touchdowns with 37 broken tackles. His 37% dominator rating as a 19-year-old suggests very real talent.
Projected to come off the board in the late first round of the NFL Draft — and comped to Steve Smith (!) in the PFF Draft Guide — Moore could land in a fantasy-friendly role from Day 1.
Ben Brown: Every non-quarterback at my spot comes with considerable questions at this point. I really wanted one of Kyle Pitts, Devonta Smith or Rondale Moore, and when none fell to pick 10, I opted for the safest pick in this draft. Trevor Lawrence will be a quality starter in the NFL for the next decade and has easily the highest floor of any player in this draft.
Erickson: Drafting a quarterback in the first round of a 1QB-league rookie draft is a bit of a reach for me, but that's just the reality with Trevor Lawrence. Owners looking to acquire Lawrence should position themselves prior to the draft with late-first round picks. 
Ben Cooper: I was all-in on Trevor Lawrence at 1.11, but Ben Brown beat me to the punch. Still, it's hard to pass up a dual-threat quarterback after seeing what Lamar Jackson and Kyler Murray, among others, have accomplished in the fantasy football landscape as of late.
Erickson: I'm also a big fan of Fields, but I'd much rather wait until at least the second round to select him. With the news swirling around that Zac Wilson is locked in as the No. 2 quarterback and Mac Jones' draft stock rushing faster than $GME, I do expect Fields to be easily attainable in the second round when most rookie drafts actually transpire. 
Mario Pilato (pick), Erickson (analysis): Kenneth Gainwell is my No. 4-ranked running back, and there's a clear drop-off at the running back position after he comes off the board. As my No. 8 overall player, getting him at the end of the first round is a great value. 
First-Round Overview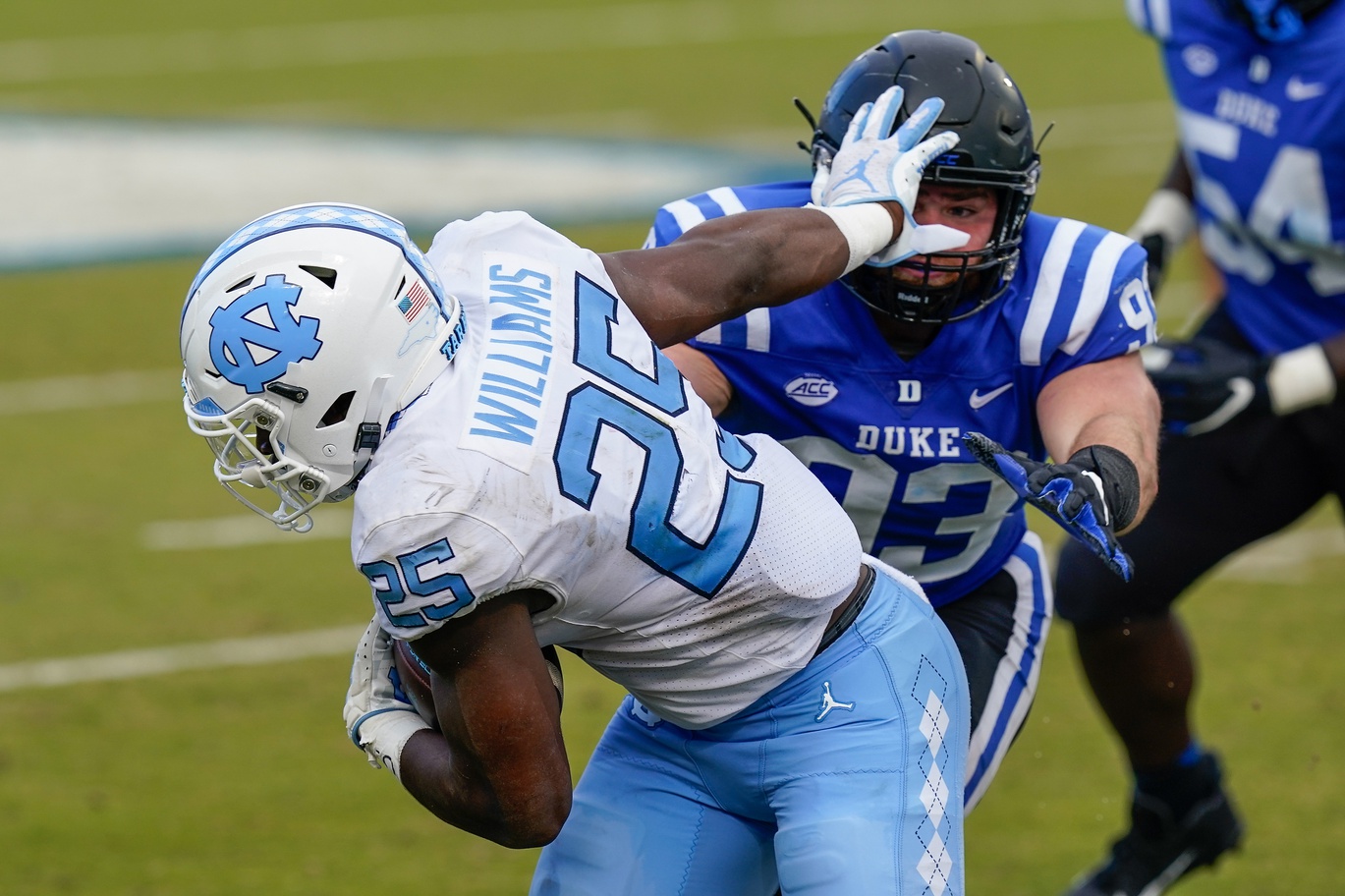 Aside from a few players being drafted a spot or two higher/lower than consensus ADP, there weren't many surprises in the first round. This order is definitely going to change after the NFL Draft, which is why it's important to remember the players who were consensus first-rounders pre-draft. Draft capital tends to skyrocket ADPs — see Clyde Edwards-Helaire — and that makes other players better values. 
Erickson: There are a ton of great wide receiver options available as the second round kicks off. I would have easily preferred Gainwell here if he been available due to the scarcity of the RB position. Instead, I'll go with my highest-ranked player in Elijah Moore. 
Jahnke: Kadarius Toney is a projected first-round WR by our PFF Draft Guide, and anytime you can get a first-round receiver in the second round of a dynasty draft, it's a win. He could be big in PPR leagues if a team will just get the ball in his hands and let him run. 
Erickson: I agree with Jahnke that the value is here for Toney in the second round. But if Toney is ultimately selected in the first round of the NFL Draft, his ADP might push up to the first round, making him too rich for my blood. 
Evans: Zach Wilson was a value pick for me here at 2.03. He has all the tools you could ever ask for as a top-five quarterback prospect — PFF boss Cris Collinsworth recently compared his game to Aaron Rodgers. What else could you ask for?  
Whether it's Wilson or Fields available here, this is definitely the sweet spot for taking the second quarterback after Lawrence.  
Macri: Terrace Marshall Jr. was a touchdown machine in his seven games this past season at LSU, scoring 10 times on 48 receptions. He has a longer frame at 6-foot-3 and can probably afford to bulk up slightly at just 200 pounds, but he'll still be just 20 years old on draft day. Marshall showed good body position and ability to make contested catches in 2020, so his archetype gives him a chance to be a solid producer at the next level. 
Weyrauch: Tylan Wallace accomplished something that no other WRs in the last three classes can touch: He averaged at least 100 yards receiving per game in each of his last three seasons. And though he's coming out as a senior, his sophomore year was so electric we can look past the fact that he didn't declare early. 
Erickson: Tylan "Smoochie" Wallace is definitely one of my favorite wide receivers in the class, so seeing him go quickly within the second tier of rookie WRs isn't too surprising. I could see him slipping into late Day 2 in the real NFL Draft, so 2.05 might end up looking like an aggressive pick after the draft plays out. 
Kremenjas: Players were coming off the board quickly, but Jaelon Darden presented me with another electric and explosive playmaker who looked perfect for my roster. I think he can be versatile enough to produce in the slot or on the boundary. He arguably has some of the best YAC ability in this entire class.
Erickson: Darden has been a sleeper for the majority of the pre-draft process, but keen fantasy gamers are starting to catch onto his insane 61% dominator rating this past season at North Texas. 
I applaud Kremenjas for his aggressiveness here in the mid-second because he has a ton of upside. He'll fall a little further in drafts unless NFL teams value him more than they've shown to this point. He's not listed among the top-27 drafted wide receivers in Grindingthemocks.com's aggregate database. 
Hartitz: As a Columbus, Ohio lifer I felt compelled to take the man who broke Eddie George's longstanding single-game record. It's also easy to fall in love with Trey Sermon's exceptional balance and tackle-breaking ability. I don't want to get ahead of myself, but he sure looks like the potential RB1 of this class when it comes to pure swag.
Cole: Chuba Hubbard was discussed as a possible first-round pick after accumulating more than 2,000 rushing yards as a redshirt sophomore in 2019. His stock has fallen, but the former sprinter's big-play ability is still there for those looking to buy at a discount.
Cross: There's opportunity in the back half of the second round in rookie drafts, but team context plays a big part in whom to make a bet on. In this exercise, we'll lean on another RB in the "second tier" in 2021 drafts assuming his pass-catching chops land him somewhere he can get right to work in PPR formats.
Carter put up nearly identical numbers as 2021 riser Javonte Williams (the No. 4 overall pick here). He's smaller than most featured backs at 5-foot-9 and 199 pounds, though he's known for running hard and is a real problem for linebackers in coverage.
Brown: The 2020 Tar Heels offense had five potential fantasy relevant players coming over the next two years. The running backs are getting all of the early attention, but Dyami Brown could easily be the most relevant from a fantasy perspective.  
His 18.5 aDOT highlights an ability to get open deep, and he had the 10th-best YPRR in college football this season. In the back half of the second round, he is the perfect dynasty target.
Erickson:  There's a small WR run after some of the running backs come off the board, and it starts with Dyami Brown. I recently moved Brown into my top 10 because his skill set is exactly what we want in our rookie wideouts.
Brown has a smooth release off the line of scrimmage that is going to help him win on the outside in the NFL. He ranked 11th in yards per route run (3.15) and 10th in PFF receiving grade (83.2) when running routes from the outside. 
Cooper: PFF's Seth Galina wrote a few weeks ago about how ranking this year's quarterback class is all about "vibes." I'm here to announce that this theory now applies to wide receivers. Amon-Ra St. Brown dominated from the slot in 2019 before falling off a bit in 2020, but the vibes are undeniable.
Erickson:  I'm not the highest on St. Brown (12th ranked WR, 27th overall), but getting him this late is a pretty decent value, I'd argue. 
Pilato (pick), Erickson (analysis): Picking at the 2.12 is essentially a third-round rookie pick, and this is exactly where you take shots on upside quarterbacks. Historically speaking, the values of QBs taken in the third rounds of rookie drafts have grown exponentially. 
In recent years, we've seen quarterbacks like Patrick Mahomes, Deshaun Watson, Justin Herbert and Jalen Hurts fall into the third round of rookie drafts.
Second-Round Overview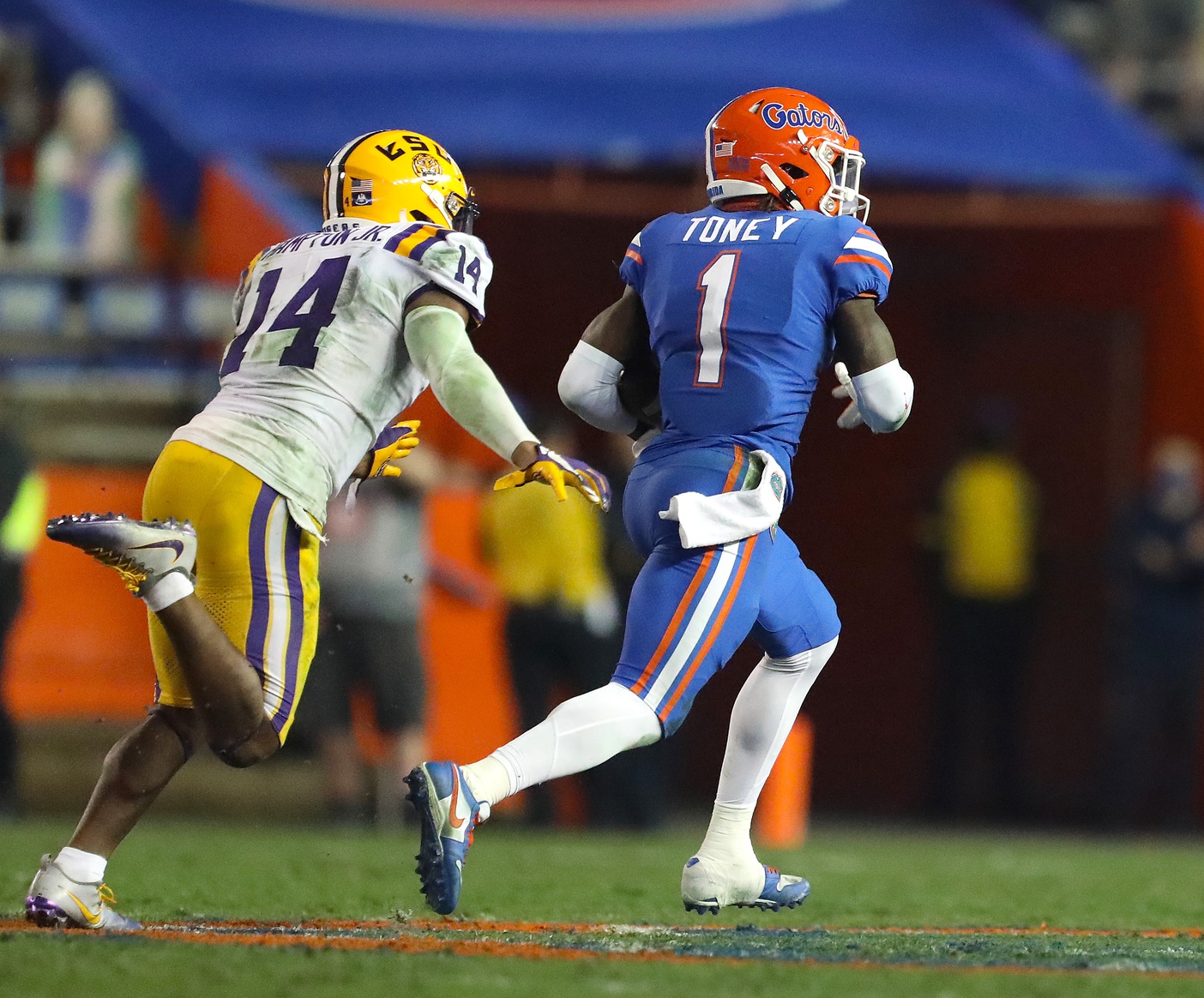 Ideally, we'd like to acquire a running back in the first round and a second-tier wide receiver in the second round in 2021. There are solid WRs across the board and the drop-off is much less significant than it is for running backs.  
Erickson: I intentionally passed on Khalil Herbert here, despite the fact that he was my highest-ranked player available — I wanted to see how the rest of the drafters viewed him. As you'll soon find out, I'm basically on an island alone as a Herbert-stan, though I'm not exactly sure why.
I understand that he's older (23), but Herbert is super explosive and has been uber-productive the past two seasons. Maybe being a grad transfer from Kansas has people concerned, but I can't weigh that more than his on-field production. 
Last season, Herbert tied Jaret Patterson for the lead in yards after contact per attempt (4.74) among the 2021 draft class and finished second in total yards after contact (734) behind only Najee Harris.   
Because I forcibly decided to not draft Herbert, I took Jermar Jefferson, who was my next-ranked player. I've seen him drafted atop the second-round in other rookie drafts.
My hope was to snag Jefferson here and get Herbert a round later. 
Jahnke: Nico Collins has a great combination of size and speed. There is some development that needs to happen before he can become a starting NFL wide receiver, but the path is there for him.
Evans: I nearly grabbed Nico Collins at 2.03 before ultimately deciding Wilson, and now I'm unsure if Nathan and I can remain friends after he sniped Collins one pick ahead of me here. Alas, I settled for the next best thing in Pat Freiermuth, who is the latest uber-athletic and physical tight end to come out of Penn State. The kid's got Mike Gesicki upside. 
Erickson:  As my 47th-ranked rookie, I would have thought drafting Collins at 2.03 would have been a heavy reach. Considering he fell just one spot before Evans' next pick, my initial thought was correct.  
Macri: Brevin Jordan has the size, speed, athleticism and ability to make plays after the catch. He is a true receiving tight end, who could develop into the fantasy TE2 of this rookie class, assuming Pitts remains TE1. 
Weyrauch: D'Wayne Eskridge has a riskier profile heading into the draft as a positional convert from running back in high school. But he potentially has the best field-stretching ability of anyone in this class. He was a decorated sprinter in high school, and that will likely translate to a mid-4.3 40 time this offseason. 
Erickson:  Eskridge is probably going to be at least a Day 2 pick, which makes him a fine selection at 3.05. He's obviously got speed, but his late breakout age (21) and current age (24) will have those who focus more on the analytics lower on him than most. Over the past three seasons, Eskridge leads college football in yards per reception (22.0). 
 Kremenjas: Amari Rodgers has some legitimate ability. I was actually surprised he lasted this long because I think he's as surefire a slot option as there is in this class. Rodgers has a ton of production in his past and balled out at the Senior Bowl. 
Erickson:  I'm not necessarily surprised to see Rodgers still available here as my 40th-ranked rookie overall, which indicates that we are approaching the part of the draft when it really starts to become a crapshoot. It's much less about trying to get the best "value" but rather just going after your "guys."
Hartitz: I still don't know who Khalil Herbert is but Andrew Erickson's dynasty rookie rankings article had him ranked higher than anyone else available so here we are.
Erickson:  Oh, Ian. 
Case in point, Herbert has the potential to fly so far under-the-radar — at least until the NFL Draft — that he is basically free as a fourth-rounder in rookie drafts.  
Cole: JC transfer Rhamondre Stevenson only has 165 Division I carries to be judged upon, but his adjusted production during a suspension-shortened 2020 season was that of a potential workhorse. Over the final six games, Stevenson averaged 16.8 carries for 110 yards on the ground, plus healthy work in the passing game at three receptions per contest.
Cross: The running backs at this point don't project for significant workloads, but there are some interesting receivers still available. Seth Williams was a highly recruited kid who broke out at an early age (19) in 2018.
There are concerns about his lack of development in Years 2 and 3 at Auburn, but Williams' size and physicality will play in the league. It will be interesting to see if NFL teams are willing to bet on further development or if he'll fall as more of a project.
Brown: Pooka Williams traveled a unique path in 2020, playing four games before opting out of the season. He wasn't overly impressive for a bad Jayhawks football team, but the ability he flashed in 2019 makes me excited about this pick. He has shown the ability to generate a missed tackle on over 30% of his carries, with over half his college rushing yards coming after contact. 
Most fantasy players are gravitating toward other gadgety players, but Pooka is the play given his history of successful running back carries.
Erickson: As a true freshman, Pooka Williams earned his highest single-season dominator rating (32%) on the back of 1,145 rushing yards and 288 receiving yards. Williams would go onto post back-to-back seasons with at least a 22% dominator rating while earning a 92.9 PFF rushing grade.
Williams' main issue is that he will almost certainly be regulated to scatback duties in the NFL, making this selection more of a floor play.  
Don't lose sight of that when his 4.38 40-yard dash and 31.5-inch vertical jump pro day results are hyped up on social media. 
Cooper: After taking a quarterback and a wide receiver with my first two picks, I felt it necessary to complete the rookie trifecta with a running back. And what better option to go with than a man who averaged 7.7 yards per carry in 2020? My only concern is that Jaret Patterson is nonexistent in the passing game.
Erickson:  Patterson is one of my favorite running back sleepers in this class, so I am all for taking a flier on him in the third round. I'd much rather have Patterson over Williams, who was selected one pick earlier. 
Pilato (pick), Erickson (analysis): The rookie draft starts to become a crapshoot after the first 35 picks, so looking for players that the NFL is high on isn't a bad approach. Tutu Atwell has emerged as a top-50 pick in many mock drafts, so the value is there for him this late.
I'm actually pretty high on Atwell relative to consensus (11th-ranked WR, 22nd overall) because of his speed/production profile. He broke out as a sophomore, compiling over 1,200 yards and 12 touchdowns with a 40% dominator rating.  
His outstanding season earned a 91.7 PFF receiving grade, which ranked second among all receivers with at least 70 targets in 2019. That's not an easy task for someone at just 19 years of age.
Atwell's main issue is that he is super small (5-foot-9, 165 pounds), and that will hinder him as a pro. 
Third-Round Overview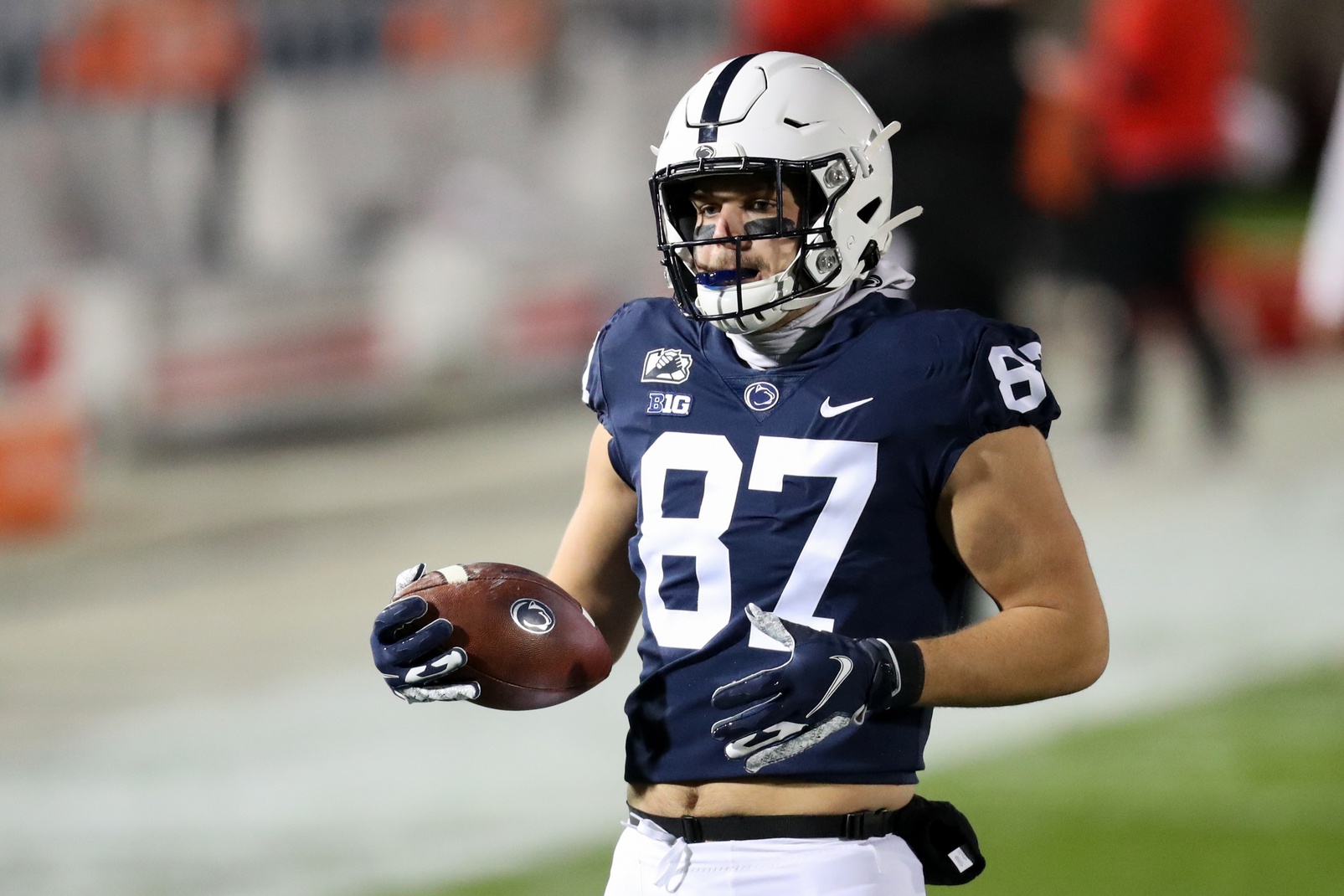 We saw tight ends being drafted for the first time since Round 1, so if you miss out on Pitts, the third round is where you might expect to see the next tier come off the board. When it comes to drafting RBs/WRs this late, keep in mind that the hit rates are extremely low.
I've collected the players drafted in this round dating back to 2017 and found that wide receivers have a slightly better hit rate in this round (32%) than running backs (11%). Lynn Bowden Jr. was the only non-Day 3 (or UDFA) RB who lasted until the third in those drafts. And because he made the switch to WR after being traded to Miami, he's very much an outlier.
WRs Selected with Third-Round Rookie Picks | 2017-2020
| | | |
| --- | --- | --- |
| Year | Player | NFL Draft Round |
| 2017 | Cooper Kupp | 3 |
| 2017 | Chris Godwin | 3 |
| 2017 | Taywan Taylor | 3 |
| 2017 | ArDarius Stewart | 3 |
| 2017 | Carlos Henderson | 3 |
| 2018 | Tre'Quan Smith | 3 |
| 2018 | J'Mon Moore | 4 |
| 2018 | Antonio Callaway | 4 |
| 2018 | Deon Cain | 6 |
| 2018 | DaeSean Hamilton | 4 |
| 2019 | Miles Boykin | 3 |
| 2019 | Diontae Johnson | 3 |
| 2019 | Terry McLaurin | 3 |
| 2019 | Jalen Hurd | 3 |
| 2019 | Preston Williams | UDFA |
| 2019 | Hunter Renfrow | 5 |
| 2020 | Chase Claypool | 2 |
| 2020 | Van Jefferson | 2 |
| 2020 | Antonio Gandy-Golden | 4 |
| 2020 | Devin Duvernay | 3 |
| 2020 | K.J. Hamler | 2 |
| 2020 | Tyler Johnson | 5 |
RBs Selected with Third-Round Rookie Picks | 2017-2020
| | | |
| --- | --- | --- |
| Year | Player | NFL Draft Round |
| 2017 | DeAngelo Henderson | 6 |
| 2017 | Donnel Pumphrey | 4 |
| 2018 | Jordan Wilkins | 5 |
| 2018 | Ito Smith | 4 |
| 2018 | Mark Walton | 4 |
| 2018 | Justin Jackson | 7 |
| 2019 | Ryquell Armstead | 5 |
| 2019 | Rodney Anderson | 6 |
| 2019 | Benny Snell | 4 |
| 2019 | Dexter Williams | 6 |
| 2019 | Tony Pollard | 4 |
| 2019 | Bryce Love | 4 |
| 2020 | Joshua Kelley | 4 |
| 2020 | Eno Benjamin | 7 |
| 2020 | Lynn Bowden Jr. | 3 |
| 2020 | La'Mical Perine | 4 |
| 2020 | DeeJay Dallas | 4 |
| 2020 | Anthony MacFarland Jr. | 4 |
| 2020 | James Robinson | UDFA |
Erickson:  Cade Johnson was featured as one of my top-five sleepers in this class, so I feel great getting him here at the top of the fourth. I view him similarly to Jaelon Darden (back-to-back in my rankings), so it's a no-brainer if Johnson goes this late. 
Jahnke: Kylin Hill was a very elusive back in college, though there are questions as to whether he will work out in the NFL. At 4.02, we're talking about risk/reward, and Hill could go either way. 
Evans: Tamorrion Terry has 10 receiving TDs in his last two seasons while averaging 56.8 yards per touchdown — the highest rate in all of college football. Big-play athletic freaks and fantasy football go together like peanut butter and jelly.  
Erickson:  As somebody who put Terry on my sleepers list, I approve this draft pick.  
Macri: In the final round of our rookie draft, I just couldn't pass up the value of grabbing Mac Jones here. A potential first-round QB who could land on a QB-needy team, the floor for fantasy points in Round 4 is about as good as any other option at this point in the draft. 
Weyrauch: Even though his partner in crime Dyami Brown is considered a better prospect by most, the difference in production for them at North Carolina wasn't as stark as you would think. Dazz Newsome doesn't have tons of upside but could provide a team with safety-blanket WR2 numbers.
Kremenjas: Options were slim at this point. I wanted either Jones or a RB, but  Demetric Felton was a solid enough fall-back option. Felton has RB/WR versatility and can be a Curtis Samuel-like weapon at the next level. If he can get into a creative system with a legit HC in the NFL, he has a skill set that can be utilized.
Hartitz: Trevon Grimes started his career at Ohio State and that's good enough for me. 
Erickson:  That's the hard-hitting analysis that earned Hartitz his role at PFF as lead fantasy analyst. But in all seriousness, he might be onto something with Grimes, who NFL media seems to like a lot. Per Grindingthemocks.com, he is the projected WR8, which is extremely shocking to me.  
Grimes is ranked outside my top 50 rookie receivers. I guess NFL scouts and general managers are enamored by the 589 receiving yards and nine touchdowns he compiled during his final season at Florida.  
Cole (pick) Erickson (analysis): Missouri's Larry Rountree pops off the stat sheet like Patterson due to his insanely productive senior season. He rushed for over 900 yards and 14 touchdowns, earning a 42% dominator rating. That mark was the second-highest among 2021 running back class — no easy feat against SEC defenses. 
Roundtree isn't likely to blow anybody away with his speed or athleticism, but his steady production early at Missouri can't be undersold. He rushed for 1,200 yards and 11 touchdowns as a sophomore.
His size at 5-foot-10, 216 pounds also suggests he can handle a heavy workload, as he did in college. His 211 carries in 2020 were fourth-most in the nation.
Cross: In the late-fourth round, any running back with the size/speed/burst to play an early-down role is worth a dart throw. PFF's Andrew Erickson considers Mitchell a candidate to become this year's James Robinson.
He's a Day 3 guy because of the competition level at Louisiana and the fact that he didn't dominate in college with other future NFL backs on the roster. But Mitchell offers enough potential in the passing game to be an interesting lottery ticket in the NFL and fantasy.
Brown: Sage Surratt's size, weight and speed should see him rocket up draft boards in a couple months, which makes this pick require only an enticing landing spot. His year off will cause some to overlook him, but the pro day expectation should once again set him on a productive fantasy path.
Erickson:  Wake Forest's Sage Surratt didn't break out until his third season at the age of 21.5. In 2018, he posted a 16% dominator rating that placed him below the 20% breakout threshold. His backloaded college production profile definitely raises red flags.
His inability to gain separation and his reliance on physicality to command targets — he finished sixth in contested catches in 2019 — is also worrisome for his outlook in the NFL, with the league trending away from players with that specific skill set.
Cooper: I'm admittedly slacking on my college football film study, but I did watch Clemson take on Ohio State in the College Football Playoff, and Cornell Powell caught my eye. It took him four years to break out — to the tune of 882 yards, seven touchdowns and a 75.1 PFF grade in 2020 — but I feel comfortable taking a shot on him here in Round 4.
Pilato (pick), Erickson (analysis): Louisville's Javian Hawkins ranks as my 32nd player overall, so to see him fall this much is a bit puzzling. His career college dominator rating was solid (25%), and he impressed in his second season as a starter with a 30% dominator rating.
Hawkins is a home-run threat and presents fantasy managers with a ton of upside if he can beef up his size to withstand NFL defenders. He stands at 5-foot-9 and 185 pounds, so it's going to be difficult to see him running over anybody at the next level.
Erickson's highest-ranked snubs
WR MARQUEZ STEVENSON, HOUSTON (42nd Overall)
WR ANTHONY SCHWARTZ, AUBURN (43rd Overall)
WR SHI SMITH, SOUTH CAROLINA (49th Overall)
TE HUNTER LONG, BOSTON COLLEGE (50th Overall) 
Anthony Schwartz and Marquez Stevenson are both downfield speed threats who are definitely worth keeping tabs on as the draft process continues. Per Grindingthemocks.com, both are projected to be drafted between picks 60 and 120.