I recently revealed my favorite fantasy football rookies of the 2021 NFL draft class in the form of the 2021 "My Guys" list. As fun as it was to wax poetic about my favorite targets thus far, it's just as important to highlight the players I'm lower on than the consensus at this point. 
So today we'll dive into my top fantasy football rookie fades for the 2021 season. These are players whose profiles either have an extremely high bust rate or whose market prices just don't compared to where they fall in my rankings. 
View PFF's 2021 NFL Draft position rankings:
QB | RB | WR | TE | T | iOL | DI | EDGE | LB | CB | S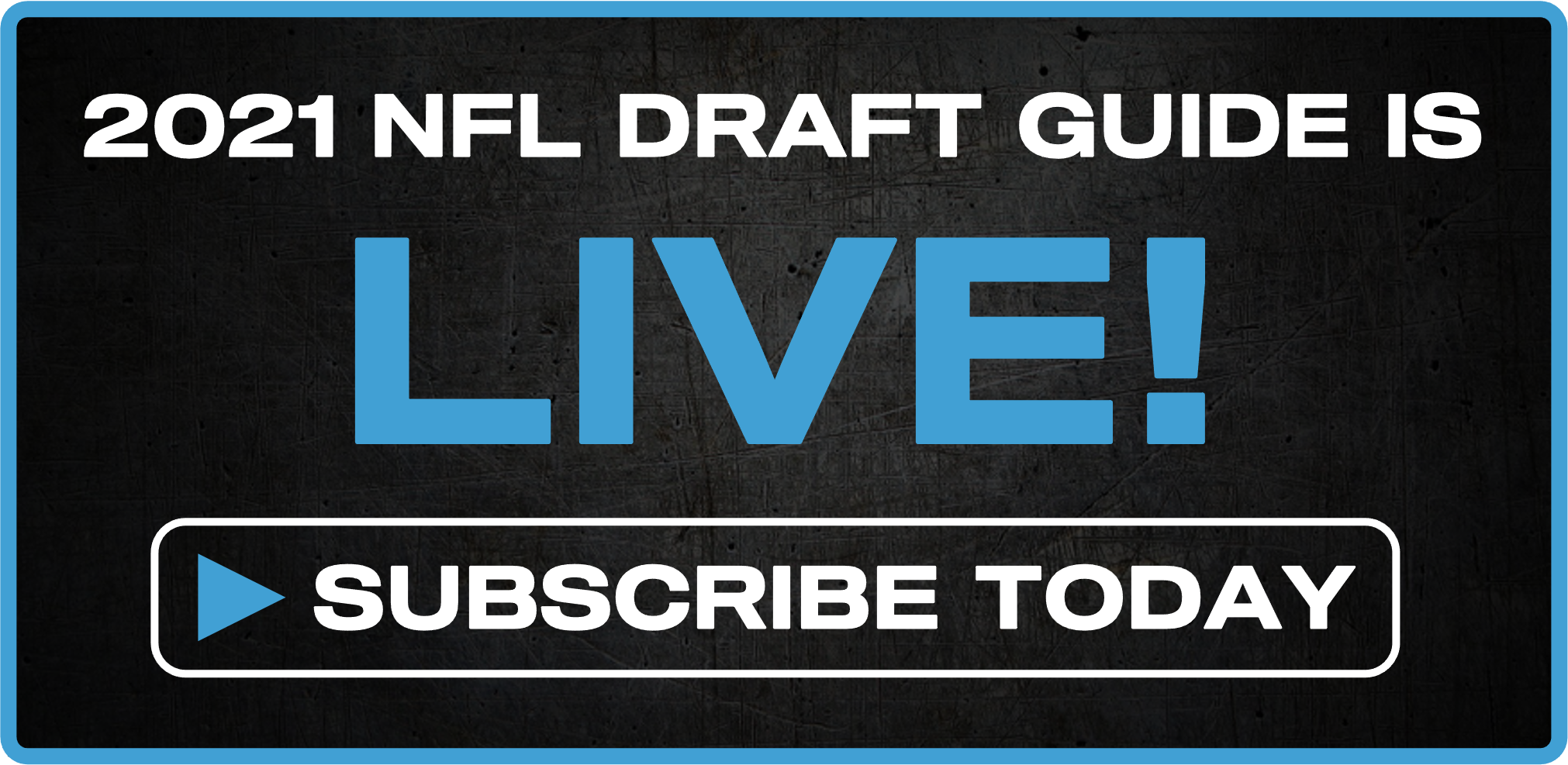 Like the "my guys" list, this group is subject to change post-draft, as player outlooks will rise and fall based on draft capital and team landing spot. Just last season, Clyde Edwards-Helaire was nowhere near the coveted 1.01 spot in rookie mock drafts before the 2020 NFL Draft, but he skyrocketed up the rankings after the Kansas City Chiefs surprisingly nabbed him in the first round. 
Of course, those who took CEH with the 1.01 last year are feeling at least a little buyer's remorse, which is a reminder that we shouldn't throw out all of our pre-draft analysis based on what happens at the draft. Still, draft equity leads to opportunity, sometimes regardless of overall talent.
That being said, step aside optimism, because this is the #fade list.
DYNASTY WR9 | BEST BALL WR72
My current pre-draft ranking of Kadarius Toney in both best ball and dynasty formats aligns with the market. But I suspect that's because I'm already considering Toney as a lock for the first round. His ADP will soar if his name is called on Day 1 as the draft capital zombies obsess over Toney's potential in his new NFL offense.
The inflated price tag won't be worth the price of admission with all of the red flags he has in his prospect profile. 
The former Gator hardly produced at the college level. He didn't achieve a dominator rating over 20% until his senior season at 21.5 years old (23%), and even then he barely got there. Toney's career dominator rating — excluding games he missed due to injury — was just 14%, which ranks 40th in the class.
Toney also posted a worse dominator rating (8%) than teammates La'Mical Perine (18%) and Van Jefferson (20%) in 2019. And that's just factoring in Perine's role as a receiver. Those players haven't been world-beaters at the NFL level, which begs the question as to why Toney never produced in the offense with those guys. 
Also, there's a scenario in which Toney doesn't break out at all in college. Superstar tight end Kyle Pitts missed three games during the regular season, and that's when we saw Toney compile 35% of his receiving yardage. 
Toney should have accomplished more while filling in for Pitts. His 21% target share over that three-game stretch isn't impressive considering he was only competing for targets with Trevon Grimes, Jacob Copeland and Justin Shorter.
The late breakout age and lack of overall production suggest much higher bust potential. Drafters should approach Toney with supreme caution entering the 2021 season. 
PFF's Kevin Cole recently pulled Toney's best historical comparables. *Spoiler* — it's littered with busts. 
There's too much gadget and not enough polish to Toney's overall game to invest anything more than a late-second-round rookie pick on the polarizing playmaker. If I'm surveying the draft board to select a slot receiver in the same range, I'd much prefer Elijah Moore or Rondale Moore. 
DYNASTY WR17 | BEST BALL WR103
Jack of all trades, master of none. That's Amon-Ra St.Brown in a nutshell. With all the advanced data and metrics accessible nowadays, it's not difficult to splice statistics to hype any rookie coming into the league. But that isn't the case with St. Brown. 
I struggled to pinpoint anything about his profile that stood out as elite besides a 19-year-old breakout age. That's concerning for a player who is commanding second-round capital in rookie dynasty drafts. 
Just look at his numbers during his "best" seasons from 2018-2019. While operating as USC's primary slot receiver, St. Brown finished 22nd in PFF receiving grade (72.3) and 34th in average yards per route run (1.96) among the 2021 class. He never posted a PFF grade higher than 76.0 (freshman season), which suggests that his NFL upside may be limited because he lacks elite explosiveness. That's his greatest weakness and a deal-breaker for me. 
I want wide receivers that possess difference-making capabilities, and St. Brown projects to be average at best. This class is jammed packed with talented slot receivers, and ASB is just plain vanilla. 
There are also some concerns about how St. Brown will stylistically fit into the NFL after struggling against man coverage. His career PFF receiving grade versus man coverage (74.5) ranked 66th out 129 qualifying receivers.
Receivers in today's NFL need to be able to create consistent separation, especially on the outside. St. Brown hasn't shown enough of that. He had the chance to show more ability outside in 2020 but flamed out. His yards per route run (1.88) ranked outside the top 65 receivers when lined up outside.
St. Brown is probably going to be a better real life receiver than a fantasy commodity. His best-case scenario is replicating the NFL career of fellow USC product Robert Woods. 
DYNASTY RB9 | BEST BALL RB57
During the majority of the pre-draft process, Chuba Hubbard was viewed as the No. 5 rookie RB in way-too-early Underdog Best Ball drafts. 
The former 2,000-yard rusher was brilliant in 2019 but has seen his NFL draft stock tumble after a lackluster 2020 campaign. His PFF rushing grade (87.6 vs. 71.8), yards per carry (4.7 versus 6.4) and yards after contact per attempt (4.0 versus 2.5) all took massive hits. He finished outside the top 40 in PFF rushing grade and yards after contact per attempt.
NFL GMs/coaches are more concerned with the latter, and that has dropped Hubbard's projected draft slot to Day 3. Recent history has not been kind to running backs taken in this range.
What's the value of a third-round rookie dynasty pick?
Well here are the RBs taken with 3rd-round dynasty rookie picks last four years: pic.twitter.com/mBHDEV8uXM

— Andrew Erickson™ (@AndrewErickson_) March 5, 2021
Hubbard had a chance to flaunt his speed for teams but disappointed at his pro day. The collegiate world-class sprinter failed to meet lofty expectations by running a 4.48 in his 40-yard dash (70th percentile). That's not slow by any means, but it's disheartening for an RB known for speed. 
At his current price, Hubbard is being vastly overvalued by the masses based on his 2019 merits. I'd only consider re-evaluating my stance on Hubbard if his price drops post-draft and/or he lands with a team that utilizes a heavy zone-running scheme. His patient, one-cut running style compares favorably to Tevin Coleman, who has had his moments for fantasy purposes.
I see the upside in Hubbard — 27% career dominator rating, tied for second-highest in the class — but I'm not going to acquire him at cost. 
DYNASTY RB13 | BEST BALL RB85
Mississippi State's Kylin Hill is also being overvalued in best-ball drafts. The contact-embracing running back only played three games this past season, so we never got to see him improve upon his 26% dominator rating from 2019. 
That's hardly a jaw-dropping "best season," and there are not many excuses to be made based on the lack of talent surrounding him at Mississippi State. His career dominator rating (16%) ranks fourth-worst in the class, as does his career yards per snap (2.60) mark.
Hill's peripheral metrics from 2019 don't look all that impressive. His rushing grade (85.1) ranked outside the top 25 and his yards after contact per attempt (3.05) ranked 28th out of 37 qualifying running backs with at least 200 carries. He has a tendency to be impatient and bounce runs to the outside more than he needs to.
The odds are already long for Day 3 running backs; I'd much rather take a shot on the RBs who were mega-producers at their college programs. 
I'm also not convinced that Hill has the pass-catching chops to earn a role on all three downs. His final 23-234-1 receiving line last year looks good but was a product of Mike Leach's Air Raid offense, which targets running backs in the passing game at will.
Over the past four seasons, all four target leaders at the running back position — Jo'quavious Marks, Max Borghi and James Williams (twice) — played under Leach. 
DYNASTY WR21 | BEST BALL WR114
I was pretty high on Tutu Atwell throughout the pre-draft process, having ranked him as high as 10th in my rookie WR rankings. He stacks up well in the 2021 NFL Draft class in dominator rating and breakout age. 
Among the draft class, Atwell's 32% career dominator rating tied for sixth-best with Tylan Wallace and Tamorrion Terry.
But his initial ranking was influenced by NFL talking heads mocking him as a top-50 player. I was initially blinded by the potential draft capital, but Atwell's profile doesn't look as appealing upon further review. And after a lackluster pro-day performance, I'm concerned that his draft stock is also not nearly as secure.
The so-called "speedster" underwhelmed in the testing drills, highlighted by a 4.42 40-yard dash that leaves a lot to be desired from a prospect that weighed in at a meager 155 pounds.
If a receiver is going to enter the NFL at 155 (zero percentile), then he better be running in the low 4.3s. Atwell's game is predicated on speed and explosiveness, yet neither stood out in his workouts.
When I first learned of Atwell's weight and 40-yard dash time, I tried to generate a comparison to another receiver who weighed that little entering the league. The first guy who came to mind was Brandon Banks,  a 2010 UDFA for Washington. Banks weighed 149 pounds and ran a 4.33. He went on to become a monster in the CFL.
Marcus Mosher compared Atwell to J.J. Nelson, who weighed in at 156 pounds and ran a 4.28 at the NFL Combine. Nelson ended up being a fifth-round pick. 
Atwell's draft stock chart (provided by Grindingthemocks.com) shows a clear drop after Louisville's pro day on March 31.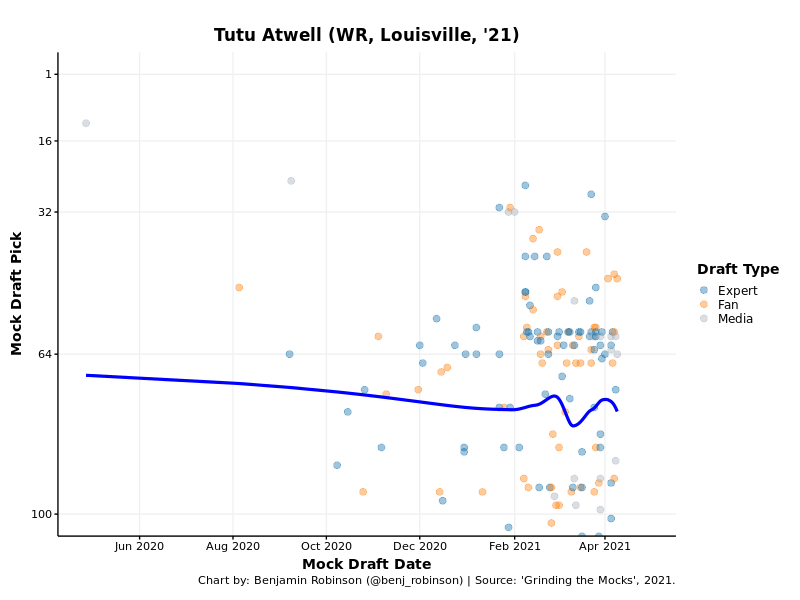 Atwell's best case would be a Marquise Brown-like role in the NFL, and that's just not exciting enough in fantasyland. If I'm going to bet on an undersized prospect from Louisville, give me another speedy playmaker in RB Javian Hawkins.
DYNASTY WR23 | BEST BALL WR121
The full-fade on Sage Surrat is simple, folks. Wake Forest's contested-catch savant didn't break out until his third season at the age of 21.5. In 2018, his 16% dominator rating placed him below the 20% breakout threshold. The backloaded college production profile screams caution.
Surrat's inability to gain separation and his reliance on physicality to command targets — he finished sixth in contested catches in 2019 — is also worrisome for his outlook in the NFL, with the league trending away from players with that specific skill set.
I'm not confident Surratt can improve on the route separation woes — he just doesn't have the ideal speed, burst and second gear. He posted an abysmal 4.69 40-yard dash (3rd percentile) at Wake Forest's pro day, where times are usually faster than the NFL Combine. 
DYNASTY WR27 | BEST BALL WR128
There's nothing about Ihmir Smith-Marsette's profile that makes me interested in drafting him in any format regardless of price. His career dominator rating (20%) ranks outside the top 30 and his career PFF grade ranks dead last in the class (65.0). 
There's more than a handful of other receivers I'd rather take a flier on with a fourth- or fifth-round rookie draft pick.
---
More of PFF's 2021 NFL Draft tools here: 
2021 NFL Draft Big Board | 2021 NFL Draft Guide | 2021 NFL Draft Stats Export | NFL Mock Drafts | NFL Mock Draft Simulator