The 2021 NFL Draft is less than two weeks away, so it's time to unveil the final iteration of my pre-draft rookie fantasy football rankings. These will be updated once landing spots are determined in the draft, but getting familiar with the entire class now will make re-evaluating that much easier. I'll use tiers to group players with similar skill sets, outlooks or values. 
For more on the 2021 draft class, check out the litany of coverage at PFF, including the 2021 NFL Draft Guide and Fantasy Football Rookie Scouting Report covering 75-plus prospects.
More of PFF's 2021 NFL Draft tools here: 
2021 NFL Draft Big Board | 2021 NFL Draft Guide | 2021 NFL Draft Stats Export | NFL Mock Drafts | NFL Mock Draft Simulator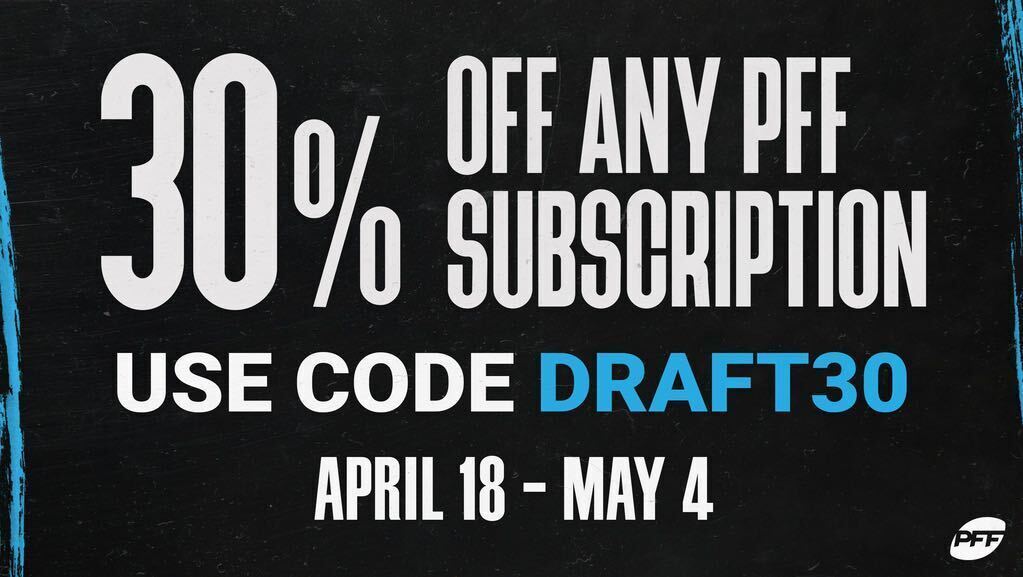 The following are my top 85 rookies ahead of the 2021 NFL Draft with write-ups on the top 60. This is essentially the guide I've been using for dynasty rookie drafts and best-ball leagues during the offseason.
TIER 1
Most dynasty players tend to lean toward wide receivers in dynasty rookie drafts because they project to have longer shelf lives than their RB counterparts. But thinking that far out isn't always the best play — running backs usually put up their best fantasy seasons on rookie deals, so we need to take full advantage.
High-end running backs are scarce these days, which makes them more valuable than WRs. Just think: If Najee Harris and Ja'Marr Chase both have excellent rookie seasons, who will be worth more a year from now? 
In dynasty startups this year, Justin Jefferson is being drafted as the WR1 overall, per Dynasty League Football. Yet five running backs are going ahead of him: Christian McCaffrey, Jonathan Taylor, Saquon Barkley, Dalvin Cook and Alvin Kamara. 
That's why the "Big Three" RBs are also my top-three overall rookies. Fantasy bell-cow back > No. 1 rookie wide receiver.
Najee Harris ranks first in rushing TDs (39), third in PFF rushing grade (93.3) and fourth in forced missed tackles (128) since 2019. With a three-down skill set, natural catching ability and desirable size, Harris has fantasy bell-cow back written all over him. He's more than worthy of the coveted 1.01 selection in rookie drafts.
Javonte Williams' aggregate total missed tackle percentage (46%) was 11 percentage points higher than the next running back in 2020. The missed tackle rate was decimal points better than last year's leader in the category, Washington Football Team running back Antonio Gibson. 
Travis Etienne's overall career grade as a rusher (96.7) ranks No. 1 among all running backs in the 2021 draft class. Last season, he led the country in PFF receiving grade (90.9) and receiving yards (588) and finished second in receptions (48) at the running back position. Etienne racked up the most rushing attempts of 20-plus yards (40) from 2018-2019 while only carrying the ball 20-plus times once since 2018.
Future top-eight draft pick Ja'Marr Chase leads the class with a near-perfect PFF receiving grade (99.0) on targets of 20-plus yards. No receiver has more deep touchdowns (14) than Chase even though he missed the entire 2020 season. He achieved such a feat at just 19 years old while competing for targets with NFL rookie sensation Justin Jefferson and another potential first-round pick in Terrace Marshall Jr.  
Ja'Marr Chase: Certified baller

most TDs on targets 20-plus yards (14) since 2019pic.twitter.com/FyK51GHQZN

— Andrew Erickson™ (@AndrewErickson_) April 16, 2021
Comparing Kyle Pitts' 2020 season to other tight end performances doesn't do him justice. His PFF grade (96.1) led all tight ends and was the highest mark in the PFF era — better than any wide receiver, too. His ability to create separation with his crisp route-running and fluidity against opposing linebackers/defensive backs is top-rate. Banking on him delivering as a rookie might seem like a stretch to some, but the positional advantage he could provide makes him well worth the investment.
TIER 2
Part of the reason why I feel comfortable passing on the wide receiver position early is the depth of prospects in the next tier. Running back, on the other hand, falls off drastically, with only one RB in Tier 2. 
When it comes to "my guys," Jaylen Waddle tops the list. He's the best slot receiver in the class and stands out for his dynamism, twitchiness and explosiveness.
Jaylen Waddle when lined up in the slot since 2018:

93.1 PFF grade (first)
20.4 yards per reception (first)
11.0 yards after the catch per reception (first)
4.19 yards per route run (first)
150.6 rating generated when targeted (first) https://t.co/BSWyCAv42l

— Andrew Erickson™ (@AndrewErickson_) April 9, 2021
Rashod Bateman's 35% career dominator rating ranks No. 1 in the class among receivers from the FBS. The former Golden Gopher led the nation in yards per route run (3.6) and was PFF's eighth-highest-graded receiver (89.2) from an out-wide alignment during his epic sophomore season.
DeVonta Smith may not look the part of a boundary receiver at 6-foot-1 and 170 pounds, but his size has hardly impeded his ability to win out wide. Smith is PFF's highest-graded wide receiver since 2019 when operating outside (92.2). His 3.53 yards per route run and 22 receiving touchdowns also led all WRs. 
Since the start of 2019, Terrace Marshall Jr. owns the league's highest passer rating generated (158.3) when targeted from an out-wide alignment. He also ranks 12th in end-zone targets over the past two seasons, and his PFF receiving grade on those targets ranks fourth-best (93.5).
The second "my guy" to make his appearance in the overall rankings, Elijah Moore isn't your ordinary low-aDOT slot receiver. He's a souped-up slot WR looking to hit home runs. Among the 2021 draft class, Moore finished ninth in air yards (1,182), fifth in catches of 20-plus yards (11) and fourth in deep-ball yards (490) in 2020. He also ranked first in receptions per game (10.8). 
Rondale Moore burst onto the college football season as an 18-year-old true freshman in 2018, posting over 1,200 receiving yards and 114 catches — the most in the country. That earned him a 37% dominator rating, one of the highest ratings of any receiver during their breakout season.
In 2019, Kenneth Gainwell ranked fourth in PFF receiving grade (85.0), fourth in receptions (51), first in receiving yards (610) and second in missed tackles forced (20) on receptions. His newfound weight (201 pounds) is encouraging for his role at the next level and gives him a chance to become much more than a pass-catching specialist out of the backfield. 
TIER 3
Tier 3 starts the run on rookie quarterbacks and includes some of my favorite rookie running backs outside the top players. 
Trevor Lawrence has the chance to flirt with QB1 fantasy numbers as soon as Year 1. Urban Meyer has a track record of leveraging QBs as rushing threats, and Darrell Bevell helped unlock Matthew Stafford's deep ball over the past two seasons. In 2019, Lawrence was PFF's fourth-highest-graded rusher (84.6) at the quarterback position, putting up 682 yards, 7.8 yards per attempt (second) and scoring nine rushing touchdowns.
We're still not sure where Justin Fields will land, but I'm not sure it matters for fantasy football. The dynamic QB can be a force regardless of which team drafts him. His college rushing numbers met thresholds that placed him in the conversation with some of the NFL's best mobile quarterbacks (Lamar Jackson, Jalen Hurts) from the past few draft classes.
????️ DRAFT JUSTIN FIELDS pic.twitter.com/TImuREmj4y

— PFF Fantasy Football (@PFF_Fantasy) April 17, 2021
Tylan Wallace is PFF's highest-graded wide receiver since 2018 when lined up outside. His 91.0 PFF receiving grade not only leads his class but ranks second among all college WRs since 2017 (his freshman year). Another year removed from a torn ACL should do wonders for him in the NFL. 
Nothing would kill me more in this draft than to see Khalil Herbert go super late or undrafted. He's been "my guy" since the start of the pre-draft process. In 2020, he unleashed his full potential as a grad transfer at Virginia Tech, finishing as PFF's second-highest-graded rusher (91.3, 27% dominator rating) while ranking third in yards per carry (7.6) and breakaway rate (55%) among the 2021 draft class.

Trey Sermon boasts PFF's fourth-highest career rushing grade (94.9) — behind only the "Big Three" — in the 2021 NFL Draft Class. As the featured back during Ohio State's final three games, Sermon rushed for 640 yards (9.0 yards per carry) and flashed elusiveness with 28 forced missed tackles (30% missed tackle rate).
I've repeatedly described Louisiana RB Elijah Mitchell as this year's James Robinson, and I'm sticking by it. The Ragin' Cajun ranks first in career yards per snap (3.58) and second in 2020 yards per snap (4.5) among this year's running back class. Mitchell has a three-down NFL skill set with a combination of size, speed, contact balance and explosiveness. He blazed an unofficial 4.38 40-yard dash (96th percentile) and registered a 128-inch broad jump (93rd percentile) at his pro day. 
TIER 4
More quarterbacks enter the fold, along with intriguing WRs and RBs.
North Carolina's Dyami Brown has the exact skill set we want in rookie wide receivers who could be productive from Day 1. His effectiveness off the line of scrimmage helped him become one of the deadliest vertical threats in all of college football. No player had more total yards (1,116) or catches (26) on targets of 20-plus yards over the past two seasons.
Dyami Brown will win vertically at the next level, love him as a Day 2 value. pic.twitter.com/6SbuEtrpv1

— Austin Gayle (@PFF_AustinGayle) February 11, 2021
Kadarius Toney's missed tackle rate per touch (35%) since 2018 ranks No. 1 among the 2021 WR draft class (minimum 100 touches). The guy turns into a modern-day Dante Hall with the ball in his hands, which has cemented his draft stock in the first round. The dynamic Florida receiver has predominantly played the slot since 2018, ranking sixth in yards after the catch per reception (8.9) and second in passer rating generated when targeted (148.7).
We love quarterbacks who can run in fantasy football, and Trey Lance fits that profile to a tee. On top of the rushing upside, he's built like a tank and possesses a bazooka for an arm — he has an 11.5 career aDOT and 118.8 passer rating on 30-plus yard throws.
Only 13.6% of Zach Wilson's throws beyond the line of scrimmage were deemed uncatchable this past season, the lowest rate in the FBS. His grade on tight-window passes also led all quarterbacks (92.7), and it wasn't particularly close. Proficiency throwing into tight windows will be crucial for the electric young quarterback at the next level. 
The ever-elusive Michael Carter had immense success operating alongside Javonte Williams in the North Carolina backfield. The undersized running back was PFF's seventh-highest-graded rusher (91.1) and actually outproduced Williams on the ground with 1,245 rushing yards despite both players handling exactly 157 carries. Carter led the nation in carries of 15 yards or more. 
The former 2,000-yard rusher was brilliant in 2019 but has seen his NFL draft stock tumble after a lackluster 2020 campaign. Hubbard's PFF rushing grade (87.6 vs. 71.8), yards per carry (4.7 versus 6.4) and yards after contact per attempt (4.0 versus 2.5) all took massive hits. He finished outside the top 40 in PFF rushing grade and yards after contact per attempt
TIER 5
This is the area of the draft where I feel comfortable taking a stab on a tight end prospect not named Kyle Pitts. I also don't mind reaching on a particular prospect I'm higher on than consensus — we are slowly entering "crapshoot" territory.
Jaelon Darden was classified as a "sleeper" just a few months ago, but those days are over. Everybody loves the Mean Green machine from North Texas. Darden posted gaudy numbers as a senior — 19 touchdowns and 1,190 receiving yards in just nine games. That earned a dominator rating of 61%, which is the type of dominance small-school players have to demonstrate to have a chance at the next level.
Miami's YAC-monster Brevin Jordan enjoyed an excellent season in 2020, finishing with career highs in receiving yards (576), receptions (38) missed tackles forced (nine) and receiving touchdowns (seven). He finished second in yards after the catch per reception (9.3) and first in yards per route run from the slot (2.42) among tight ends (71% slot snap share). Jordan famously broke out for the Hurricanes as an 18-year-old true freshman. 
"Baby Gronk" possesses a rare combination of size, speed, route-running prowess and dominant inline-blocking ability. His "Gronkness" was on full display in 2019 when he broke nine tackles on 43 catches (21% broken tackle rate). The impressive collegiate production resulted in an astounding 27% dominator rating — the highest mark in the class.
Cade Johnson is an explosive small-school playmaker who has been generating plenty of NFL draft buzz. Johnson didn't have the chance to grow his draft stock after the South Dakota State football season was canceled, but we can't forget what he did in 2019 from the slot, finishing seventh in yards per route run (3.57) and yards after the catch per reception (10.3). His 34% career dominator rating ranks third-best in the class. 
CADE. JOHNSON.

(h/t @_ChristianPage)

— PFF Draft (@PFF_College) January 27, 2021
Contested-catch fiend Seth Williams was Auburn's most productive wide receiver over the past three years, producing a 30% dominator rating (top-10) over that span. He broke out at an early age (19) in 2018 while playing alongside future New York Giants wide receiver Darius Slayton. Williams had no problem putting up solid stats at Auburn, but there's real concern about how his struggles to create separation will translate in the NFL. 
Nico Collins measured at 6-foot-4 and 215 pounds at his pro day — plenty of size to play on the outside at the NFL level. From 2018-2019, he finished second in contested-catch rate (63.2%), sixth in passer rating generated (120.8) and fourth in yards per target (18.2) among WRs in this draft class from an out-wide alignment. 
Since the start of the 2018 season, D'Wayne Eskridge leads all of college football in yards per route run (3.36) when aligned out wide. The speedster from Western Michigan is famous for creating chunk plays both from the perimeter and after the catch, which is reflected by his No. 1-ranked yards per reception mark (21.6). 
Every draft class has its fair share of bruising running backs who love to make contact, and Rhamondre Stevenson fits that mold to a tee. He ranks second since 2019 in yards after contact per attempt (4.7) among 2021 draft-eligible running backs, behind only Khalil Herbert. His toughness and reliability as a pass-catcher helped elevate his career yards per snap (3.40) to third-best in the class. 
TIER 6
The quality of the draft class starts to fall off significantly as we enter into the 30s, so from here on out just shoot your shot. 
The intrigue surrounding the slippery Jermar Jefferson goes all the way back to his uber-productive true freshman season. At just 18 years old, he rushed for 1,380 yards and scored 12 touchdowns for Oregon State, tacking on 25 receptions. Jefferson's highly productive college career (27% dominator rating, top-five in the class) is encouraging for his NFL outlook, but his middling athleticism may ultimately hold him back.  
Javian Hawkins is a home-run hitting running back who could present fantasy managers with a ton of upside if he is able to beef up his size to withstand NFL defenders. He currently checks in at 5-foot-8 and 183 pounds, so it's going to be difficult to see him running over anybody at the next level. The undersized back relies on spin moves and jukes to evade defenders, which has produced the fifth-best forced missed tackle rate in the class since 2019.
Mac Jones operated one of the best offenses in college football history, with an adjusted completion percentage (84.2%) and PFF passing grade (94.8) that ranked first and second in the nation, respectively. Both were superior to Joe Burrow's magical 2019 Heisman season.
One thing is certain when it comes to Anthony Schwartz: He. Can. Fly. The Auburn product reportedly ran a 4.26 40-yard dash at his pro day. His elite straight-line speed translated into 9.0 yards after the catch per reception — a rate that ranked third in the class. 
Anthony Schwartz is FAST????

Would you take him in a race against Tyreek Hill?pic.twitter.com/K9zOeWZuKr

— PFF Draft (@PFF_College) June 25, 2020
An immediate college producer, Amon-Ra St. Brown caught 60 passes for 750 yards and three receiving touchdowns during his true freshman season, earning a dominator rating of 21% at the ripe age of 19 years old. Still, he's a bit of a jack of all trades, master of none type of player. St. Brown can definitely carve out a role in the NFL but doesn't look like a true difference-maker after failing to build on the fast start in college. 
Demetric Felton went from playing slot receiver in 2019 to running back in UCLA's offense in 2020. He earned an impressive 30% dominator rating and compiled over 800 yards from scrimmage and 11 touchdowns in just six games. The ability to switch positions on the fly is a credit to Felton's versatility, and that will interest NFL teams. Before he made the full switch, Felton was deployed as a true WR/HB hybrid player in 2019 with 87 rushing attempts and 54 receptions.
Kylin Hill earned a spot on my "fade list" because his career dominator rating (16%) and yards per snap (2.60) both rank fourth-worst in the class. The odds are already long for Day 3 running backs; I'd much rather take a shot on the RBs who were mega-producers at their college programs. 
TIER 7
"You miss 100% of the shots you don't take."
Buffalo's Jaret Patterson is by far the highest-ranked running back in this class in terms of dominator rating (33%). The ultra-productive one-cut runner benefited greatly running behind one of college's best run-blocking units last season. But his smaller size — 5-foot-7, 195 pounds — puts a cap on his potential workload at the next level. 
As a true freshman, Pooka Williams earned his highest single-season dominator rating (32%) on the back of 1,145 rushing yards and 288 receiving yards. Production aside, Williams does have serious issues when it comes to his vision as a runner, and his size (5-foot-9, 175 pounds) will almost certainly relegate him to scatback duties in the NFL.
Amari Rodgers finally broke out during his final season at Clemson, posting over 1,000 yards and seven touchdowns. A-Rod exclusively played as the Tigers' slot wideout and led the nation in receptions (68) when lined up inside. His 9.6 yards after the catch per reception from the slot is the highest among any player over the past two seasons.
Austin Watkins earned a spot in my top 5 rookie sleepers 2.0 piece because I expect his consistent separation and incredible hands to prove worthy of an NFL roster. Per PFF's NFL Draft Guide, Watkins had just one drop on 100 catchable passes in his career.
Chris Evans looked the part of Michigan's next feature back after a stunning true freshman season in 2016 when he finished fourth in the nation in missed tackles forced per attempt (0.32). Alas, 2016 would be his peak, and his production declined for the rest of his college career. Even so, few backs in this class offer an ideal size/speed profile and coveted three-down skill set like Evans.
TIER 8
When in doubt, take a flier on whichever player boasts the highest level of size, speed and athleticism. 
Among the draft class, dynamic slot receiver Tutu Atwell's 32% career dominator rating tied for sixth-best with Tylan Wallace and Tamorrion Terry. Still, Atwell's path to production won't be nearly as clear with his size and speed concerns. The so-called "speedster" underwhelmed in the testing drills at his pro day, highlighted by a 4.42 40-yard dash that leaves a lot to be desired from a prospect that weighed in at a meager 155 pounds.
Slot wideout Shi Smith has been involved in the South Carolina offense since back in 2017, but his production has never progressed beyond middling. He finally emerged as the go-to guy in the offense as a senior, commanding a 31% target share — sixth-highest in 2020.
Tamorrion Terry is a freaky athlete with size (6-foot-3) and explosion (82nd percentile broad jump) who checks a lot of boxes when it comes to dominator rating. His 32% career dominator rating ranks sixth in the draft class, and he broke out at age 20 — his first real season playing college football after redshirting as a freshman. 
Marquez Stevenson's explosiveness and speed are by far his two greatest attributes, but they haven't translated to much downfield success. He has inconsistent hands and has caught just 17 of his 50 deep targets (65th) from 2018 to 2020.
The full-fade on Sage Surrat is simple: Wake Forest's contested-catch savant didn't break out until his third season at the age of 21.5. In 2018, his 16% dominator rating placed him below the 20% breakout threshold. The backloaded college production profile screams caution.
Stevie Scott III is an under-the-radar RB prospect who towered over his competition at Indiana. His 27% college dominator rating (tied for sixth in the class) stands out, along with his extremely impressive freshman season. At just 18 years old in 2018, SS3 rushed for 1,137 yards and 10 touchdowns.
Dazz Newsome played exclusively in the slot in college but showed that he could be used downfield in that role. His 13 catches of 20-plus yards in 2019 trailed only teammate and deep-ball specialist Dyami Brown's total in the same season. He also flashed versatility as a punt returner, coming in as PFF's fifth-highest-graded punt-returner over the past three seasons (91.0).
Hunter Long stacks up nicely from an experience and production standpoint. He led the nation in targets (89) and catches (57) while also finishing second in receiving yards in 2020, all career-high marks for the Boston College tight end. His ability to beat man coverage should also translate to the NFL, as he is PFF's second-highest-graded tight end (91.8) when facing man coverage since the start of the 2019 season.
Simi Fehoko possesses a rare  speed/size combination for a wide receiver, which could dramatically influence where he is selected in the NFL Draft. He was used primarily as a deep threat in Stanford's offense — fourth in team air yards share in 2020 — but doesn't display any semblance of route-running polish.
TIER 9
The quarterbacks listed here will go much earlier in 2QB/Superflex leagues, but I don't mind taking one late in standard dynasty leagues if the roster permits. Quarterbacks can gain value extremely quickly in just one season — like Jalen Hurts last year. 
Kellen Mond ranks third in the QB draft class in rushing yards on designed runs (623) since the start of 2019. Any rookie quarterback that can offer dual-threat ability will have fantasy value if/when he earns a starting gig. 
Like Mond, Jamie Newman offers rushing upside but combines it with an affinity to throw the ball aggressively downfield. His PFF grade on 20-plus-yard throws (96.5) ranked second in 2019 — second only to Joe Burrow.
Josh Palmer's Senior Bowl performance dramatically increased his draft stock. His combined grade (8.0) and win rate (81%) in one-on-ones versus defensive backs was easily the best at the event. Don't be surprised to see him drafted on Day 2. 
Ihmir Smith-Marsette's production profile is hardly desirable. His career dominator rating (20%) ranks outside the top 30 and his career PFF grade is dead last in the class (65.0). In an attempt to make the case for ISM, I'll admit that his route-running and separation skills are characteristics that NFL teams tend to adore. 
UCF's Marlon Williams doesn't check off either early breakout age (21) or career dominator rating (16%), which is why he finds himself rather low in the rankings. He's a pure slot receiver and uses his size to overwhelm defenders. With a running back-type frame, Williams finished second in forced missed tackles after the catch (22).
The buzz around NFL circles is that Davis Mills could be the first quarterback drafted after the "Big Five" — as early as the end of Round 1. His career big-time throw percentage of 6.0% isn't far behind Trevor Lawrence or Mac Jones, who each recorded a mark of 6.9%.
Mike Strachan is a chiseled 6-foot-5 and 226-pound WR from Charleston who finished his career with an absurd 52% dominator rating — by far the highest mark of any receiver in this class.
TIER 10