PFF's 2021 NFL Draft Guide is live and available to all EDGE and ELITE subscribers. This version includes 300 player profiles loaded with PFF-exclusive advanced stats, player grades and expert analysis.
If you're already an EDGE or ELITE subscriber, download your copy here.
Player Profile Page 1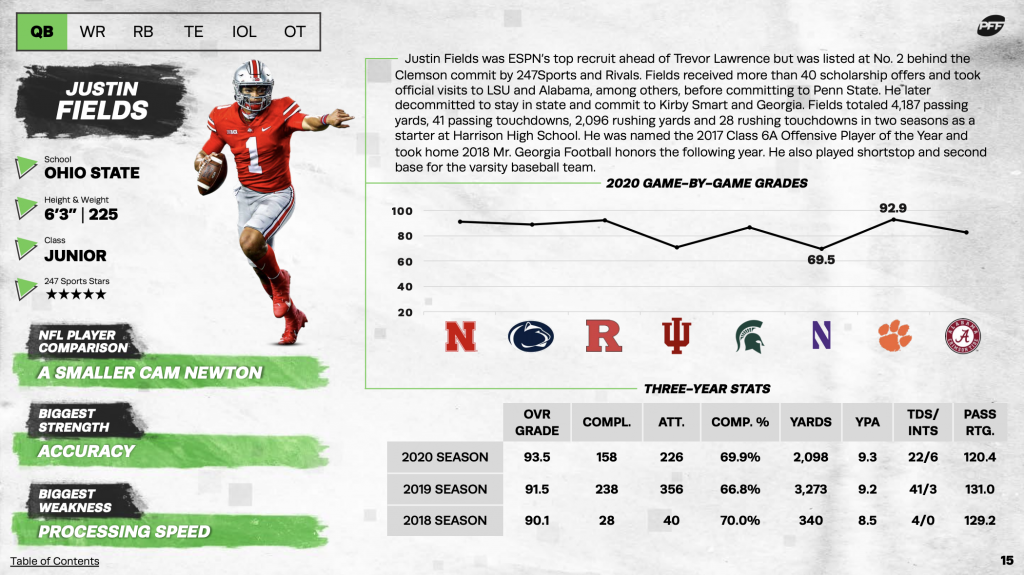 The first page for every player's profile in the 2021 NFL Draft guide will feature basic bio information, a short writeup on the player's recruiting profile/high school background, a line graph of single-game grades from the player's most recent season, three-year stats table, biggest strength, biggest weakness and an  NFL player comparison.
Player Profile Page 2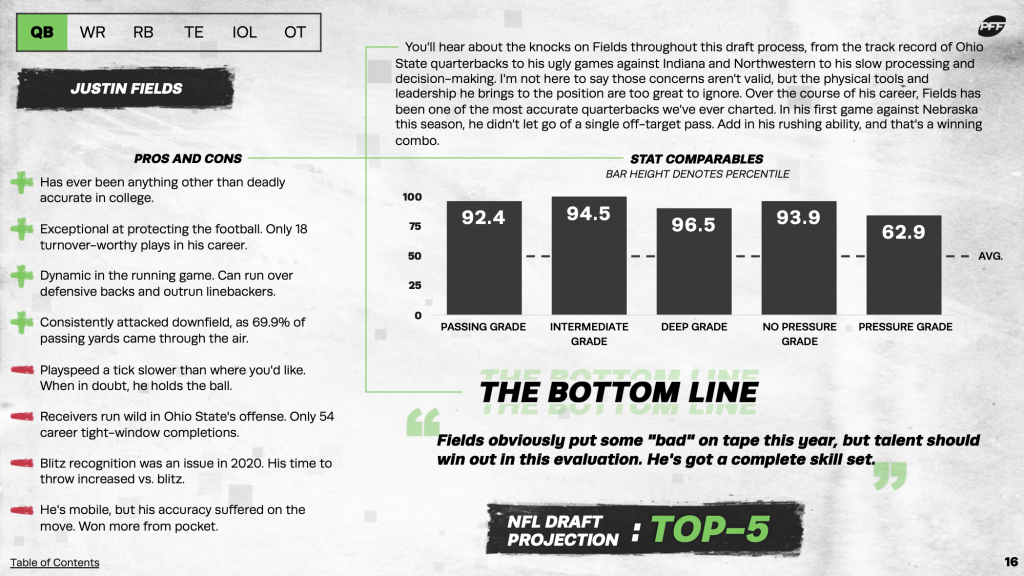 Page two consists of a full list of pros/cons, long-form written analysis above a bar chart of stable PFF metrics and Mike Renner's "Bottom Line" and "NFL Draft Projection" for every prospect in the guide.
Player Profile Page 3
Page three varies by position. Quarterbacks, wide receivers and tight ends in the guide will have two heat maps showing routes run for the offense (quarterbacks) or routes the player ran (wide receivers, tight ends) and another heat map showing targets. Offensive linemen and most defensive players have a display of snaps played by alignment.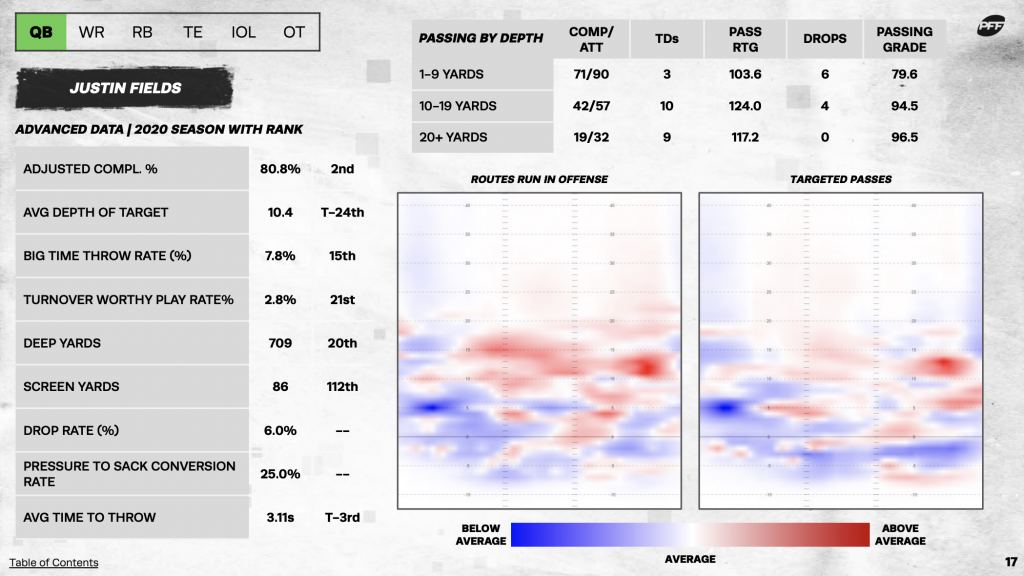 Pro Day Metrics Page
All prospects that record measurables at a pro day will have a standalone page that shows the data and the respective percentiles for each metric.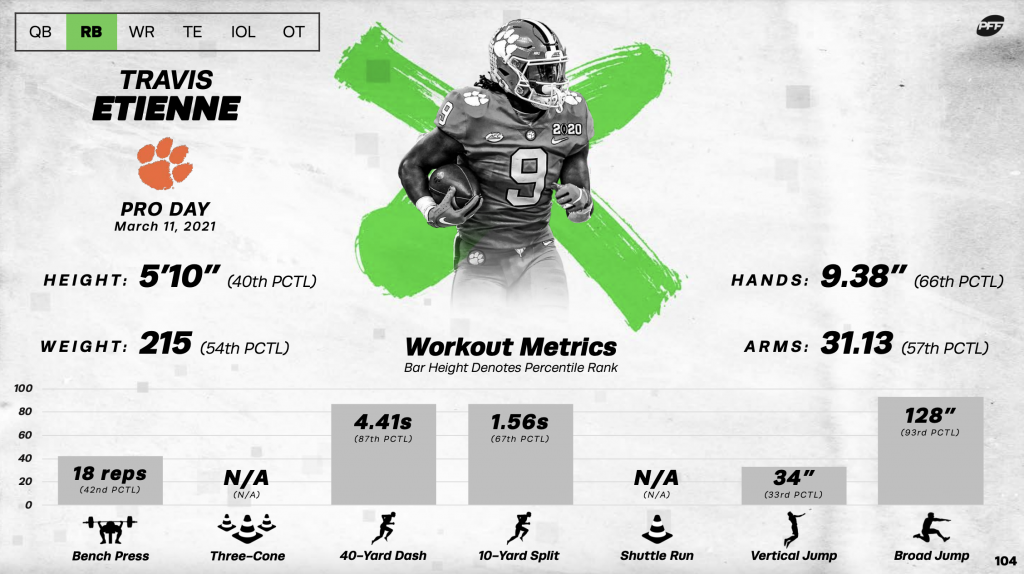 State of the Franchise Page 1
All 32 NFL teams have "State of the Franchise" pages. The first of which is a breakdown of their draft capital allocation over the past four years.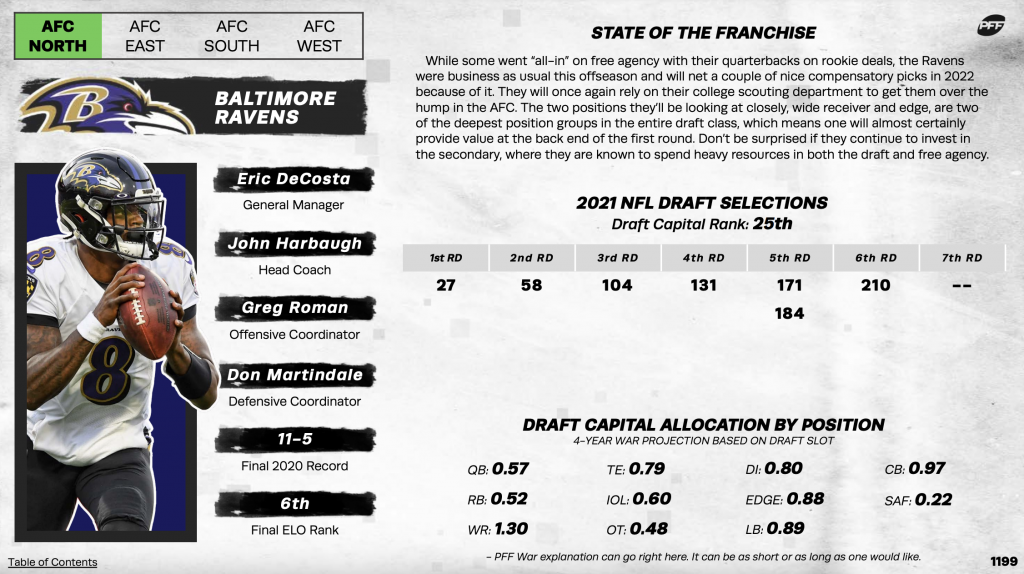 State of the Franchise Page 2
The second "State of the Franchise" page highlights team needs, potential fits for those team needs, a breakdown of the existing starters on the roster and a display of the team's first-round picks over the past five years.