We are in the thick of mock draft season. The diehards have been obsessing over the NFL draft's incoming class for more than a year and others since the Buccaneers' Super Bowl victory over the Chiefs. It's always a joyous event in NFL circles, mostly because we don't have much else to do between February and August every year.
Free agency and the draft are both marquee events that receive all sorts of media hype. Deservingly so: Inject offseason content into my veins. However, we probably put too much stock into these occasions than we should when it comes to expected production. High-priced free agents have typically failed to return elite value when signing with a new team, and generally only a handful of rookies at each position truly resemble a high-end producer during a debut campaign.
View PFF's 2021 NFL Draft position rankings:
QB | RB | WR | TE | T | iOL | DI | EDGE | LB | CB | S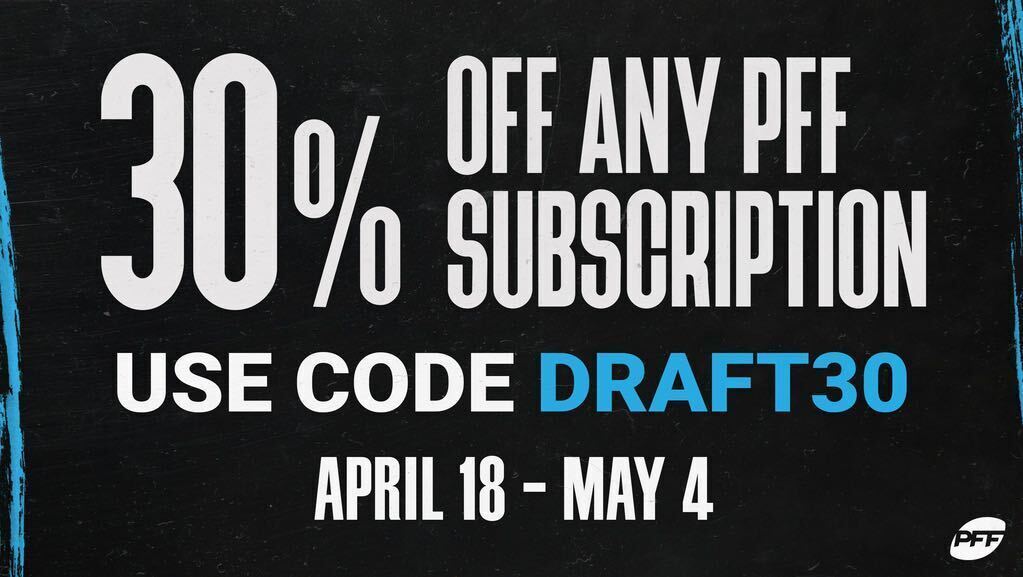 Don't get it twisted: Rookies *will* make severe impacts on offenses and defenses around the league for better and for worse. Things are just generally a bit unrealistic when it comes to Year 1 expectations from fans and fantasy football diehards alike.
The idea that rookies don't usually function as high-end producers has been abundantly clear in fantasy land since 2010. Yes, an average of three rookie RBs per season have finished as top-24 PPR scorers over the past decade. Also yes, things have been far less frequent for WR (1.6), and cases of a top-12 QB (0.7) or TE (0.2) have been even more rare.
The one similarity across each position is simple: The higher the round drafted, the better. At least 80% of top-performing rookie QBs, RBs, WRs and TEs were selected inside of the top three rounds over the past 10 years.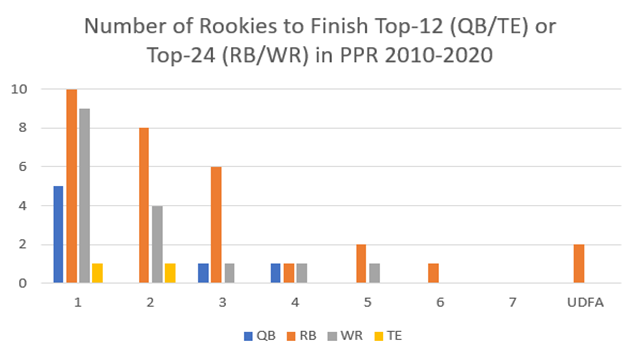 Of course, there are exceptions to every rule. What follows are some position-specific takeaways and notes on potential 2021 qualifiers based on the top 105 players on the PFF NFL Draft Big Board.
Quarterback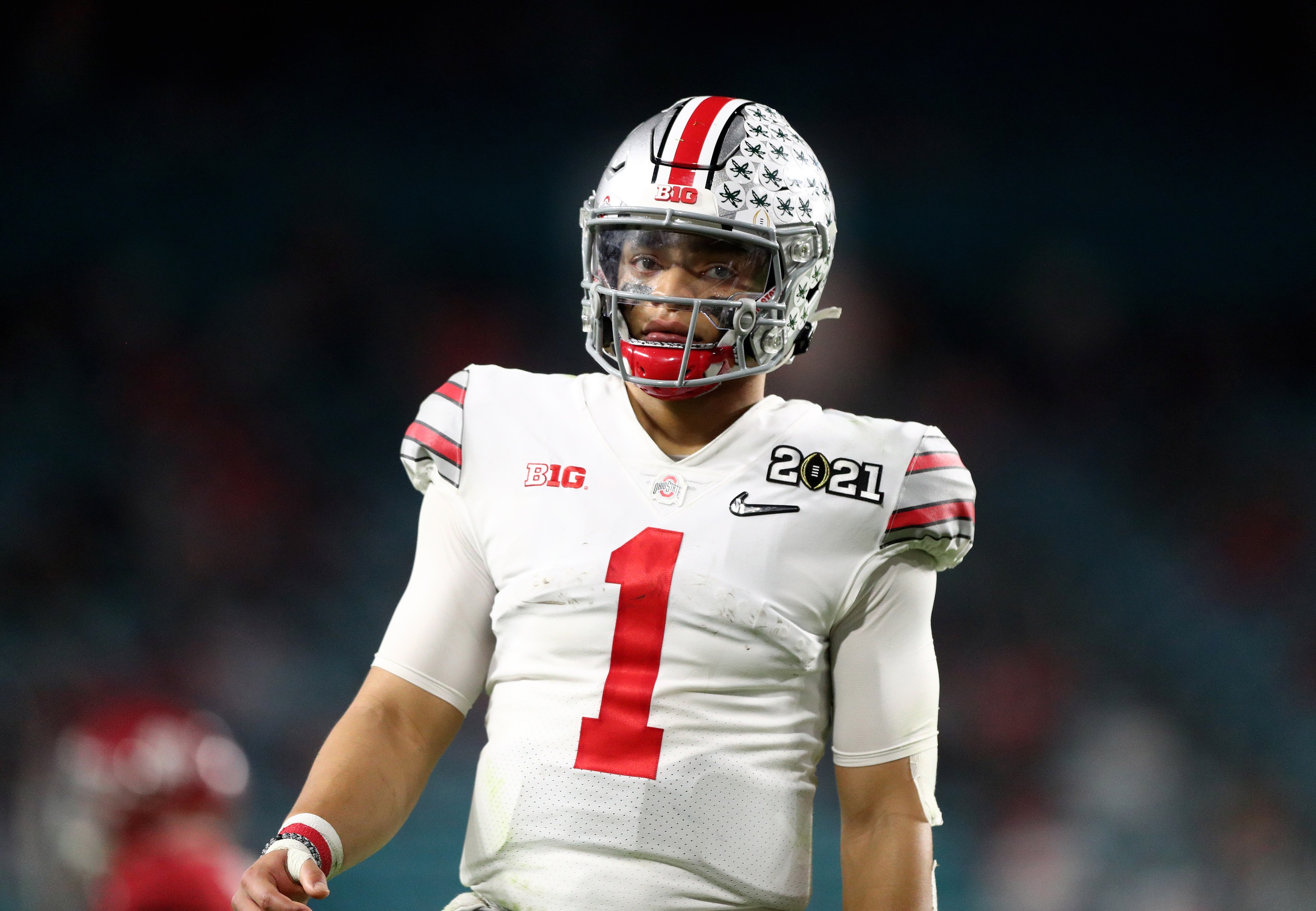 The QB position has produced seven rookies that finished their debut seasons as a top-12 fantasy performer. Among those, only Dak Prescott (Round 4) and Russell Wilson (Round 3) weren't first-round selections.
The larger trends from this group includes 1) being a Week 1 starter, and 2) the existence of a rushing floor. Each of Cam Newton, Andrew Luck, Robert Griffin, Prescott, Wilson and Kyler Murray started from the get go and rushed for at least 25 yards per game in college. Justin Herbert is the only exception to both rules, although his status as a 1) plus athlete, and 2) Week 2 starter, doesn't make him too much of a wild card.
Note that we're only looking at season-long finishes here. Plenty of other higher-round signal-callers such as Jalen Hurts, Daniel Jones, Josh Allen, Lamar Jackson and Deshaun Watson have managed to supply some serious highs as rookies. This has (again) largely been thanks to their rushing upside.
It's good to have a rushing floor, but even that won't be enough without landing in the right situation. We already have a pretty clear idea about which rookie QBs will be leading the Jaguars and Jets in 2021; the Broncos stand out as the best-case landing spot among the rest of the league. This is true in terms of both the potential for any rookie QB to climb the depth chart as well as Denver's plethora of talented receivers. Also keep an eye on the 49ers, Patriots, Steelers, Panthers, Lions, Bears, Eagles and the Football Team; just realize an immediate transition to a rookie under center is unlikely based on each team's respective draft position and present starter.
2021 rookie notes: Trevor Lawrence is fully expected to be under center for the Jaguars in Week 1 and averaged a steady 24 rushing yards per game at Clemson. He's my QB13 in best-ball land. … Zach Wilson managed to find the end zone on 10 separate occasions as a rusher during his final season at Brigham Young and is locked into a Day 1 starting job. Perhaps I'm underestimating Wilson's NFL readiness, but the 1) Jets' expected ineptitude on offense, and 2) potential for the rookie to have some serious growing pains against vastly superior competition, has me looking elsewhere at the moment. … Justin Fields ran a blistering 4.44-second 40-yard dash at the Buckeyes pro day and averaged a steady 9.9 carries per game at Ohio State. Owner of one of the prettier spin moves you'll see, I'd be comfortable ranking Fields ahead of Lawrence in fantasy land if he goes to the Broncos. … Trey Lance stands out as this class' rookie QB most likely to rack up rush attempts and will be a borderline fantasy QB1 the second he secures a starting job; just realize the raw North Dakota State product might have a hard time locking down an immediate opportunity. … Perhaps one of Mac Jones, Kyle Trask or Davis Mills finds his way under center sooner rather than later; I'm just not confident in their Year-1 ability to rack up fantasy points due to their demonstrated inability to offer anything resembling a rushing floor. … Kellen Mond ran a 4.59-second 40-yard dash and flashed some legit rushing ability at Texas A&M; just realize he ran less than ever in 2020, doesn't stand out as the sort of QB to actively force the issues with his legs and seems unlikely to land a starting job in 2021.
Running back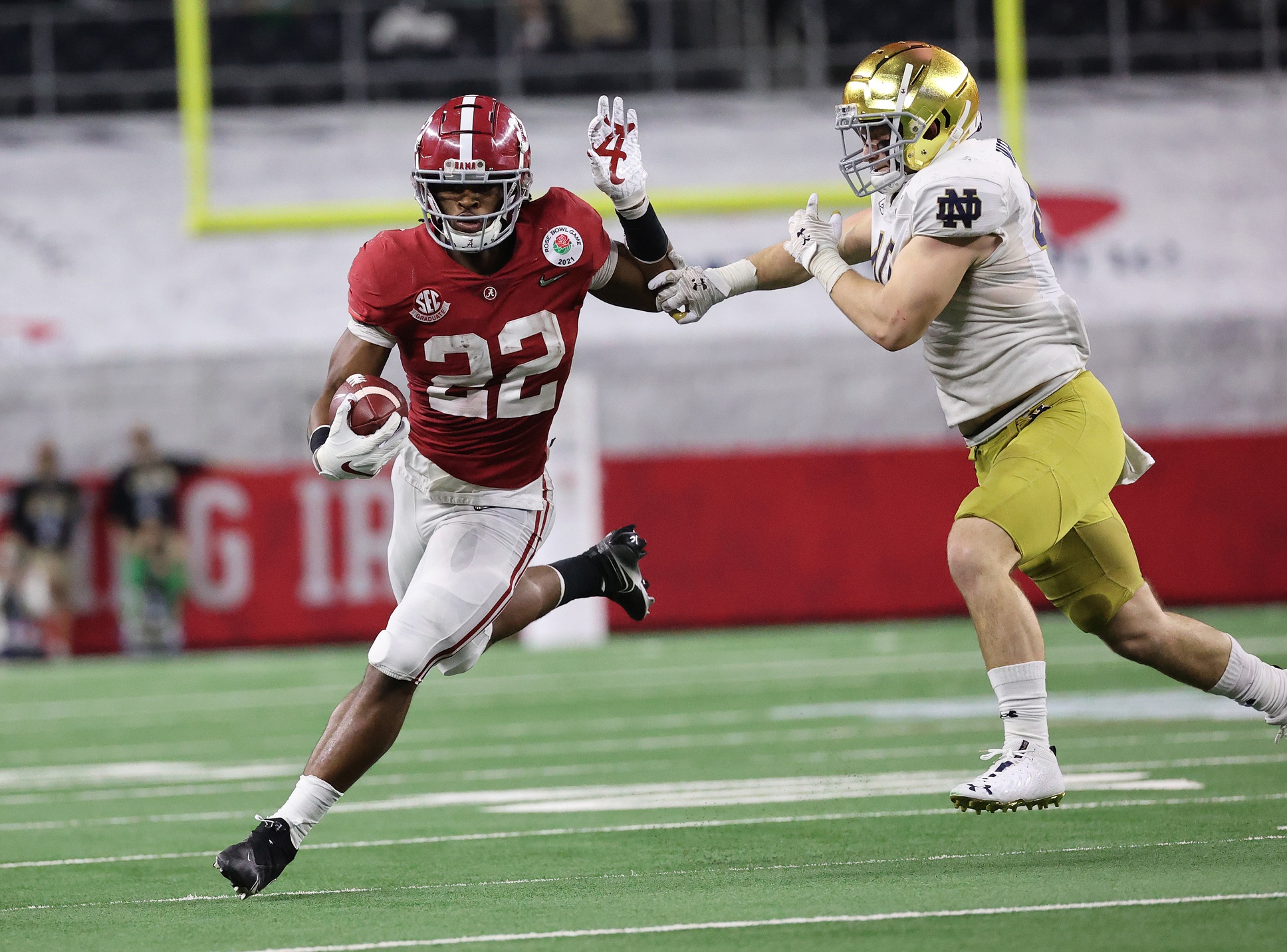 RB has nearly twice as many top-24 rookie performers (30) than WR (16) over the past decade. We know the shelf life for the position is shorter than most, so it makes sense that teams look to get the most out of their investments from jump street. Note that we don't see the same sort of reliance on Round 1 at RB compared to QB or WR. There have been more Day 2 (14) backs to ball out as a rookie than Day 1 (10).
We have more exceptions to the high-round rule at RB than elsewhere, although each instance featured a fairly clear route to the top of the depth chart for the victorious rookie:
Roy Helu: Coached by the Shanahan family, Helu made the most out of his 100 touches and posted a 49-379-1 receiving line. Clinton Portis retired following the previous season.
Alfred Morris: Coached by the Shanahan family, Morris supplanted Helu atop the depth chart before the beginning of the 2012 season. These were truly some barren RB rooms.

Zac Stacy: Served as Jeff Fisher and Brian Scottenheimer's bell-cow back, racking up 250 carries and 35 targets as a rookie. Steven Jackson took his talents to Atlanta following the previous season.

Jordan Howard: A truly explosive talent as a rookie, Howard racked up 1,611 yards from scrimmage on 281 touches for the 3-13 Bears. Matt Forte departed for the Jets following the previous season.
Phillip Lindsay: Split the backfield with fellow rookie Royce Freeman, but Lindsay made more out of his opportunities and racked up 1,278 total yards and 10 scores. The Broncos moved on from C.J. Anderson following the previous season.
James Robinson: Absolutely took over the Jaguars' backfield and wound up with 289 touches in 14 games. Of course, RB1son's ascension only came to fruition after the Jaguars released Leonard Fournette in September.
I don't believe that these six backs were the most talented rookies drafted outside of the top three rounds over the past decade; opportunity typically trumps talent in fantasy land, people. Every situation featured either the 1) team's incumbent RB leaving during the offseason, and/or 2) offense being run by a Shanahan.
Ahead of 2021, the Jets, Steelers and Falcons stand out as the top three landing spots for any rookie RB in terms of projected 2021 workload. The next tier consists of the 49ers, Cardinals, Jaguars, Dolphins and Seahawks, although the best-case scenario for a rookie in these offenses would likely be more of a committee role alongside the team's incumbent starter (or in Arizona's case: Chase Edmonds).
The idea that RBs don't matter is true in the sense that there are far more than 32 high-end backs on planet Earth. Still, RBs still need to matter enough to win their team's respective job, and players that have received the backing from the front office via draft capital have typically performed better as rookies than those that have had to fight to even keep a roster spot. For every Phillip Lindsay there have been dozens of unheralded backs with rookie seasons that more closely resembled Darwin Thompson or Justice Hill.
2021 rookie notes: Javonte Williams racked up an asinine 76 broken tackles on 157 attempts as a junior. His 5-foot-10 and 220-pound frame, combined with good-not-great hands, could wind up handling 250-plus touches in the right situation this fall. … Najee Harris looks a lot like the draft's most polished three-down back. He should command a large pass-game role from Day 1 and would be a godsend fantasy asset with either the Jets, Steelers or Falcons. … Travis Etienne expanded his receiving ability in 2020, although I have concerns over his suddenly reduced explosiveness if he lands in a committee situation. … Michael Carter could struggle to command a workhorse role if the NFL decides he's too small at 5-foot-8 and 199 pounds. … Khalil Herbert was a walking big play at Virginia Tech, although we don't really know if he can consistently function in the pass game considering he's never caught more than 10 passes in a season. … Trey Sermon is arguably the next-most capable three-down back outside of Williams, Harris and Etienne. … Chris Evans is almost 24 and didn't exactly improve throughout his time with the Wolverines, but a career 49-479-2 receiving line and solid performance in the Senior Bowl positions him as a sneaky candidate to buck the early-round trend if the right situation presents itself. … Kenneth Gainwell is arguably the best pure receiver in this RB class considering his ability to win in the slot or out wide; we could be looking at a more explosive (and fun) version of J.D. McKissic if Gainwell lands in an offense willing to really tap into his dual-threat talents.
Wide receiver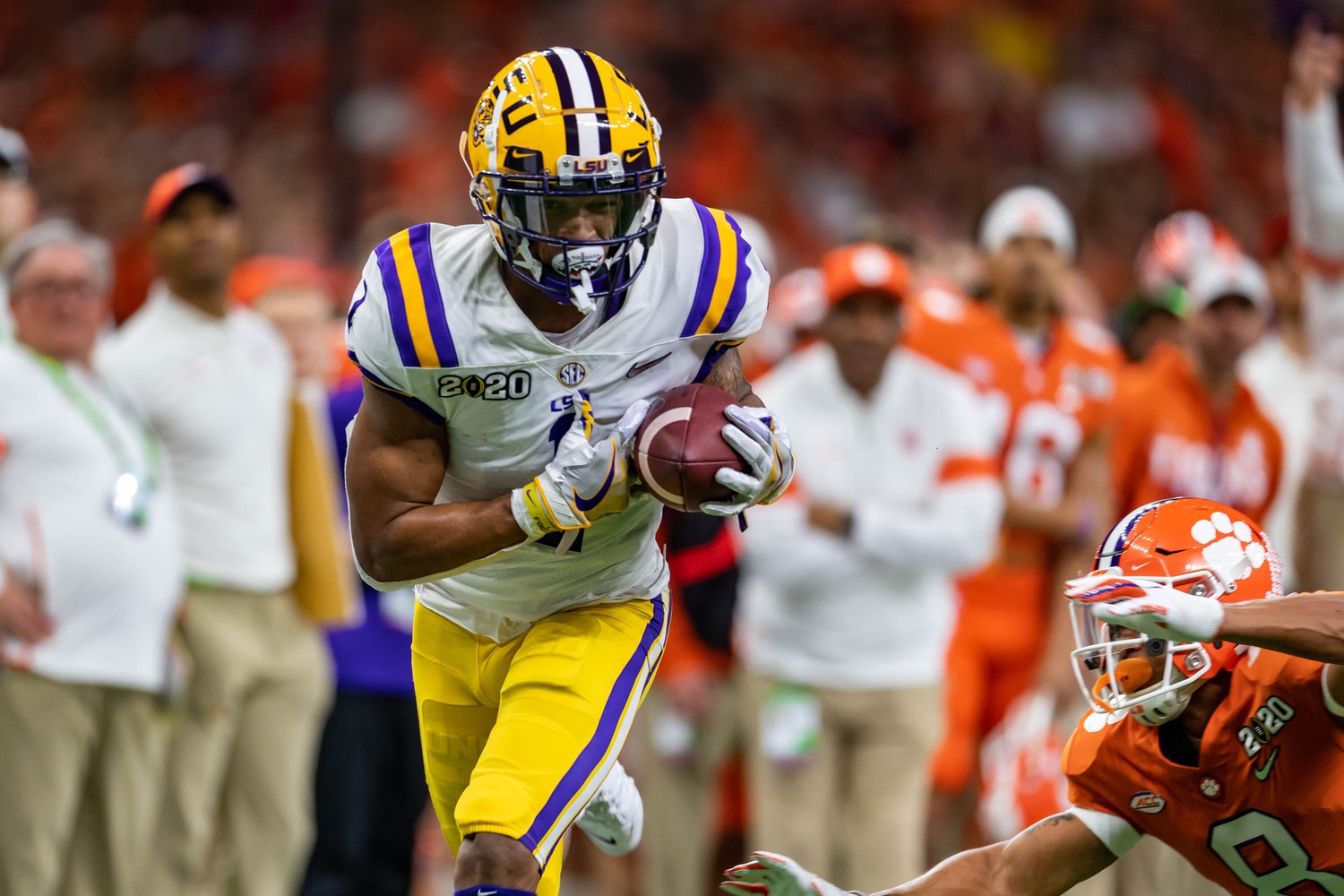 There have only been two rookie WRs drafted outside of the first three rounds who finished as a top-24 PPR performer since 2010: Mike Williams (the Tampa Bay one) and Tyreek Hill. The latter player undoubtedly would've been a Day 1 selection if it wasn't for off-the-field issues, while the former benefited from incumbent No. 1 WR Antonio Bryant's retirement.
Keenan Allen is the only third-round WR to thrive as a rookie. The rest were top-two-round selections. The one thing the group (generally) has in common is the reality that each WR is extremely talented and went on to post multiple great seasons:
The 2020 WR class was touted as one of the best in recent memory. They accordingly make up 19% of this list; just realize it's a bit more rare to see first-year pass-catchers rise up to the top of their depth chart compared to rookie RBs.
The Packers and Titans stand out as the clear-cut top two destinations for a rookie WR to land when we consider QB play as well as opportunity. A closer look at every team's available targets and projected passing volume leads to the Lions, Jaguars, Eagles, Bengals and Texans standing out as the next five best spots for a first-year receiver to rack up some targets.
Also note that more slot-heavy prospects seem to be available than usual. The list of offenses that don't exactly have a cemented slot receiver at the moment includes the: Patriots, Ravens, Titans, Jaguars, Football Team, Giants, Eagles, Packers, Bears, Vikings, Lions, Saints, Panthers, Seahawks and 49ers.
2021 rookie notes: Ja'Marr Chase is the draft's consensus No. 1 receiver prospect and would immediately flirt with a preseason borderline WR2 rank if reunited with Joe Burrow. … There are size concerns with Bama's pair of stud receivers DeVonta Smith and Jaylen Waddle; good thing they're entering the league in 2021 and not 1991. … Rashod Bateman led the country in yards per route run from the outside as a sophomore in 2019; he's a breath of fresh air in terms of versatility in a class loaded with slot-heavy receivers. … Elijah Moore and Rondale Moore fit this aforementioned category. Nobody is doubting their respective playmaking ability; here's to hoping the NFL doesn't overthink things and lets them function as every-down starters as opposed to gadgets. … Terrace Marshall has been rocketing up big boards. Improved route-running ability would leave him as arguably the second-most well-rounded prospect in the class behind only his former teammate Chase. … Kadarius Toney is electric with the ball in his hands; he broke 32 tackles on 80 catches over the past two seasons. We've seen YAC monsters like A.J. Brown and Deebo Samuel find plenty of success early on in their NFL Careers. … Dyami Brown posted the group's third-highest playmaker rate (rewards big plays, scores and broken tackles), and his route-running chops are equally impressive. … Josh Palmer offers more size than most in this class, although his production didn't quite add up to impressive ball skills he showed on tape. … Cade Johnson dominated at South Dakota State, but his size (5-foot-10 and 180 pounds) could be an issue in an offense with an incumbent slot receiver. … Jaelon Darden posted the best playmaker rate of this group. The problem is that, like Johnson, Darden's pint-sized 5-foot-9 and 174-pound frame will be an issue in trying to obtain an every-down role. … PFF also ranks Amon-Ra St. Brown, Tylan Wallace, Dax Milne, Nico Collins, Simi Fehoko, Cornell Powell, Ihmir Smith-Marsette, Amari Rodgers and Seth Williams as top-150 prospects. Collins is my favorite of the group: He checks every box from a size/speed perspective and deserves some benefit of the doubt from a production standpoint due to Michigan's general refusal to employ a modern passing attack. Collins isn't a perfect prospect and needs to improve his overall route-running ability; just realize he makes up for it with physicality and "my ball" mentality.
Tight end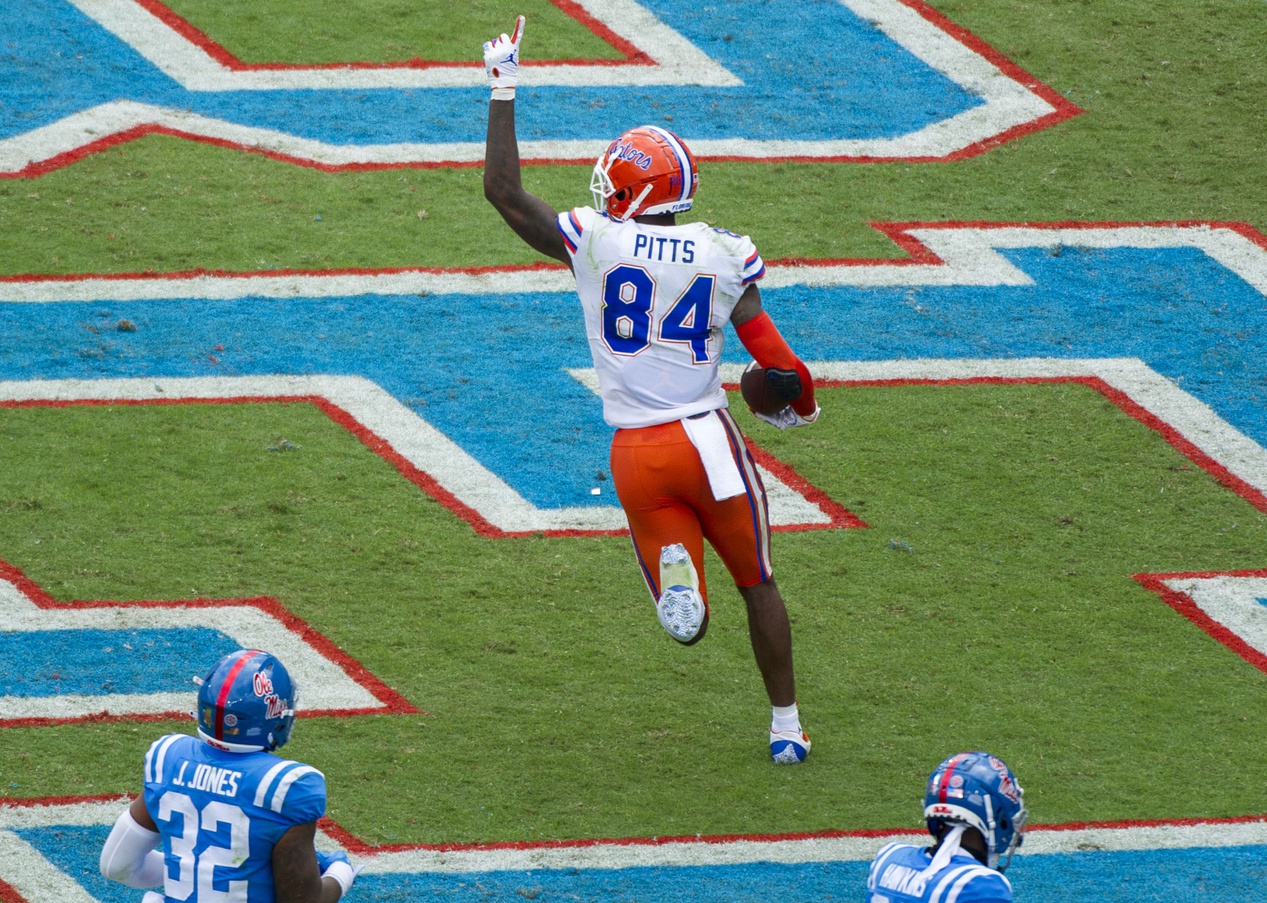 TEs simply don't provide solid fantasy production during their NFL debut: Evan Engram and Rob Gronkowski are the only rookie TEs to finish as top-12 PPR performers since 2010.
Teams have slowly gotten the TE more involved in the passing game over the years, but generally the WR and RB positions still receive more targets. Engram benefited from both Odell Beckham (played 4 games) and Sterling Shepard (11) missing extended time during his rookie season.

It's harder for rookie TEs to gain a starting role due to the need to be a polished receiver *and* blocker. Obviously Gronk, arguably the best TE ever, qualifies as a reasonable exception.

Usually offenses only have one TE on the field per play. The existence of multiple talented TEs on the same team can lead to rookies like Dallas Goedert and Irv Smith playing reduced roles despite having the talent to theoretically achieve so much more.
It's already tough for this position as a whole to earn featured pass-game roles, so you best be sure you're dealing with a barren depth chart and an extremely talented player if you want to stick your neck on the line for a rookie TE. Generally, just stay away.
2021 rookie notes: Kyle Pitts is the only five-tool receiver in the 2021 draft class. Call him a tight end if you really want to; just realize he has the size, speed and ability of a No. 1 pass-game option. It's tough to always assume rational decision-making in the NFL, but you'd like to think whoever uses a top-10 pick to acquire Pitts' services will have a voluminous plan to get him as involved in the offense as possible from Day 1. I'm fine treating him as the exception to the rule that we shouldn't expect anything from rookie TEs, but don't expect anything resembling a discount considering Pitts already boasts an average draft position as the TE6 over at Underdog Fantasy. … The only other TEs that cracked the top 150 on PFF's Big Board are Pat Freiermuth, Tommy Tremble and Hunter Long. Tremble has earned some dark-horse appeal thanks to his plus pro day, although it wouldn't be shocking if he's utilized as more of a block-first player to start his career. I'd put my money on Freiermuth or Long finishing as the group's second-most productive player in 2021, but don't expect that finish to rank inside of the overall position's top-24 options.
---
More of PFF's 2021 NFL Draft tools here: 
2021 NFL Draft Big Board | 2021 NFL Draft Guide | 2021 NFL Draft Stats Export | NFL Mock Drafts | NFL Mock Draft Simulator