With the 2021 NFL Draft just two weeks away, the time has finally come to start planting flags on our favorite rookies for 2021 fantasy football. It's been a long, rigorous pre-draft process, but there are a select few incoming prospects that have proven worthy of the Andrew Erickson stamp of approval.
These players aren't necessarily the obvious names — they're guys who I think can outplay expectations and vastly outperform their ADP in both dynasty and best-ball formats. 
I'll release my final pre-draft fantasy football rookie rankings soon, and each of these players will be ranked higher than the consensus. The rookies featured here are certainly subject to change after the draft — draft capital matters, folks, especially for RBs. 
View PFF's 2021 NFL Draft position rankings:
QB | RB | WR | TE | T | iOL | DI | EDGE | LB | CB | S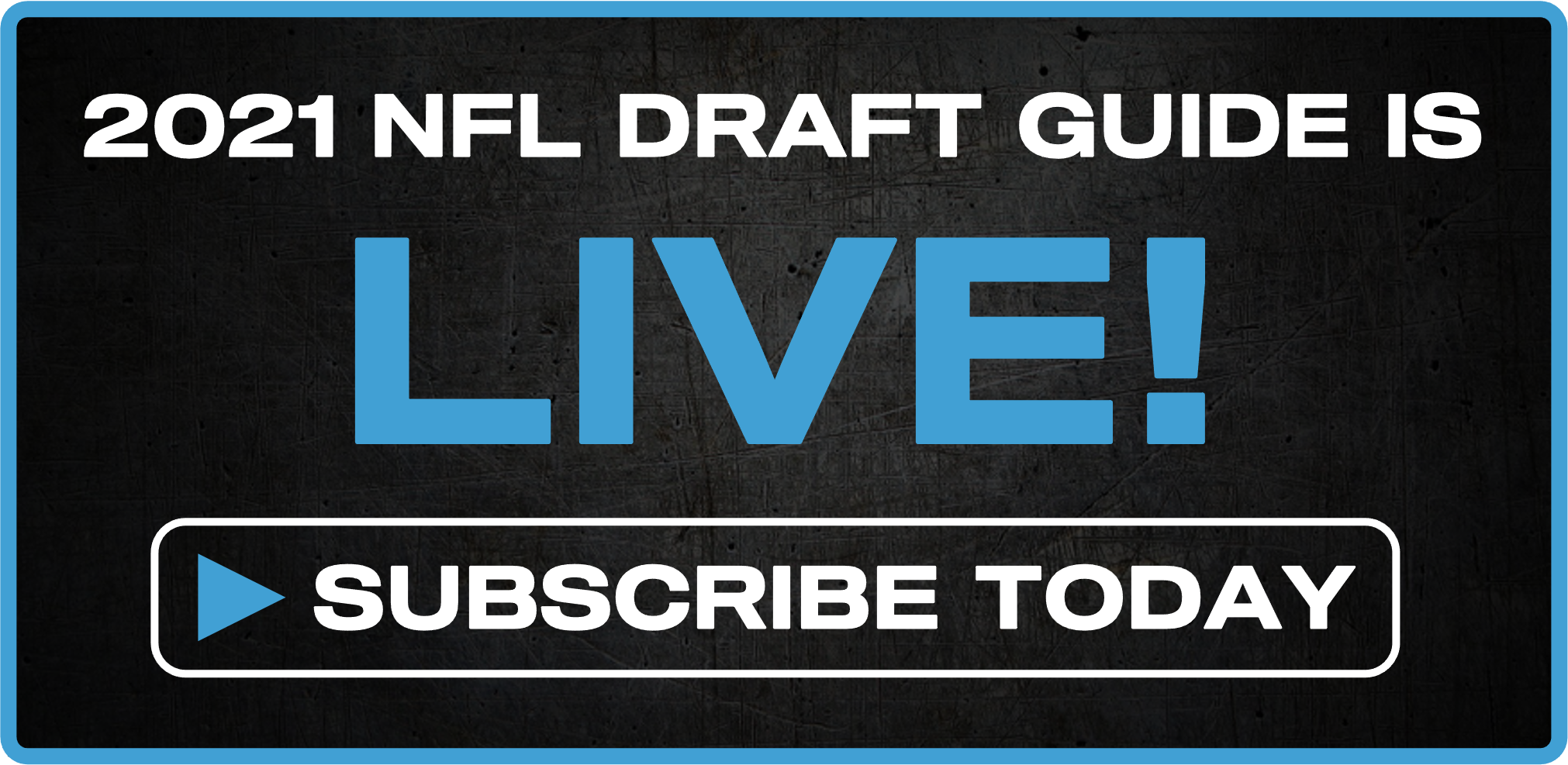 Before we dive into this list, don't forget that you can always check out PFF's fully updated 2021 fantasy football rankings. We also just published the 2021 Rookie Fantasy Scouting Report with profiles of the top 75 prospects in the class. And it's worth checking out the PFF Mock Draft Simulator where you can run your own drafts and see how the results compare to our 2020 NFL Draft Big Board.
Without further ado: Here's the first iteration of "my guys" for the 2021 rookie class.
DYNASTY QB2 | BEST BALL QB16
I could utilize this character space waxing poetic about Justin Fields' hyper-accuracy (72.4% accurate-pass rate, No. 1 in the nation), his affinity for throwing bombs deep downfield (71.2% air yards percentage, third since 2019) and how the San Francisco 49ers would be utter fools to pass on him with the No. 3 overall selection. 
But with his landing spot still officially unknown at this point, I'm shifting the Fields discussion fully over to fantasyland — an area where the dynamic QB can be a force regardless of which team drafts him.
Obviously, some situations are better than others, but Fields' rushing upside is the key selling point. 
Justin Fields aka the fantasy football league-winning late-round QB in 2021 ????

book it ????pic.twitter.com/Qu8HAgFDBo

— Andrew Erickson™ (@AndrewErickson_) February 5, 2021
Fields averaged eight rushing attempts and nearly 55 rushing yards per game at Ohio State. Reaching those thresholds at the collegiate level puts him in the conversation with some of the NFL's best mobile quarterbacks from the past few draft classes.
Specifically, Fields' 3.4 scrambles per game are on par with the likes of Lamar Jackson and Jalen Hurts in their college days.
In 2021 fantasy football redraft formats, Fields isn't going to be just another late-round quarterback. He is going to be the late-round quarterback. 
For those concerned about Fields potentially sitting behind an incumbent starter (Jimmy Garoppolo, Drew Lock, lol), don't be surprised when he takes over sooner rather than later. 
I drafted way too many shares of Tyrod Taylor over Justin Herbert in best-ball drafts last year. Not this time: NFL franchises (and sometimes the universe) find ways to get their first-round QBs into starting lineups.
DYNASTY RB5 | BEST BALL RB45
I just can't quit my No. 5-ranked rookie running back, Khalil Herbert. Throughout the pre-draft process, he has stood out among his running back peers and solidified himself as one of my favorite rookie running backs. 
The graduate transfer tied Jaret Patterson for the lead in yards after contact per attempt (4.74) among the 2021 draft class and finished second in total yards after contact (734) behind only Najee Harris. He's a nightmare for defenders to corral when he gets the ball in his hands.
But it's not the yards after contact stats or the fact that Hebert led the ACC in all-purpose yards (1,791) that has me so confident in him as a top-5 RB in the class. I recently discovered that Herbert goes by the nickname "Juice" — that sealed his final pre-draft ranking because he lives up to the moniker.
Khalil Herbert

the one they call "Juice" is a top-5 RB in the class ????

Y'all better start sippin'pic.twitter.com/1GInuMfN46

— Andrew Erickson™ (@AndrewErickson_) April 14, 2021
At Kansas in 2019, Herbert earned PFF's third-highest rushing grade (90.0) while averaging 9.2 yards per attempt — second-highest in the nation. In 2020, he unleashed his full potential as a grad transfer at Virginia Tech, finishing as PFF's second-highest-graded rusher (91.3, 27% dominator rating) while ranking third in yards per carry (7.6) and breakaway rate (55%) among the 2021 draft class.
His 10 career carries of 50-plus yards rank second in the class behind only Travis Etienne. 
Herbert's astute contact balance and impressive vision to anticipate blocking project well in an outside-zone scheme. He owns PFF's highest grade (91.7) and ranks first in yards per attempt (9.2) on outside-zone runs since 2019.
Herbert's two primary negatives are his age (graduate transfer, 23 years old) and lack of pass-game usage. His "elder" status can't be changed without a time machine, so that's a legitimate knock on his profile. But his uninspiring work as a receiver in the college ranks isn't as concerning.
Earlier in his career at Kansas, Herbert split time with Pooka Williams Jr., a bonafide scatback. Of course he wasn't going to command a large target share. 
Plus, Herbert's landing spot may dictate whether he sees targets. Many NFL teams don't consider how efficient certain running backs are when it comes to catching passes. They're willing to thrust RBs into the role regardless of whether they're adding value to the offense.
The perfect example is the Tampa Bay Buccaneers — their running backs dropped passes and were highly inefficient on a per-target basis, yet they continued to see targets. 
Rookie Jonathan Taylor was criticized because of his lack of work as a receiver in college, but that didn't stop the immobile Philip Rivers from continuing to pepper his RBs, including Taylor, with targets.
Herbert won't ascend to elite pass-catching status, but he'll make the most of his opportunities. His yards after the catch per reception (19.9) was the highest mark at the running back position.
DYNASTY RB7 | BEST BALL RB48
I've repeatedly described Louisiana RB Elijah Mitchell as this year's James Robinson, and I'm sticking by it. The Ragin' Cajun ranks first in career yards per snap (3.58) and second in 2020 yards per snap (4.5) among all running backs in this class.
Mitchell has a three-down NFL skill set with a combination of size, speed, contact balance and explosiveness. He blazed an unofficial 4.38 40-yard dash (96th percentile) and registered a 128-inch broad jump (93rd percentile). 
Nearly all of Mitchell's testing numbers were off-the-charts good compared to the rest of this year's running back class. His broad jump matched Travis Etienne's to lead the class, demonstrating his high-end athleticism. His impressive showing at Louisiana's pro day earned the superlative of best athletic tester from PFF draft expert Mike Renner. 
The athleticism itself is worth a flier in the late rounds of best ball and dynasty rookie drafts.
Mitchell's receiving work during the 2018 season provides a glimpse of his upside — that's when he was most involved in the passing game. Mitchell caught 20 passes for 349 yards and finished third in yards after the catch per reception (16.1). 
His efficiency as a pass-catcher elevated his yards per snap average to 4.50, which was the second-highest single-season mark among running backs in the 2021 draft class (Chuba Hubbard, 5.51).
Since the start of the 2018 season, Mitchell's yards per reception (12.4) ranks second-best in the class. The guy battles for every single yard. 
Mitchell's overall lackluster dominator rating (22%) is the one key piece missing from his profile, but that's explained by the presence of other solid college backs. Trey Ragas has been there since Mitchell's freshman year and has two seasons of 86.0-plus PFF rushing grades on his resume. Ragas is draft-eligible this year and finished third in forced missed tackles per attempt (0.35) in 2020.
I've been higher on Mitchell for the majority of the pre-draft process, but his potential upside as a goal-line back cemented his final pre-draft ranking. Over the past three seasons, Mitchell has a whopping 40 carries inside the 5-yard line — a mark that ranks third-highest in the class. 
DYNASTY WR2 | BEST BALL WR41
Jaylen Waddle in three bullet points:
Jaylen Waddle when lined up in the slot since 2018:

93.1 PFF grade (first)
20.4 yards per reception (first)
11.0 yards after the catch per reception (first)
4.19 yards per route run (first)
150.6 rating generated when targeted (first) https://t.co/BSWyCAv42l

— Andrew Erickson™ (@AndrewErickson_) April 9, 2021
The dynamism, twitchiness and explosiveness to Waddle's game separate him from so many other WRs in this class. He has been able to turn those skills into production despite competing for snaps with first-round NFL talents like Jerry Jeudy, Henry Ruggs and DeVonta Smith. 
As a true freshman in 2018, Waddle hauled in 45 catches for 848 yards and earned the league's seventh-highest PFF grade (89.7). He ranked ninth overall in yards per route run (3.58).
Waddle was well on his way to producing an even bigger season in 2020 with 557 receiving yards through the first four weeks, nearly topping his yardage total from the previous year in eight fewer games. If you extrapolated his four games out to a full season, he'd have gone for 75 catches, 1,671 yards and 12 touchdowns. 
Waddle averaged more than a full yard per route run higher than teammate and Heisman-winner Devonta Smith (4.68 versus 3.63) to start the season. His dominator rating (34%) was also higher (32%).
Waddle's rare skill set makes him a deadly weapon as a return specialist. Since 2018, he has earned PFF's best punt return grade (92.7) and ranks fifth in punt return average (18.1). His 2019 punt return stats — 24.7 yards per return — ranks higher than any other player in the PFF era (min. 10 returns). 
Being a talented special teams player doesn't technically impact a player's fantasy value, but it shows how dynamic he can be at the next level. Guys like Brandon Aiyuk, CeeDee Lamb, Diontae Johnson and Antonio Brown all showcased their playmaking skills on special teams, and that helped them find success in the league. 
Waddle has spent almost his entire career playing out of the slot, so naturally there are concerns about how he will transition to life on the perimeter. We can't confidently project him because we simply haven't seen it. But based on his speed, burst and route running, I believe he will be fine out wide.
Also, enough of the Ruggs versus Waddle slander. There's no debate. 
waddle vs ruggs as incoming prospects is no debate. pic.twitter.com/3ucRhFRZCM

— Andrew Erickson™ (@AndrewErickson_) April 13, 2021
DYNASTY WR6 | BEST BALL WR54
Elijah Moore was one of my biggest winners after collegiate pro day numbers came out. The slot receiver's 40-yard dash ranked fourth and his short shuttle/three-cone third among 2021 draft class WRs who tested at their pro days. He's up to No. 20 overall on PFF's Big Board.
But even before Moore melted faces as an athletic specimen, he was already climbing up my rankings throughout the pre-draft process. I initially overlooked the Ole Miss speedster — I didn't even include him as an honorable mention in my original top-five dynasty rookie wide receiver rankings.
That oversight has been corrected, with Moore comfortably slotted as my WR6. He is easily one of the best slot receivers in this class, and his profile offers everything we look for in a rookie WR. 
Moore exploded onto the scene at just 19.5 years old, earning a 46% dominator rating in his second collegiate season after D.K. Metcalf and A.J. Brown took their talents to the NFL.
Primarily playing in the slot has not hindered Moore's ability to create splash plays downfield with his speed and elusiveness. Among the 2021 draft class, Moore finished ninth in air yards (1,182), fifth in catches of 20-plus yards (11) and fourth in deep-ball yards (490). He ranked second in yards and catches on deep targets from the slot. 
Moore's aDOT from the slot (10.8) is the third-highest among draft prospects dating back to 2019.
DYNASTY WR8 | BEST BALL WR67
I anticipate drafting plenty of Tylan Wallace during the second round of dynasty rookie drafts this offseason. 
Over the past three seasons, the Oklahoma State product ranks third in catches (198), second in yards (3,306) and sixth in PFF receiving grade (91.3). 
Wallace earned a 32% college dominator rating, and nearly all of his production came from out wide. He is PFF's highest-graded wide receiver since 2018 when lined up outside. His 91.0 PFF receiving grade not only leads his class but ranks second among all college WRs since 2017 (his freshman year). 
Wallace posted an insane single-season 50% dominator rating his junior year before his season ended early due to injury. That injury has caused some doubt among analysts. But Wallace surely would have been an early declare if he hadn't been hurt, and that's a plus for projecting incoming prospects.
The injury forced Wallace back to school for another year to prove his health, and he came through. He finished the year seventh in yards per route run (3.26) among 2021 draft-eligible receivers. OSU's big-play threat also finished fourth in air yards (1,552) and eighth in targets (101). 
He's now another year removed from his torn ACL and has shown the ability to turn 50/50 balls into 60/40 balls — Wallace has the second-most contested catches since 2019. He's poised to be a steal in both the real-life draft and dynasty drafts.
It was great to see Tylan Wallace have a nice 2020 debut after a torn ACL in '19. Powered thru bad QB play & made multiple contested grabs.

Even with being pumped a lot of screens in '19 prior to injury, he is 2nd in contested catches since '18. Excited for the rest of his 2020 pic.twitter.com/mrqQ15E1jH

— Anthony Treash (@PFF_Anthony) September 20, 2020
---
More of PFF's 2021 NFL Draft tools here: 
2021 NFL Draft Big Board | 2021 NFL Draft Guide | 2021 NFL Draft Stats Export | NFL Mock Drafts | NFL Mock Draft Simulator