Jalen Hurts leads all players:

Hurts led all quarterbacks in fantasy points per game last season while he and his elite wide receiver duo are all 25 years old or younger.

Anthony Richardson is the top rookie quarterback:

Richardson follows in the footsteps of other quarterbacks with rushing ability and elite fantasy potential. It's a gamble if he gets there, but his ceiling is as high as it gets.

Over 40 rookies in the top 300:

A combination of a strong tight end class in addition to several wide receivers and running backs picked in the first three rounds leads to plenty of options for fantasy managers who want some rookies on their team.
Estimated reading time: 6 minutes
---
With the conclusion of the 2023 NFL Draft, here is the most recent version of my dynasty rankings for superflex PPR leagues. More information on redraft rankings can be found here while more information on each rookie can be found in our draft guide.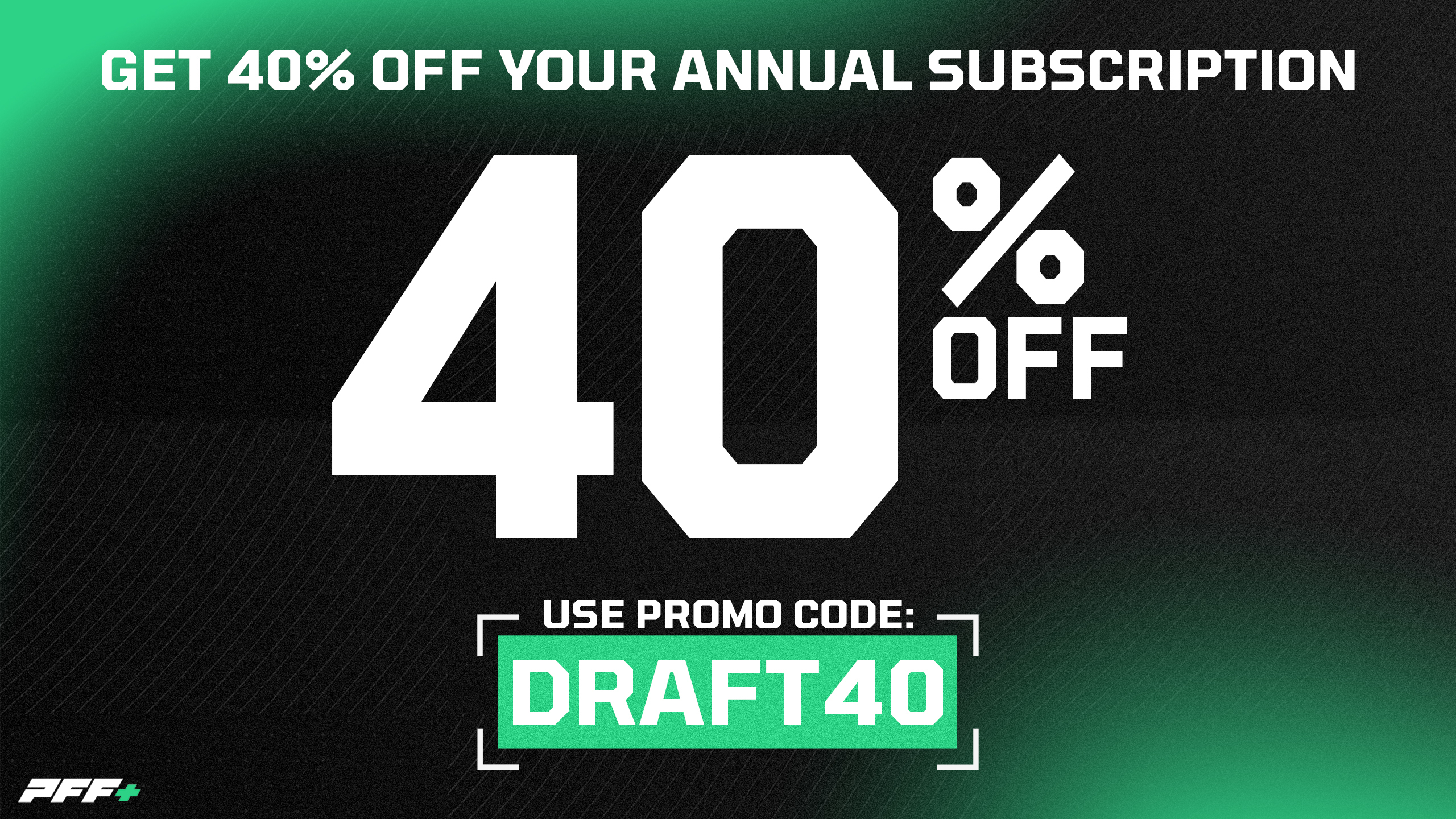 Last updated: 7:15 a.m. Wednesday, May 3
| | | | | |
| --- | --- | --- | --- | --- |
| Rank | Position | Name | Team | Position Rank |
| 1 | QB | | | QB1 |
| 2 | QB | | | QB2 |
| 3 | QB | | | QB3 |
| 4 | QB | | | QB4 |
| 5 | QB | | | QB5 |
| 6 | RB | | | RB1 |
| 7 | WR | | | WR1 |
| 8 | QB | | | QB6 |
| 9 | QB | | | QB7 |
| 10 | QB | | | QB8 |
| 11 | WR | | | WR2 |
| 12 | RB | | | RB2 |
| 13 | RB | | | RB3 |
| 14 | RB | | | RB4 |
| 15 | RB | | | RB5 |
| 16 | WR | | | WR3 |
| 17 | WR | | | WR4 |
| 18 | WR | | | WR5 |
| 19 | RB | | | RB6 |
| 20 | RB | | | RB7 |
| 21 | WR | | | WR6 |
| 22 | RB | | | RB8 |
| 23 | QB | | | QB9 |
| 24 | RB | | | RB9 |
| 25 | WR | | | WR7 |
| 26 | RB | | | RB10 |
| 27 | WR | | | WR8 |
| 28 | WR | | | WR9 |
| 29 | QB | | | QB10 |
| 30 | QB | | | QB11 |
| 31 | RB | | | RB11 |
| 32 | WR | | | WR10 |
| 33 | WR | | | WR11 |
| 34 | WR | | | WR12 |
| 35 | QB | | | QB12 |
| 36 | QB | | | QB13 |
| 37 | WR | | | WR13 |
| 38 | RB | | | RB12 |
| 39 | RB | | | RB13 |
| 40 | WR | | | WR14 |
| 41 | TE | | | TE1 |
| 42 | WR | | | WR15 |
| 43 | TE | | | TE2 |
| 44 | WR | | | WR16 |
| 45 | RB | | | RB14 |
| 46 | WR | | | WR17 |
| 47 | TE | | | TE3 |
| 48 | QB | | | QB14 |
| 49 | RB | | | RB15 |
| 50 | RB | | | RB16 |
| 51 | QB | | | QB15 |
| 52 | QB | | | QB16 |
| 53 | QB | | | QB17 |
| 54 | WR | | | WR18 |
| 55 | WR | | | WR19 |
| 56 | WR | | | WR20 |
| 57 | WR | | | WR21 |
| 58 | TE | | | TE4 |
| 59 | RB | | | RB17 |
| 60 | WR | | | WR22 |
| 61 | RB | | | RB18 |
| 62 | RB | | | RB19 |
| 63 | WR | | | WR23 |
| 64 | RB | | | RB20 |
| 65 | WR | | | WR24 |
| 66 | WR | | | WR25 |
| 67 | RB | | | RB21 |
| 68 | RB | | | RB22 |
| 69 | WR | | | WR26 |
| 70 | RB | | | RB23 |
| 71 | RB | | | RB24 |
| 72 | QB | | | QB18 |
| 73 | WR | | | WR27 |
| 74 | WR | | | WR28 |
| 75 | WR | | | WR29 |
| 76 | WR | | | WR30 |
| 77 | WR | | | WR31 |
| 78 | RB | | | RB25 |
| 79 | TE | | | TE5 |
| 80 | QB | | | QB19 |
| 81 | RB | | | RB26 |
| 82 | RB | | | RB27 |
| 83 | TE | | | TE6 |
| 84 | WR | | | WR32 |
| 85 | WR | | | WR33 |
| 86 | QB | | | QB20 |
| 87 | WR | | | WR34 |
| 88 | WR | | | WR35 |
| 89 | QB | | | QB21 |
| 90 | QB | | | QB22 |
| 91 | TE | | | TE7 |
| 92 | WR | | | WR36 |
| 93 | WR | | | WR37 |
| 94 | WR | | | WR38 |
| 95 | TE | | | TE8 |
| 96 | RB | | | RB28 |
| 97 | RB | | | RB29 |
| 98 | WR | | | WR39 |
| 99 | RB | | | RB30 |
| 100 | WR | | | WR40 |
| 101 | RB | | | RB31 |
| 102 | TE | | | TE9 |
| 103 | QB | | | QB23 |
| 104 | RB | | | RB32 |
| 105 | WR | | | WR41 |
| 106 | RB | | | RB33 |
| 107 | WR | | | WR42 |
| 108 | RB | | | RB34 |
| 109 | RB | | | RB35 |
| 110 | RB | | | RB36 |
| 111 | TE | | | TE10 |
| 112 | QB | | | QB24 |
| 113 | WR | | | WR43 |
| 114 | WR | | | WR44 |
| 115 | TE | | | TE11 |
| 116 | RB | | | RB37 |
| 117 | WR | | | WR45 |
| 118 | WR | | | WR46 |
| 119 | QB | | | QB25 |
| 120 | WR | | | WR47 |
| 121 | WR | | | WR48 |
| 122 | WR | | | WR49 |
| 123 | WR | | | WR50 |
| 124 | WR | | | WR51 |
| 125 | WR | | | WR52 |
| 126 | RB | | | RB38 |
| 127 | TE | | | TE12 |
| 128 | RB | | | RB39 |
| 129 | TE | | | TE13 |
| 130 | WR | | | WR53 |
| 131 | RB | | | RB40 |
| 132 | TE | | | TE14 |
| 133 | TE | | | TE15 |
| 134 | QB | | | QB26 |
| 135 | WR | | | WR54 |
| 136 | RB | | | RB41 |
| 137 | QB | | | QB27 |
| 138 | WR | | | WR55 |
| 139 | QB | | | QB28 |
| 140 | RB | | | RB42 |
| 141 | TE | | | TE16 |
| 142 | RB | | | RB43 |
| 143 | WR | | | WR56 |
| 144 | TE | | | TE17 |
| 145 | RB | | | RB44 |
| 146 | WR | | | WR57 |
| 147 | WR | | | WR58 |
| 148 | WR | | | WR59 |
| 149 | WR | | | WR60 |
| 150 | RB | | | RB45 |
| 151 | RB | | | RB46 |
| 152 | WR | | | WR61 |
| 153 | TE | | | TE18 |
| 154 | WR | | | WR62 |
| 155 | QB | | | QB29 |
| 156 | WR | | | WR63 |
| 157 | RB | | | RB47 |
| 158 | WR | | | WR64 |
| 159 | TE | | | TE19 |
| 160 | WR | | | WR65 |
| 161 | TE | | | TE20 |
| 162 | WR | | | WR66 |
| 163 | RB | | | RB48 |
| 164 | WR | | | WR67 |
| 165 | WR | | | WR68 |
| 166 | WR | | | WR69 |
| 167 | QB | | | QB30 |
| 168 | WR | | | WR70 |
| 169 | RB | | | RB49 |
| 170 | RB | | | RB50 |
| 171 | TE | | | TE21 |
| 172 | WR | | | WR71 |
| 173 | TE | | | TE22 |
| 174 | RB | | | RB51 |
| 175 | QB | | | QB31 |
| 176 | TE | | | TE23 |
| 177 | QB | | | QB32 |
| 178 | TE | | | TE24 |
| 179 | WR | | | WR72 |
| 180 | WR | | | WR73 |
| 181 | QB | | | QB33 |
| 182 | WR | | | WR74 |
| 183 | RB | | | RB52 |
| 184 | RB | | | RB53 |
| 185 | WR | | | WR75 |
| 186 | RB | | | RB54 |
| 187 | TE | | | TE25 |
| 188 | WR | | | WR76 |
| 189 | TE | | | TE26 |
| 190 | TE | | | TE27 |
| 191 | TE | | | TE28 |
| 192 | WR | | | WR77 |
| 193 | RB | | | RB55 |
| 194 | TE | | | TE29 |
| 195 | RB | | | RB56 |
| 196 | WR | | | WR78 |
| 197 | RB | | | RB57 |
| 198 | RB | | | RB58 |
| 199 | WR | | | WR79 |
| 200 | QB | | | QB34 |
| 201 | RB | | | RB59 |
| 202 | WR | | | WR80 |
| 203 | TE | | | TE30 |
| 204 | WR | | | WR81 |
| 205 | WR | | | WR82 |
| 206 | WR | | | WR83 |
| 207 | RB | | | RB60 |
| 208 | QB | | | QB35 |
| 209 | WR | | | WR84 |
| 210 | WR | | | WR85 |
| 211 | TE | | | TE31 |
| 212 | WR | | | WR86 |
| 213 | QB | | | QB36 |
| 214 | RB | | | RB61 |
| 215 | RB | | | RB62 |
| 216 | QB | | | QB37 |
| 217 | WR | | | WR87 |
| 218 | QB | | | QB38 |
| 219 | QB | | | QB39 |
| 220 | RB | | | RB63 |
| 221 | TE | | | TE32 |
| 222 | RB | | | RB64 |
| 223 | WR | | | WR88 |
| 224 | RB | | | RB65 |
| 225 | RB | | | RB66 |
| 226 | WR | | | WR89 |
| 227 | WR | | | WR90 |
| 228 | WR | | | WR91 |
| 229 | RB | | | RB67 |
| 230 | QB | | | QB40 |
| 231 | WR | | | WR92 |
| 232 | RB | | | RB68 |
| 233 | WR | | | WR93 |
| 234 | QB | | | QB41 |
| 235 | WR | | | WR94 |
| 236 | RB | | | RB69 |
| 237 | QB | | | QB42 |
| 238 | WR | | | WR95 |
| 239 | WR | | | WR96 |
| 240 | WR | | | WR97 |
| 241 | RB | | | RB70 |
| 242 | QB | | | QB43 |
| 243 | QB | | | QB44 |
| 244 | RB | | | RB71 |
| 245 | QB | | | QB45 |
| 246 | WR | | | WR98 |
| 247 | RB | | | RB72 |
| 248 | RB | | | RB73 |
| 249 | TE | | | TE33 |
| 250 | TE | | | TE34 |
| 251 | RB | | | RB74 |
| 252 | WR | | | WR99 |
| 253 | RB | | | RB75 |
| 254 | WR | | | WR100 |
| 255 | WR | | | WR101 |
| 256 | TE | | | TE35 |
| 257 | RB | | | RB76 |
| 258 | TE | | | TE36 |
| 259 | WR | | | WR102 |
| 260 | WR | | | WR103 |
| 261 | RB | | | RB77 |
| 262 | QB | | | QB46 |
| 263 | RB | | | RB78 |
| 264 | QB | | | QB47 |
| 265 | WR | | | WR104 |
| 266 | TE | | | TE37 |
| 267 | WR | | | WR105 |
| 268 | TE | | | TE38 |
| 269 | QB | | | QB48 |
| 270 | WR | | | WR106 |
| 271 | QB | | | QB49 |
| 272 | RB | | | RB79 |
| 273 | WR | | | WR107 |
| 274 | WR | | | WR108 |
| 275 | QB | | | QB50 |
| 276 | RB | | | RB80 |
| 277 | TE | | | TE39 |
| 278 | QB | | | QB51 |
| 279 | QB | | | QB52 |
| 280 | RB | | | RB81 |
| 281 | RB | | | RB82 |
| 282 | RB | | | RB83 |
| 283 | QB | | | QB53 |
| 284 | QB | | | QB54 |
| 285 | QB | | | QB55 |
| 286 | QB | | | QB56 |
| 287 | WR | | | WR109 |
| 288 | WR | | | WR110 |
| 289 | QB | | | QB57 |
| 290 | TE | | | TE40 |
| 291 | QB | | | QB58 |
| 292 | QB | | | QB59 |
| 293 | RB | | | RB84 |
| 294 | QB | | | QB60 |
| 295 | WR | | | WR111 |
| 296 | WR | | | WR112 |
| 297 | RB | | | RB85 |
| 298 | WR | | | WR113 |
| 299 | WR | | | WR114 |
| 300 | WR | | | WR115 |