Free agency never really ends. Player movement, or at least planned movement, happens 365 days of the year in the NFL. There is simply never a time during the year when other sports are safe from football taking over the news cycle.
Of course, the beginning of the 2022 NFL free agency cycle has been particularly lit. Trades have caused plenty of ruckus, but there have also been more than a few signings that figure to have a major impact on next season, particularly in fantasy football land.
What follows are takeaways from the first eight days of free agency, listed in no particular order.
---
Click here for more PFF tools:
Draft Guide & Big Board | Mock Draft Simulator
Dynasty Rankings & Projections | Free Agent Rankings | 2022 QB Annual
Player Grades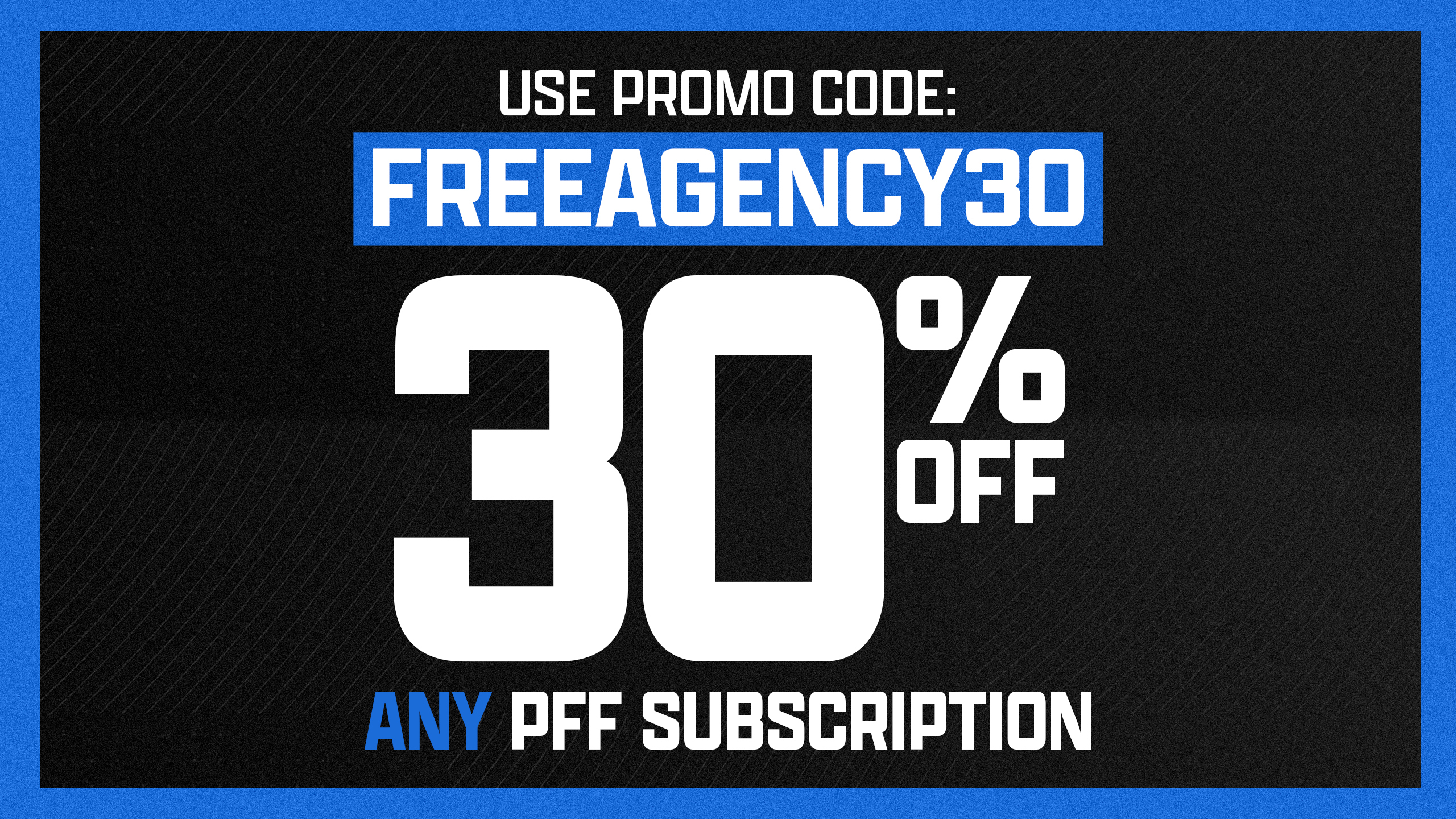 1. The f*cking GOAT is back
The single-most impactful decision of free agency goes to Tom Brady for un-retiring from football. Tampa Bay's Super Bowl odds improved from +1900 to +700 with the news; it turns out getting arguably the single-best quarterback in the game (still!) is a pretty big deal.
The fantasy football ramifications of the move are also huge. Mike Evans and Chris Godwin (pending recovery from injury) leap right back into fantasy's top-15 wide receivers ahead of 2022, while newcomer Russell Gage is a good candidate to return WR3 volume as a top-four pass-game option inside the league's reigning No. 2 ranked scoring offense. Throw in Rob Gronkowski's inevitable decision to rejoin his BFF, and the Buccaneers are once again set up to field one of the league's most productive passing attacks.
Brady himself is coming off a fantasy QB2 finish both overall and on a per-game basis; the only quarterbacks I'd confidently draft ahead of him at the moment: Josh Allen, Patrick Mahomes, Kyler Murray, Justin Herbert and Lamar Jackson. Nothing about Brady's performance last season suggests a physical decline is near; don't be surprised if father time continues to look the other way in 2022 and (maybe?!) beyond.
2. Terry McLaurin (sadly) gets to play with the best quarterback of his career
Carson Wentz might not be in the same sort of fantasy QB1 discussion as some of the other quarterbacks who were moved over the past week, but his presence at least upgrades the ceiling of his No. 1 pass-game option Terry McLaurin. 
Taylor Heinicke and McLaurin unofficially led the NFL in hospital balls last season. While Wentz was PFF's 10th-highest-graded quarterback on passes thrown 20-plus yards downfield (93.3), Heinicke ranked 40th (53.4) among 42 qualified signal-callers. During his short career, McLaurin has caught passes from:
Pain. The closest thing this generation has seen to Allen Robinson and Andre Johnson in terms of a great wide receiver forced to play with one mediocre signal-caller after another, McLaurin at least finally has a quarterback with the sort of arm strength to help him cash in more often downfield. Credit to McLaurin for leading the league with 25 contested catches last season, but this was far more an indictment on Heinicke than a signal that McLaurin struggles to create separation. Here's to hoping Wentz can do a better job getting the ball to one of the game's more talented young receivers.
3. Life is suddenly good in Denver (on the football field; I realize it's a dope city)
It's not too tough to wrap your mind around Russell Wilson being an improvement over the Broncos' various atrocities under center since Peyton Manning retired. Russ is plenty worthy of top-12 treatment in fantasy land, but his real value could be getting the most out of this team's rather loaded group of receivers.
Both Courtland Sutton and Tim Patrick are the sort of big-body outside receivers seemingly made in a lab to reel in Wilson's patented moon balls. Jerry Jeudy's route-running ability is already in the same stratosphere as Doug Baldwin, which is truly saying something. K.J. Hamler might be the odd man out, but his field-stretching ability makes him one of the league's most explosive No. 4 wide receivers. Even Albert Okwuegbunam profiles as a fantasy-friendly receiving-first tight end; the question is whether or not the Broncos decide to roll with the rising third-year talent as their every-down starter, or if they'll add to the position throughout the offseason and utilize more of a committee.
Moral of the story: The acquisition of Wilson should be seen as nothing but a massive positive for the entire group.
4. Amari Cooper and Michael Pittman are arguably the top-two winners from all the quarterback shuffling
Arguably the biggest individual winner of the quarterback movement: Cooper. Going from Baker Mayfield to Deshaun Watson is easily the largest improvement in projected 2022 performance under center. The ex-Raiders/Cowboys receiver should be considered an upside WR2 ahead of next season, alongside guys like DeAndre Hopkins, Keenan Allen, Diontae Johnson and D.J. Moore. It's also fair to upgrade Donovan Peoples-Jones and throw a late-round dart or two in best-ball land; just realize more roster moves at wide receiver are inevitable.
Pittman also gets a rather nice bump as Matt Ryan's new No. 1 pass-game option. The rising third-year talent has flashed during his short career. Seriously, the ceiling looks like the roof if the USC product can combine a legit high-end target total with even something close to great quarterback play one of these years.
2019: Chris Godwin
2020: Calvin Ridley
2021: Diontae Johnson
2022: Michael Pittmanpic.twitter.com/J6Obp51hIp

— Ian Hartitz (@Ihartitz) March 21, 2022
Nobody is saying Pittman is the next Julio Jones, but Ryan's down 2021 — with little help from his offensive line or wide receivers — still produced better marks in yards per attempt (7.1 vs. 6.9), PFF passing grade (78.0 vs. 71.9) and adjusted completion rate (76.1% vs. 72.3%) than Wentz.
5. There were several small running back moves that could still make a big impact
Nineteen different running backs had at least 300 touches in 2000. Last year's total: four, courtesy of Najee Harris, Jonathan Taylor, Joe Mixon and Antonio Gibson. The three-down running back is largely a thing of the past, meaning fantasy football managers have been forced to get used to dealing with committees.
Two-player backfields are reasonable enough to deal with, but things get awfully complicated when the total number of running backs involved stretches to three or four. Two backfields in particular now seem to be creeping toward muddled territory after adding to the position during free agency:
Las Vegas Raiders

:

Josh Jacobs

had himself a nice end to the 2021 season, ripping off fantasy PPR RB12, RB4, RB23, RB19, RB20, RB16 and RB5 finishes over the final seven weeks of the season. It wasn't a coincidence Jacobs started to supply a much higher floor than usual with

Kenyan Drake

sidelined due to injury; the Raiders' former 2019 first-round pick has always struggled to get bunches of targets despite largely demonstrating good pass-game ability throughout his career. The problem: Drake is set to be back in 2022, and the Raiders went ahead and added pass-down specialists

Ameer Abdullah

and

Brandon Bolden

to the mix. The latter back wouldn't be a concern for offensive snaps on 30 NFL teams, but linking back up with longtime Patriots OC Josh McDaniels makes this signing worth paying attention to. Jacobs remains the heavy favorite to lead the Raiders' backfield in touches and production, but the absence of a pass-down role will keep him as a borderline RB2 as opposed to a legit RB1.




Related content for you:

2022 NFL free agency grades for all 16 NFC teams via Sam Monson

New England Patriots

: It was always a long shot the Patriots would enter 2022 with just

Damien Harris

and

Rhamondre Stevenson

. Naturally, Bill Belichick kept the running back room stocked by re-singing

James White

and bringing in RB/WR hybrid

Ty Montgomery

. Hell,

Leonard Fournette

even took a trip to New England Monday. Expecting Harris or Stevenson to breakout with both healthy seems like wishful thinking, particularly if the Patriots take a small step back in the domination department. Overall, their plus-159 point differential was the third-highest mark in the league last season. Throw in the potential for

Mac Jones

to naturally throw the ball more in Year 2, and neither of the Patriots' early-down mavens look to have the sort of upside one would hope to obtain with an early- to mid-round pick in fantasy land.
6. Sometimes there's no place like home
High-priced free agent signings that feature a player changing teams have historically been bad for fantasy business regardless of position. There were notably three fantasy studs from 2021 that decided to re-up with the same employer: Cordarrelle Patterson, Rashaad Penny and James Conner.
History tells us chasing elderly running backs in fantasy land isn't a good idea, but Patterson's lack of career-long usage does make him a possible exception to the rule. Going back to Atlanta was always the best-case scenario since it's, you know, the only team to ever actually unleash C-Patt on offense. This man just went for 1,154 total yards after finishing with just 1,025 combined receiving and rushing yards in the previous three seasons combined. Patterson scored 11 touchdowns this season, which is how many he scored in 2014-2020. Expecting another season flirting with true RB1 (or WR1) production is probably wishful thinking; just realize Patterson is again set up for triple-digit carries and something not too far off in the target department. He's a bargain if his present ADP as a low-end RB3 remains.
Penny was truly awesome down the stretch in 2021. Don't believe me? Watch the film.
Rashaad Penny pic.twitter.com/nzgk8U2ye8

— Ian Hartitz (@Ihartitz) March 2, 2022
Nobody averaged more yards per carry (6.3) or yards after contact per carry (4.5) than Penny among 50 running backs with at least 100 carries last season. The problems are clear: Penny has played in just 37 of a potential 65 regular season games since entering the league in 2018. He hasn't looked out of place as a pass-catcher but ultimately has never caught even 10 passes in a season. He's played more than 50% of the offense's snaps just four times across his entire professional career. The Seahawks handed Penny 17, 13, 17, 27 and 23 touches down the stretch in 2021. Even a full return to health from Chris Carson likely wouldn't prevent this ever run-first offense from feeding Penny the rock upwards of 15 times per game.
Then there's Conner, who suddenly looks like a legit workhorse entering 2022. Conner's overall PPR RB5 finish was aided by Chase Edmonds missing time with a high-ankle sprain; good thing Edmonds is now a member of the Dolphins. Either way: The ex-Steelers back proved to be more than just a short-yardage specialist, turning in some truly exceptional performances on his way to racking up 19 touchdowns in 16 games. Health has usually been the biggest issue for Conner; he's proved capable of working across all three downs throughout his career. A return to Arizona with Edmonds taking his talents elsewhere was always the ideal scenario: Conner is truly deserving of top-10 treatment at the position in fantasy land assuming the Cardinals don't make any other big moves at the position in the draft.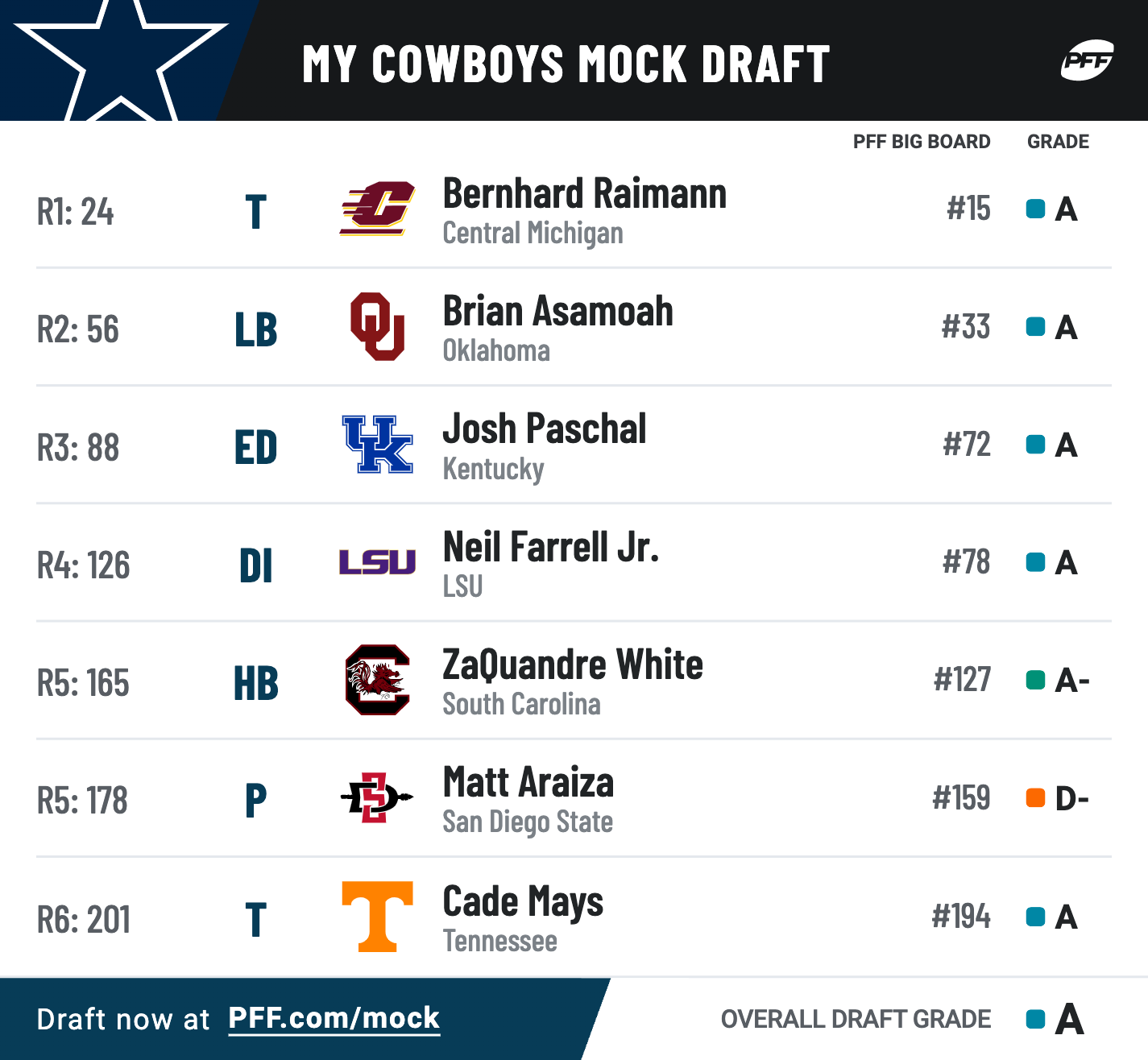 7. Death, taxes, Antonio Gibson not getting a true three-down role
Gibson finished as the PPR RB7, RB6, RB36, RB4, RB18 and RB6 in six games without J.D. McKissic injured early or completely sidelined last season. Before then? Gibson had just one finish inside the position's top-12 backs. Nobody is doubting Gibson's ability to excel in the passing game, but there's no reason to believe McKissic's heavy involvement is going anywhere.
It's not that Gibson can't put up big numbers with McKissic also on the team, although things sure will be a lot tougher. Historically, one target to a running back has been equivalent to around 2.7 carries in terms of expected fantasy points — only Alvin Kamara has more targets than McKissic among all running backs over the past two seasons.
Gibson should continue to flirt with 15 combined carries and targets per game; just realize he'll struggle to push for weekly RB1 production as the No. 2 pass-down back in his own offense. Jonathan Taylor managed to overcome the presence of Nyheim Hines in a somewhat similar situation with Wentz under center in 2021, although that was thanks in large part to the Colts posting the AFC's fourth-best point differential (+86) and rarely falling too far behind on the scoreboard.
Gibson was the overall PPR RB17 in Weeks 1-12 with McKissic last season and the RB11 the rest of the way (despite missing one game himself). With McKissic, Gibson is a volume-based RB2 who offers a low floor in situations when the Commanders struggle to put up points and/or play with a lead. Without McKissic, Gibson has a real argument as a top-five fantasy running back. It's too bad the latter scenario doesn't appear to be in the Commanders' plans ahead of 2022.
8. Arguably the best wide receiver in the game now resides in Las Vegas
One could argue the Raiders' decision to trade for Davante Adams wasn't the sharpest move given his age (30 in December) and astronomical contract ($140 million!); either way, it's tough to see his insertion into the offense as anything other than a positive for former Fresno State BFF Derek Carr.
There was a time when Carr struggled mightily under pressure and generally refrained from testing defenses downfield; this hasn't been the case for most of the last two seasons.
101 seconds of Derek Carr making some good fooking throws pic.twitter.com/fFxYPsQZpb

— Ian Hartitz (@Ihartitz) October 18, 2021
It's fair to assume Carr could be looking at the best season of his career from both a real life and fantasy perspective ahead of 2022; he's firmly in the top-15 discussion among signal-callers.
Adams might not be catching passes from the reigning MVP anymore, but it'd be shocking to not see the Raiders feed him all the targets he can handle to 1.) take advantage of his otherworldly ability, and 2.) prove that trading for him was a good idea in the first place. Adams deserves to fall a few spots in the fantasy ranks, but you still don't need more than one hand to count the number of wide receivers you'd take ahead of him in both real life and fantasy entering 2022.
The main "losers" from the trade (other than Aaron Rodgers' feelings) are Hunter Renfrow and Darren Waller simply because of their projected volume loss. Both had a realistic chance to fly past triple-digit targets and form a 1.A/1.B partnership; now they'll have to settle for 2.A/2.B status and best hope to make the most out of every pass that Carr decides to not throw in Adams' direction.
9. Not everyone can be Batman, but there's nothing wrong with Robin in the right offense
Poor analogy aside, there were a number of wide receiver trades, signings and re-signings that figure to make a major impact in their offense's passing attack, even if the squad's projected No. 1 target leader remains unchanged.
Robert Woods to the Titans: Woods ripped off 86-1,219-6, 90-1,134-2 and 90-936-6 receiving lines in 2018-2020 before going for 45-556-4 in just nine games last season. Woods' involvement in the Rams offense was down to an extent in 2021, but he was still the overall PPR WR12 before injury. On the year, his average of 15.0 PPR points per game was tied with Tyler Lockett for the 18th-highest mark among wide receivers. Nothing about the soon-to-be 30-year-old's play in 2021 indicated a dropoff in performance is near; here's to hoping he's 100% recovered from his torn ACL by the time Week 1 rolls around.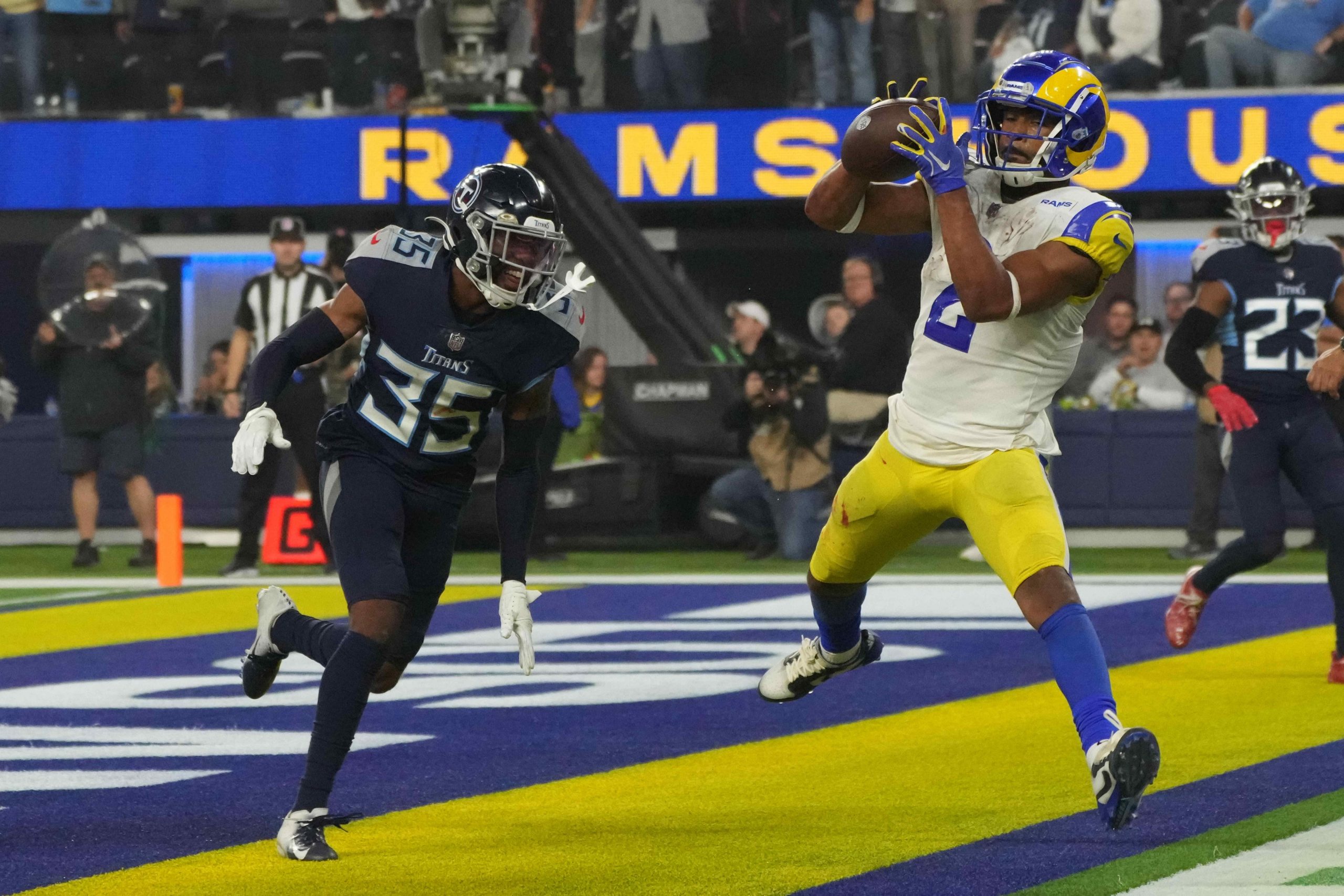 JuJu Smith-Schuster to the Chiefs: JuJu looked like the next big thing at the position after ripping off 58-917-7 and 111-1,426-7 receiving lines to start his career, but injuries and a declining situation under center largely robbed him of the chance to reach his ceiling over the past three seasons. The 166 targets he saw in 2018 will be tough to come by as the No. 3 pass-game option in Kansas City, but Smith-Schuster provides the offense with the exact sort of reliable underneath-intermediate threat it's been looking for.
Allen Robinson to the Rams: Arguably the biggest winner of Bobby Trees' trade, A-Rob now profiles as Matthew Stafford's No. 2 pass-game option from Day 1. Even if you believe Robinson is better than guys like Darnell Mooney and Brandin Cooks, their respective statuses as undisputed No. 1 options in their passing attacks gives them the edge over Robinson in fantasy land. Still, this move makes Robinson worth valuing ahead of players like Brandon Aiyuk, Christian Kirk and Kadarius Toney due to his superior quarterback and likelihood for superior volume. Stafford is inarguably the best quarterback Robinson has ever played with.
Bills release Cole Beasley, re-sign Isaiah McKenzie: Beasley was rather awesome in 2020, but he started to look his age in 2021. Overall, he set three-year lows in PFF receiving grade (67.2), yards per route run (1.33) and yards after the catch per reception (8.4) while also posting his lowest counting numbers since joining the Bills in 2019. The Bills were rumored to be interested in Christian Kirk and even Evan Engram; it seems likely they add to the wide receiver room early in the draft. Note that $4 million annually isn't enough money to guarantee McKenzie will be a Week 1 starter. Still, he's at least earned a larger non-gadget role ahead of next season. Best case, McKenzie winds up starting and makes good use out of the same sort of triple-digit target workload Beasley has seen in each of the last three seasons. Worst case, he split things down the middle with a new teammate or is used as the offense's WR4 behind Stefon Diggs, Gabriel Davis and someone else not yet on the team. McKenzie remains an interesting dart throw in fantasy land as long as his ADP doesn't creep into WR3 range.
D.J. Chark to the Lions: Chark has the sort of size (6-foot-3 and 199-pounds) and speed (4.34-second 40-yard dash) to warrant his one-year "prove it" deal. Things haven't been quite so fresh since his blistering 2019 (73-1,008-8), but the 25-year-old talent enters one of the league's few offenses where he should immediately slot in as the No. 2 wide receiver. Unfortunately, Goff might not be the sort of quarterback to consistently take advantage of that matchup: His average target depth of 6.8 yards was the league's third-lowest mark among 44 qualified quarterbacks last season. Nobody had a lower percentage of their passes thrown short of the first down sticks (34.2%). Chark could very well be the offense's No. 4 pass-game option behind St. Brown, T.J. Hockenson and D'Andre Swift; he's a better real life addition than prospective fantasy bargain due to the low projected volume at hand.
Cowboys re-sign Michael Gallup: The biggest winner of the Amari Cooper trade, Gallup's ensuing extension signals 1.) the Cowboys are comfortable with Gallup as their No. 2 pass-game option, and 2) Gallup's recovery from a torn ACL must be going well. The $62.5-million valuation makes Gallup the league's 12th-highest-paid wide receiver at the moment, although his per-year number drops him to 22nd. Gallup will be firmly in the upside WR3 conversation in fantasy land once healthy enough to suit up.
Chargers re-sign Mike Williams: Williams finished 2021 as fantasy's overall PPR WR14. He fell to WR17 on a per-game basis and certainly had his fair share of duds, but it's not fair to simply look at Williams' season and conclude "he sucked if you take away the good games." The 27-year-old talent turned the first triple-digit target workload of his career into a rather awesome 76-1,146-9 receiving line despite dealing with nagging ankle and shoulder injuries throughout the year. At worst Williams is a boom-or-bust WR3 in fantasy land; at best he's an every-week top-15 option at the position.
10. Lol Jacksonville
The Jaguars' new-look 2022 offense is expected to feature Christian Kirk, Zay Jones and Marvin Jones in three-WR sets with Evan Engram at tight end and Travis Etienne (hopefully) alongside James Robinson (Achilles) in the backfield. It's an improvement over what Trevor Lawrence had to work with in 2021; just realize it's still not exactly a group that should strike fear in the hearts of most NFL defenses.
Ultimately, Kirk is a versatile option now inside of an offense in desperate need of playmakers, although it's a middling group in terms of available targets at the wide receiver position. The biggest problem impacting everyone involved is it's far from a given this offense will take a major leap forward in 2021. It's fair to put plenty of blame on Urban Meyer; either way, it's impossible to find a stat that paints Lawrence as anything other than a bad quarterback as a rookie:
PFF passing grade: 61.4 (tied for No. 32 among 44 qualified quarterbacks)

QB rating: 71.9 (tied for No. 40)

Yards per attempt: 6 (No. 40)

Adjusted completion rate: 72.4% (No. 34)
The history of high-priced free agents changing teams has been pretty terrible regardless of position. Don't hate the player; hate the average draft position — Kirk and Engram stand out as viable WR3 candidate and TE2 candidates, respectively, with the upside to flirt with WR2 and TE1 status if the Jaguars decide to make either the focal point of their passing game.
Still, there's an awful lot of uncertainty inside of a passing game not exactly expected to rank among the league's best scoring units when the year is over. It might not be a bad thing if your fantasy roster doesn't have many (any?) Jaguars on it in 2022.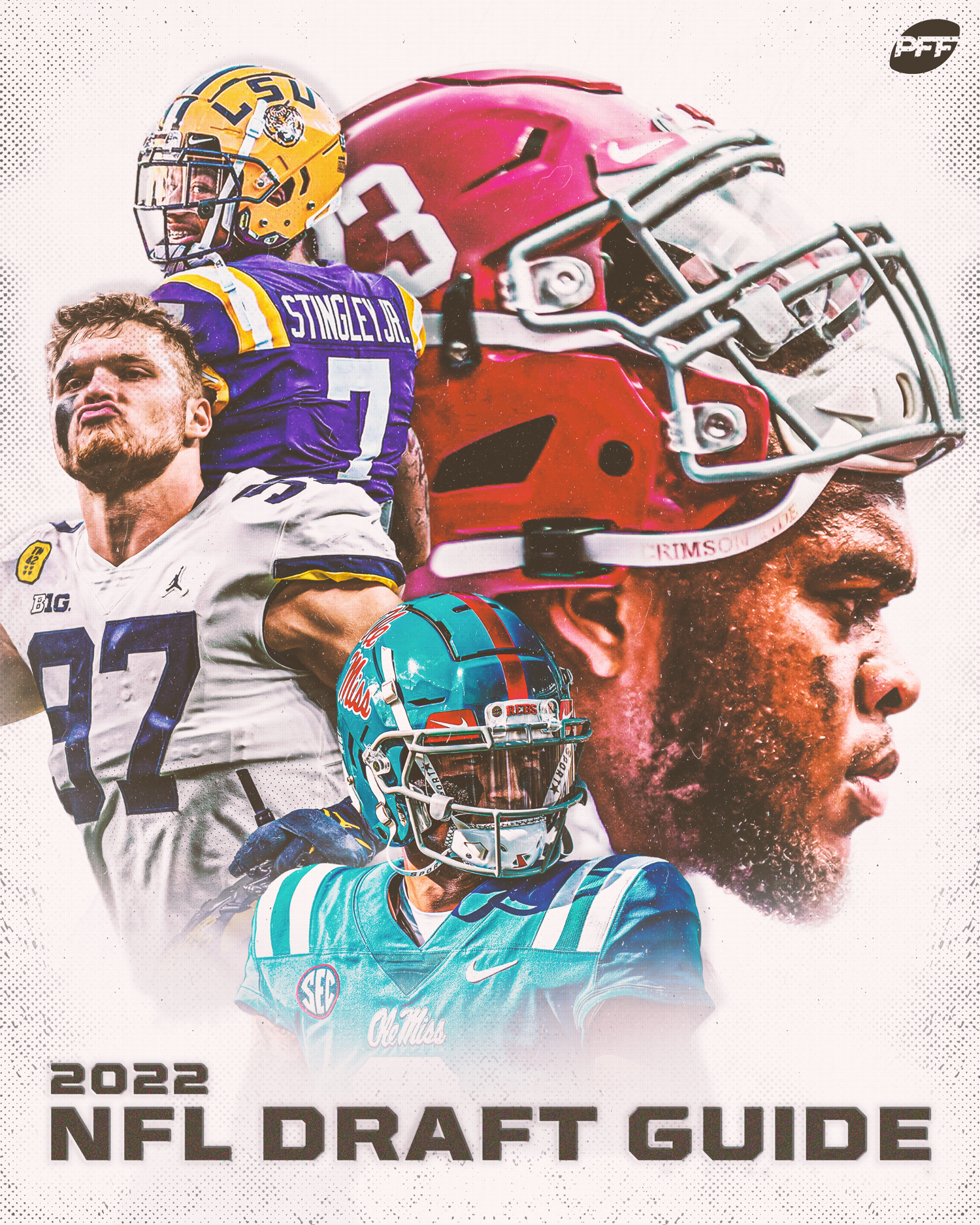 11. If you have two real life tight ends, you probably have zero fantasy-viable options
Several teams simply brought back their full-time starter at tight end and figure to treat them as such again in 2022. Specifically, Dalton Schultz and Mike Gesicki were franchise-tagged, while Zach Ertz cashed in with a three-year deal.
Unfortunately, volume could be tougher to come by for the following tight ends based on their suddenly crowded depth charts:
C.J. Uzomah and Tyler Conklin:

The Bengals' and Vikings' every-week starter at the position from last season, Uzomah and Conklin are now expected to form a committee that most likely won't yield a top-three role in their own passing game. Barring a massive leap forward from

Zach Wilson

,

 it's unlikely the Jets field a fantasy-viable tight end in 2022.

Noah Fant and Will Dissly

: The former tight end was expected to be the full-time starter in Seattle after seemingly being a major piece in the

Russell Wilson

trade. Then, the Seahawks decided to give Dissly a rather large three-year, $24 million deal. Quarterback questions persist inside of a run-first offense that will continue to feature

D.K. Metcalf

and

Tyler Lockett

as the top-two options; don't expect Fant or Dissly to provide anything resembling consistent high-end fantasy value in 2022.

Gerald Everett and Donald Parham

: Catching passes from

Justin Herbert

is good for the business of scoring fantasy points, but there probably won't be enough targets to go around for either Everett or Parham to flirt with consistent TE1 status. Last season,

Jared Cook

worked as the offense's distant No. 4 option in the passing game behind

Austin Ekeler

,

Keenan Allen

and

Mike Williams

; don't expect this to change for Everett, who figures to lose plenty of fantasy-friendly routes to Parham and perhaps another player to be named later.
There was some good news out there in the tight end market. Both the Browns and Titans regularly utilized three tight ends on a weekly basis in 2021. Perhaps Cleveland finally gives David Njoku a full-time role after franchise tagging him, while Austin Hooper stands to work as Tennessee's No. 1 option at the position. Of course, guys like Harrison Bryant and Geoff Swaim could make these annoying committees, while the rest of free agency and the draft could also yield some newfound competition.
12. There are a handful of late-round tight ends options with realistic chances to seize a full-time role in 2022
Five tight ends in particular stand out as players that could enter Week 1 as the undisputed No. 1 option atop their depth chart:
Irv Smith

: Easily the biggest winner from

Conklin

signing with the Jets, Smith is still just 23 years old and should have the first opportunity of his career to work as his offense's every-down tight end. New head coach Kevin O'Connell rarely asked

Tyler Higbee

to leave the field with the Rams; Smith has a legit chance to work as the Vikings' No. 3 pass-game option behind only

Justin Jefferson

and

Adam Thielen

. He is shaping up as my favorite late-round option at the position, and it's not particularly close.

Ricky Seals-Jones

: RSJ is a former wide receiver who never really had the benefit of the doubt as an every-down tight end in stops with the Cardinals, Browns and Chiefs, but Washington was willing to give him a legit full-time role with

Logan Thomas

banged up for most of 2021. Seals-Jones responded well enough, posting 2-19-0, 5-41-0, 4-58-1, 6-51-0 and 2-12-0 receiving lines in his five full games as the Commanders' featured tight end. The Giants' decision to part ways with both

Evan Engram

and

Kyle Rudolph

makes Seals-Jones the projected Week 1 starter, although it remains to be seen if they view him as a true every-down option at the position.

Mo Alie-Cox:

Frank Reich has made a habit out of using multiple tight ends with the Colts, but longtime ace run blocker

Jack Doyle

retired, and Alie-Cox was re-signed to a fairly hefty three-year, $18 million deal. It's certainly possible

Kylen Granson

or a party to be named later expands the committee, but at least Alie-Cox finally projects rather easily as the Colts' lead target getter at the position.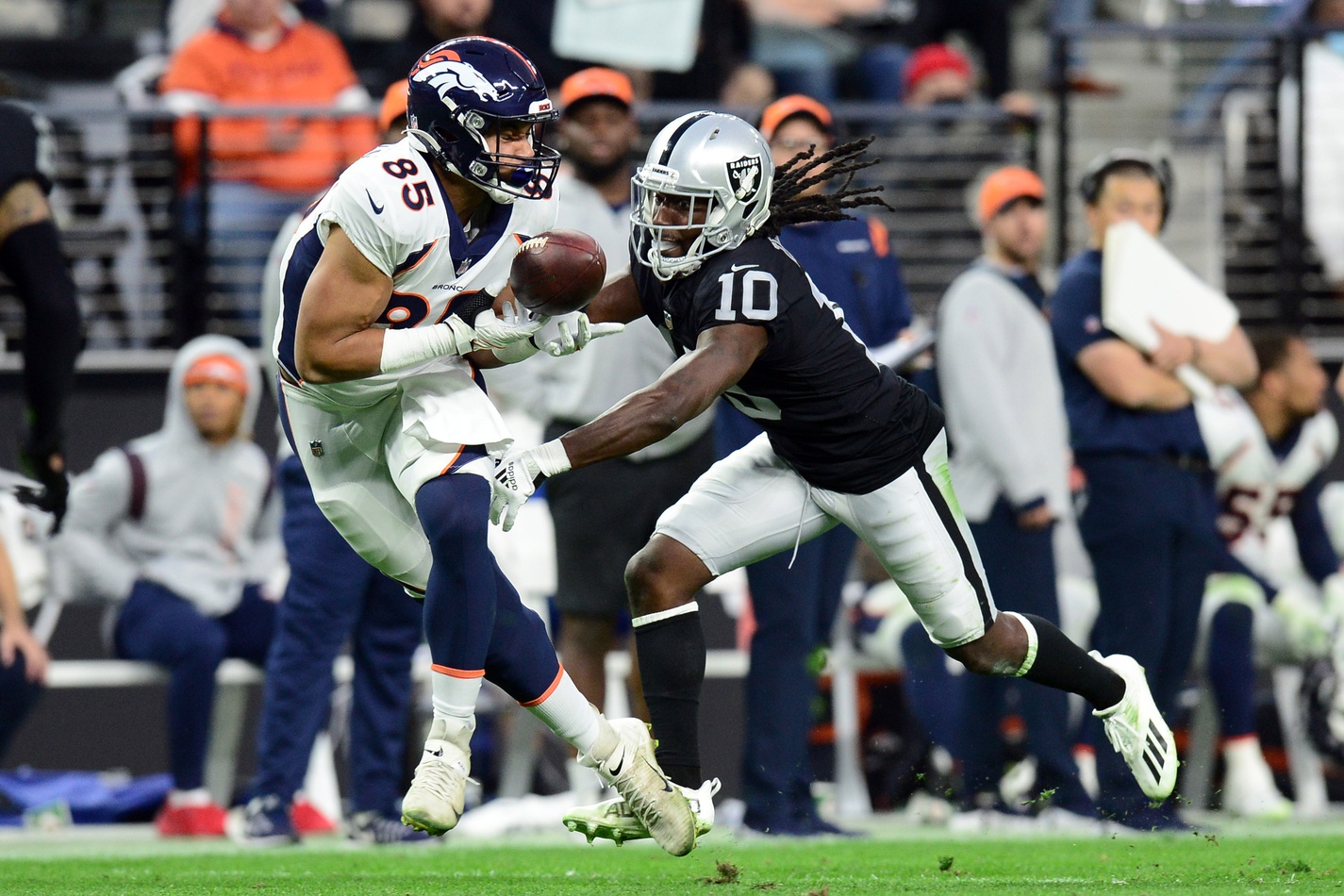 Albert Okwuegbunam

: Sending Fant in the trade could be a sign the artist known as Albert O is the Broncos' tight end of the present and future.

Explosive with the ball in his hands

, Okwuegbunam profiles as a fantasy-friendly receiving tight end; the question is whether or not the Broncos decide to roll with the rising third-year talent as their every-down starter or if they'll add to the position throughout the offseason and utilize more of a committee. 

Hayden Hurst

: Hurst is suddenly firmly on the late-round tight end map; just realize his best-case scenario is a similar role as what

C.J. Uzomah

had in 2021. All this amounted to was 63 targets in 16 games — a workload he converted into a rather mediocre overall PPR TE19 finish. Hurst's presence doesn't change the reality that Burrow's undisputed top-three pass-game options are

Ja'Marr Chase

,

Tee Higgins

and

Tyler Boyd

. There's always a chance Hurst makes the most out of this fantasy-friendly offense and posts an outlier season in terms of touchdown rate (cc. 2021

Dawson Knox

), but it's tough to be overly excited about his 2022 projection from a volume standpoint. I'd still take the likes of

Irv Smith

and

Evan Engram

ahead of Hurst in the later rounds of drafts.