The PFF Free Agency Deal Grader has been live throughout the madness so far, but here is a chance to take a broader look at the first real team-building opportunity of the offseason and grade how each NFC team has been performing in 2022. Click here for AFC team grades.
For even more information about the best free agents on the market, monitor PFF's free agent rankings, which include contract projections, wins above replacement figures, PFF grades and analysis.
Additions and departures are significant players, not an exhaustive list. Notable re-signings will appear under additions in this article.
Click here for more PFF tools:
Draft Guide & Big Board | Mock Draft Simulator
Dynasty Rankings & Projections | Free Agent Rankings | 2022 QB Annual
Player Grades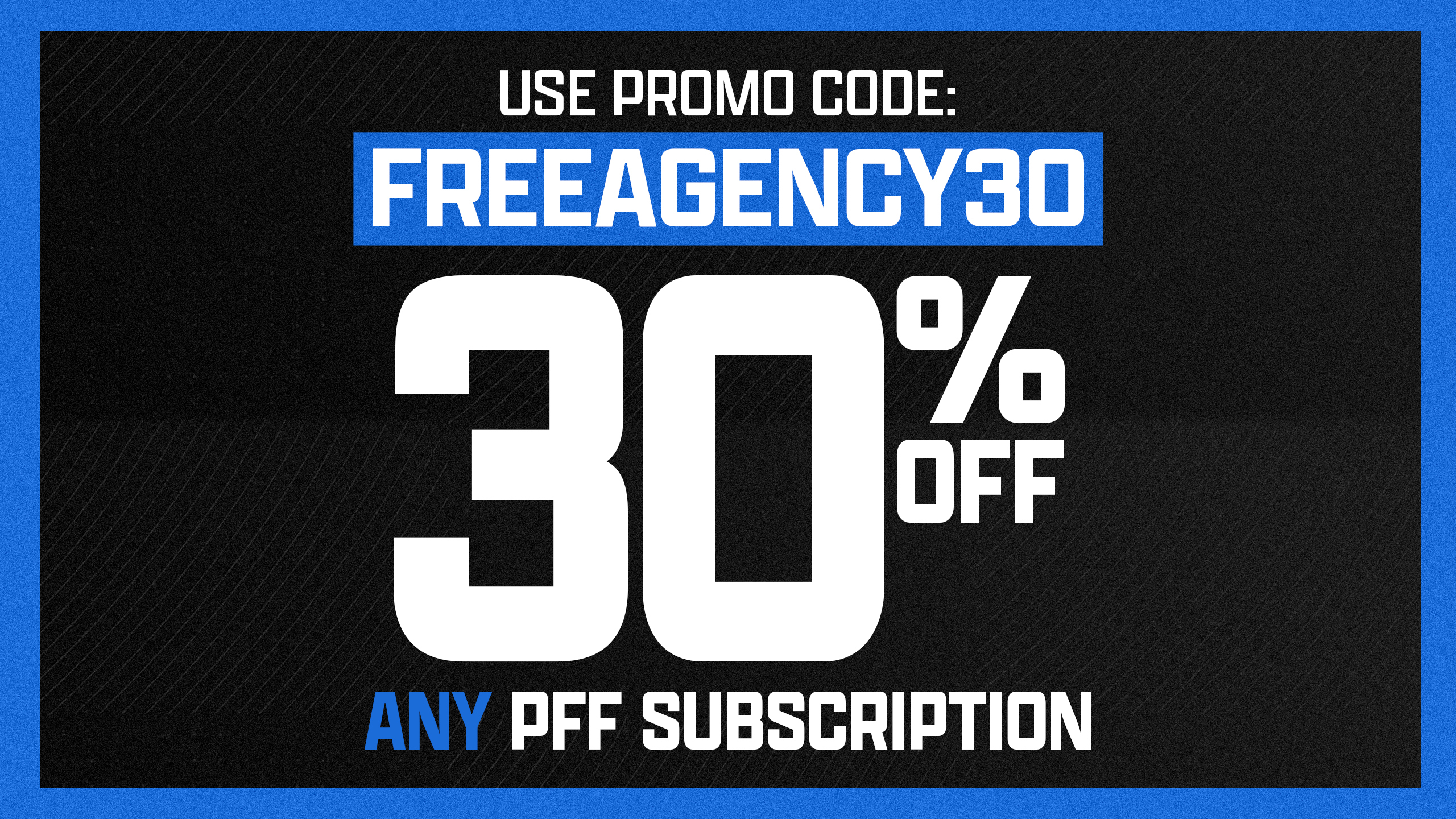 Jump to a team:
DAL | NYG | PHI | WSH | ATL | CAR | NO | TB
CHI | DET | GB | MIN | ARZ | LAR | SF | SEA
NFC East
Additions:
Departures:
The theme of the Cowboys' free agency has been losses and damage limitation more than bolstering the roster. Key pieces of last year's team on offense (Amari Cooper) and defense (Randy Gregory) were traded away or signed elsewhere, and the team has actively released more players (La'el Collins) to free up cap space.
Gregory's departure will be particularly painful because the team thought it had a deal in place before a miscommunication led to a disagreement at the 11th hour, causing him to accept an offer from the Denver Broncos instead.
Re-signing Michael Gallup became a key piece of business once it was clear the Cowboys were moving on from Cooper, and with Cedrick Wilson leaving as well, retaining Gallup and tight end Dalton Schultz on the franchise tag were vital moves. James Washington is an intriguing addition to the receiver room, given the upgrade at quarterback from Ben Roethlisberger to Dak Prescott.
Demarcus Lawrence restructured his deal to stay in Dallas, giving the team an elite edge defender — and all it cost them was some up-front guaranteed money. Dante Fowler was added to the mix, but his only above-average pass-rushing performance in the NFL came when playing alongside Aaron Donald.
The Cowboys still have some work to do, but at this point, it's hard to make the case they are stronger now than when free agency began.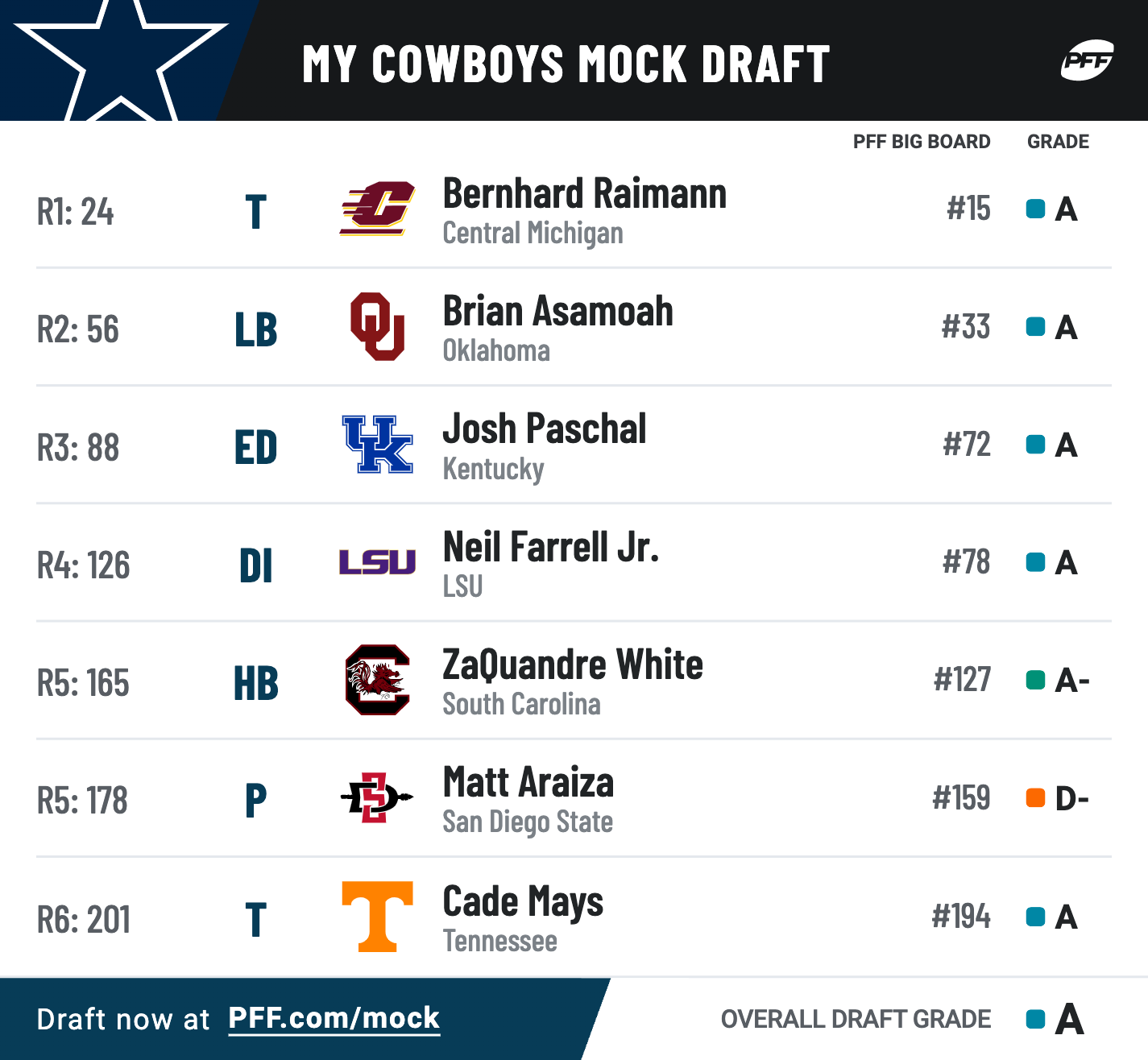 Additions:
Departures:
The Giants haven't been tremendously active in free agency, but they have acquired a couple of pieces to bolster the offense and get it heading in the right direction. Tyrod Taylor joins the team as a backup and mentor to Daniel Jones on some healthy money. Taylor is also a possible rival to push Jones if things start to completely fall apart.
On the offensive line, New York added veteran guard Mark Glowinski in a move that isn't tremendously exciting but should provide an upgrade. Glowinski has earned a 67.0-plus overall PFF grade in three of his past four years of play, a figure significantly higher than any of the Giants' guards from last year.
Sterling Shepard was also re-signed to give the receiving corps every chance to finally come together as a high-level unit for Jones in the new system, and that's a gamble well worth taking.
The Giants have suffered some losses from departing free agents but little in the way of quality that was adding value to the team. Evan Engram was a disappointment at tight end, so it makes sense to allow another team to try and turn him into the player the Giants couldn't. New York also lost multiple players from an offensive line that was one of the worst in the league, which becomes a problem only if the team fails to find more upgrades over the offseason.
Additions:
Departures:
The Eagles' lone significant addition thus far is edge rusher Haason Reddick, who signed a three-year, $45 million contract to bolster their pass rush. Reddick is a former first-round draft pick who was miscast as an off-ball linebacker early in his career before being reborn on the edge — where he always belonged. At just 6-foot-1 and a listed 235 pounds, Reddick is always going to be an undersized edge defender, but that gives him speed and quickness that is hard to match up with. He recorded 100 pressures over the past two seasons and helps replace some of the heat Philadelphia's defensive line has lost in recent years.
Retaining depth players, including tight end Richard Rodgers and offensive lineman Nate Herbig, doesn't hurt, and the Eagles have also made late moves to re-sign Boston Scott in the backfield and Anthony Harris at safety. Overall, this is a team that has largely kept its war chest intact. 
Cutting Fletcher Cox was a move made inevitable by his massive salary and decline in play recently, but the team brought him back on a one-year deal. After a run in which he was arguably the best interior defender in the NFL after Aaron Donald, Cox has seen his PFF grade drop from above 90.0 to 74.1 in 2020 and then 68.7 in 2021. He notched fewer pressures in those two seasons combined than in 2018 at his peak. 
Philadelphia is also saying goodbye to a good portion of its defensive snaps from last season as of now, so more replacements should be on the way.
Additions:
Departures:
The Commanders' biggest move thus far was trading for quarterback Carson Wentz. Last season's approach of treading water at the position didn't work out at all, and their reaction this time around seems to be a little knee-jerk in response. Wentz was better last season than he was in 2020, but his PFF grade (70.9) still ranked 22nd in the league. And in the last month of the season with everything on the line, he made seven turnover-worthy plays in four games.
Wentz upgrades what the Commanders had in Taylor Heinicke, but the opportunity cost is what hurts their free agency grade. Comparable quarterbacks are still available without needing to give up draft picks or $28 million in 2022. Losing both starting guards has been partially offset with the signing of Andrew Norwell, who likely represents a lateral move from Ereck Flowers. Bobby McCain earned the best PFF grade of his career last season for Washington, so it made sense for the team to bring him back. 
Losses include Landon Collins and Matt Ioannidis for the defense, with Ioannidis, in particular, a significant departure. He posted a 70.0-plus PFF pass-rushing grade in each of the past five seasons and was a reliable source of interior pressure.
---
Related content for you:
How often do NFL free agents actually finish out their contracts?
via Conor McQuiston
---
NFC South
Additions:
Departures:
The Falcons were in a holding pattern for much of free agency, as they were one of the final teams waiting on Deshaun Watson's decision and arguably would've needed to do more than any other suitor to make the trade happen due to Matt Ryan's contract. They ended up not landing Watson and have done little beyond restructuring or extending their own players because of it.
Handing a five-year deal to a kicker is always a risky proposition, even though Younghoe Koo is coming off an excellent year in which he missed just two kicks. That was the best season of his career by a distance. He's the only other kicker outside of Justin Tucker who has proven immune to hard regression toward the mean in the NFL lately.
Signing Casey Hayward Jr. at cornerback is an excellent piece of business and gives Atlanta a pair of corners with elite coverage stats from the 2021 season. A.J. Terrell has blossomed into an All Pro-caliber player, and while Hayward has declined since his best run of play, he showed last season he can still be a very capable starter, particularly if he can now be protected a little bit as a clear No. 2.
Foyesade Olokun's departure takes away a key starter on defense, but the defense was in over its head anyway, so Atlanta was wise to dedicate those resources elsewhere. Russell Gage leaving from the wide receiver corps leaves the Falcons with virtually no legitimate receiving option outside of Kyle Pitts, so that has to be a major area of focus for the remainder of free agency and the draft.
The team re-signed Cordarrelle Patterson after unlocking the secret to his elite matchup-proof play last season. Patterson is designated as a running back but is a true hybrid weapon on offense who causes problems wherever he lines up.
Additions:
Departures:
Carolina led off the new league year with another curious move, extending tight end Ian Thomas before free agency to a deal that looked vastly out of line with his play thus far. After free agency officially opened, the Panthers added some solid players who should make decent contributions to the team going forward.
The offensive line was a disaster last season outside of right tackle Taylor Moton, so signing Austin Corbett at guard should go some way toward improving that. Corbett posted an overall PFF grade of at least 68.8 in his two seasons starting, and while that's unspectacular, it's a major improvement for Carolina. 
Xavier Woods represents a modest investment at safety, given some of the money flying around this offseason, but he is coming off the worst PFF coverage grade (58.3) of his career.
The Panthers' best move might be snagging Matt Ioannidis to play on the defensive interior after Washington released him. Ioannidis has been a consistent source of interior pressure for the Commanders, earning a PFF pass-rushing grade of at least 70.0 in five straight years.
Haason Reddick's departure is a blow, but it might be a calculated gamble worth taking due to the 2022 NFL Draft's strong edge defender class.
Stephon Gilmore leaving makes last season's trade questionable, but re-signing Donte Jackson prevents a hole opening up opposite Jaycee Horn at cornerback. It's difficult to determine how much of Carolina's free agency strategy was put on the back burner in the team's attempt to land Deshaun Watson via trade. Quarterback remains the elephant in the room for this team, with no obvious option to finding plus play at the position.
Additions:
Departures:
The Saints have had a quiet free agency so far, focusing on shedding cap space and seemingly waiting out Deshaun Watson's decision. Signing safety Marcus Maye was a notable addition that helps to offset the loss of Marcus Williams in the secondary. Williams has been phenomenally consistent since he entered the league, and while Maye is coming off an injury-blighted season, he had a similarly impressive run in multiple roles with the Jets' defense prior to that.
Left tackle Terron Armstead, who remains on the free agency market, is the big potential loss. New Orleans has cleared the cap space to bring him back but has yet to make it happen. If the Saints can't do so, that's a critical departure along the offensive line. Armstead, when healthy, is one of the best left tackles in the game, and the Saints line has been heading in the wrong direction in recent seasons. In 2021, the unit ranked just 17th in pass-blocking efficiency, and Armstead leaving would likely make that even worse.
The team also re-signed Bradley Roby to help keep the secondary in good shape. Roby played 395 snaps last season, earning a 67.2 PFF coverage grade.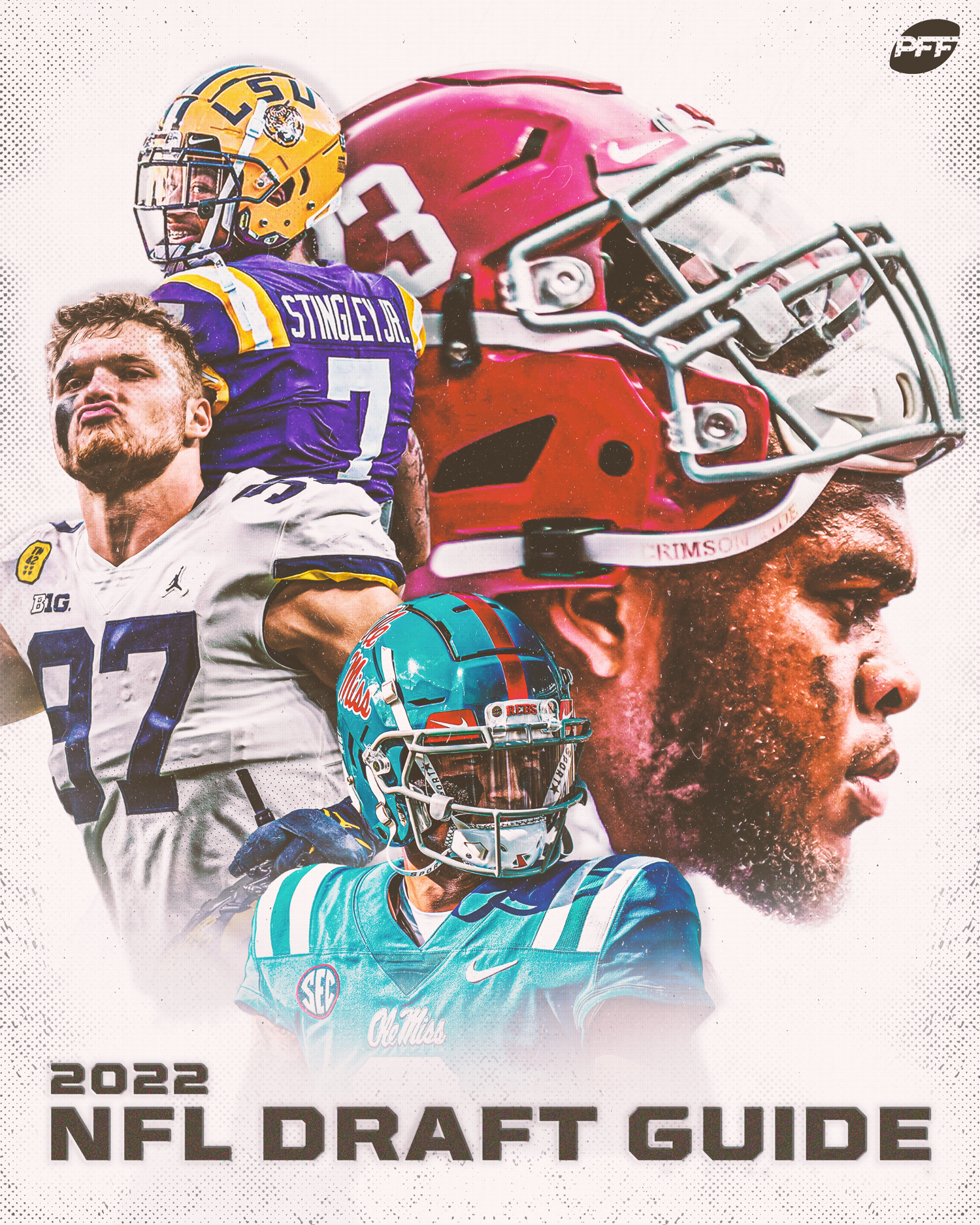 Additions:
Departures:
The Buccaneers were able to retain the services of some guy named Tom Brady, which seems pretty important. The greatest quarterback to ever do it announced just before the frenzy started that he was coming back, which enabled the Buccaneers to start the process of retaining their players all over again.
Brady's news was followed by center Ryan Jensen and cornerback Carlton Davis re-signing before additions were made in the form of wide receiver Russell Gage and guard Shaq Mason, who was acquired via trade for a fifth-round pick. Mason has been a top-five guard in the NFL over the past few seasons and helps plug the hole left by both starters from last season departing — Alex Cappa to the Bengals and Ali Marpet to retirement. Mason has been one of the best run blockers in the game dating back to his time in a triple-option offense in college, and his 70.0-plus PFF pass-blocking grades in five of the past six years are a testament to his all-around skill set.
Gage proved he can win in a variety of ways for Atlanta over the past couple of seasons and shores up a receiving corps that lost Antonio Brown late last year. Gage has more yards per route run in each of the past two years than Christian Kirk, who signed in Jacksonville for almost twice as much money per year on average. Applying the franchise tag to Chris Godwin was also a big move to keep that receiving group amongst the league's best. Rob Gronkowski has yet to officially return, but reports indicate that it's inevitable after Brady announced his return.
Several members of Tampa Bay's defensive line, including starters with a lot of snaps under their belts last season and beyond, have been allowed to leave. The Buccaneers are getting out at the right time given the decline in production, but those are players who need to be replaced.
NFC North
Additions:
Departures:
The biggest move the Bears have made thus far was undoubtedly trading away Khalil Mack, cashing in on arguably their best player to acquire draft capital and salary cap flexibility as they undertake a full rebuild under new general manager Ryan Poles. Mack played just 315 snaps last season and recorded 22 pressures as injuries kept him off the field, but he has otherwise been an elite player on the defensive line.
The team also saw Allen Robinson II depart after the first down year of his NFL career. Robinson never meshed with quarterback Justin Fields last season and now connects with Matthew Stafford, the best signal-caller he has ever had throwing him the football.
Chicago thought it had signed Larry Ogunjobi to bolster the interior defensive line early in free agency, but that deal fell through when he failed his physical. The Bears quickly went back to the market and signed Justin Jones instead. Jones has never earned a PFF pass-rushing grade above 61.1 and has struggled to stay healthy.
Offensive lineman James Daniels, who played all three interior spots for the Bears since being drafted, also departed for the Pittsburgh Steelers.
Chicago has picked up several low-priced free agents, adding linebacker Nicholas Morrow and receivers Equanimeous St. Brown and Byron Pringle, but has otherwise gone through a quiet start to free agency.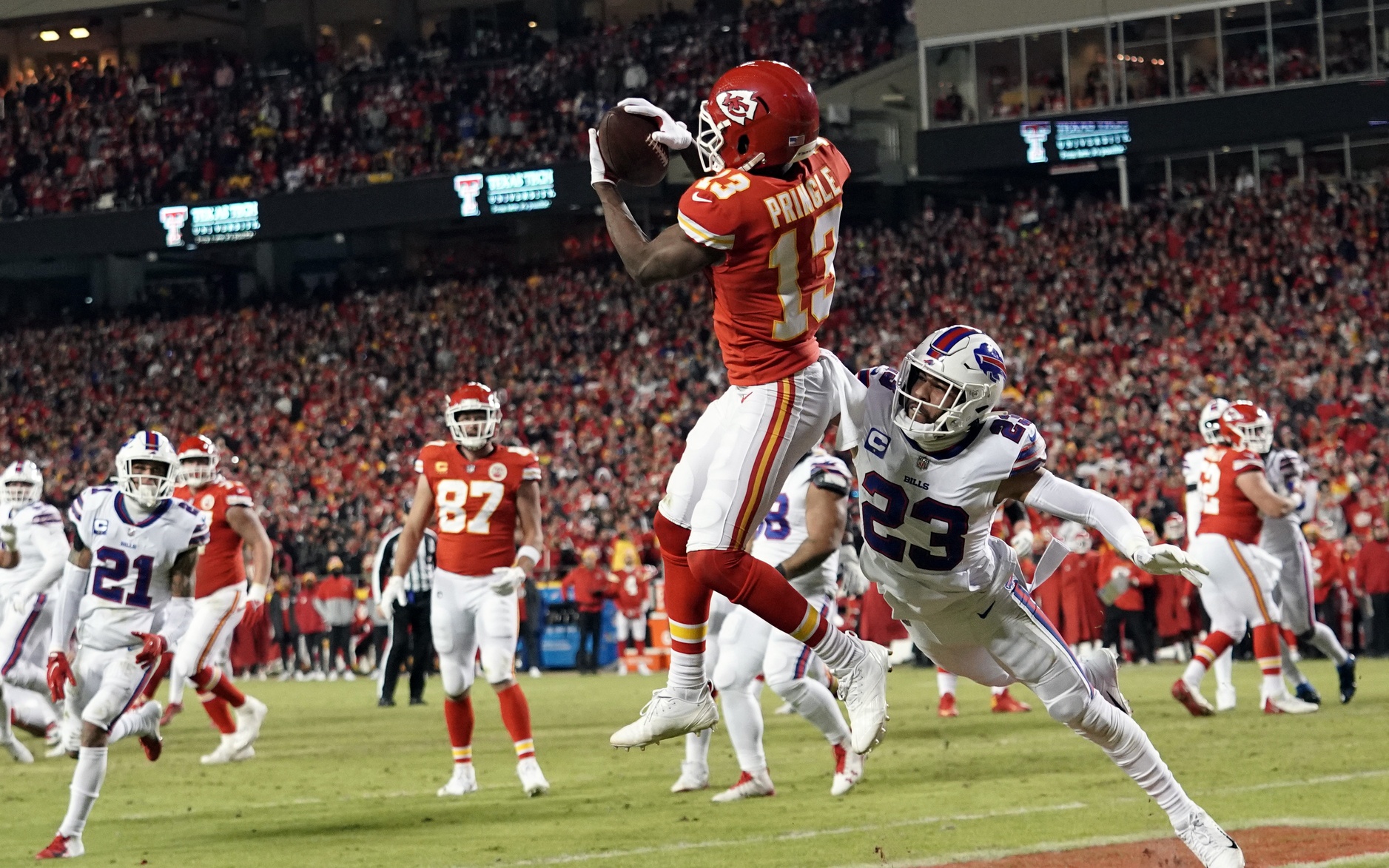 Additions:
Departures:
Wherever the Lions are in their rebuilding project, it doesn't involve a massive spending spree this free agency period. They have taken calculated gambles in a few different areas but avoided spending huge money.
Trey Flowers' release represents the cutting of ties to one of the last players the Lions did hand huge money to. Flowers enjoyed a good first season in Detroit but struggled with injuries and performance since. He played 611 snaps over the past two seasons and was especially ineffective in 2021 when on the field.
Most of Detroit's business has been re-signing its own pieces, bringing back role players as well as starters. Linebacker Alex Anzalone played over 800 snaps for the Lions last season and posted a career-worst 35.4 overall PFF grade, but the team re-signed him and presumably expects improvement in 2022. Tracy Walker got a three-year deal from the team for $25 million, and edge rusher Charles Harris was rewarded for a bounceback to his career with a two-year contract. 
In terms of new additions, D.J. Chark Jr. is a worthwhile gamble at wide receiver. He is just 25 years old and possesses the size and speed to be a major deep threat at all times. The Lions still need to do work at receiver — likely in the draft — but Chark could prove to be a valuable part of a remade receiving corps as a deep threat.
Additions:
Departures:
Aaron Rodgers ended his deliberation by deciding to return to Green Bay and signing a renewed contract that makes it very worth his while financially to do so. Then, the real bombshell dropped when the team traded away his No. 1 receiver, Davante Adams, to the Raiders for multiple significant picks. Adams was refusing to play on the franchise tag, and the team had been unable to get a long-term deal done for some time now.
The Packers' offense has drawn a lot of criticism in recent seasons for having only Adams as a viable receiving threat, and now it doesn't even have that. Adams recorded a 90.0-plus PFF grade in 2020 and 2021 and is arguably the best receiver in the game. That will take some replacing.
Adams wasn't the only stalwart of the team to be on his way out, either, as edge rusher Za'Darius Smith was released. It looked like he was signing with Baltimore — where he began his career — but that deal collapsed and he is still on the market.
Green Bay has brought back a  couple of key players from last season, including linebacker De'Vondre Campbell and cornerback Rasul Douglas. Both enjoyed career years within the Packers' defense in 2021 and have been rewarded substantially for doing so. 
Green Bay also lost some depth players, with the likes of tackle Dennis Kelly and defensive lineman Tyler Lancaster contributing well in recent seasons.
---
2022 NFL Draft position rankings:
Top 10 players at every position
QB | RB | WR | TE | iOL | OT | DI | EDGE | LB | CB | S
---
Additions:
Departures:
Anybody expecting major changes in Minnesota now that the team has a new general manager and head coach will be sorely disappointed. The Vikings backed up their cautious endorsement of quarterback Kirk Cousins in press conferences with much more tangible support, re-working his contract and adding a no-trade clause. Other contracts were also re-worked to free up a little cap space, but Minnesota had the room for only minor moves around the fringes.
Michael Pierce was a cap casualty, and his departure freed up space for the team to replace him with Harrison Phillips on the defensive line. Phillips put together a career year last season for the Bills, playing 473 snaps and earning a 77.3 PFF grade overall. He's a run-stuffer by trade and has just 43 pressures in four years in the NFL.
Linebacker Jordan Hicks was also added, and he should slot straight in as a starter even at a modest contract of $10 million over two years. Hicks played over 1,000 snaps for the Cardinals last season, keeping first-round rookie Zaven Collins on the bench. All three of the lowest PFF coverage grades of his career came in Arizona, but the Vikings may be hoping he can recapture some of his best play from when he used to ply his trade in Philadelphia. Hicks posted a PFF grade over 75.0 in three separate seasons for the Eagles.
NFC West
Additions:
Departures:
The Cardinals have yet to add anybody to the roster in free agency who wasn't there last season, but they have watched several key members of last year's team walk out of the door. The team is either working on adding value late in free agency or is planning on making all of its improvements in the draft.
Chandler Jones has been the team's best pass-rusher for years, and while he has shown some signs of aging (his run-defense grade has plummeted in recent seasons), he still racked up 47 pressures last season en route to an 89.8 pass-rush grade. Jones was carrying a hefty price tag, but he is a major loss for this defense.
Christian Kirk signed a huge contract in Jacksonville, and A.J. Green remains on the open market, leaving the Cardinals' offense without two of its top three receivers from last season in terms of targets. Neither player is irreplaceable, but the team hasn't yet done anything to replace them.
Where Arizona has made moves is in retaining players elsewhere on offense, keeping both tight ends (Zach Ertz and Maxx Williams) as well as running back James Conner. Last season was a validating bounce-back year for Conner, whose career ran off the rails when the blocking disappeared in Pittsburgh. Still, rewarding him with $7 million a season is a risky approach in today's NFL, given what we know about running back production. 
The Cardinals had a lot of players hit free agency and have done work retaining some, but it's difficult to see how the team is better than it was a couple of weeks ago.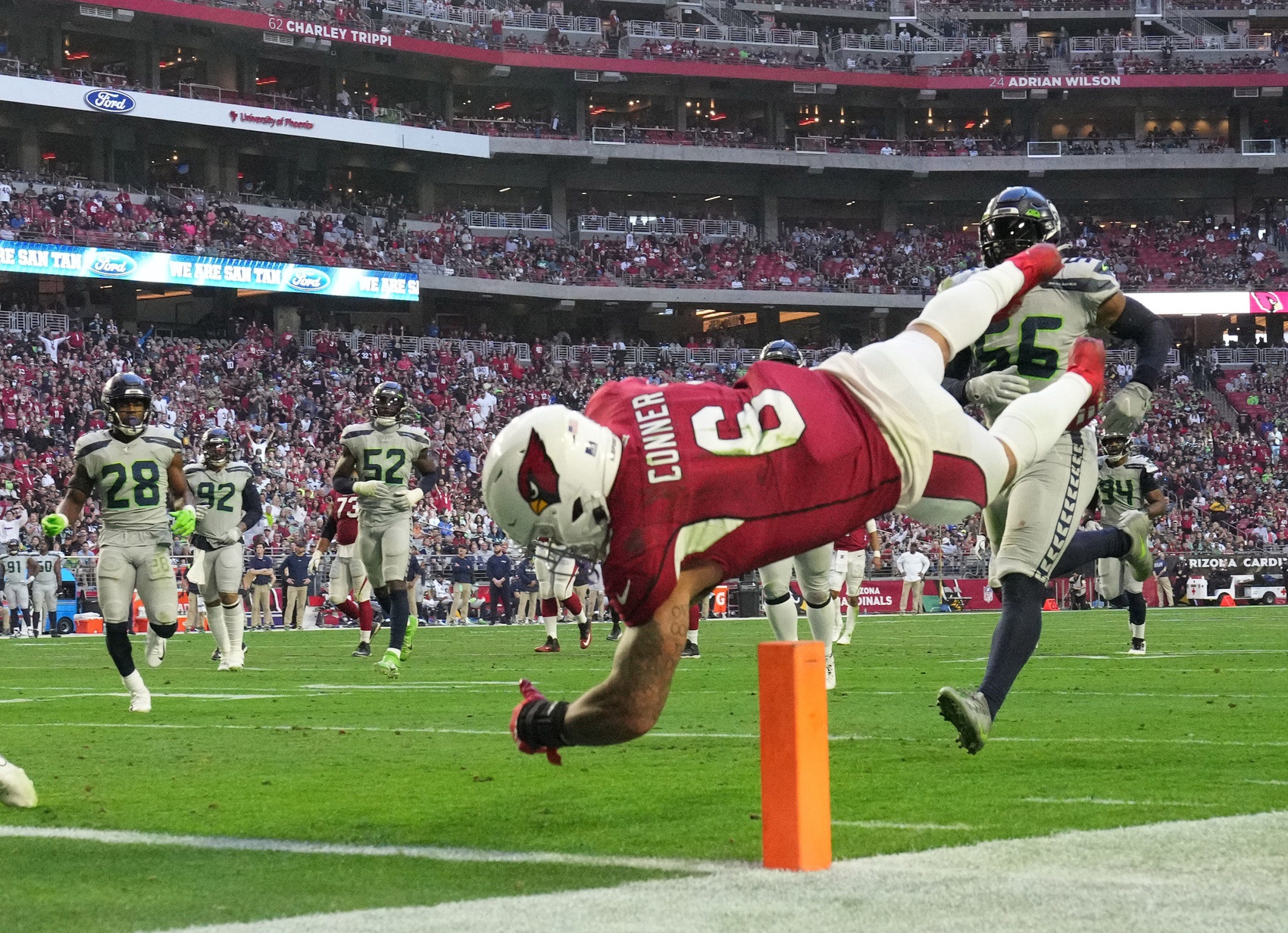 Additions:
Departures:
Andrew Whitworth retiring created a hole at left tackle that the team decided to fill by re-signing Joseph Noteboom to a three-year, $40 million contract. Noteboom has played 1,262 snaps across four NFL seasons, but it was the 89 snaps he played at left tackle this past season that gave cause for excitement. He looked excellent in that tiny sample size, allowing just three pressures all season across 85 pass-blocking snaps. It's a risk, but if he can sustain that level of play as a starter, the Rams did good business.
Allen Robinson II became a surprise signing at wide receiver, joining the team and immediately entering the best quarterback situation he has had since at least high school. Robinson has been a top-10 receiver throughout his NFL career without ever having a top passer feeding him the football. He's coming off the first down year of his NFL career.
Acquiring Robinson precipitated the trading away of Robert Woods to Tennessee for a 2023 sixth-round pick. Woods accounted for a $13 million cap hit in 2022 and is coming off a torn ACL suffered before Week 10 in 2021, but he was a key cog in this offense. Retaining Brian Allen at center was also a critical move to ensure the offensive line remains as strong as it can for Matthew Stafford, who was rewarded for his fine season with a re-worked contract that gives him $40 million a season.
Defensive tackle Sebastian Joseph-Day stays in Los Angeles but is changing colors, playing for the Chargers next season. Wide receiver Odell Beckham Jr., meanwhile, remains out on the open market after tearing his ACL in the Super Bowl.
Additions:
Departures:
It's been a quiet free agency for the 49ers. Some of their roster has been picked off by other teams, and they've concentrated their efforts on re-signing their own players rather than investing in new faces.
Their biggest splash signing was cornerback Charvarius Ward, who addresses a major need in the secondary. Ward is more solid than spectacular but brings a prototypical skill set and physical makeup to this defense. He has allowed a 79.7 passer rating into his coverage across his NFL career including the playoffs. He has also allowed a catch on just 51.8% of the targets into his coverage, but he does tend to stray a little too far toward physicality, with 25 penalties to his name thus far.
Outside of Ward, the 49ers' additions suggest they are making special teams a real area of focus this offseason. George Odum has been one of the best special teamers in the league over the past few seasons, and linebacker Oren Burks and receiver Ray-Ray McLeod both possess special teams abilities.
Related content for you:
2022 NFL Free Agency LIVE Deal Grader: Grading and tracking every free agent signing via PFF.com
Additions:
Departures:
Trading away Russell Wilson is the most seismic decision Seattle has made since drafting him in the first place back in 2012. But this time, the magnitude of that decision was apparent at the time and not just with hindsight. Evidently, the Seahawks determined they simply weren't capable of challenging for a Super Bowl with the current roster and Wilson, so they elected to cash in and start over. Releasing Bobby Wagner shortly after suggests they are very much looking at a complete rebuild.
The Wilson trade brought Seattle tight end Noah Fant, interior defensive linemen Shelby Harris and Drew Lock. The first two should be valuable contributors, while Lock is worth a look given how much the team liked him ahead of the 2019 NFL Draft.
Austin Blythe put together solid seasons starting at both center and guard for the Rams over the past few seasons and has a good shot at upgrading at least one spot for Seattle.
The team re-signed safety Quandre Diggs to a big-money contract, while Al Woods, Will Dissley and Sidney Jones were retained at more modest pricetags. 
The highest-price new addition is edge rusher Uchenna Nwosu, who was signed to a two-year deal worth $20 million. Nwosu played more than double his regular snaps this past season for the Chargers, posting career-highs in pressures (40) and defensive stops (23) but failing to improve on above-average PFF grades overall.
Seattle's offseason will hinge on how the team spends the Russell Wilson trade capital.