(This is Week 9 of the NFL season. Each week, the PFF Fantasy cheat sheet will have all the relevant fantasy football content for the week in one place for you to keep track and review as needed as you prepare for that week in fantasy football.)
Fantasy football is a continually evolving game. As it should be — better to try to find ways of improving a game you like than sit back and let it stagnate. But one proposed evolution really gained steam this offseason (at least, it seemed that way to me), and I'd like to voice my objection.
Points per first down as an alternative to point per reception.
PPR has been de rigueur in fantasy over the last … I don't know, decade? Adding a point (half-point, 0.75-point, whatever) for a reception helped add value to receiving backs and slot receivers and the like. And then there was the blowback. "Why should a guy get a whole point for a zero-yard reception? Why is that worth more than a nine-yard run?"

Those are wholly legitimate criticisms. But if there's a solution, PPFD (to me) isn't it.
The purpose of PPR isn't simply to raise scoring. In a league with vanishingly few bell-cow running backs anymore, making a league PPR gives value to running backs (think Duke Johnson, Theo Riddick, Darren Sproles) who wouldn't otherwise have as much. Basically, it adds players to the relevant player pool. In a standard, non-PPR league these days, the RB group sees a huge dropoff at, what, No. 16? Somewhere in there. PPR deepens it. The best are still the best, but there are more.
Meanwhile, PPFD does the opposite. Who are the players getting the most first downs? This year, Adam Thielen and Odell Beckham Jr. are the leading first-down getters through the air; Todd Gurley and Kareem Hunt lead on the ground.  So if you institute PPFD, all you're really doing is widening the gap between the top performers and the next class. More realistic? Perhaps. A better game? I would argue it's a clear no. Robin Hood didn't give money to the rich.
PPFD is appealing in some senses. But if you're going to do it in your league, my proposal is to change the lineup structure as well. One RB slot in starting lineups. Change the second to a flex. Because without PPR, having to start a Jalen Richard at RB while benching a Devin Funchess at WR just because of an outdated lineup structure is pretty silly.
On to this week in fantasy advice.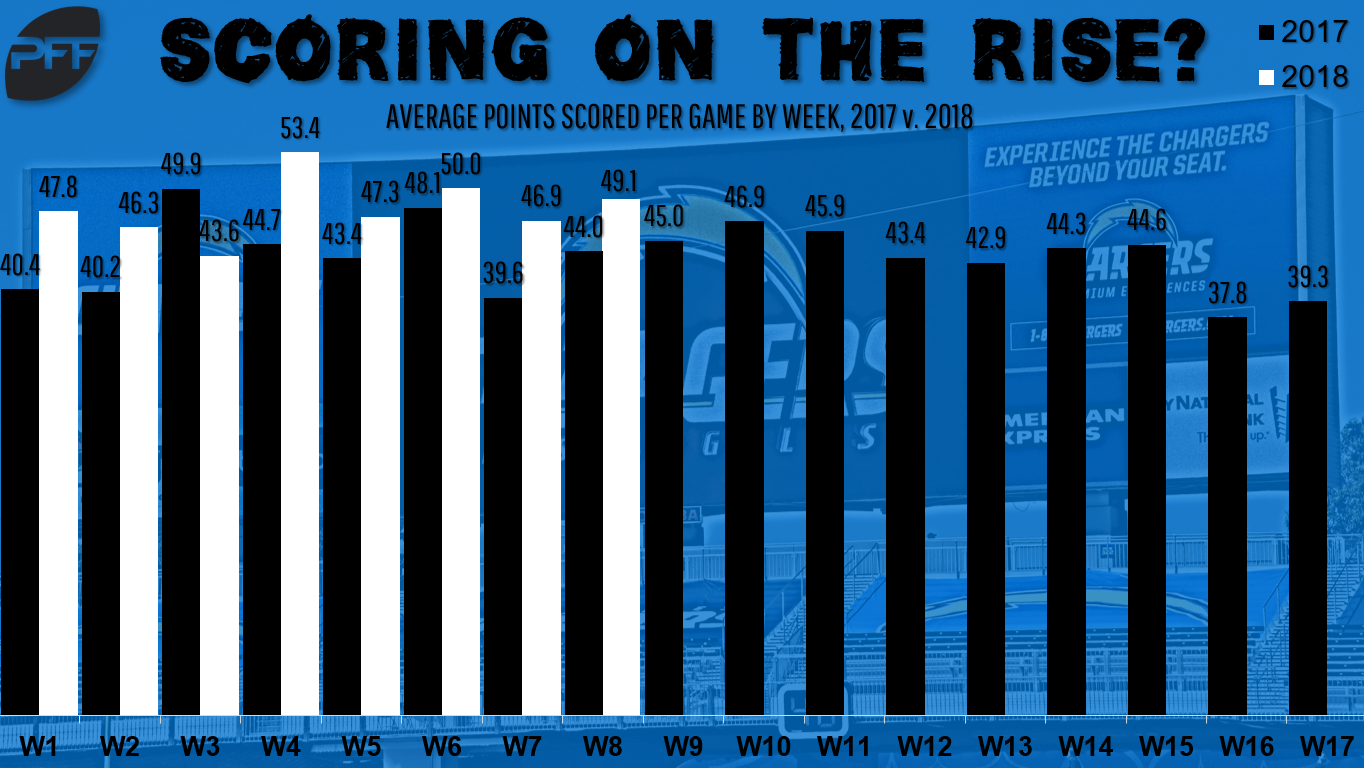 Looking back
Live chats
Written content
Check out our tools as well:
Redraft advice:
DFS advice: