Each week in this space, we'll be taking a look back at Sunday's games to find five of the most interesting or most important stats for fantasy football owners. With 13 of 14 games from NFL Week 8 in the books, here are the five stats you need to know:
1. Despite each quarterback being benched once thus far, Tampa Bay on Sunday broke the record for most passing yards through a team's first seven games (2,654).
Together Ryan Fitzpatrick and Jameis Winston combine to average 28.8 fantasy points per game, which is most in the NFL and what would be the second-most by a single quarterback all-time. Given the ineptitude of Tampa Bay's defense and running game, and the number of talented skill-players they have in the passing game, I think either quarterback can be a mid-range QB1 for fantasy. It won't always be pretty, but I'd bet that by the end of the season if "Tampa Bay's starting quarterback" were a single player he'd rank top-six at the position in fantasy points per game.
After Sunday's game, head coach Dirk Koetter was unwilling to commit to a starter for Week 9. If Fitzpatrick is announced as the starter, he's definitely worth owning, and you should be making a mental note to upgrade Tampa Bay's wide receivers and downgrade their tight ends. Since Winston entered the league in 2015, there have been 24 quarterbacks to attempt at least 1,200 passes. Over this span, 30.1% of Winston's passing fantasy points have come when targeting tight ends, which ranks fourth-most of those 24 quarterbacks. Fitzpatrick ranks last with 8.3%. Meanwhile, 78.4% of Fitzpatrick's passing fantasy points have come when targeting wide receivers (most), while Winston's 56.7% ranks sixth-lowest.
Bonus stat: Fitzpatrick currently all quarterbacks in passer rating (119.3), while Winston ranks 33rd of 37 qualifying. I'd bet Fitzpatrick is the starter in Week 9.
2. Speaking of historic passing numbers, Patrick Mahomes is on a ridiculous pace. Arguably, the two greatest quarterback seasons of this era were from Peyton Manning in 2013 (when he seemingly broke every passing record in the book) and Tom Brady in 2007 (when he went 16-0). Those two seasons also rank best and second-best in fantasy points through the first eight weeks of the season all-time. Mahomes, however, is right behind them, and just 7.2 fantasy points away from the lead.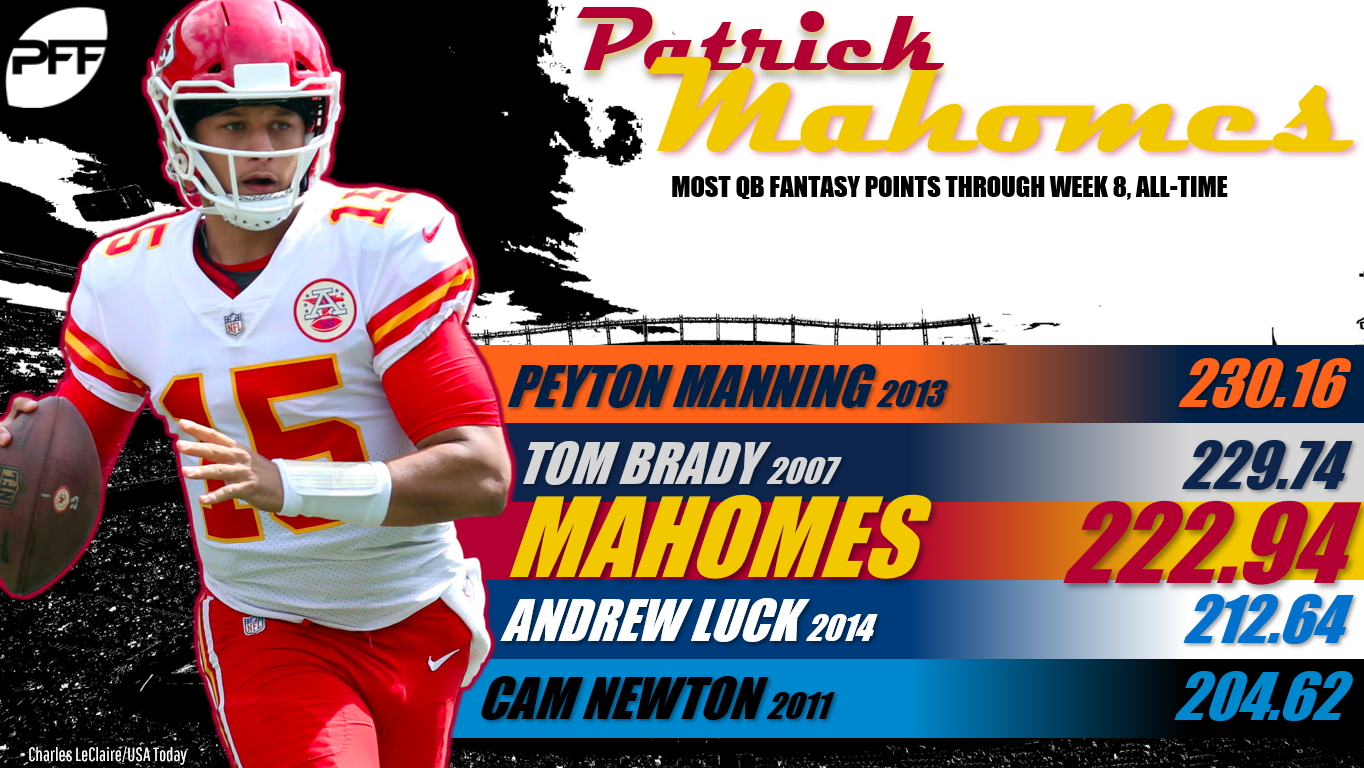 Mahomes has now thrown at least four touchdown passes in five of his eight games this year. Against San Francisco he "only" threw three, while also eclipsing 300 yards. His two least-impressive games came in tough matchups against Jacksonville and in Denver. Still, he threw for at least 300 yards and added a rushing touchdown in both games. They also really weren't "down games" if factoring the strength of the opponent, and actually, it was quite the opposite. His 313 passing yards against Jacksonville was the most they have allowed since the 2016 season. His 304 passing yards against Denver was the most by a road quarterback against them since the 2014 season.
Mahomes has been amazing this year. Of course, you know this, and even though passing is up around the league, Mahome still offers a massive edge on your opponents. Outside of Fitzpatrick (seriously, make sure you grab that guy off waivers), Mahomes averages 3.6 fantasy points per game more than the next-closest quarterback. Again, that's the most since Manning's 2013 season. Although I typically devalue the quarterback position in my own fantasy leagues, I'm making an exception for Mahomes.
3. Through the first two weeks of the season, Jack Doyle out-snapped Eric Ebron 136 to 52 and out-targeted him 14 to 9. Over the next five weeks, with Doyle out of the lineup, Ebron played on 73% of the team's snaps and produced like an elite TE1. In fact, he was even better than that, drawing low-end WR1 volume (ranking 10th among all receivers in targets per game (9.6)) and producing like a fringe-WR2 (ranking 25th among all receivers in fantasy points per game (15.6). With Doyle back in the lineup for Week 8, Ebron was again out-snapped (57 to 17) and out-targeted (seven to three) by Doyle.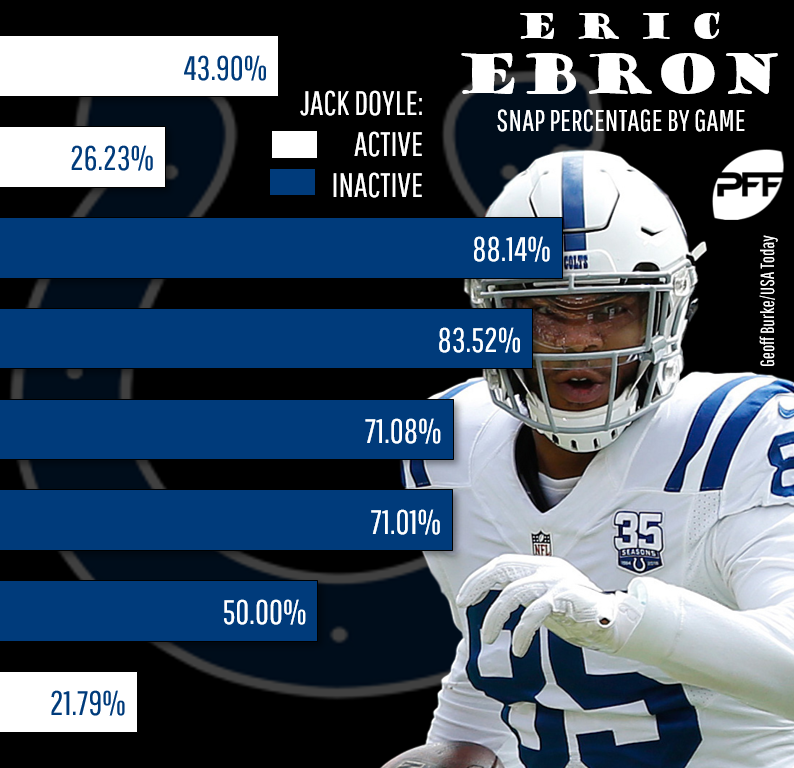 What does this mean? Well, it means you definitely should not be counting on Ebron as an every-week starter moving forward. It also means Doyle is a must-add option if he's available on waivers. Though I wouldn't expect numbers like what Ebron put up while Doyle was out. He benefited from the absence of Doyle and (in two games) T.Y. Hilton, while Doyle will still be competing for targets with both of them. Ebron did score a touchdown Sunday, so you might still have a chance to sell him off to an unwitting opponent.
4. Statistically speaking, if Le'Veon Bell were James Conner, this would be the best season of his career.
Le'Veon Bell (Career) vs. James Conner (2018) pic.twitter.com/GA7hi7Mhb6

— Scott Barrett (@ScottBarrettDFB) October 29, 2018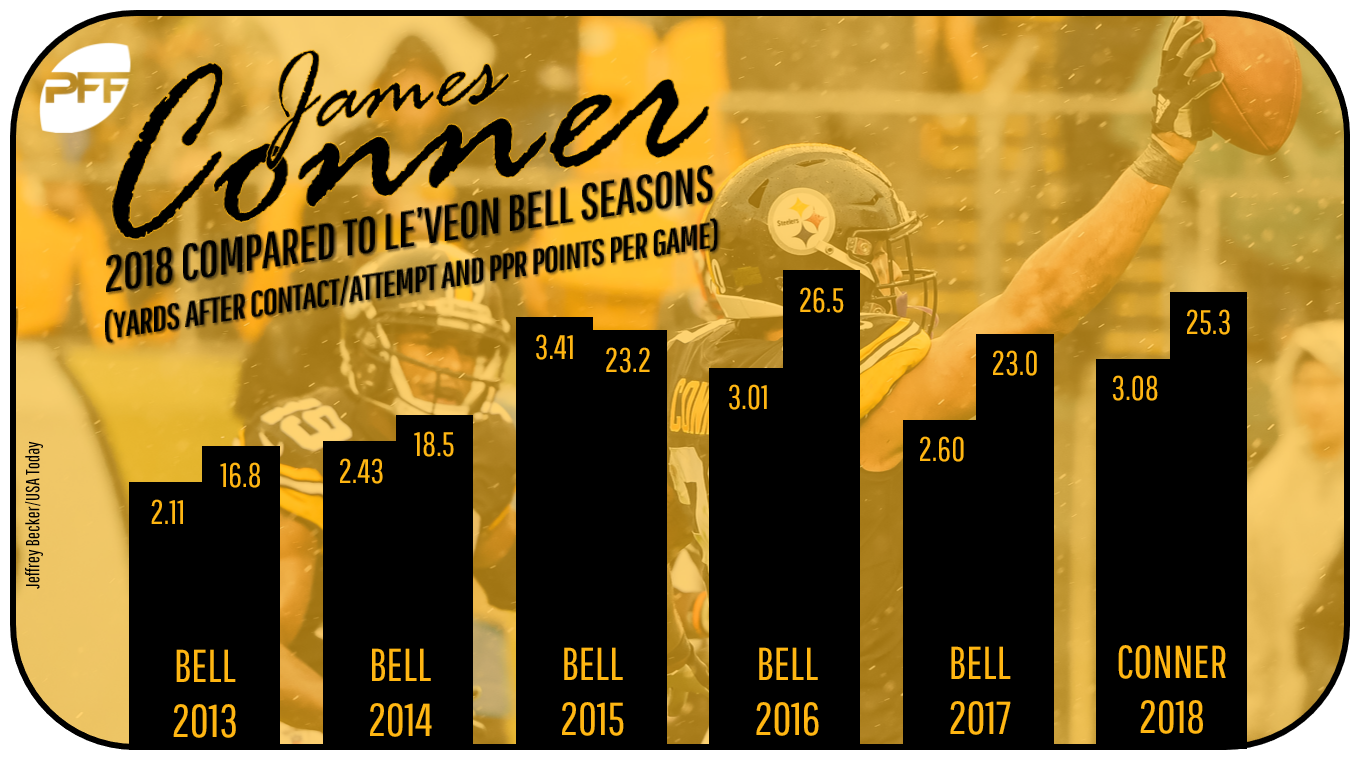 By a number of different metrics, Conner is putting up efficiency numbers Bell has never before reached. For instance, Conner currently leads all running backs in missed tackles forced (47) and ranks first of 39 qualifying running backs in elusive rating (91.6). Last year, Bell ranked just 26th of 54 qualifying running backs (39.1) in elusive rating.
I'm not so sure Bell is going to be thrust back into his typical "Bell"-cow workload when he returns. I'm legitimately worried that, after Conner has played so well, the Steelers might employ a committee approach with their backfield, where both players are startable but neither is a fantasy superstar. Or, worse yet for Bell owners, perhaps they no longer think he's worth the $850,000 per game they were planning on paying him.
5. Despite not starting until Week 4, Baker Mayfield leads all quarterbacks in yards lost due to drops (213).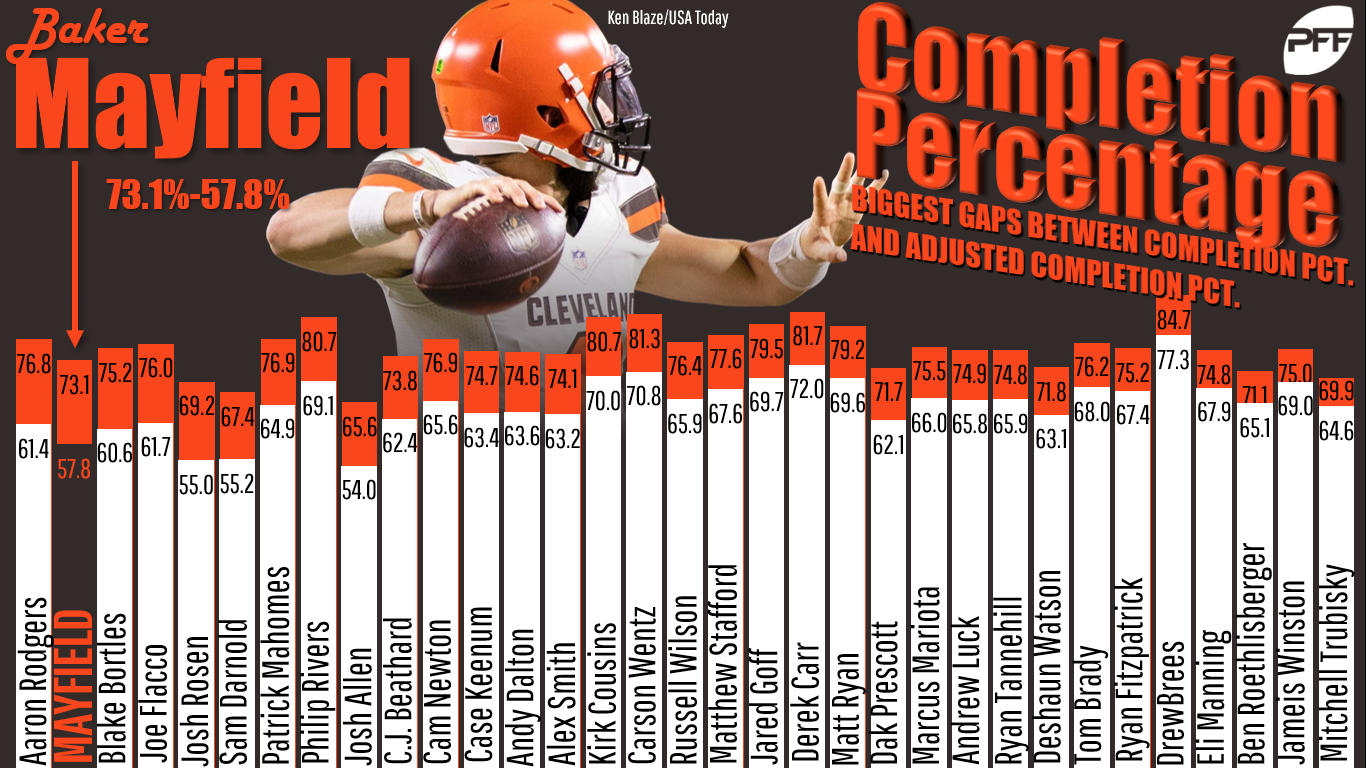 Mayfield's receivers have dropped 18 of his passes so far, and those 18 dropped passes total 213 yards in air. Essentially, if those balls were caught, Mayfield would have added at least (not including any potential yards after the catch) 213 more passing yards to his stat sheet. To illustrate how especially egregious this is in Mayfield's case, consider the following statistic. Of 29 qualifying quarterbacks, Mayfield ranks only 20th in completed air yards per attempt (3.66). However, if we included air yards lost due to dropped passes for all quarterbacks, Mayfield would jump to 12th-best (4.61).
Mayfield certainly appears hamstrung by poor receiver play. Coming into the week, Mayfield ranked as our 10th-highest-graded quarterback but ranked 24th (of 25 qualifying) in passer rating. David Njoku leads all tight ends in drops with seven, or four more than the next-closest. Antonio Callaway ranks second-worst of 73 qualifying wide receivers in drop rate (19.2%) and both he and Jarvis Landry rank bottom-10 in yards per target average.