It's Week 8 of the NFL season, and five of the top-12 fantasy running backs were drafted as little more than roster fillers earlier this summer. And yet James Conner, James White, T.J. Yeldon, Tarik Cohen, and Adrian Peterson all serve as living, breathing, reminders of just how volatile the running back position has become in fantasy football.
Just because none of us has a crystal ball to predict how backfield committees will play out months in advance, doesn't mean there is no competitive edge to be gained when trends to start to emerge. Of course, here at PFF we have a massive database with all of the usage and efficiency data you need to stay one step ahead of your league mates.
With that being said, think of this weekly piece as the Cliffs Notes version (are they still a thing?) to keep a pulse of key developments in RB committees around the league. With bye weeks in full swing, plus a few injuries and a flurry of action at the league's trade deadline on Tuesday, there is plenty to digest.
Before we dig into five running backs who are trending up and five who are trending down for Week 9, let's take a quick look at how things panned out for the players we discussed last week.
Week 8 recap
5 trending up
Player
Snap%
Touches
PPR Points
Kenjon Barner
7.9

56.2

83.6

44.0

DNP

2

21

18

10

—

0

20

21

14

—

5 trending down
Player
Snap%
Touches
PPR Points
Peyton Barber
48.9

DNP

21.0

47.0

35.9

19

—

5

16

4

15

—

2

4

4
Notes: Cordarrelle Patterson coming out of nowhere to steal the early-down gig from Barner is so #OnBrand for Bill Belichick. … Murray matched a season-high with five catches and ranks fifth in PPR scoring over the past three weeks while filling in for Dalvin Cook. He's got eight carries of 10-plus yards over that span and, given Cook's continued health issues, might just stick as a viable fantasy option down the stretch. … Richard carried the ball only twice, but he caught 8-of-8 targets and was the RB23 in PPR. That sort of gamescript is fairly bankable for this Raiders team. … With or without Ronald Jones' injury, Barber all but cemented his starting gig, although it's worth noting he has now gone two straight games without a catch. … More below on the certifiable mess that is Jacksonville's fantasy backfield, and why the Eagles sure could use someone with Le'Veon Bell's particular set of skills. … Maybe it wasn't the best idea for Breida to gut out his ankle injury.
Below are five running backs trending up and five trending down in their respective backfield committees. If you are a PFF Elite subscriber, our Handcuff Index chart is a handy reference.
5 trending up
(Week 9 projection: N/A)
Over the past three weeks without Jay Ajayi, Corey Clement and Wendell Smallwood have averaged a combined 2.8 yards on 58 carries, with six missed tackles forced (all by Smallwood). To put that in context, Adams has produced 107 yards on 20 carries (5.4 YPC) this season, and he slipped 5 tackles on nine carries this past week while averaging 3.9 yards after contact. Adams is a bigger back who, frankly, passes the eye test compared to the other two. At the very least, he has forced his way into the Eagles' three-man rotation, with the chance to seize the upper hand after playing 18 snaps against Jacksonville (second-most behind Smallwood's 31). The Eagles have a bye this week, but he makes for a decent stash in the increasingly likely event he carves out the early-down role.
(Week 9 projection: RB13)
Jones was featured in the season debut of this column a couple months back , but this time, it's finally happening. Against the Rams this past week, Jones held a 32-13 edge in snaps over Jamaal Williams, who touched the ball only four times and ranks 57th out of 58 qualifiers in elusive rating. In addition to his snap total, Jones also posted season-highs in rushes (12), rushing yards (86), receptions (2), and virtual high-fives by patient fantasy owners. Look, his efficiency metrics have been off the charts since last year's rookie campaign, and three of Jones' 12 runs this past week went for 10-plus yards, including this pretty TD. Tuesday's trade of Ty Montgomery not only opens up a 31% snap share, but his team-high 20 RB targets also raises Jones' floor in negative gamescripts.
(Week 9 projection: N/A)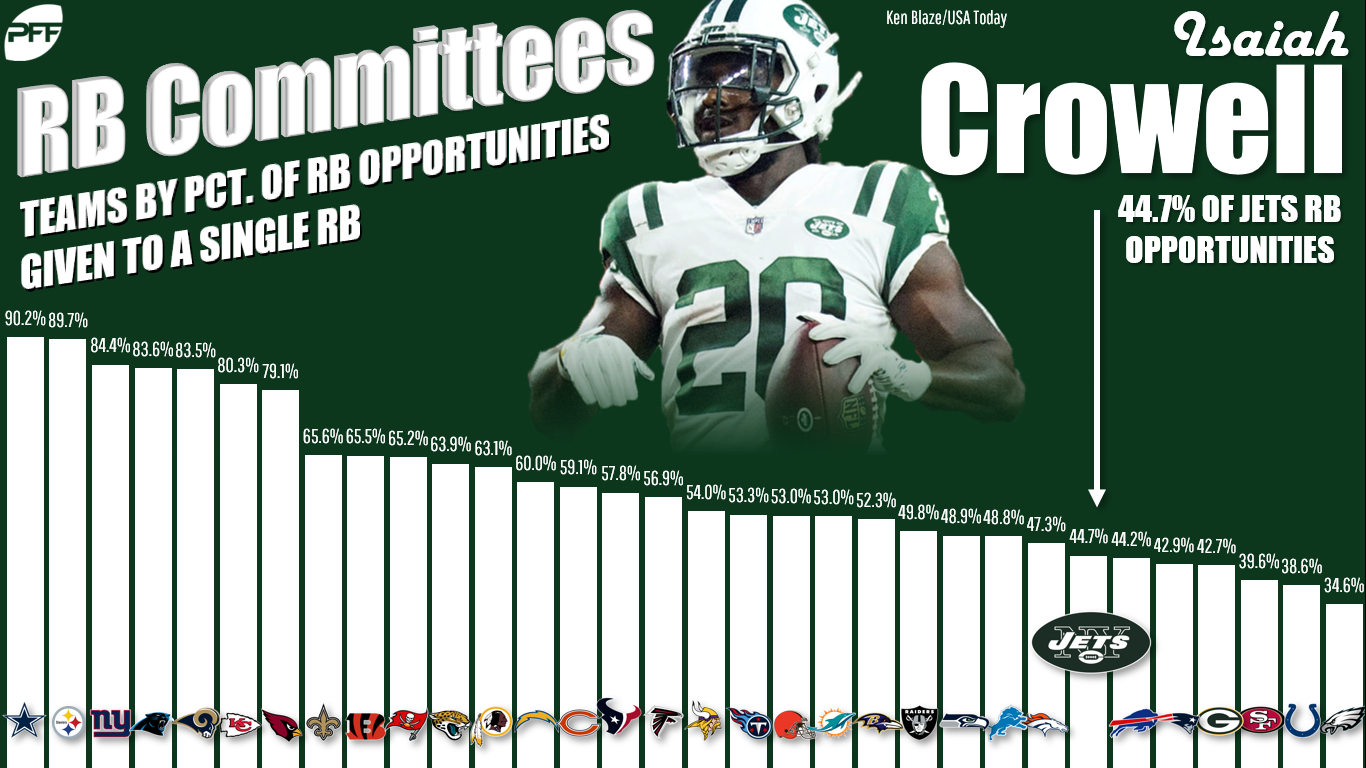 With Bilal Powell lost to injured reserve, McGuire's return from IR could hardly be timelier. The second-year back does have a three-down skillset; he hauled in 130 passes during his four-year career at Louisiana, topping 1,000 rushing yards in each of his final three campaigns while averaging 3.1 yards after contact. As a rookie, he was 26th out of 67 in elusive rating with a 19% missed tackle rate and two-thirds of his rushing yardage coming after contact (2.4 YCo). Powell was good for 32 snaps and 15 touches per game, so there is solid flex potential here. Trenton Cannon filled Powell's role in Week 8, playing 53.7% of the offensive snaps and seeing the field more than Isaiah Crowell in a negative gamescript. However, McGuire is the horse you want to bet on here.
(Week 9 projection: RB15)
Just when we thought we were out, Miller pulls us back in. Look, whether it was the #RevengeGame or something else, something has lit a fire under Miller, who is coming off two straight 100-yard rushing games with a touchdown. He owns our No. 6 elusive rating in that span, with a 20% missed tackle rate and an average of 4.8 yards after contact. Meanwhile, there's been no real word on when D'Onta Foreman might be activated, other than he's not quite ready to come back from his Achilles' injury. Alfred Blue and Tyler Ervin essentially got a third each of the snap share this past week, but Blue has averaged only 2.8 yards on 67 carries since Week 3 and Ervin has hardly touched the ball all season. Ultimately, Miller has solidified himself as a low-ceiling RB2, albeit one with a safe volume floor as he ranks eighth in carries.
(Week 9 projection: RB59)
Ah yes, it's #CuffingSeason for fantasy owners with a clear path to the playoffs and a roster spot to spare. I could list guys like Spencer Ware or Rod Smith here, but Brown just has too many variables in his favor. For one, he's averaging 5.1 yards on 37 carries this season, with 3.0 of that YPC average coming after contact to go with a 19% missed tackle rate. For another, Todd Gurley leads all RBs in touches and has played 83% of the team's offensive snaps this season. That team, by the way, currently owns the best Super Bowl odds and is a good bet to lock down the NFC's top playoff seed. Oh, and the Rams also happen to own PFF's best run-blocking grade. Add it all up, and you've got one of the more coveted handcuff situations. From James Conner to Latavius Murray, there is high-reward fantasy potential when talent meets opportunity.
5 trending down
(Week 9 projection: N/A)
At this point, Mike Tomlin would risk mutiny by parking James Conner on the bench when, or if, Bell finally does return. Steelers fans have taken to chanting Conner's name as he's notched 100-plus rushing yards and multiple TDs in three straight, the first player in almost a decade to do so. The AFC's leading rusher, Conner had six runs of 10-plus yards this past week alone. For Bell and his market value, the inevitability of backing up the backup who has outperformed him is one thing. For Bell's fantasy owners, the possibility that he might not show up at all is obviously the worst outcome, and it's an outcome that needs to be properly considered for those heading toward a playoff push.
(Week 9 projection: RB52)
Matt Breida's gimpy ankle on a short week is about the only silver lining for Mostert's fantasy prospects, which have dimmed after rushing for 146 yards on 19 carries over his previous two games. However, Breida did battle through that ankle injury despite reportedly being limited as he held a 31-12 edge in snaps over Mostert, who got all of two carries. What's more, Mostert is dealing with an ankle injury of his own that has limited his practice participation this week. With C.J. Beathard also questionable (wrist), the 49ers offense, save for George Kittle, is one best avoided if at all possible.
(Week 9 projection: RB38)
With only 13 touches (four carries) over his past three outings, Allen was already trending in the wrong direction before the Ravens went out and traded for Ty Montgomery this week. Allen has a team-high 235 passing-down snaps for a Ravens team that ranks second in RB targets since 2015 but ranks only 29th (out of 40 RBs) this season in receiving grade. Through seven games with Green Bay, Montgomery had played 119 snaps on passing downs against only 26 rushes and owns our No. 13 receiving grade. Don't forget about Kenneth Dixon, who had 13 carries in the opener and is eligible to return from IR in Week 11. If you were holding onto Allen for bye-week depth in a PPR league, someone like Jalen Richard is a better option at this point.
(Week 9 projection: N/A)
Not that he wasn't trending down already, but with Leonard Fournette expected back after Jacksonville's bye, Hyde's window has effectively slammed shut. And that's quite possibly also true for his career as a starter, considering his contract effectively relegates him to being a Fournette insurance policy through his age-29 season. After logging six carries for 11 yards and zero targets in his only clear volume opportunity, Hyde is no longer a must-hold with 16 teams slated for byes over the next three weeks. Admittedly, that's an odd thing to type about a player who finished as the RB8 in PPR last year and was sitting at RB10 through the first four weeks of this season.
(Week 9 projection: RB27)
The Redskins are 5-2 and have a 52/48 pass/run split thanks in large part to Adrian Peterson, who is currently the No. 7 fantasy RB in standard scoring. Meanwhile, Alex Smith is 21st in pass attempts and 24th in PFF passing grade. Save for a six-catch, 45-yard effort against New Orleans in Week 5, Thompson has been only minimally involved as a receiver since Week 2. Those are the breaks for a pass-catching back on a winning football team, although the upcoming schedule does invite a likely shift in gamescript for the Redskins. However, Thompson is now dealing with a new rib injury that is separate from the one that kept him out of the previous two games.