Hello, and welcome to the Week 8 Actual Opportunity report. This is our weekly look at the players with the most fantasy potential based on volume, and how effective they've been with it. If you're unfamiliar with Actual Opportunity, you can read the in-depth explanation here.
Essentially, we're using an 11-season sample of play-by-play data to calculate expected fantasy points from a player's seasonal or weekly usage. We look at each target (by distance from the end zone and depth of target) and each carry (by distance from the end zone and down and distance) and add this up to determine how valuable a player's role was for fantasy purposes. We can contrast this with fantasy production to measure efficiency.
In layman's terms, Actual Opportunity is "how many points a player should have scored" given his workload, based on what the average player would have scored. "Expected fantasy points" will be used interchangeably with "Actual Opportunity" throughout this article.
After seven weeks of action, here are the top-30 players in expected fantasy points per game: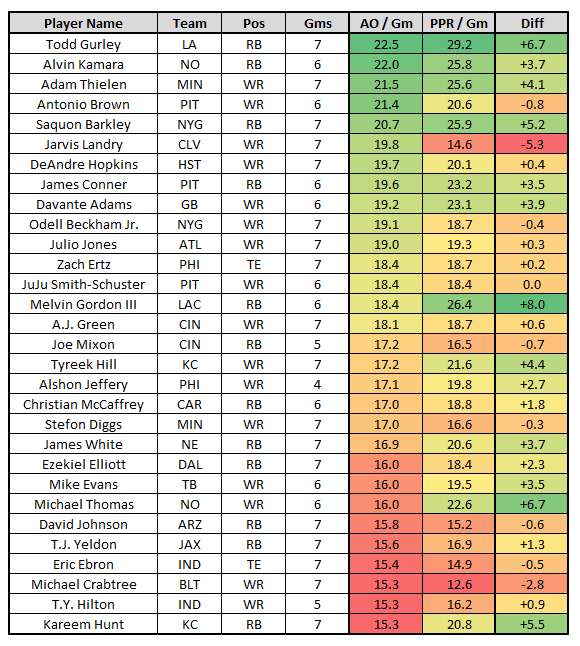 (AO: 12.9; PPR: 16.4)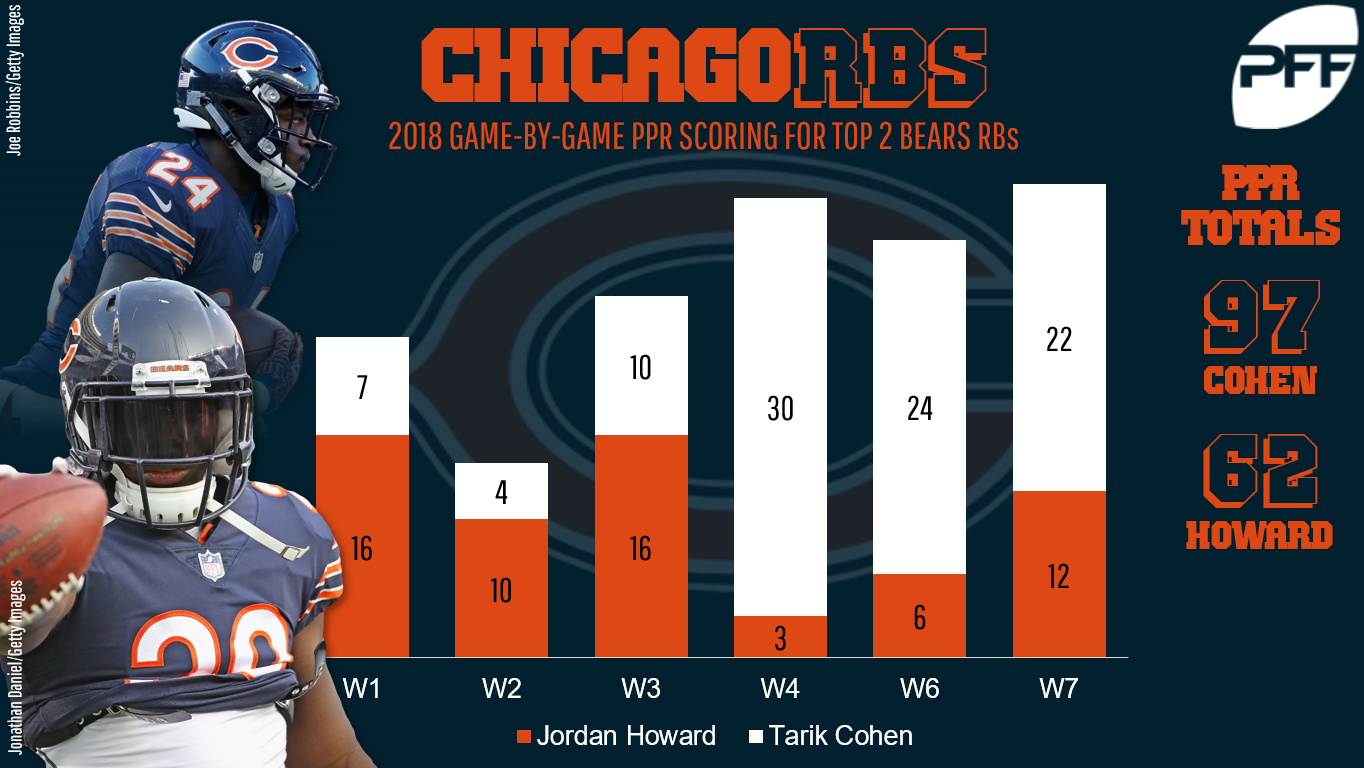 Cohen was my top trade target last week, and I'll be doubling down again this week. Cohen averages 19.1 expected fantasy points per game over the last four weeks of the season, ranking sixth-best among running backs. Over this span, he's averaging 8.0 carries per game (4.3 less than Jordan Howard), 9.0 targets per game (most on team by 3.3), and 3.0 opportunities inside the 10-yard line per game (same as Howard). For comparison, Christian McCaffrey averages only 13.0 carries, 7.5 targets, and 1.0 opportunities inside the 10-yard line per game.
Most impressively, is how Cohen is being used as a receiver. He's run 22 of 68 routes listed as a wide receiver and is averaging 49.3 air yards per game, which would be most by any running back this past decade (by 13.4) and one of only four seasons above 20.0. Although Cohen did benefit from negative gamescript in two of these games, I have a hard time imagining his heavy usage doesn't stick, given his effectiveness. He totals 378 yards and three touchdowns across these three games and has helped Mitchell Trubisky post his three best career games in terms of yardage or fantasy points.