We're now in Week 9 of the NFL season. To help prepare, here's my weekly look at the top starts and sits for fantasy football players in IDP leagues.
With the trade deadline in the rearview mirror and Week 9 looming, the fantasy football season is entering the home stretch. Every line up decision is magnified as IDP owners continue to chase that championship trophy.
There were actually a pair of trades that have IDP implications as defensive end Dante Fowler is now with the Rams and safety Ha Ha Clinton-Dix is now in Washington. For the record I'm advising a wait-and-see approach for both in Week 9 as the players may be eased into the line up.
The player pool is definitely depleted with six teams on a bye. Players from Arizona, Cincinnati, Indianapolis, Jacksonville, the Giants, and Philadelphia will not be available as they enjoy their bye weeks.
Let's get to the Week 9 IDP start/sit selections.
Defensive linemen
Start
Damon Harrison, Detroit Lions (@ Minnesota)
The newly acquired Harrison made an immediate fantasy impact in Week 8, putting up DL1 numbers with seven solo tackles and a sack. The Vikings have been a plus matchup for defensive linemen, allowing 20.5 sacks to the position. In the past three games, interior linemen have been especially productive as defensive tackles Corey Peters (Week 6) and Sheldon Rankins (Week 8) each put up two sacks against the Vikings.
Mario Addison, Carolina Panthers (vs. Tampa Bay)
The back issue that had me worried regarding Addison last week proved to be a non-issue as he played 43 snaps and was credited with a pair of quarterback hurries according to PFF. The matchup this week is too good to pass up as the Buccaneers have been very generous to defensive linemen of late. In the past three games Tampa Bay has allowed 40 total tackles, 10.5 sacks and a forced fumble to a DL. Addison is primed to add to the 4.5 sack total he has amassed to date in 2018.
Everson Griffen, Minnesota Vikings (vs. Detroit Lions)
After taking a wait-and-see approach with Griffen following his lengthy absence, it is time to unleash the beast. While he failed to register a pressure play on the quarterback in Week 8, Griffen did play 37 of 53 defensive snaps and posted a solo tackle. The Lions have been a middle-of-the-road matchup for defensive linemen, but Griffen has had a run of success against them. In the past four meetings between the teams, Griffen has put up 17 total tackles and four sacks.
Sit
Myles Garrett, Cleveland Browns (vs. Kansas City)
With six teams on a bye this week, it is highly unlikely IDP owners will have the luxury of actually sitting Garrett, so take this as more of a temper-the-expectations recommendation. The Chiefs are a brutal matchup for defensive linemen, allowing an average of just 11.75 total tackles per game and a total of only 5.5 sacks to the position in 2018.
Akiem Hicks, Chicago Bears (@ Buffalo)
A combination of possible health issues and a negative matchup lead to the sit designation for Hicks in Week 9. He's dealing with a rib injury that was likely the main reason he was limited to just 17 snaps last week. We'll need to monitor practice reports out of Chicago to see if Hicks is a full or limited participant. With the Bills' quarterback position in flux (I'm being kind), the offense has been struggling and very rough on opposing defensive linemen. Weeks 4-8, Buffalo has allowed just two sacks to defensive linemen. Hicks has just five total sacks in the past two games and hasn't recorded a sack since Week 4.
Linebackers
Start
Danny Trevathan/Roquan Smith, Chicago Bears (@ Buffalo)
A twofer! The veteran Trevathan and rookie Smith have perhaps the juiciest matchup for fantasy purposes this week in Buffalo. The Bills have been giving up premium production to linebackers all season-long, offering up big tackle numbers as well as splash plays. In the past three games, four linebackers have posted double-digit tackles against Buffalo, with two forced and recovered fumbles. Look for Trevathan to finish with more tackles as he's racked up 17 total in the last two games. The speedy Smith will also get his share of tackles and bring the big-play potential to add to the two sacks he's already put up in 2018.
Jaylon Smith, Dallas Cowboys (vs. Tennessee)
The return of Sean Lee to the Cowboys lineup has led to Smith being the only three-down linebacker, with Lee splitting snaps with rookie Leighton Vander Esch. Smith appears to finally be over the awful knee injury he suffered back in 2016 and is playing at a high level. Smith has posted at least eight total tackles in four of seven games in 2018 while also bringing splash play production with three sacks and a forced fumble. In the past two games the Titans have allowed 38 (30 solo) total tackles, eight sacks along with a forced fumble and interception to the linebacker position.
Sit
Jamie Collins, Cleveland Browns (vs. Kansas City)
The injury to Joe Schobert opened up a bigger role for Collins and he's made the most of it, returning to fantasy relevance. In the past two games Collins has put up 18 total tackles with an interception and forced fumble. Unfortunately, the matchup this week is not a favorable one. On the season the Chiefs are allowing an average of just 17.5 total tackles per game to linebackers while also limiting splash plays. Through eight weeks Kansas City has given up just 1.5 sacks to linebackers and only two splash plays.
Zach Brown, Washington Redskins (vs. Atlanta)
There are a couple of concerns when it comes to sitting Brown — not only for this week but potentially moving forward. The Falcons have been a negative matchup for linebackers, limiting both tackle and splash plays to the position. Through seven games, Atlanta has allowed just one linebacker to reach double digit total tackles and give an average of 17.5 total tackles per game. Linebackers have totaled just six sacks and two splash plays against the Falcons in 2018. The bigger concern is the drop in snaps played by Brown in the past two games. Brown played just 57% of the defensive snaps in Weeks 6 and 7. It's too risky to start a part time player at this juncture of the season.
Defensive backs
Start
Patrick Chung, New England Patriots (vs. Green Bay)
This is a situation that allows IDP owners to start a player with a defensive back designation who is basically playing linebacker. Chung has lined up in the box or on the line of scrimmage on 219 of the 394 defensive snaps he's played — 55% of the time. In the last four games Chung has put up 26 total tackles, half a sack, a fumble recovery, and an interception.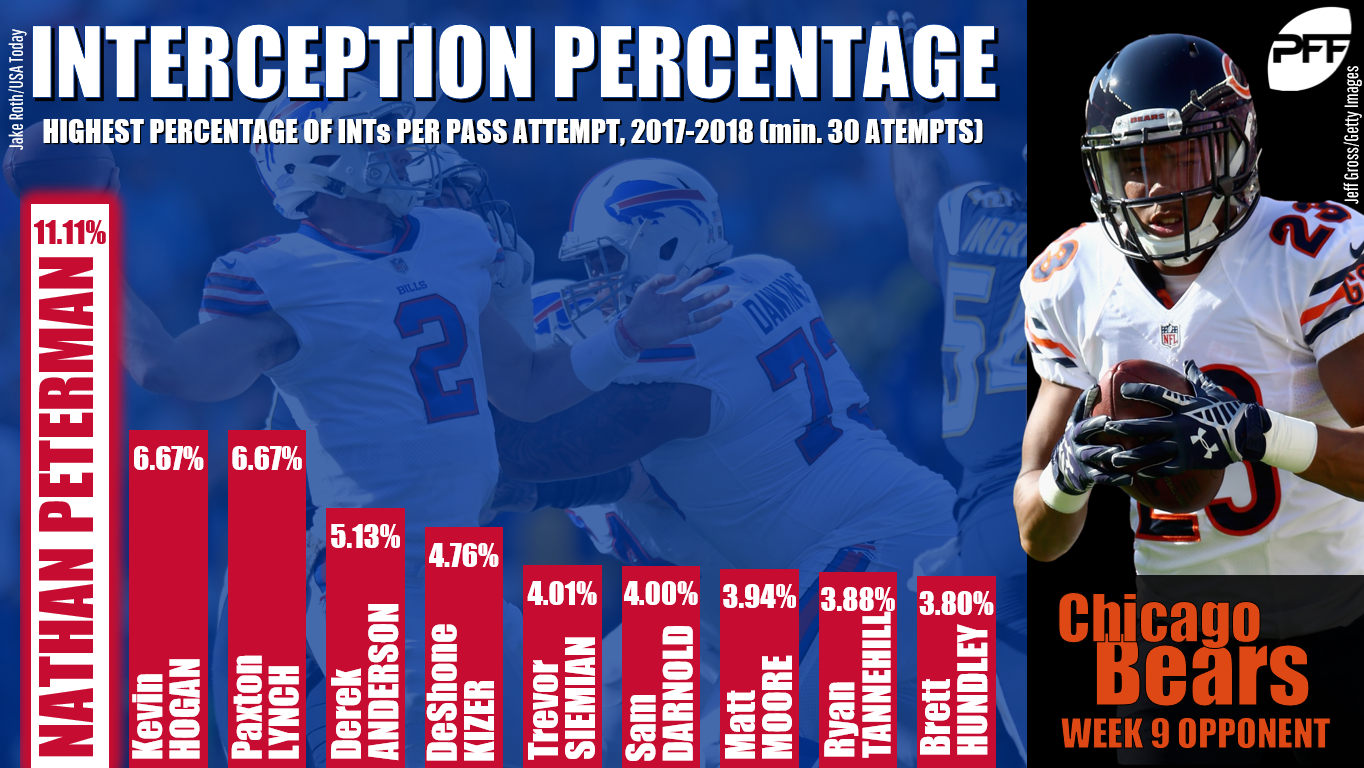 Kyle Fuller, Chicago Bears (@ Buffalo)
This is the short-and-sweet start selection of the week. Fuller has three interceptions in the past three games and Nathan Peterman is expected to start Week 9 at quarterback for the Bills. Peterman has attempted 81 passes in his career and nine of them have been intercepted. This is a great week to roll out Fuller.
Sit
Bradley McDougald, Seattle Seahawks (vs. LA Chargers)
The return of K.J. Wright to the linebacker corps and a tough matchup will cap McDougald's fantasy value this week. Prior to Wright's season debut in Week 8 McDougald had lined up in the box or on the defensive line an average of 33 times per game and saw that number drop to just 18 last week. Through seven games, the Chargers have been a tough matchup for defensive backs and have yet to give up double-digit tackles to the position.
Jahleel Addae, Los Angeles Chargers (@ Seattle)
The Chargers had flipped their safeties in Week 6, with Addae assuming the strong safety role and rookie Derwin James playing the free safety position. In their Week 7 game, Los Angeles returned to the scheme they had used the first five weeks of the season with James playing 49 snaps in the box or on the defensive line and Addae doing so just eight times. Addae finished Week 7 with a paltry 1/1/2 stat line and appears to be back in the free safety role. There are much better options available in Week 9.