We're back again with a look at trade candidates, fantasy football players you might want to add based on possible production heading into Week 9 of the NFL season.
The NFL trade deadline came and went Tuesday afternoon, but most fantasy leagues allow trades for another month or so. Even if your current record has you on track to make the fantasy playoffs, you can likely improve your chances to win a title by hitting the trade market. I've identified four sources of fantasy market inefficiency that provide opportunities to improve your team on the wire on in trades:
Future opponent tendencies
Limitations because of injuries or suspensions
Efficiency metrics that suggest likely gains or losses in opportunities
Affectations, or the artificial inflation or deflation of value because of fads.
With those in mind, here are my FLEA market finds for Week 9.
Future opponents
With Lamar Jackson looking over his shoulder, Flacco is throwing for more yards and fewer interceptions per game than he has in any season in his career. The most impressive part? He's done that despite playing five of his eight games on the road. The Ravens have had a brutal early-season schedule for passing production, especially given his extreme home/road splits. But that gauntlet came to a close last Sunday with the fourth road start in five games. Now, Flacco gets three straight — straddling a bye — at home before consecutive road games at the passer-friendly Falcons and Chiefs. The Chiefs and Bengals are the Ravens' only remaining opponents that don't offer major passing boosts, and they are neither one a bad passing matchup. Flacco has already established himself as a solid QB2 despite his circumstances. He could threaten QB1 status the rest of the season.
Crowell's production has fallen off a cliff since his 219-yard outburst in Week 5 against the Broncos. The last three games, he's managed just 40, 29, and 25 yards despite double-digit carries in each contest. I'm not concerned. Crowell's run of recent defensive opponents has been as bad as Flacco's have been for his passing. The "easiest" Jets' opponent of their last three was the Colts, who allow 10% fewer rushing touchdowns than a typical team. The Dolphins and their neutral run defense will be like a breath of fresh air in Week 9, and then in Week 10, Crowell should benefit from a Bills team that promotes rushing scores by nearly 20 percent. Adding Crowell now could be a nice short-term boost for your fantasy squads, especially with Bilal Powell out for the season. Just make other plans for Weeks 11 and 12, when the Jets go on bye and then return to face the Patriots.
Limitations
With eight weeks of the NFL season in the books, players who landed on injured reserve at the beginning of the season will start to become eligible to return. There aren't a ton of fantasy-relevant options who look poised to come back, but one who could play as soon as Week 12 is Patriots' running back Burkhead. There isn't a ton of news on the status of Burkhead's neck injury, but I believe he is a worthwhile player to add to fantasy rosters because of the team's other losses at the position. If Burkhead returned before Sony Michel, he would be the obvious choice for the team's goal-line opportunities. But even in a backfield shared with Michel and James White, Burkhead could piece together enough carries and targets to make him fantasy-relevant in PPR formats. If you can spare the bench spot, add him now before his availability is clarified over the next few weeks.
Efficiency trends
Jackson had the worst healthy fantasy season of his career in 2017, his first season in Tampa Bay. But on the wrong side of 30 and facing competition from sophomore receiver Chris Godwin, Jackson has responded with an impressive 24 Yards Added, top-10 among all wide receivers. It's clear to me that his renaissance is more than simply a product of a few early-season long touchdowns, and now that Ryan Fitzpatrick has supplanted Jameis Winston at quarterback, Jackson should return to being an every-week start even in shallow formats. Fitzpatrick and Winston are first and second among quarterbacks with 11.8- and 11.2-yard average depths of target, but Fitzpatrick is much more accurate on those deep shots. He has thrown a catchable pass on 75% of his attempts that traveled 20 or more yards on the air. That's fourth-best of the 29 quarterbacks with 20 or more such attempts this season. In contrast, Winston is the least accurate deep passer (54% on-target) since 2017 among current starters.
In the tug-of-war for fantasy value in the Broncos backfield, Phillip Lindsay has his biggest lead of the season. He has produced 100 yards from scrimmage and a touchdown in back-to-back games, and teammate and fellow rookie Freeman missed Week 8 with a high-ankle sprain. But fantasy trades follow the typical market rule of buy-low and sell-high, and I think Freeman is a nice player to target because of his talent and end-of-season schedule. Lindsay has by no means performed poorly, but his yards after contact per attempt has slipped from its peak near 4.0 yards in Week 2 down below 3.0 yards. In contrast, Freeman has seen his YAC per attempt number steadily rise into the high-threes where it is now a full yard ahead of his more-celebrated teammate.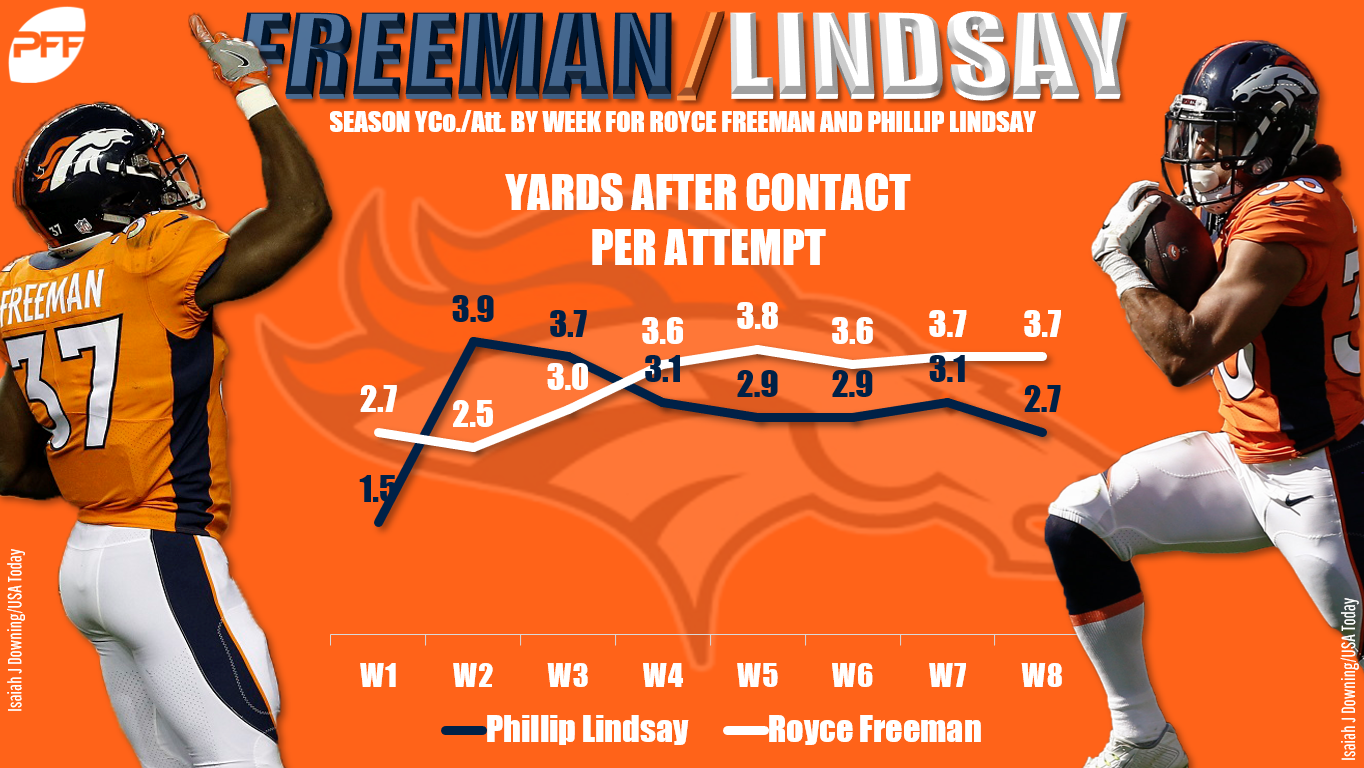 Given their relative size and speed, Freeman should be the better back after contact. But this trend is confirmation of that fact and gives me a lot of confidence that he'll be the one taking the Broncos attempts near the goal line over the final month-plus of the season. I expect that to a be a productive split for Freeman as the team enjoys a run of favorable defensive opponents for rushing scores starting in Week 12 against the Steelers.
Affectations
If it wasn't clear at the start of the season, it's now clear that the Raiders are playing for the future. And while it isn't good for Carr's efficiency to be down his best receiver — Amari Cooper was traded to the Cowboys — or best running back — Marshawn Lynch went on injured reserve with a groin injury — it will likely help his fantasy value. Carr has been sneaky excellent this season and is on pace for a career-high 72% completion percentage and 7.8 yards per attempt. The downfall of his fantasy production has been a lack of touchdowns. He's thrown for one or no touchdowns in five of his seven games. Now that the Raiders are garbage-time staples, Carr should throw more touchdowns against defenses more interested in killing clock than preventing scores that won't affect the outcome of games. And without Lynch to vulture possible Carr touchdowns near the goal line — Lynch has two touchdowns from the 1-yard line this year — Carr should up his touchdown totals regardless of gamescript.