As we head into Week 9, it's time again to look at our top IDP streaming options for fantasy football.
Fun fact: Week 9 sees the most teams on a bye week all season with six. That's almost 20% of teams and their players, which means there is almost a 0% chance you're not streaming players somewhere. Luckily, this week is the worst of it and we have several options to consider below. But first, a look back at last week.
Our linemen continue to be the brightest spot this season with both Stephon Tuitt and Markus Golden recording seven tackles and a sack each. Veteran linebacker Thomas Davis recorded five tackles and included a pass defensed while his Carolina teammate Eric Reid recorded seven tackles of his own along with a sack. Our other secondary picks were just okay, with Marcus Gilchrist having five tackles and Lamarcus Joyner offering four. We'll look to keep the good times rolling with our streaming options below.
Defensive line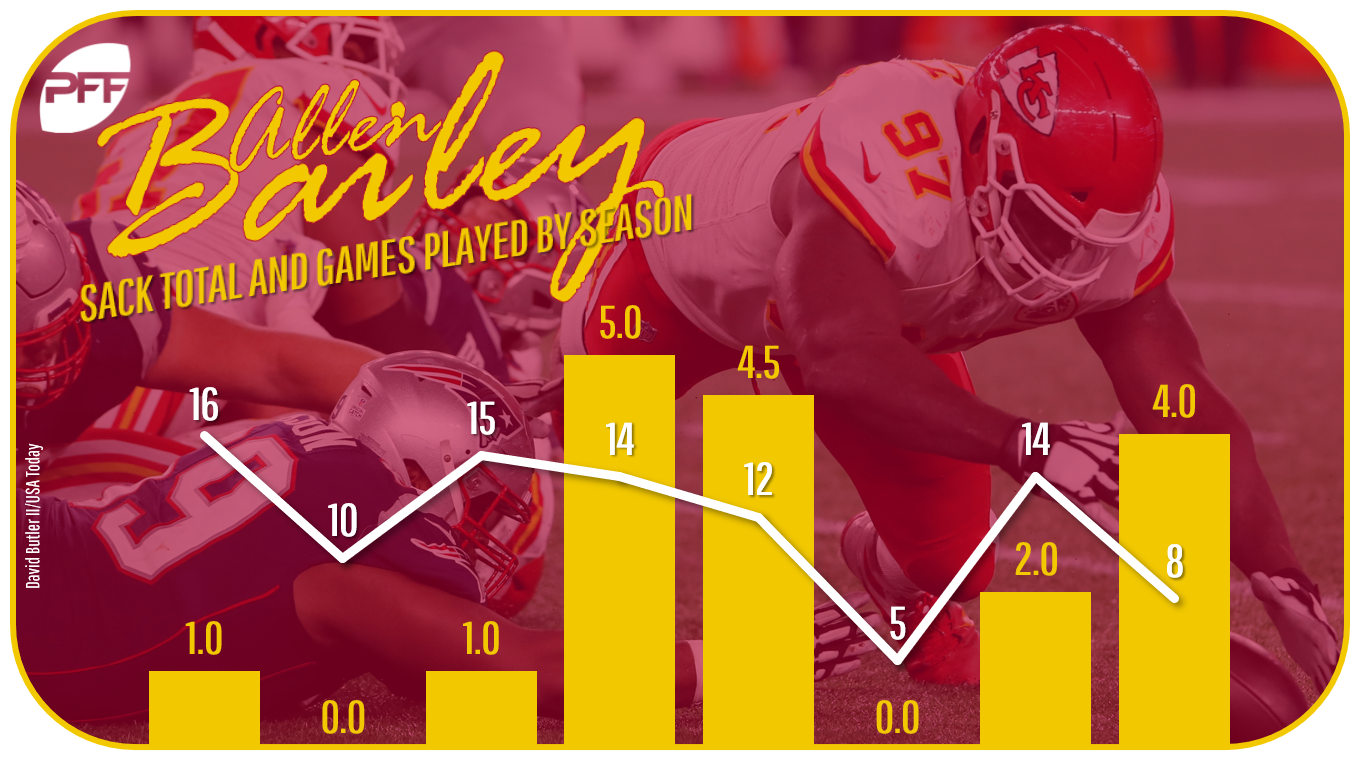 Bailey's flown well under the radar thanks to his Chiefs teammates on the other side of the ball, but he's quietly had his best season yet. His four sacks are not only good for second-best on the team but he's only one away from matching a career-high. Of course, it helps to lead all Chiefs linemen in snaps and pass-rushes, resulting in 18 quarterback pressures through the first half of the season. He and the Chiefs draw the Browns in Week 9, a game that should offer even more opportunity for Bailey as Cleveland runs the second-most plays per game at 70.2. Even better for Bailey — and any Chiefs pass-rusher — is the fact that Cleveland gives up the most sacks per game at 4.1.
There's a good chance the Chiefs beat Cleveland by a wide margin, especially with it being the first week after the Browns fired head coach Hue Jackson. This could lead to the Browns playing catchup for a large chunk of the game and giving Bailey even more pass-rushes than normal.
Linebackers
Make no mistake, Lynch isn't a full-time starter, ranking just third among Bears edge rushers in pass-rushes (behind Khalil Mack and Leonard Floyd) with just 113 attempts. But while he's seen 40 fewer rushes than Floyd, for example, he's recorded two more sacks and has been the second-most-productive rusher on the team when it comes to PFF's pass-rush productivity rating.
Lynch was the main beneficiary of Mack's absence last week, seeing a season-high 45 snaps, and figures to see more action again this week as Mack's injury hasn't appeared to improve. The timing couldn't be better as the Bears play the Bills and the disaster known as Nathan Peterman at quarterback. Couple that with the Bills giving up the fourth-most sacks per game at 3.6 and the Bears pass-rushers, including Lynch, figure to eat.
It only took three teams, but Bostic finally had a chance to shine last year when he started 14 games in the middle for the Colts and turned in a 97-tackle season. He then signed with Pittsburgh in the offseason as part of the competition to replace All-Pro Ryan Shazier. That's a battle he ended up losing to Vince Williams, but he's still a starter and a fine streaming option this week.
Pittsburgh travels to the Ravens, who lead the league with 72.9 offensive plays per game, giving the entire Steelers defense ample opportunity for tackles. Baltimore also loves to give up tackles to linebackers specifically, as the leading tackler for their opponent in six of their eight games this season has been a linebacker. They've given up at least nine tackles to linebackers in four of those games. This includes Week 4, when Baltimore gave up nine tackles to both Bostic and Williams.
Bostic could also see some action in the passing game. He leads all Steelers linebackers in passes defensed with three and is going up against a Ravens team that leads the league with 44.1 pass attempts per game. The Ravens have also given up a minimum of five passes defensed in their last four games and figure to give Bostic his best opportunity yet for a deflection.
One of those other linebackers the Ravens have given up so many tackles to is Thompson, who recorded a season-high 12 against them last week. For Thompson, his role was supposed to diminish once fellow linebacker (and last week streamer) Thomas Davis returned in Week 6. But despite playing on only 60% of the defensive snaps the last two weeks (after playing 100% of them during Davis' absence), he's recorded his top two tackle totals on the season with the 12 last week and nine the week before. So even without seeing as many plays, Thompson continues to be productive.
This week, he and the Panthers will play the Tampa Bay Buccaneers, who average a nice 69 offensive plays per game, good for third in the league. They, like the Ravens, have also been giving up a lot of tackles to linebackers lately, allowing at least 10 to a linebacker from their opponent in their last three games.
Secondary
Quin doesn't quite put up the fantasy stats like he used to recording exactly zero interceptions so far this season and only one pass defensed. In fact, his season high over the last four years in passes defense was six in 2017; he hadn't dipped below eight in a season in the six years before that. But he has a good shot to tally one or both a pick and pass defensed this week as the Lions play the Vikings. Minnesota is second in the league with 42.6 pass attempts per game and while quarterback Kirk Cousins only has four interceptions, the Vikings have allowed 52 passes defensed this season, 6.5 per game. Quin, meanwhile, leads the Lions in coverage snaps this season and should see plenty of Cousins Sunday.
Weddle is not nearly the IDP stud he was a few years as a Charger, when he recorded three 100-tackle seasons and three more where he recorded double-digit passes defensed. In fact, he's not even the most valuable fantasy defensive back on his own team, ceding that territory to Tony Jefferson. But his decline does mean that he is most likely available in IDP leagues this week and makes for a great play against the Steelers. Not only is Pittsburgh fifth in the league with 67 offensive players per game but they're currently fourth in pass attempts per game with 42.4. Ben Roethlisberger hasn't been the most accurate either, averaging at least one pick per game. Plus, the last time the Ravens played the Steelers, Roethlisberger had 10 passes defensed, the second-most he's had all season.