A crazy (by NFL's standards) trade deadline saw some big names change teams. Here is the fantasy football impact of the trades around the league.
(This will be updated if more trades come across.)
The Houston Texans have acquired WR Demaryius Thomas from the Broncos in exchange for a fourth-round pick
Thomas currently ranks 42nd among wide receivers in fantasy points per game (11.8) and 31st in targets per game (7.0). Will Fuller, out for the remainder of the season with a torn ACL, ranked 22nd in fantasy points per game (15.2) but 42nd in targets per game (6.0). This is probably somewhere between a lateral move and a slight upgrade for Thomas. Target volume should be about the same, but his cornerback schedule should soften up and efficiency should also be improving based on the upgrade Deshaun Watson (12th in passer rating) presents over Case Keenum (27th in passer rating). That said, he's still just a high-end WR4 moving forward.
I'm not adjusting my pre-Fuller-injury expectations for anyone on the Texans, but this trade is significant for Emmanuel Sanders and, especially, Courtland Sutton. Per Ian Rapaport, "It's Sutton's time." Per Jeff Darlington, "Denver believes Sutton is ready to be a star." Sutton hasn't done much for fantasy this season, ranking outside of the top-70 wide receivers in fantasy points per game and targets per game. Though target volume has been low, target quality has been good, ranking ninth in end-zone targets per game (1.1) and 24th in deep targets per game (1.6). In any case, target volume should be much better now with Thomas out of the picture. I'm bumping Sutton up to the mid-WR4-range with room for upside. Sanders ranks 10th in fantasy points per game and should get a boost with Thomas out of the picture. He'll see better volume now (currently 18th in targets per game) and will continue to avoid CB1s from the slot. WR DaeSean Hamilton is a name to watch but not necessarily a player to add.
The Philadelphia Eagles have acquired WR Golden Tate from the Lions in exchange for a third-round draft pick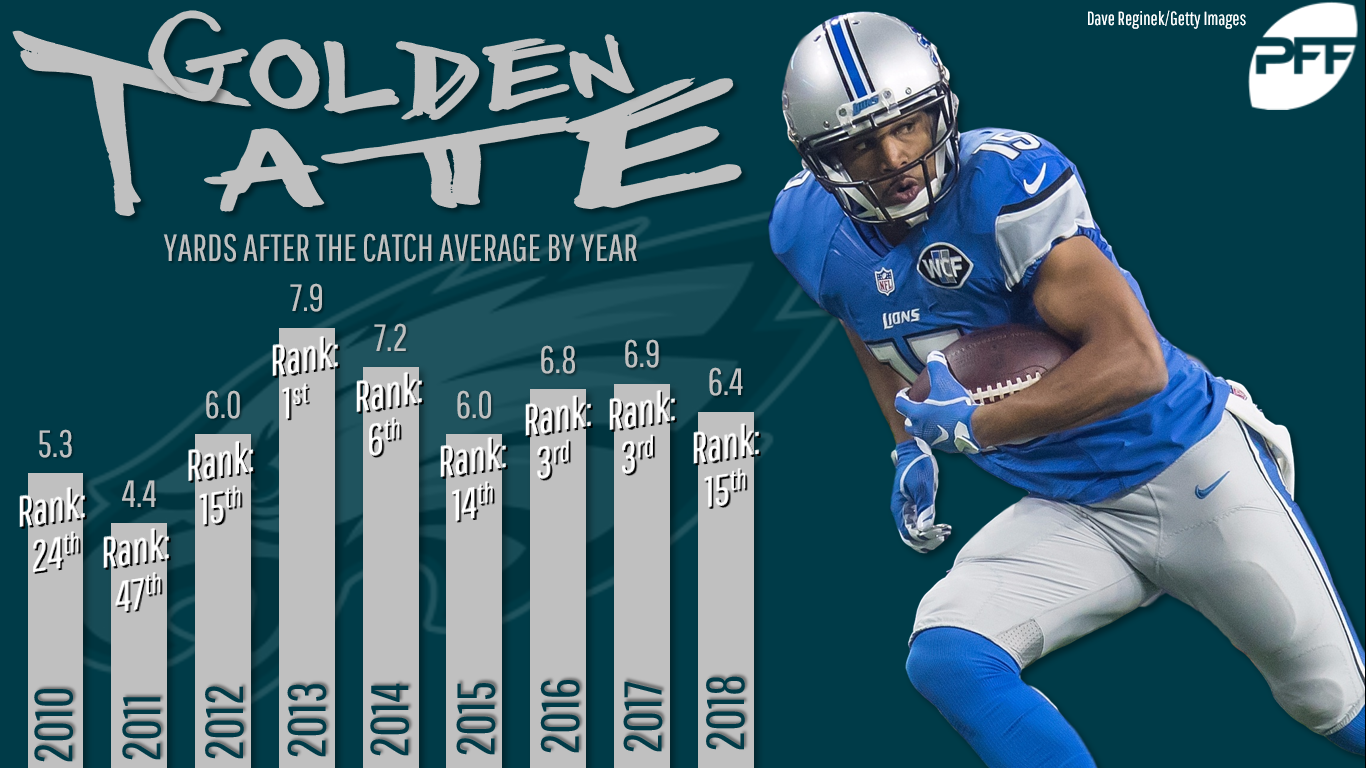 With this trade, Tate falls from a high-end WR2 for fantasy to a low-end WR2. In Detroit, he held a team-high 25.5% target market share, averaging 2.5 targets per game more than the next-closest receiver. In Philadelphia, there's far less of a guarantee he'll be Carson Wentz's top option. Since Jeffery has returned to the lineup, he's seen a 24.7% target market share, just behind Zach Ertz's 28.2% and ahead of Nelson Agholor's 17.2%. Both Agholor and Tate have run over 60% of their routes from the slot this season, so it will be interesting to see who will be forced to play more outside. Agholor has only ever been effective in the slot, while Tate is arguably one of the league's best slot wide receivers.
If Tate is forced to play more outside, rather than in the slot, that's another reason for the downgrade, as is the fact that he's starting over in an unfamiliar offense with a new quarterback. Agholor's stock takes the biggest dent upon Tate's arrival. Even if Agholor gets to remain in the slot, I'm not sure he will again be startable at any point this season. Ertz and Jeffery only get slight downgrades due to fewer available targets now that the receiver room got a little more crowded. Carson Wentz, meanwhile, gets an upgrade due to the luxury of being able to throw passes to one of the league's best receivers.
This is a huge boost to the fantasy stock of both Marvin Jones and Kenny Golladay. Jones and Golladay both rank top-30 at the position fantasy points per game, despite ranking behind Tate in targets. His vacated 25.5% target market share, or 8.9 targets per game, could thrust both receivers into the WR2-range. Losing Tate also obviously hurts Matthew Stafford's value.