This is our weekly look at fantasy adjustments you should make based on venue and/or weather. Entering Week 9 of the NFL season, knowing which players should see an improvement or decline in their projection can be a key to victory.
Thursday's final Bay-area clash between the Raiders and 49ers was a balmy 80 degrees Fahrenheit, and although undoubtedly cooler, most of the games on Sunday are not forecasted for the kinds of temperatures that make a fantasy difference. That's no reason to overlook the home/road matchups which by themselves can swing fantasy projections by several points, especially when domes are involved. Elite subscribers can peruse my full list of venue and weather adjustments, and I'll touch on the most interesting of them here.
Sunday, 4:05 p.m. ET
The Chargers/Seahawks game kicks off a slate of compelling late-afternoon and night games on Sunday with major playoff implications. But from a fantasy perspective, this game may not be so enticing. This is the only game this weekend with any chance of rain to speak of, and that coupled with being on the road at hostile CenturyLink Field makes it difficult for normal top-10 fantasy options Philip Rivers (-0.6) and Keenan Allen (-1.1). You probably won't have better options in season-long leagues, but try to avoid them, Mike Williams (-0.7), and Tyrell Williams (-0.6) in DFS.
In contrast, Austin Ekeler (+0.7) gets a bump even assuming Melvin Gordon (-0.1) makes it back this week from his hamstring injury. Road starts tend to put teams in more obvious passing downs, which boosts the fantasy production of receiving backs.
Russell Wilson (+0.9) has bounced back from a slow fantasy September with three consecutive games with three passing touchdowns, but he earns a smaller-than-usual home-field bump because of the possible rain. Traditionally, he was somewhat immune to bad weather conditions because of his ability and willingness to run, but he has just 77 rushing yards this season and is on pace for less than a third of his total of 586 rushing yards from last season. I don't expect a big ground game for him this week, and the Chargers allow 10% fewer passing touchdowns and 30% fewer rushing touchdowns per play whatever approach he takes. I like Wilson more than Rivers this week, but I'd prefer to avoid both of them in favor of quarterbacks like Joe Flacco and Ryan Fitzpatrick with better matchups.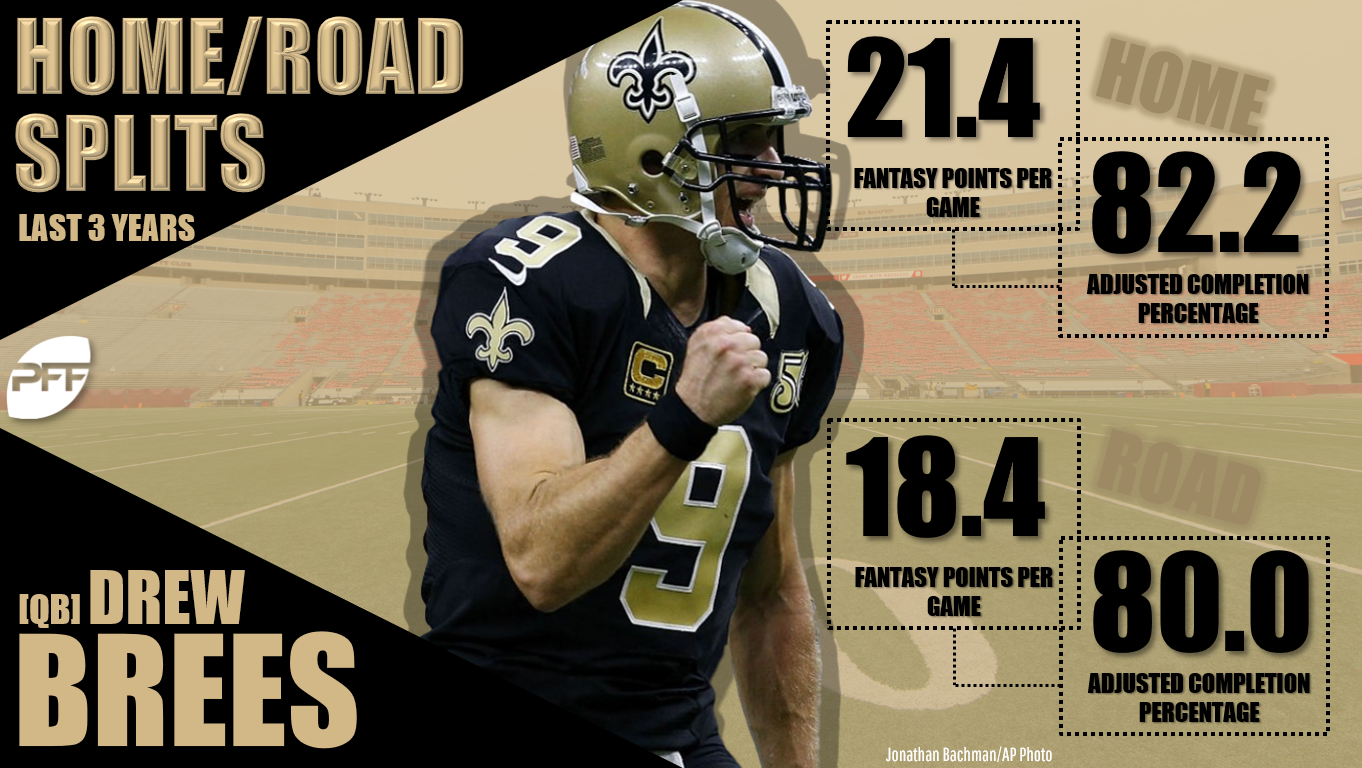 With so few games affected by weather, the matchups to watch this week are the ones in domes. Drew Brees (+3.1) is a must-start playing at home in the Superdome. He's scored 3.0 more fantasy points at home than on the road in general since 2016, and the Rams haven't been the same fearsome defense in 2018 that they were in 2017. Also start Alvin Kamara (+0.7), Mark Ingram (+0.6), and Michael Thomas (+1.7) with confidence.
I'm pretty bullish on the fantasy-relevant Rams, as well. Playing on the road in a dome isn't a major penalty compared to playing at home outdoors, and that means that Jared Goff (+0.1), Brandin Cooks (-0.3), Robert Woods (-0.3), and hopefully Cooper Kupp (-0.3) should be up to their usual fantasy tricks.
Sunday, 8:20 p.m. ET
For the most part, the games this weekend didn't get the memo that November brings colder weather. The Sunday night game is probably the only one that should push into the 30s. Veterans of cold-weather stadiums Tom Brady (+0.5) and Aaron Rodgers (-2.3) are of course used to the elements, but interestingly, only Rodgers has seemed immune to their effects. In recent seasons, Brady has averaged 2.3 fewer fantasy points per game when temperatures dip below the 50s, but Rodgers has had fantasy success even in freezing temperatures.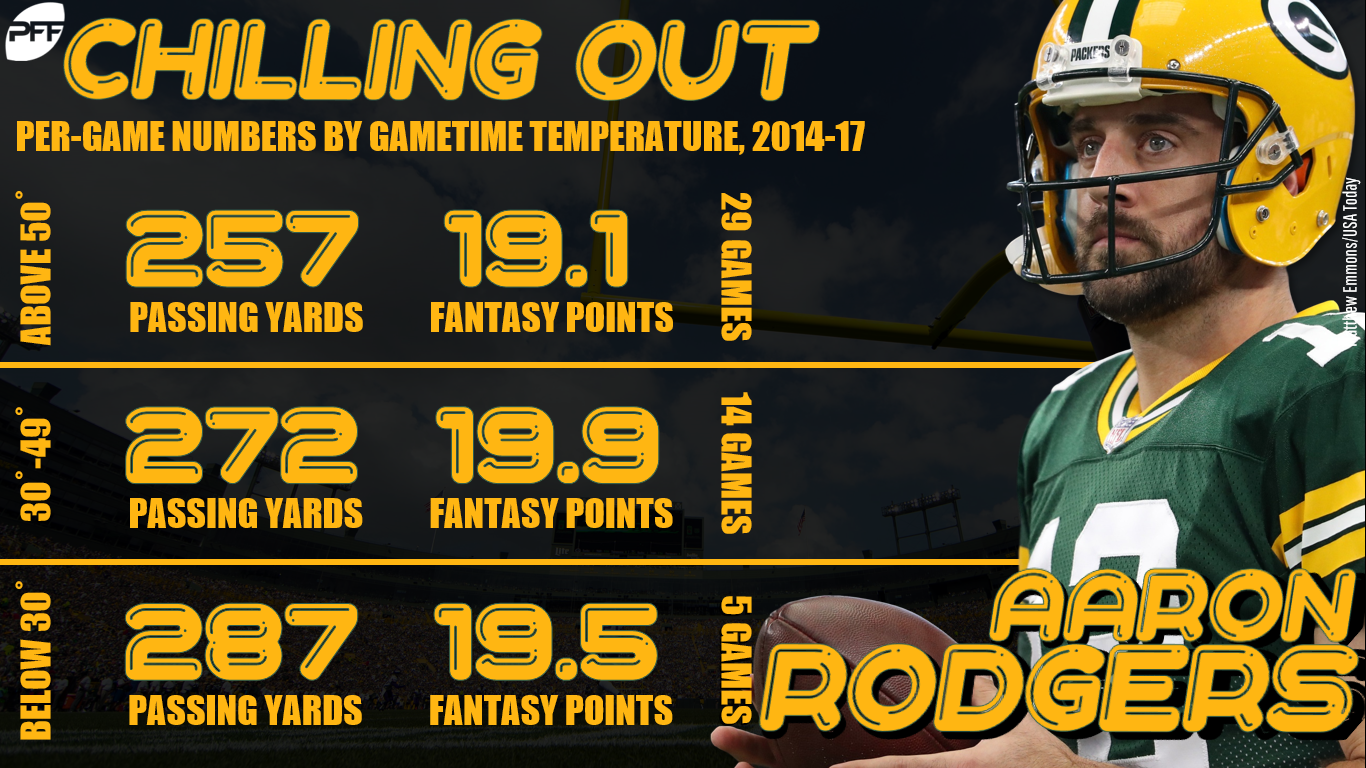 My research suggests that home/road is a bigger fantasy concern than warm/cold, and so I prefer Brady for the week. But I've ranked them much closer together than I would have had if they faced the same temperature forecasts in Green Bay.
Despite having the two most famous players in the NFL behind center, the real fantasy winners of this game might just be Packers running backs Aaron Jones (+0.0) and Jamaal Williams (+0.3). The Ty Montgomery deadline deal cut the team's workload split from three to two, and cold weather tends to increase teams' reliance on running plays. Still, it isn't a perfect matchup for either player. Jones has rarely been targeted as a receiver and may fall short of his standard workload if the Packers fall behind. Meanwhile, Williams owes much of his fantasy potential to short-yardage touchdowns, and the Patriots are the most penalizing team for rushing scores. I think both are flex considerations, but it might be prudent to bench both players for one more week and use this game to gauge the team's new workload split.