What are some of the top things we learned for fantasy football in Week 8 of the 2018 NFL season? Fantasy football is an ever-changing game, and what we thought was a sure thing a few weeks among might not ring true anymore.
Below are seven things we learned from Week 8 of the 2018 fantasy football season.
Cam Newton remains a must-start every week
Newton faced the Baltimore Ravens, the No. 1 passing defense (from a fantasy perspective), in Week 8, and he promptly proceeded to drop 27 fantasy points on them. Pending Monday, he's the overall QB3 of the week. Newton's legs make him matchup-proof and a must-start every week. We should have already known this, but any quarterback who carries the ball 8-12 times per game — including valuable goal-line carries — should never be on the bench.
Peterson is the overall RB13 in PPR leagues and RB7 in standard leagues through eight weeks after ripping through the Giants for 149 yards and a score (to go along with another touchdown through the air) in Week 8. Peterson is averaging a healthy 4.6 YPC this year and he turns into a volume monster when gamescript calls for it: He carried the ball 26 times this week, more than any other running back.
We need to pay more attention to Latavius Murray
Murray is averaging 20 touches per game over his last four contests, with four touchdowns and a 5.4 YPC average in that span. With Dalvin Cook sidelined, Murray has been an every-week starter. He showed it again in Week 8 with a line of 13-56-1 on the ground and 5-39-0 (6) through the air, good for a top-10 finish at the position for the third straight week.
Chris Carson is the Seattle back to own
Carson has now topped 100 yards in three of his last four games, with his latest coming on a 25-105-1 effort in Week 8. Carson's touches have been strong — even if a little inconsistent — over the last month: 34, 20, 14, 27. He received goal-line work in Week 8, and despite being in a "committee," he's the clear lead dog. Mike Davis had 11 touches last week — typical for a change-of-pace back.
Marvin Jones is still the highest-ceiling WR in Detroit
Jones ripped the Seattle defense for 7-117-2 (9) in Week 8, good for the No. 1 overall finish among wideouts this week. The huge game shouldn't have been too much of a surprise, as Jones clearly has the biggest ceiling among Detroit's wideouts. His 769 air yards rank first (by a lot). He has almost as many air yards and Kenny Golladay and Golden Tate have combined (840).
Tyler Boyd isn't going anywhere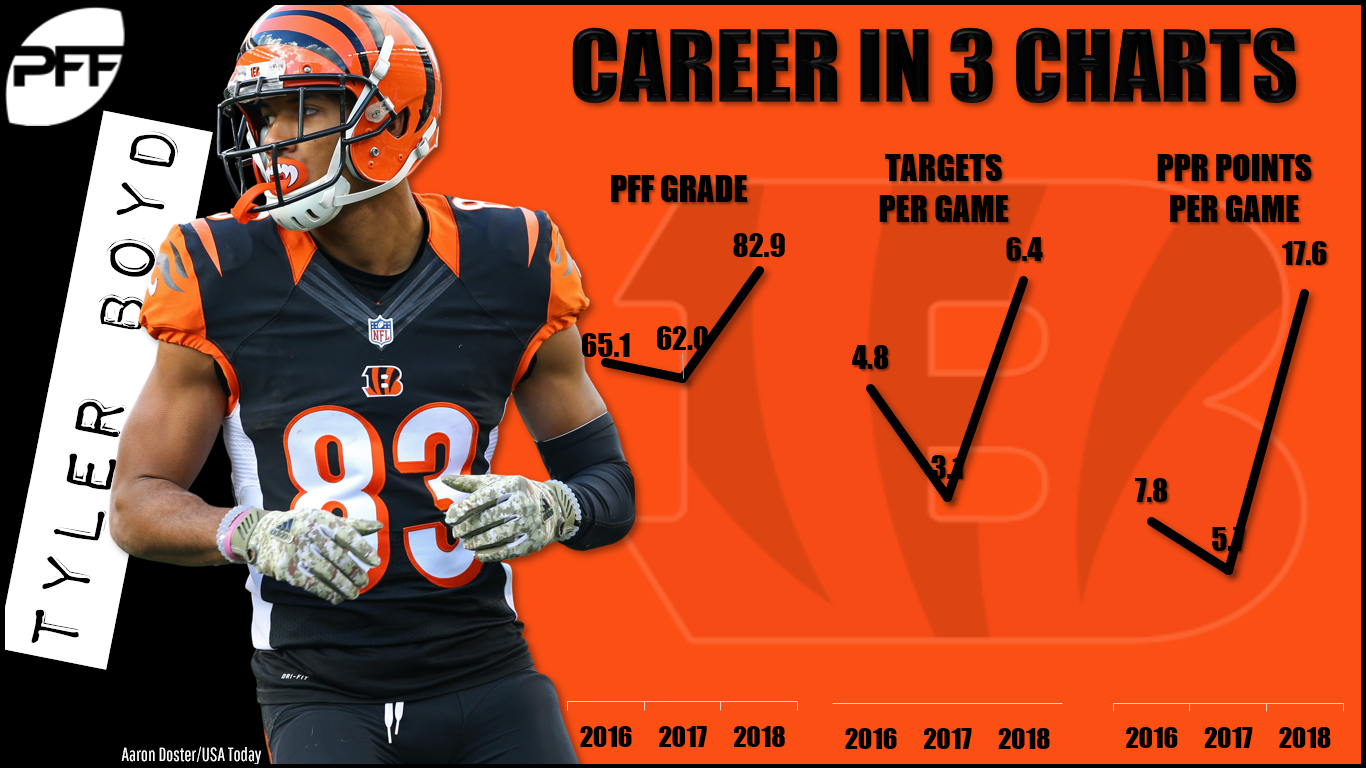 I keep waiting for Boyd to slow down, and it keeps not happening. He is the No. 4 wideout of Week 8 after dropping 9-138-1 on the Buccaneers — and most of that damage came in the first half. Boyd sits at WR12 on the year, and while he's not a WR1, he's definitely a solid WR2. Up until this week, I was determined to categorize him as a "tail-end WR2 or solid flex." I was wrong.
Ebron got his touchdown, but Doyle was the main tight end in Indy upon his return. Doyle more than doubled Ebron's target count (7 to 6), doubled his receptions (6 to 3), and nearly doubled his yards (70 to 37). Doyle also scored. Here's the killer: Doyle was in on 57 snaps, while Ebron had just 17.