We're back again for Week 9 of the NFL season to identify some sleeper candidates who could find themselves more valuable in fantasy football sooner or later.
My rushing and receiving Yards Added metrics compare a skill player's yardage totals on their plays relative to expected totals based on factors like the down and distance, distance from the end zone, quality of run-blocking, and quality of coverage. As such, they are perfect tools to evaluate the effectiveness of players, especially rookies and other inexperienced players who do not have an established level of fantasy production. There are several of those players who stand out as sleepers for Week 9 and beyond.
The Eagles returned to .500 with their win over the Jaguars in London and now have their bye week to ready themselves for a second-half playoff push. I'm interested to see how that push will look for the team's running backs. Jay Ajayi was an impact rusher with 30 Yards Added before he injured his knee in Week 5. Initially after that injury, the team relied exclusively on Wendell Smallwood and Corey Clement in the backfield, but Clement has struggled by traditional metrics with 3.3 yards per attempt and appears to be ceding time to Adams.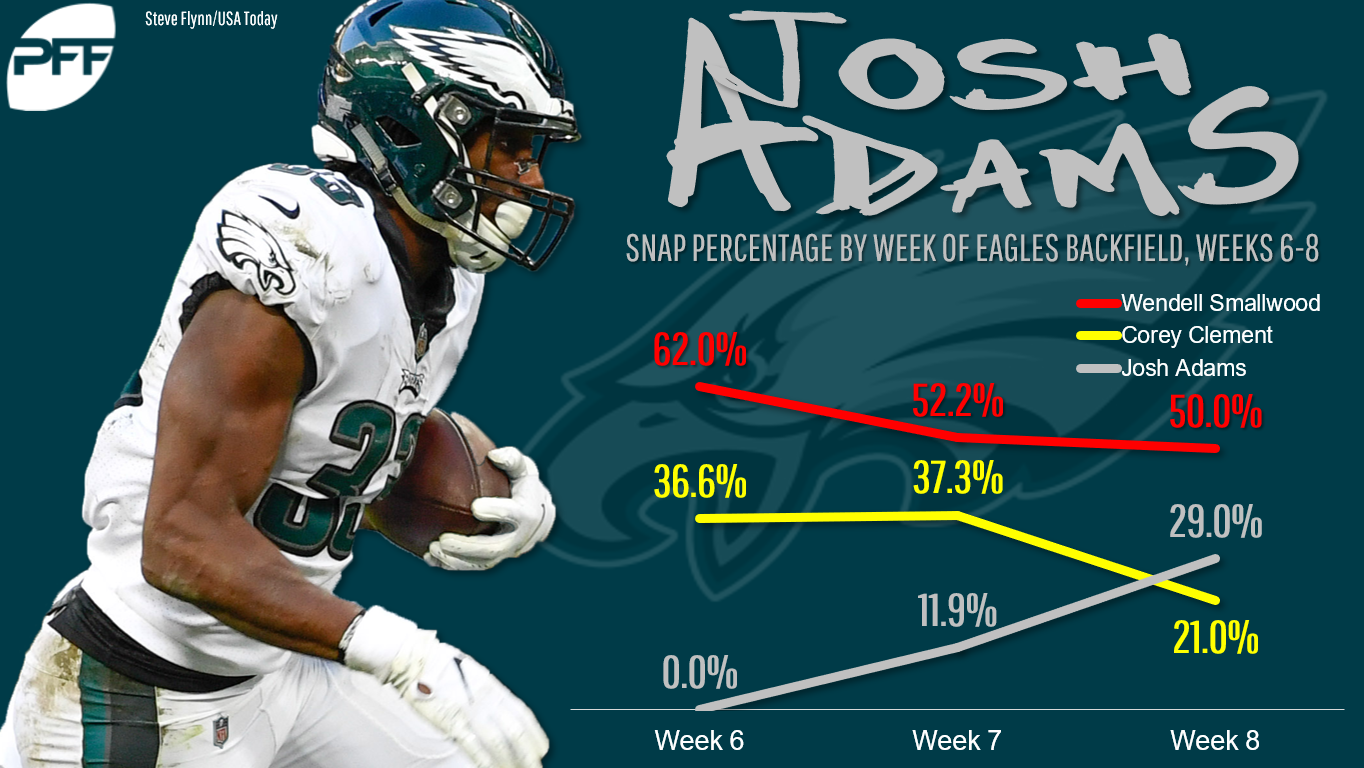 Adams doesn't stand out with 1 Yard Added, but he is a rookie with just 20 carries so far this season. That lack of a workload history gives him more upside than his more experienced teammates have. As such, Adams is a worthwhile gamble in medium and deeper formats.
Even with all of the Seahawks losses and injuries at receiver, Moore was an afterthought. The 2017 seventh-round pick did not see a single target as a rookie and had just one over the first three weeks this season. But over the last three weeks, Moore has burst onto the fantasy scene thanks to four touchdowns. From a projection standpoint, I'm more interested in his 22 Yards Added on just 13 catchable targets. That type of efficiency outburst isn't unheard of from a deep threat, and Moore is definitely that with a 17.5-yard average depth of target. But I'm optimistic for Moore's continued fantasy success because of his fit with the Seahawks. Russell Wilson has a history of extending plays and throwing the ball down the field, and he has been one of the most accurate passers in football on throws 20 or more yards down the field.
Best Accuracy% on Deep Passes, 2012-18
Player
Accuracy%
Andrew Luck
79.6%
Drew Brees
77.4%
Russell Wilson
76.6%
Aaron Rodgers
74.9%
Matt Ryan
74.6%
Carson Palmer
72.6%
Matthew Stafford
71.7%
Joe Flacco
71.7%
Ben Roethlisberger
70.9%
Jay Cutler
70.8%
Tom Brady
70.7%
Philip Rivers
70.4%
Cam Newton
70.4%
Andy Dalton
70.2%
Eli Manning
70.0%
Ryan Fitzpatrick
69.6%
Ryan Tannehill
68.9%
Blake Bortles
58.9%
Minimum 300 Deep Attempts
Even as a tertiary option, Paul Richardson was able to convert his role as a deep threat into the 35th-most standard points among receivers last season. Moore could do the same the rest of the season.
I listed this Moore as a trade target last week based on Cam Newton's shift toward shorter passes this season, but I think Moore deserves a second call-out based on his own efficiency. Moore produced an exceptional 191 yards on 20 touches in October. He's now up to 27 Receiving Yards Added on the season. That's the second-most among rookies.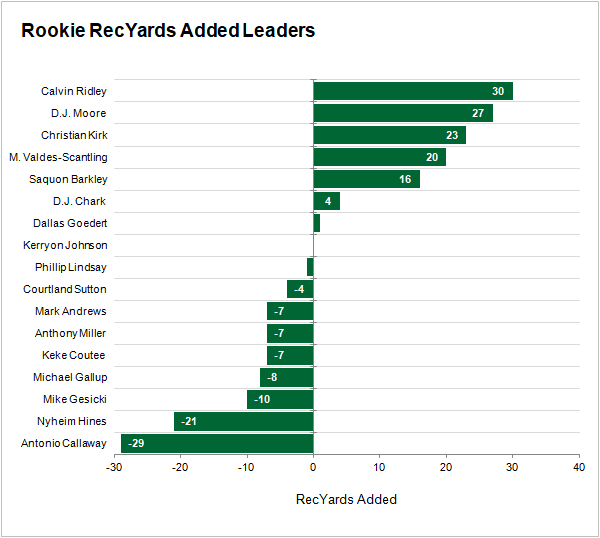 Meanwhile, his 1.30 Yards Added per catchable target is the best of all receivers, rookies or otherwise. That's up in the rare territory where typically just deep threats live over small samples — Marvin Jones (0.85), Tyrell Williams (0.84), and DeSean Jackson (0.76) are in this year's top 10, as examples. But Moore has an 8.1-yard aDOT that is more typical of a receiver who also works the middle of the field. Moore is clearly better than the man he replaced on Sunday, Torrey Smith, who has cost the team 18 yards on his 23 catchable targets this season. But I suspect Moore will be leading even Devin Funchess and Greg Olsen in targets at some point this season. He's worth adding even in shallow redraft formats.
Undrafted out of USC, Burnett does not share either Moore's talent or fanfare. However, Burnett is a prototypical slot receiver at 6-0 and 186 pounds, and the effectiveness of those types of players is less tied to physical tools and therefore harder to accurately project. I think Burnett has a chance to carve out a role on the Jets. Quincy Enunwa was heavily targeted before he suffered a high ankle sprain in Week 6. Without him, the team is bereft of receiving talent. Burnett has just six catchable targets on the year, but he has caught five of them and added 0.2 catches relative to an average receiver. The rest of the team's low-aDOT receivers have caught fewer passes than expected given the nature of their targets. That includes Enunwa, who has four drops on his 33 catchable targets this season.
Catches Added Leaders, Jets' Short Targets, 2018
Player
CTgts
Rec / CTgt
Catches Added
Deontay Burnett
6
83.3%
+0.2
Charone Peake
2
50.0%
-0.1
Jermaine Kearse
29
65.5%
-0.5
Andre Roberts
6
50.0%
-0.5
Quincy Enunwa
33
66.7%
-1.3
If Burnett proves to have the best hands on the team, then he could become the team's featured third-down option and a deep-league fantasy option by default.
Prescott has thrown for one or no touchdowns in five of his seven games this season, and he has yet to throw for 300 yards. That seems totally untenable in fantasy, and yet with his rushing production, Prescott is tied with Aaron Rodgers, Ben Roethlisberger, and Matthew Stafford for 13th at the position with 0.48 fantasy points per dropback. Presumably, that efficiency should improve coming out of the team's bye with newly acquired No. 1 receiver Amari Cooper. Cooper hasn't been the same standout player since the start of 2017 that he was in his first two seasons, but even his moderate 2 Yards Added this season sets the new standard for Dallas. Collectively, the Cowboys receivers have cost the team 23 yards on their catchable targets. That's bottom-10 in football. With Cooper joining with an underrated set of receiving backs and tight ends, Prescott should have his best skill talent since his rookie season. He's a sneaky threat for high-end QB2 production.