(This is Week 8 of the NFL season. Each week, the PFF Fantasy cheat sheet will have all the relevant fantasy football content for the week in one place for you to keep track and review as needed as you prepare for that week in fantasy football.)
For years, I'd advocated for using Monday night players in season-long fantasy when possible. Obviously, don't choose an inferior player on a Monday over a superior Sunday player, but all things being equal, I always liked using a Monday player as a tiebreaker. It's entirely emotional—part of the beauty of fantasy is having something to root for in games you might otherwise ignore, so having a vested interest in a Monday night game is more fun (to me) than otherwise.
Until this year.
This season has destroyed by desire for anyone to have Monday players. Just go the DFS route and take Monday games off the redraft fantasy slate. If your player plays on Monday, it's like he has a bye. Sorry.
Yes, it's irrational, but Mondays have been brutal this season. If you follow me on fantasy (You should! I'm fun! @danieltkelley!), you've seen the complains, but just to recap: I won Week 1 handily, then lost Week 2 just as handily. For the next four weeks in a row, I lost. And I didn't just lose, I lost in the most painful of fashions:
Week 3, JuJu Smith-Schuster's Monday night game didn't have any specific dramatic moment, but I lost by 4 as a result.
Week 4, Travis Kelce's game-winning TD in the waning minutes put me behind — the attempted lateral to Emmanuel Sanders at the end would have gotten it back for me.
Week 5, the Saints fumble recovery in the waning minutes gave me the loss by 1.
Week 6, Aaron Rodgers did enough for me to win … if he hadn't been throwing so many passes to Jimmy Graham, so I lost by 4.
But then in Week 7, I won! I beat my brother. Despite that, if Eli Manning had succeeded on either of his two attempted sneaks at the end, or if the Giants' last touchdown had gone to literally anyone but Odell Beckham Jr., I'd have lost. Despite the fact that I finally won, that was the least fun viewing experience of my life.
Ban Monday nights. Just for my blood pressure.
On to the Week 8 advice.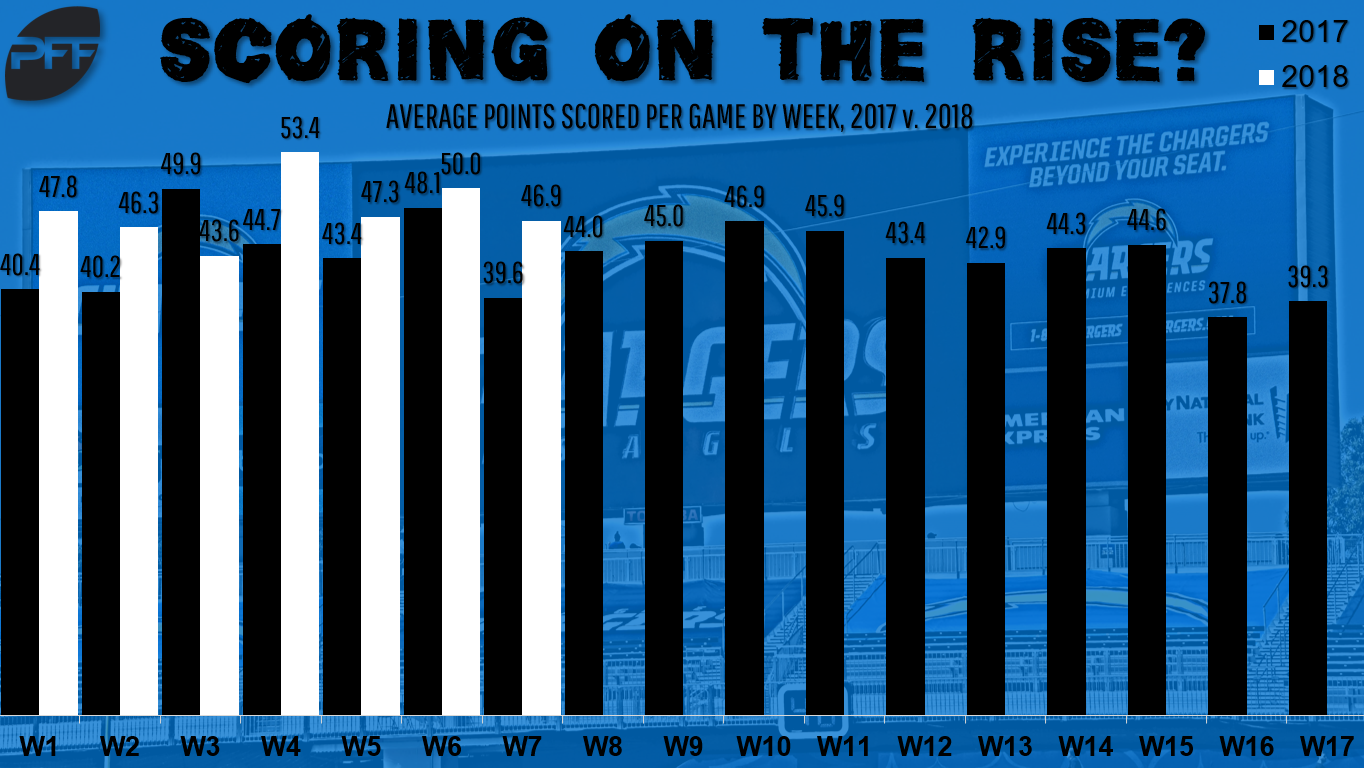 Looking back
Live chats
Written content
Check out our tools as well:
Redraft advice:
DFS advice: