We're back again for Week 8 of the NFL season to identify some sleeper candidates who could find themselves more valuable in fantasy football sooner or later.
Efficiency-based fantasy sleepers can take longer to realize their potential than opportunity-based sleepers, but their rewards can be just as massive. Carlos Hyde continued to take the lion share of the Browns' carries for several weeks after it became clear that Nick Chubb was the better runner. But then, suddenly, Hyde was traded and Chubb was vaulted into the RB1 discussion. My rushing and receiving Yards Added metrics compare a skill player's yardage totals on their plays relative to expected totals based on factors like the down and distance, distance from the end zone, quality of run-blocking, and quality of coverage. As such, they are perfect tools to identify which players are efficient and could see a bump in their future workloads because of it. Based on Yards Added, here are five sleepers to consider for your fantasy rosters for Week 8 and beyond.
Albert Wilson injured his hip Sunday and may miss the rest of the season. It's an unfortunate break for Wilson, who was thriving in his first opportunity as a quasi-featured part of an offense in his fifth NFL season. But as much as any team can overcome the loss of one of the most efficient players in football — Wilson trails only Adam Thielen in Yards Added — the Dolphins are well-equipped. Amendola isn't explosive the way that Wilson is, but he is a plus contributor as a short-depth target primarily because of his excellent hands. He leads all low-aDOT receivers in Catches Added since the start of last season and is among the leaders in Yards Added.
Wilson and Amendola have each taken a third of the team's non-RB targets thrown less than 8.0 yards in the air this season. With Wilson out, Amendola should see more than half of those. That workload bump could easily bump him into flex consideration even in shallow formats.
Josh Gordon has tantalized fantasy owners with a touchdown (Week 5), a team-leading 9 targets (Week 6), and a team-leading 100 yards (Week 7) the last three weeks with the Patriots. If he can pull those pieces into single-game performances, then maybe he really will be the new Randy Moss. But while many fantasy owners lose their minds for that potential, take a run at the undervalued Hogan. Hogan has had a slow start to the fantasy season, but the transformation of the team's skill-position talent should benefit him more than anyone. Last season, he had almost three times as many catches and almost twice as many yards in three-receiver sets compared to two-receiver sets (30 and 386 to 13 and 205, respectively). This season, those splits have been even more extreme (224 and 15 compared to 60 and 6)).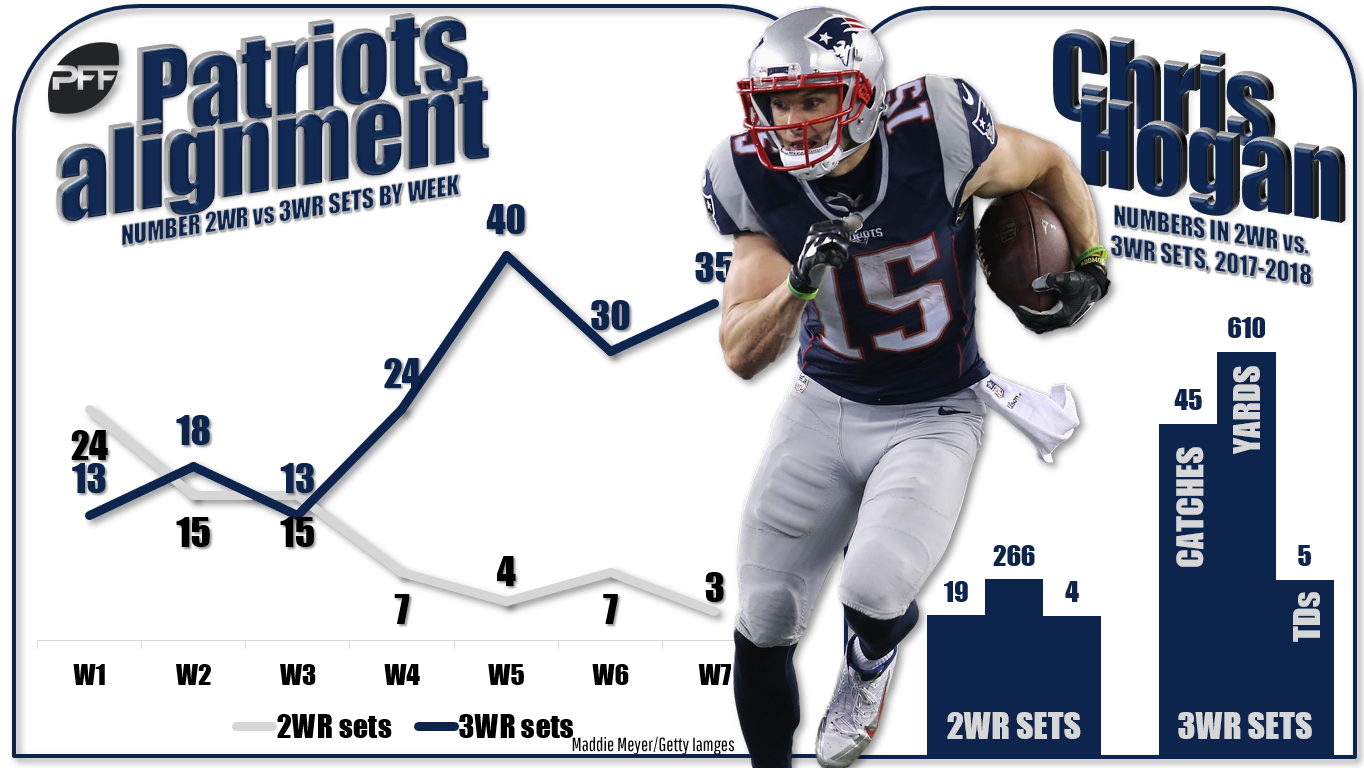 The Patriots obviously relied on three-receiver sets extensively in Week 7 with Rob Gronkowski sidelined, but that trend actually started three weeks earlier with the arrival of Gordon. For the past month, the Patriots have deployed at least three wide receivers on 86% of their pass plays.
Hogan hasn't scored since Week 2, but his totals of 78 and 63 yards the last two weeks bode well for a fantasy-turnaround. Check to see if he's been dropped in your leagues.
Fantasy owners were excited for rookie running back Jones at the start of this season. But after healthy scratches in the Buccaneers' first three games and a meager 2.6 yards per attempt on his 17 carries the last the games, that excitement has receded. I'm not sure I'm excited, either, but I'm not ready to cut bait. Jones just hasn't had much to work with so far in his young career running behind a bottom-five run-blocking offensive line. He is averaging just 0.24 yards before contact per attempt this season. Only Ito Smith (0.03) and Dalvin Cook (0.19) have had tougher carries among 72 backs with 15 or more attempts.
Jones' teammate Peyton Barber hasn't enjoyed dramatically easier opportunities with 0.59 yards before contact per attempt, but he hasn't dramatically outpaced Jones with his 3.5 yards per attempt, either. Both players are pretty much neutral in Yards Added on the season, suggesting they have performed like an average back on their high-difficulty carries. Barber has had more than 200 career carries to showcase that he is an average talent. I think 17 carries is too few to conclude the same for Jones, especially given that he took two carries within five yards of the end zone and scored once on Sunday. Roster Jones for a few more weeks to see if more work shifts his way.
Ware came close to 100 yards on Sunday night for the first time this season. The Chiefs are an offensive marvel, but even they can't pull their backup running back into fantasy relevance week after week. Still, it was a performance that entices me to add Ware in medium and deeper formats. After tearing his ACL and PCL on the eve of the 2017 season, Ware has clearly recaptured his previous form. He added 20 yards as a runner and a league-leading 53 yards as a receiver as a feature back in 2016, and he has already added 18 yards as a runner and 3 as a receiver this season. He has the talent to hold a three-down job again, and I am willing to use a bench spot to see if he can find one over the next seven days. The NFL trade deadline is October 30, and a string of recent injuries could have several competitive teams looking for a replacement back. If Ware ended up on the Patriots or Eagles, for example, he would instantly become a borderline RB1/2. A preemptive add could save you a lot of FAAB.
The Packers have turned Greg Jennings, James Jones, Jordy Nelson, Randall Cobb, Davante Adams, Ty Montgomery, and Geronimo Allison into fantasy-relevant and sometimes star fantasy receivers in the Aaron Rodgers era without using a first-round draft pick. Fantasy owners are smartly eager to take a flyer on any new additions, but the team made that difficult by drafting a trio of rookie receivers in J'Mon Moore, Valdes-Scantling, and Equanimeous St. Brown, all on Day 3. Well, injuries to Cobb and Allison have forced the Packers to reveal their preferences, and Valdes-Scantling has seen the playing time. Moreover, he has set the standard for efficiency among all of the team's pass catchers with nearly a Yard Added per catchable target.
Yards Added Breakdown, Packers Receivers, 2018
Player
CTgts
Yards Added
Yards Added / CTgt
Marquez Valdes-Scantling
16
14
0.87
Ty Montgomery
15
9
0.60
Geronimo Allison
23
5
0.22
Randall Cobb
20
2
0.12
Davante Adams
57
4
0.08
Jimmy Graham
35
-16
-0.44
min. 10 catchable targets
The usual small-sample caveats apply to Valdes-Scantling. And his production is buoyed by a 60-yard catch from Week 6. However, he has been a positive contributor on the rest of his targets, too, and his situation is too enticing to let him sit on the wire in case he is experiencing a breakout. At the very least, Valdes-Scantling will be a usable player whenever Allison misses time. And given his performance so far, it wouldn't stun me to see him enter the flex conversation even without a teammate's injury.