The Fantasy Focus is a weekly column that breaks down everything you need to know to set your fantasy football lineups. Make your start and sit decisions with fantasy facts, injury information, matchups stats, predictions for the week and more.
Sometimes, we're our own worst enemies in fantasy football. When you think about the overall goal of the game, it's simple: score the most points. Yet, in the heat of battle, we often overlook that objective. And one of the most common places where we do this is when we shoot for upside.
Upside is a good thing. There's no denying that. But there's always a careful balance of ceiling and floor in fantasy football. I'll often get asked questions that go something like this: "I know you have Player A ranked higher, but should I start Player B because he has more upside?"
This week, that might be something like Doug Baldwin as Player A and Tre'Quan Smith as Player B. Hey, I get it. Smith is sexy and Baldwin's production this season has been about as sexy as yours truly sporting a Michael Phelps speedo.
But "sexy" doesn't win you fantasy matchups. Points do.
When making your start/sit decisions, don't opt for upside. Start the player who is going to score the most points. Write that down in permanent ink and commit it to memory. It sounds super simple because it is.
Fantasy facts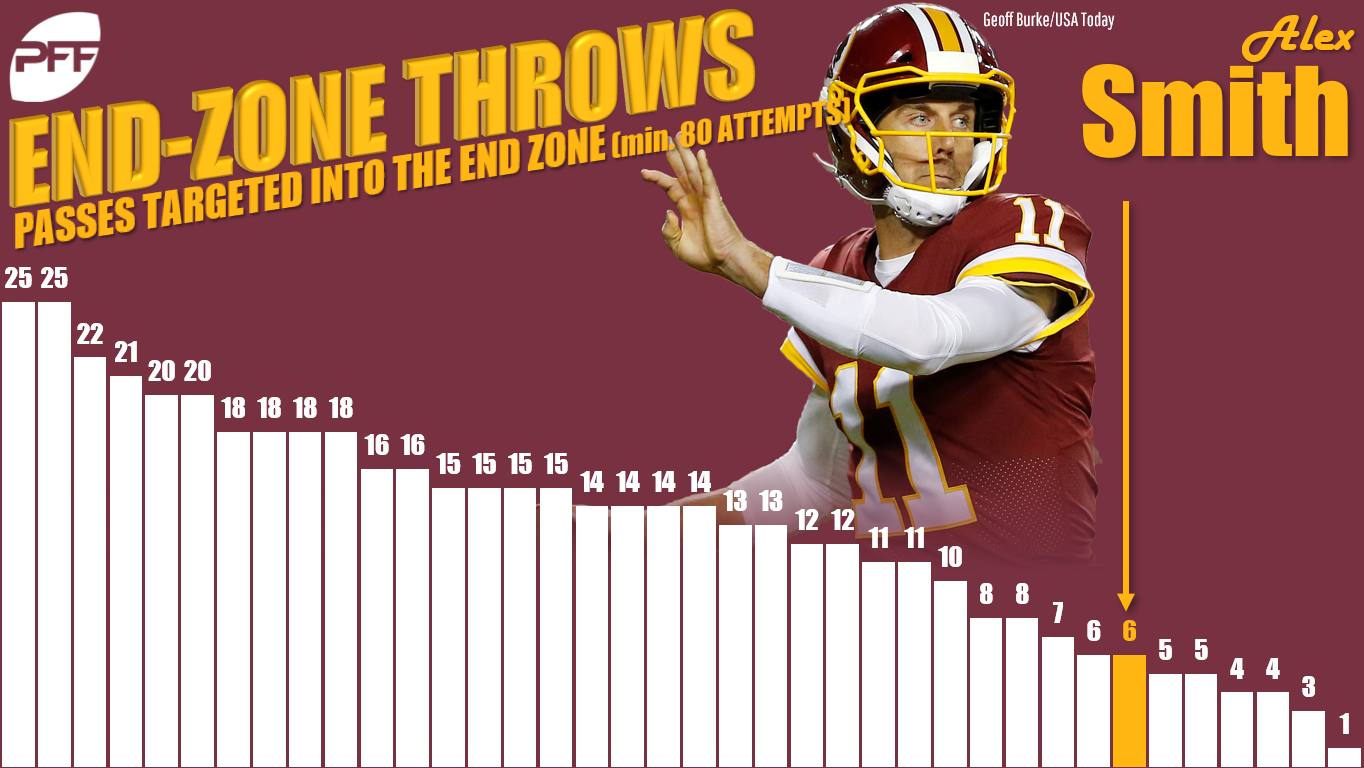 The loss of Kirk Cousins on the Redskins offense shouldn't be understated. Last week, Cousins tossed five balls to end-zone targets, which was tied for the league-high for the week. His Washington replacement, Alex Smith, has only six end-zone throws on the season. That's by far the lowest among full-time starters in the NFL. As a result, Jordan Reed is the only tight end in the league with more than 30 targets to not be targeted in the end zone this season. Without those crucial looks, it's going to be tough for Reed to put up strong fantasy numbers.
Mitchell Trubisky tied for the league high with five end-zone throws in Week 7. He's one of just five quarterbacks to throw to the end zone 20-plus times through the first seven weeks of the season. More importantly, Trubisky has been a top-five fantasy quarterback in each of his last three starts. While it's a bit ambitious to think that this production continues going forward, Trubisky is very much on the fringes of the QB1 conversation.
There isn't much I need to tell you about Patrick Mahomes that you don't already know right now. But did you know that his father played professional baseball … just kidding. Did you know that he's on pace to top 50 touchdowns and 5,000 yards? If he keeps this pace up, Mahomes would tie for the second-most touchdowns (50) and would post the eight-most passing yards (5,081) in a single season. Those are unbelievable numbers for a first-year starter, and he may not keep this pace up, but the scariest thing is that Mahomes is just 23 years old. With today's quarterbacks playing well into their late 30s, we could very well have another decade and a half of Mahomes under center. It's tough to not view him as the No. 1 dynasty quarterback right now.
As good as Mahomes has been this season, he isn't the No. 1 fantasy quarterback over the last month. That distinction actually goes to Andrew Luck. Over that span, Luck has racked up 1,286 passing yards and 15 scores. A big part of Luck's success has been his willingness to take shots to the end zone. Last week, he threw three balls to the end zone and scored on all three. Entering Week 8, Luck is tied with Deshaun Watson for the most end-zone throws this season with 25.
If you ever had any doubt in the importance of red-zone touches for running backs, consider this: Todd Gurley leads the league with 43 red-zone carries. Alvin Kamara is a distant second with 26. Gurley is completely shredding the league and is on a historic fantasy pace. A big part of that production is his heavy volume in this key area of the field, and he's showing no signs of slowing down.
If you were able to get your hands on Nick Chubb, give yourself a well-deserved pat on the back. The rookie assumed lead duties last week and posted 18 carries for a respectable 80 yards. Chubb also saw two end-zone carries and scored on one of them. This healthy volume is going to continue going forward. Chubb is a front-end RB2 going forward.
Speaking of upside young running backs, the Lions finally unleashed Kerryon Johnson. With Theo Riddick sidelined last week, the rookie saw 19 carries and had 158 rushing yards. That's a paltry 8.3 per. Of course, fantasy owners will be quick to tell you that LeGarrette Blount got the touchdown. Like it or not, Blount is going to continue to have a short-yardage role in the Detroit offense, but it should be noted that Johnson did see a goal-line carry in last week's contest. Johnson is in play as a high-upside RB2 with Riddick sidelined again this week.
The Eagles backfield remains a complete mess for fantasy purposes. Last week, Corey Clement had eight carries for six yards, Wendell Smallwood went nine for 32, and rookie Josh Adams managed four carries for 17 yards. It's tough to endorse anyone out of this trio for fantasy purposes.
Injuries
The Colts look like they may have finally found a viable running back in Marlon Mack. He broke out last week with 19 carries for 126 yards and a score along with two catches on three targets for 33 yards. More importantly, Mack had two carries inside the 5. Didn't score on either, but the usage is encouraging. If you picked up Mack, you very likely had an RB2 with upside on your hands going forward. That being said, Mack was a midweek downgrade, as he missed Thursday's practice. That typically isn't a good thing, so keep an eye on his status.
It looked bad for Sony Michel when the rookie running back went down in the second quarter last week. Fortunately, Michel escaped major injury, but he's still expected to be sidelined for a few weeks. With Michel out, the Patriots are left with just James White and Kenjon Barner at running back. Expect the Pats to use Barner more as a runner with White continuing to see heavy work as a receiver. White is in the mix as an RB1 play this week, but we wouldn't recommend trusting Barner as anything more than a flex.
The Jets placed Bilal Powell on injured reserve this week. The veteran running back will undergo surgery on his neck. Powell turns 30 this week, so this could possibly be the end of the line for his fantasy value. Get whatever you can for him in dynasty leagues. With Powell out, expect an uptick in Isaiah Crowell's volume. This week, we'll also see more of rookie Trenton Cannon, who flashed upside last week with four catches for 69 yards. However, don't get too comfortable with Cannon, as Elijah McGuire will be eligible to return next week. McGuire should slide right into Powell's role in the offense.
The Bucs continued to use Peyton Barber as their lead back last week, but Barber did suffer an ankle injury in the Bucs overtime win. In that contest, we saw Ronald Jones get two goal-line carries, and he was able to convert one for a score. Barber managed to get limited work in on Thursday, so he should play this week. That being said, it's a good idea to keep Jones on standby.
Matt Breida aggravated his ankle injury last week, so we saw more of Raheem Mostert. He ended up equaling Alfred Morris in touches with 11 but was much more efficient with 78 scrimmage yards. Breida looks like he'll be out this week, so expect another time share between Mostert and Morris. Mostert is the preferred fantasy play. He's in the mix as a flex option.
After missing last week, Rob Gronkowski appears to be on track to return to the field for the Patriots' divisional matchup against the Bills. While the fantasy public has been down on Gronk this season, the veteran tight end hasn't been as bad as many would lead you to believe. Through the first seven weeks of the season, he's fourth among tight ends in yards and ranks ninth in PPR scoring. And that's despite missing last week. No, he isn't the No. 1 option, but Gronk is still posting every-week fantasy starter numbers at a position that has been absolutely brutal this year.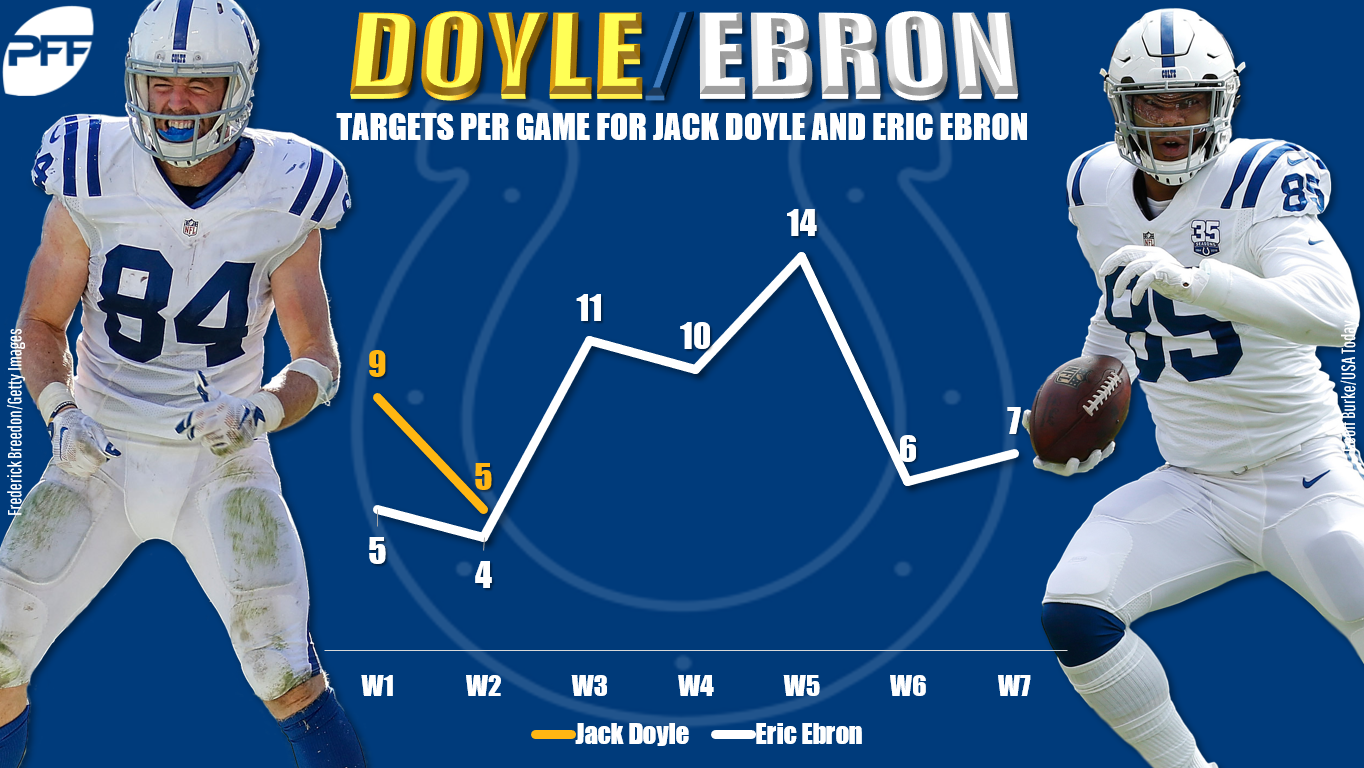 Jack Doyle has gotten in limited work at practice this week and could get back on the field for the first time since Week 2. In his absence, Eric Ebron has emerged as one of the most heavily targeted tight ends in the league. Ebron owners shouldn't be worried about Doyle's return. At this point, the genie is out of the bottle, and the Colts are going to continue to use Ebron heavily.
More injury notes: Royce Freeman is dealing with an ankle injury and is looking like he'll be a game-time decision on Sunday. If Freeman doesn't go, Phillip Lindsay will be in the mix as an RB1 play. … The 49ers will likely be without Pierre Garcon. His absence will mean more looks for George Kittle over the middle. … The Packers look like they'll get Randall Cobb and Geronimo Allison back this week. Cobb is the preferred fantasy option of the two. He's worth WR3 consideration going forward. … Cam Newton is dealing with a shoulder injury, but he's going to play this week. That being said, his matchup is a rough one against the Ravens. … It's looking unlikely for Robby Anderson to suit up this week. The Jets signed Rishard Matthews, and he could immediately see a big role with Anderson and Quincy Enunwa out. … Chris Thompson has been limited in practice this week and could get back on the field. However, it's a good idea to temper your expectations for him in his return. Consider Thompson more of a flex option if he plays. … LeSean McCoy practiced on Thursday but remains in the concussion protocol. The fact that he was able to get limited work in is a good sign that McCoy will be back on the field for Monday night.
Wide receiver matchups
Adam Thielen is the hottest fantasy wide receiver on the planet right now. He's rattled off an unbelievable seven straight 100-yard games and enters the week as the top fantasy wideout by a fairly wide margin. Expect the high-level production to continue with a plus matchup on tap against the Saints, where he'll see his share of P.J. Williams. The Saints slot corner is allowing a 74% catch rate and has surrendered 3 touchdowns in his coverage this year.
It wasn't pretty for the Bengals on Monday night, but A.J. Green was still able to put up a solid fantasy performance with seven catches for 117 yards. Green has seen double-digit targets in each of his last three games and is a good bet to see another healthy workload this week. Tampa Bay has one of the league's worst starting secondaries and currently allow the second-most fantasy points per game to opposing wide receivers.
The Bucs are by far the best matchup for slot receivers this season, and a big part of that has been the play of rookie corner M.J. Stewart in the slot. Stewart has allowed 29 catches on 34 targets for an average of 11.4 yards per catch. Opposing wideouts have scored five times in his coverage. That means good things for Tyler Boyd owners this week.
Jarvis Landry got off the schneid last week and posted a rock-solid fantasy line of 10 catches for 97 yards and a score. Expect Landry to continue his productive ways this week, as the Steelers currently allow the third-most fantasy points per game to slot receivers.
The Seahawks secondary isn't what it used to be and that's a very good thing for Kenny Golladay this week. He'll draw primary coverage from Shaquill Griffin, who has allowed 25 catches on 36 targets this season. Golladay has leapfrogged Marvin Jones in the Lions' target pecking order and is poised for a big week against Seattle.
Davante Adams is averaging a touchdown per game this season and he should continue his productive ways with a favorable matchup on tap against the Rams secondary. Adams projects to see primary coverage from Marcus Peters. Injuries have hampered Peters this season, as the veteran corner has allowed 20-of-27 targets to be caught. He's also surrendered five scores to opposing receivers. Adams should have no problem reaching value in this matchup.
It wasn't a massive yardage day for T.Y. Hilton last week, but the Colts receiver was able to find the end zone twice. He's a good bet to put up strong fantasy numbers again this week against the Raiders. Oakland is currently featuring Daryl Worley and Dominique Rodgers-Cromartie on the outside. Worley has played just two games this season, but in those two outings, he's allowed 8 catches on 10 targets for 117 yards. That's an average of 14.6 per catch. Translation: Hilton screams upside this week.
Doug Baldwin has been widely considered a fantasy disappointment this season, but he did show signs of life before the Seahawks Week 7 bye. Look for that momentum to continue this week against the Lions. Detroit has used Darius Slay to shadow this season, but we expect his coverage to go to Tyler Lockett. That means a soft matchup is ahead for Baldwin, especially when he faces Teez Tabor. The second-year man has surrendered nine catches on 12 targets for 134 yards this season.
Last week, the Jaguars used Jalen Ramsey on to shadow DeAndre Hopkins. He was on Hopkins on 90% of his routes and held him to just three catches on seven targets for 50 yards. Hopkins was able to find the end zone on one of those catches, but as a whole, Ramsey did a good job containing Hopkins. That isn't good news if you own Alshon Jeffery, as we expect Jeffery to draw Ramsey's shadow this week. On the season, Ramsey is holding opposing receivers to a modest 51% catch rate.
A breakout game for Josh Gordon is brewing after the newly acquired wideout posted 100 yards on just four catches last week. But don't expect that big game to come this week, as Gordon projects to see a shadow from Tre'Davious White. The Bills corner has been impressive in shadow situations this season and has held opposing wideouts to a 57% catch rate. Gordon is best viewed as a boom-or-bust WR3 in this matchup.
While we love Adam Thielen's matchup this week, it's tough to get too excited over Stefon Diggs. He's the more likely candidate to draw Marshon Lattimore's coverage, which could put a damper on his fantasy upside. That being said, it should be noted that Lattimore did cover Thielen in last year's Divisional Round playoff game.
Devin Funchess is starting to heat up. The Panthers wideout has scored in each of his last two games with four end-zone targets over that span. But despite this surge in productivity, fantasy owners will want to downgrade Funchess this week. He draws a rough matchup against a very good Ravens secondary where he'll likely see a combination of Brandon Carr and Jimmy Smith. The Ravens used Smith to shadow last week but have also shadowed with Carr this season. Either way, it's tough to trust Funchess as anything more than a WR3.
Matchup stats to know
Running backs have run all over the Cardinals this season with average of 134 rushing yards and 1.4 scores per game. Of course, it would be easy if Matt Breida were playing, but this is why we can't have nice things. The 49ers will likely use a committee of Raheem Mostert and Alfred Morris in their backfield with Breida sidelined. Of the two, Mostert clearly has the higher ceiling. However, Morris has been the preferred goal-line back and is a good bet to vulture a touchdown. So if you're considering Mostert, it's best to view him as a flex option this week.
The Bengals have allowed over 100 rushing yards to four of the last five backfields they've faced. Running backs are averaging 5.1 yards per carry against Cincinnati, which is currently fourth in the league. Peyton Barber looks like he'll be able to suit up this weekend, so it's very risky to roll the dice on Ronald Jones in season-long leagues. That being said, Jones is in play as a DFS punt. Barber could be considered a flex option, but there's always the chance he reaggravates his injury.
When the Denver last faced Kansas City back in Week 4, their backfield put up 141 yards and two scores on the ground. The Chiefs enter the week as the No. 2 fantasy matchup for running backs and allow a massive 5.1 yards per carry to the position. With Royce Freeman banged up, Phillip Lindsay could be in store for a huge day on Sunday. Of course, on the other side of that matchup, the Broncos are second in the league with 5.5 yards per carry allowed to running backs. Expect Kareem Hunt to keep rolling.
The Saints are the only team in the league holding running backs to under 3.0 yards per carry. While Latavius Murray has been a fantasy monster over the last two weeks, it could be tough sledding in this contest. Temper your expectations Murray. He's best viewed as a mid-range RB2 this week.
Isaiah Crowell figures to see heavy volume this week, but it should be noted that the Bears have yet to give up a rushing score to running backs this season. Like with Murray, that doesn't mean you should sit Crowell. However, don't lose your mind if he doesn't put up a huge fantasy day.
Quarterbacks are shredding the Buccaneers this season. Through the first seven weeks of the season, Tampa Bay has allowed a league-high 18 passing scores and a massive 8.8 yards per attempt. Andy Dalton is coming off a down week on the road against the Chiefs, but it's tough to not like him in this matchup.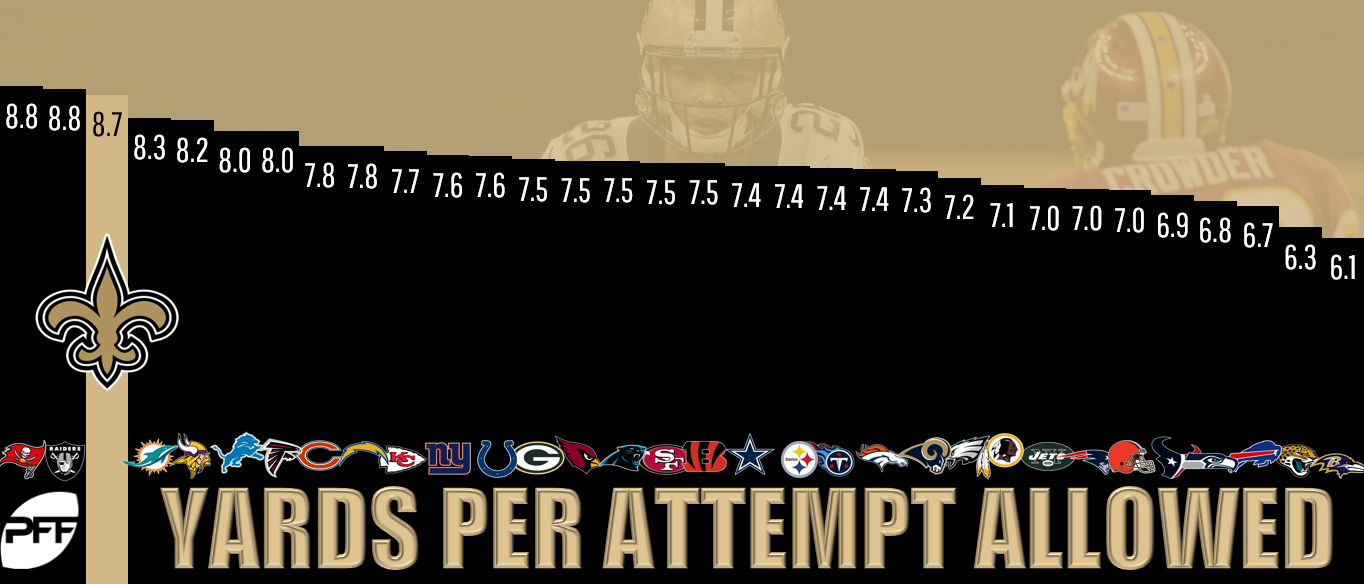 The Saints have done a decent job against the last three quarterbacks they've faced, but it hasn't exactly been a murderer's row with matchups against Joe Flacco, Alex Smith, and Eli Manning. This week, they face a much tougher task on the road against Kirk Cousins. New Orleans surrenders 8.7 yards per attempt and are one of just six teams to allow more than 300 passing yards per game. Cousins is a top-five play this week.
Andrew Luck has been the league's hottest fantasy quarterback over the last month and he's a good bet to continue to produce. Luck faces a Raiders defense that currently allows the second-most yards per attempt (8.8). Look for Luck to take advantage of the Oakland secondary and post strong fantasy numbers yet again this week.
It's tough to get behind starting Carson Wentz in London this week. He draws a brutal matchup against a Jags defense that surrenders just 0.9 passing scores per game. Jacksonville is the only team in the league under 1.0 for that metric. Fade Wentz if you can.
The Ravens surrender the second-fewest fantasy points per game to opposing quarterbacks with just 6.1 yards per attempt allowed. Cam Newton enters the week banged up with a shoulder injury and should be considered a downgrade in this matchup. Of course, a big part of Newton's fantasy value comes from his legs, so you may still be able to get away with starting him as a back-end QB1 if your other options are limited.
Tight end is brutal this season, but those looking for a streamer may want to consider C.J. Uzomah. He faces a Buccaneers defense that is the No. 1 fantasy matchup for tight ends with an average of 90 receiving yards per game allowed to the position. Tight ends have scored a touchdown against the Bucs in each of the last four weeks.
(READ MORE: Playing DFS in Week 8? Check out our tournament advice pieces for each of the main sites — Tyler Buecher on DraftKings; Tyler Loechner on FanDuel.)