With another week of action behind us, and some more fresh stats to analyze, I'm here to help you with your toughest fantasy football start/sit decisions for Week 8 of the NFL season.
Notes: If you don't see one of your players mentioned below, please refer to our rankings. Once we get to the "deep leagues" section, we'll only look at starts, because there's not much benefit in telling you to sit guys that deep at this point.

Shallow leagues
Start
Adrian Peterson, RB, Washington Redskins
Through two losses, Peterson averages 10.0 touches and 7.1 fantasy points per game. Through four victories, he averages 22.3 touches and 17.5 fantasy points per game. I think Peterson's going to continue being highly gamescript-sensitive, but maybe not this week with Chris Thompson questionable. At the very least, Washington is favored against the Giants, and efficiency should be good as well, after the Giants traded away the league's best run stopper in DT Damon Harrison.
Jarvis Landry, WR, Cleveland Browns
Landry has seen terrific volume to start the year, ranking as one of only four players to see double-digit targets in at least six games, but has only been somewhat productive. Landry ranks just 20th among wide receivers in fantasy points, despite ranking second in expected fantasy points. Like last week, this is another spot for Landry's efficiency to improve, against a Steelers defense surrendering the third-most fantasy points per game to slot wide receivers.
Phillip Lindsay, RB, Denver Broncos
Lindsay has led the Broncos backfield in touches in every game but Week 3 (when he was ejected). This week, he gets a Kansas City defense that ranks third-worst in yards per carry allowed and second-worst in fantasy points per game allowed to opposing running backs. With Royce Freeman seriously questionable for Week 8, Lindsay is somewhere between a low-end RB1 and a mid-range RB2 depending on Freeman's status.
Tyler Boyd, WR, Cincinnati Bengals
Boyd is coming off of a disappointing outing against the Chiefs (four targets, 27 yards), but I like his chances for a bounceback game this week against the Buccaneers. Tampa Bay is giving up the most fantasy points per game to slot wide receivers – where Boyd runs 71% of his routes – but the ninth-fewest to outside wide receivers.
Tarik Cohen, RB, Chicago Bears
As outlined here, Cohen's usage has been tremendous in recent weeks, making him a must-start until further notice. Yes, gamescript projects to be much better for Jordan Howard, and yes, the Jets have been tough against running backs. That's fine. As always, volume is king, and over the past four weeks of the season, Cohen is seeing mid-range RB1 numbers, and producing like it too.
Sit
Mitchell Trubisky, QB, Chicago Bears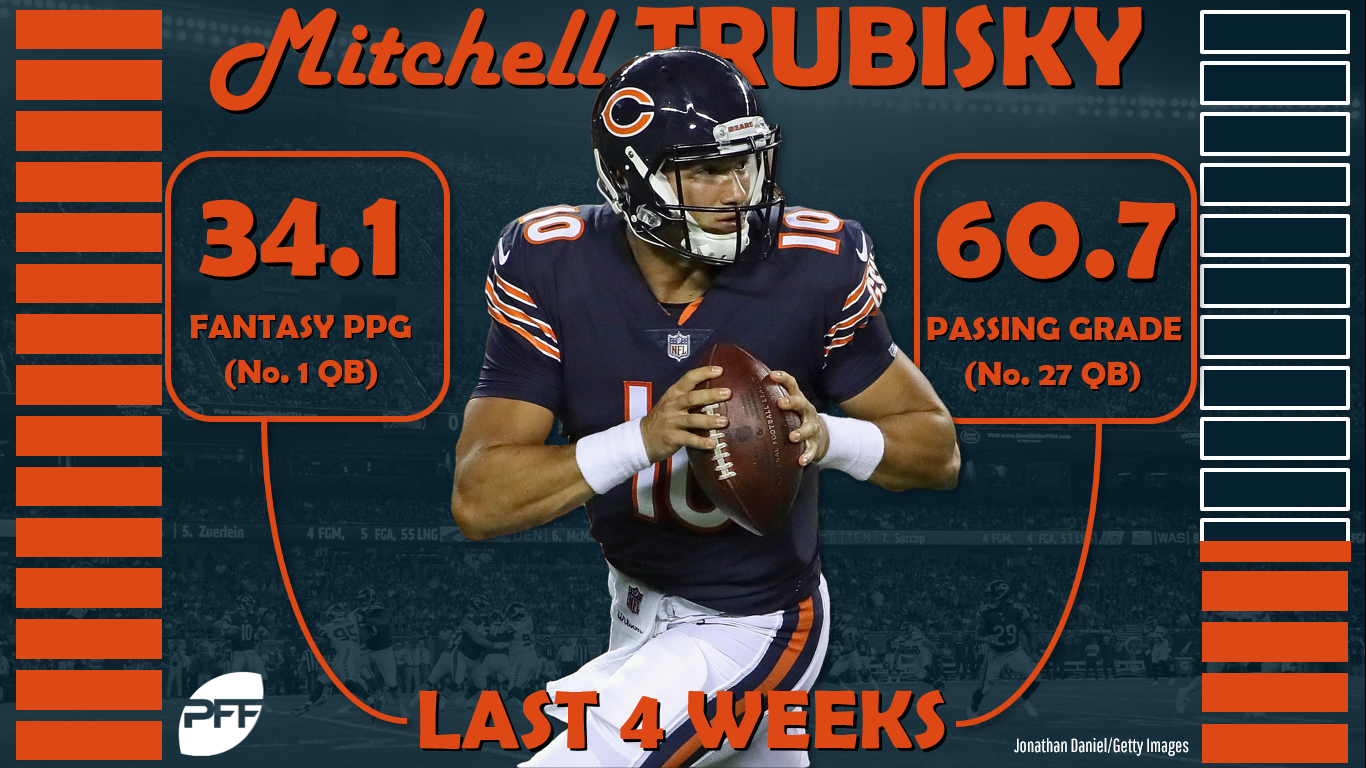 It'll be hard to bench Trubisky, but I'm not yet sold on him being a QB1. Yes, he leads all players in fantasy points per game over the past four weeks (34.1), but he also ranks only 27th in passing grade over that stretch. He benefited from a soft spot in the schedule and what feels like a fluky 181 rushing yards on only 17 attempts. I suspect he'll have a tougher go this week, as heavy favorites (7.0 points) against a Jets defense that quietly ranks fifth-best in opposing passer rating (84.5).
Alshon Jeffery, WR, Philadelphia Eagles
Jeffery has scored a touchdown and eclipsed 70 receiving yards in three of four games this year. He's not a sit exactly, but it is worth tempering your expectations this week. Jeffery projects to be shadowed by Jacksonville's Jalen Ramsey, our second-highest-graded cornerback a season ago. Given Ramsey's history in shadow games, Jeffery is worth bumping down to the mid-WR3-range.
Josh Gordon, WR, New England Patriots
Like Jeffery, Gordon isn't an outright fade. His volume has been too good and he's on one of the league's most potent offenses, but he does have an especially difficult cornerback matchup this week, projected to be shadowed by Buffalo's Tre'Davious White. Over the past two seasons, White ranks eighth-best of 86 qualifying cornerbacks in fantasy points allowed per route in coverage. This bumps Gordon down to the fringe WR2-range.
Nick Chubb, RB, Cleveland Browns
If you own Chubb, congratulations, he should be a mid-range RB2 for you moving forward. But he's probably more of a high-end RB3 this week. He totals just 13 receptions since 2015 (573 carries over this span), and as outlined here, the bulk of his fantasy value is going to come around the goal line. As 8.0-point underdogs this week, against a Pittsburgh defense that ranks sixth-best in yards per carry allowed, he's hard to get excited about.
Medium-sized leagues
Start
Will Fuller, WR, Houston Texans
Fuller has played in only six games with Deshaun Watson and without Keke Coutee. In those games, he averages a whopping 7.0 targets and 21.6 fantasy points per game. With Coutee out for Week 8, Fuller gets bumped back up to the fringe-WR2 range for fantasy.
David Njoku, TE, Cleveland Browns
Njoku has hit 50 yards receiving in four straight games. He's scored a touchdown in each of his last two games. He's seen between six and 12 targets in every game but one. Now, he gets set to face off against a Steelers defense giving up the third-most fantasy points per game to opposing tight ends. In a week with a lot of uncertainty at the injury-plagued position, he's a top option.
Lamar Miller, RB, Houston Texans
Miller saw 22 carries last week – a number he's reached only one other time since 2016. This came in a 20-7 win, with Deshaun Watson seriously banged up. This week, favored by 7.5 points against a Miami defense giving up the third-most fantasy points per game to opposing running backs, I like his chances of another big game.
Greg Olsen, TE, Carolina Panthers
Olsen totals just 53 yards and a score across his first two games back, but has seen good usage, playing on all but one snap and totaling 12 targets. He follows up an extremely difficult matchup against the Eagles, who rank second-best in schedule adjusted fantasy points per game to opposing tight ends, to face the Ravens, who have seen 29% of their passing yardage allowed go to tight ends (most in the league).
Sit
Aaron Jones/Jamaal Williams, RB, Green Bay Packers
Jones and Williams have been stuck in a frustrating committee for two years. Jones has reached double-digit targets just once over his last 10 games, and Williams has been less productive than Jones despite seeing more than double the carries. No matter how much we want, there's little reason to suspect more usage is coming for Jones, and little reason to get excited about either runner's chances this week as 9.5-point underdogs.
Sterling Shepard, WR, New York Giants
Shepard hit at least 20.0 fantasy points in his three softest matchups of the year, but averages just 8.4 across his four other games. He'll have an exceptionally difficult matchup this week, against a Washington Redskins defense that has given up the second-fewest fantasy points per game to opposing slot wide receivers. He's just a fringe WR3 this week.
Carlos Hyde, RB, Jacksonville Jaguars
Hyde is an easy fade in his first game with the Jaguars. Jacksonville is one of just four teams to have an implied point total under 20.0 this week, and Philadelphia ranks best in rushing fantasy points per game allowed to opposing running backs for the second consecutive season.
Marquise Goodwin, WR, San Francisco 49ers
Goodwin has topped 30 yards just once this season and hasn't eclipsed five targets in any game. Of course, he did score 29.1 fantasy points in Week 6. Goodwin will post the occasional monster game where he scores at least one long touchdown, but those games will be rare and hard to predict. The chances of one of those games occurring this week is especially low. Arizona ranks fifth-best in fantasy points per game allowed to outside wide receivers and ninth-best in fantasy points per game allowed to wide receivers on deep passes.
Kyle Rudolph, TE, Minnesota Vikings
Even in a brutal year for the position, Rudolph isn't posting TE1 numbers, and now he faces a New Orleans defense that ranks best in schedule-adjusted fantasy points per game to opposing tight ends for the second year in a row. He's just a high-end TE2 this week.
Deep leagues
Start
Doug Martin/Jalen Richard, RB, Oakland Raiders
On Wednesday, head coach Jon Gruden called Martin "a feature back." He also added that Richard "has carved out a unique role" and "we'll try to get more out of him than we have in recent weeks." In a post-Marshawn Lynch world, I'm bumping Richard slightly while viewing Martin as a less efficient Lynch – remember, Lynch ranked fourth-best of 27 running backs in elusive rating. Richard is averaging fewer than 2.0 carries per game but has averaged 6.5 targets per game over his last four games. As underdogs this week, I like Richard slightly more, ranking him as a mid-range RB2 to Martin's mid-range RB3.
Jordy Nelson, WR, Oakland Raiders
With Amari Cooper now out of the picture, I'm expecting a larger target share for Nelson, as well as more routes from the slot. Nelson has run the plurality – 40% of his routes – from the slot thus far, to Cooper's 33%. Since 2016, Nelson has been one of the league's top-20 most-efficient wide receivers when running routes from the slot, but ranks below average when running routes outside. This should help efficiency, as should the fact that his opponent this week (Indianapolis) ranks fifth-worst in schedule adjusted fantasy points per game to opposing wide receivers.
Nelson Agholor, WR, Philadelphia Eagles
It's admittedly hard to get behind Agholor, who has exceeded 45 receiving yards just twice and totals just one touchdown all year. Still, in this matchup, he's worthy of a flex play in PPR leagues. Jalen Ramsey should be expected to shadow Alshon Jeffery and Zach Ertz too could be in for a long day, considering the Jaguars rank third-best in fantasy points per game allowed to tight ends. Meanwhile, the Jaguars already rank below average to slot wide receivers, and now their starting and backup slot cornerbacks are likely to be out this week.
Vance McDonald, TE, Pittsburgh Steelers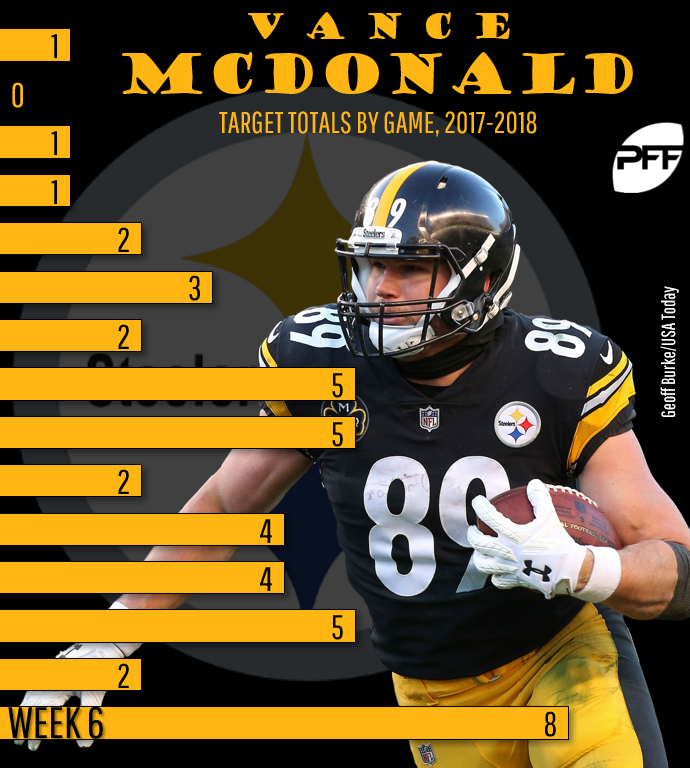 McDonald comes off of a career-high seven-reception performance against the Bengals to face a Cleveland defense without their primary tight end defender – Joe Schobert, our highest-graded coverage linebacker. In their first game without him last week, Tampa Bay's tight ends combined to catch 12 passes for 111 yards. I have McDonald as a low-end TE1 this week.
Danny Amendola, WR, Miami Dolphins
Amendola appears to be Brock Osweiler's favorite target, drawing a team-high 17 targets over the past two weeks. With Albert Wilson and Kenny Stills out for Week 8, volume should be good again. In a neutral matchup against Tyrann Mathieu in the slot, you can do worse than Amendola as a high-floor flex-play for PPR leagues.