We're back again with a look at trade candidates, fantasy football players you might want to add based on possible production heading into Week 8 of the NFL season.
This week's late-Sunday matchup between the Cardinals and 49ers may draw the least interest of any game this week from NFL fans, but fantasy success does not always follow real-life success. In fact, I've identified four sources of fantasy market inefficiency that provide opportunities to improve your team on the wire on in trades:
Future opponent tendencies
Limitations because of injuries or suspensions
Efficiency metrics that suggest likely gains or losses in opportunities
Affectations, or the artificial inflation or deflation of value because of fads.
With those in mind, here are my FLEA market finds for Week 8.
Future opponents
The 49ers have yet to win a game with Beathard under center this year, but he's acquitted himself pretty well from a fantasy standpoint. He threw a pair of touchdowns in each of his first three starts, and his 170-1-2 line on Sunday was to be expected against the Rams. He won't have to deal with another defense of that caliber over the next month. This week, he squares off against a Cardinals team that is more of a run booster than a pass booster, but then he enjoys consecutive home games against the Raiders and Giants, who are both top-five in allowing extra passing touchdowns. Beathard even draws a plus passing matchup in Tampa Bay in Week 12 coming off the bye. In medium and deeper formats, you can ride Beathard all the way to the fantasy playoffs. Just make sure you have other plans for then as the Seahawks and Bears should prove to be tough tests in Weeks 15 and 16.
Johnson has been far from a fantasy disaster, but as the No. 11 PPR back this season (behind four rushers who have already had their byes), he has failed to live up to his top-three draft status. Some of that has been the result of his inefficiency as a runner, but the bulk is owed to the difficulty of his circumstances. The Cardinals have been comprehensively bad on offense, and their schedule so far has been loaded with quality run defenses. Their previous matchup against the 49ers was their only game so far against even a neutral opponent for rushing touchdowns, and the Bears, Seahawks, Vikings, and Broncos all cut rushing touchdowns by at least 15% compared to an average team. Based on my projections, Johnson has lost the third-most PPR points because of the defenses he's faced this season.
Biggest Loss of Projected PPR Points for Defensive Opponents, RBs, Weeks 1-7
Player
Team
FanPts
Saquon Barkley
NYG
-8.0
Todd Gurley
LAR
-5.4
David Johnson
ARZ
-3.8
Jay Ajayi
PHI
-3.5
Adrian Peterson
WAS
-3.0
Chris Carson
SEA
-3.0
Kenyan Drake
MIA
-2.8
Isaiah Crowell
NYJ
-2.6
Peyton Barber
TB
-2.6
Dion Lewis
TEN
-2.4
Bilal Powell
NYJ
-2.2
Derrick Henry
TEN
-2.2
That schedule turns around starting this week in the rematch with the 49ers, and then it continues coming off the Week 9 bye with the Chiefs and Raiders. If Johnson is available for less-than-first-round value, try to trade for him now.
Limitations
Marshawn Lynch landed on injured reserve with his groin injury, and while that will justifiably start a race to acquire Doug Martin, Richard represents the better value proposition to me. The transition from Lynch to Martin is a downgrade from the third-most-efficient (104 Yards Added) back to the third-least (-53 Yards Added) back in football since the start of 2017. The Raiders have already struggled to stay competitive in their games, and Martin's likely lesser effectiveness will result in more snaps for the passing-down back Richard. Richard has been top-25 in football this year with 0.35 PPR points per snap. He was already second on the team with a 16.0% target share, and with the losses of Lynch and the traded Amari Cooper, nearly a quarter of the team's targets are up for grabs.
Raiders' Target Share Leaders, 2018
Player
Target Share
Jared Cook
19.6%
Jalen Richard
16.0%
Jordy Nelson
14.2%
Amari Cooper
13.7%
Martavis Bryant
9.6%
Seth Roberts
8.7%
Marshawn Lynch
8.7%
In PPR formats, Richard could ascend to the RB2 range with the elite fantasy third-down backs like Tarik Cohen and Austin Ekeler.
This Sunday night features a rematch of one of the most exciting playoff games from 2017 and recent memory between the Saints and Vikings. Thomas had an excellent fantasy day with 85 yards and 2 touchdowns, but that production was carried by a heavy target volume and touchdowns. I was actually nervous for his production in this rematch because when cornerback Xavier Rhodes defended him, he struggled to make catches and produce yards.
Michael Thomas in 2017 Divisional Round
vs Others
vs Rhodes
Tgts
5
9
Catch%
80.0%
33.3%
Yards / Tgt
7.8
5.1
Fortunately for Thomas and unfortunately for the Vikings, Rhodes sprained his ankle in the team's Week 7 win over the Jets. My assumption is Rhodes will be forced to miss the game on Sunday, and with fellow cornerback Mike Hughes already out for the season with a torn ACL, the Vikings will have to rely on a pair of backups to try to limit one of the scariest passing offenses in football. One matchup may not tip the scales of Thomas' rest-of-season value, but he's a nice DFS bet this week. Rookie Smith may be the better trade target. He doubled his previous career high with 6 targets in Week 7 with Ted Ginn now out of the season.
Efficiency trends
I doubt most fantasy owners buy into Trubisky's average of more than two passing touchdowns per game since nearly half of his seasonal total came in his six-touchdown effort against the Buccaneers in Week 4. But that isn't the reason you should consider acquiring Trubisky for your own fantasy squads. It's his efficiency as a rusher. With more than half a Yard Added per attempt, Trubisky is among the positional elites and even ahead of most of the quarterbacks you think of as dual threats like Cam Newton and Russell Wilson.
Most Efficient Rushers, QBs, 2017-18
Player
Carries / Gm
RuYards Added / Carry
Brett Hundley
3.6
0.61
Deshaun Watson
5.7
0.59
Mitchell Trubisky
4.2
0.53
Cam Newton
8.6
0.35
Russell Wilson
5.3
0.34
Marcus Mariota
4.3
0.26
Carson Wentz
4.4
0.19
DeShone Kizer
5.4
0.19
Dak Prescott
4.4
0.17
Tyrod Taylor
5.6
0.09
With 4.2 attempts per game, Trubisky is lagging a bit behind the positional leaders over the last two seasons. But he is up 1.5 attempts per game this year compared to last year (3.7 to 5.2). He should maintain or increase that number given his relative strength as a rusher and the Bears' excellent defense. That makes Trubisky a classic example of a quarterback more valuable in fantasy than in reality. He's a low-end QB1 for me.
We're just a month into the Baker Mayfield era in Cleveland, so it's probably too soon to know for sure which receivers he'll come to rely on. But the small sample trends suggest rookie receiver Ratley would be a better choice than either David Njoku or Antonio Callaway. Ratley has just two starts to his name, but he has already made 1.6 extra catches based on the expected catch rates of his targets. In contrast, Njoku and Callaway have made 3.5 and 5.2 fewer catches than expected, respectively. Both are among the positional leaders in drops. Ratley is a deep-league consideration at best for 2018, but he is an intriguing player to roster in dynasty formats where the rewards for hitting on a sleeper are much greater.
Affectations
Christian McCaffrey has been the focal player on the Panthers for fantasy, but new offensive coordinator Norv Turner has dramatically transformed the team's passing strategy, as well. Cam Newton is throwing the ball more than ever, but he is throwing the ball to shorter depths for a higher completion percentage.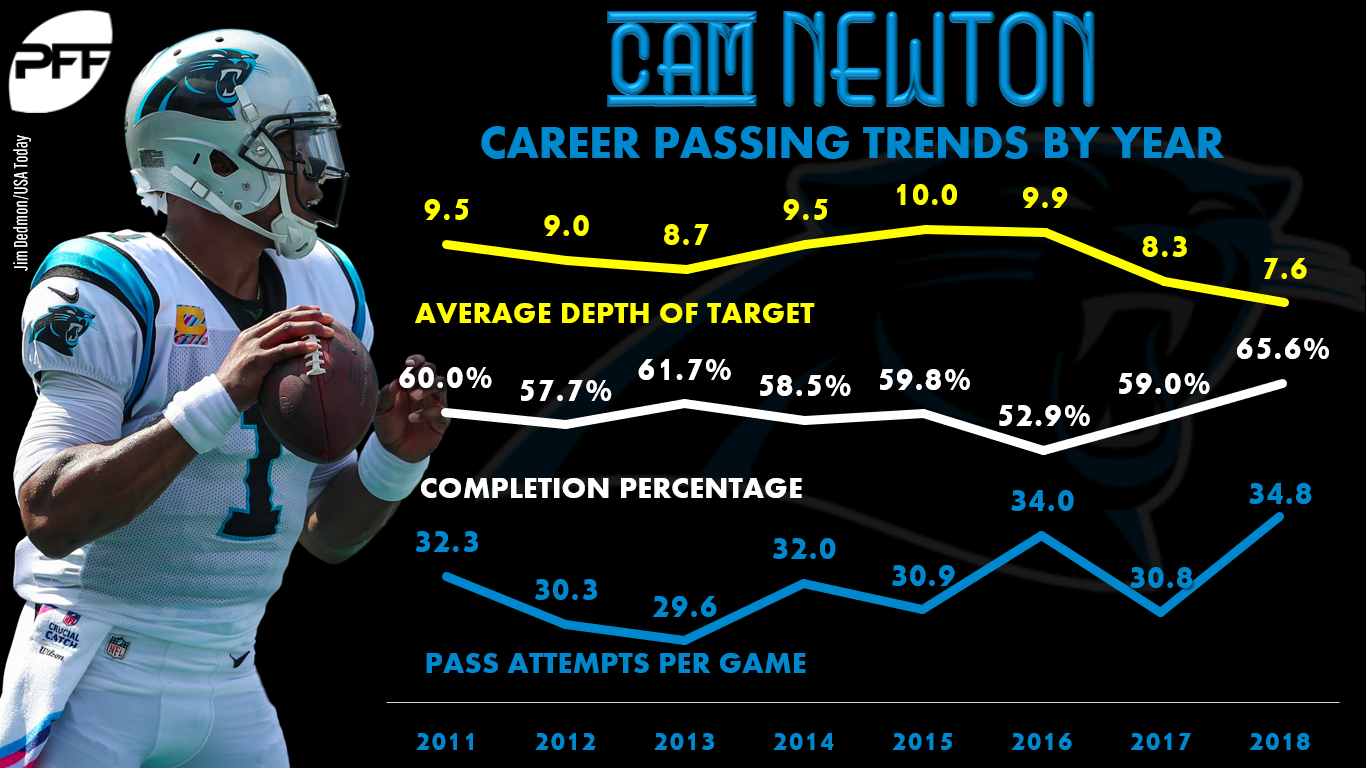 Obviously, McCaffrey has been the major beneficiary of that approach, but rookie Moore seems on the precipice of joining him. Moore's 8.2-yard average depth of target is five yards short of outside receivers Devin Funchess (13.0) and Torrey Smith (13.4), but his 10.6 yards per target is 2-4 yards better. Moore reminds me of Golden Tate after the catch and is a perfect fit for what the Panthers are doing offensively. He has seen a career-high five targets in each of his last two games, and while costly fumbles in the Panthers' Week 6 loss to the Redskins may have damaged his reputation, he has been a highly efficient receiver with 21 Yards Added on 15 catchable targets this season. I doubt he'll enter the WR2 conversation the way fellow rookie Calvin Ridley has for the Falcons, but I expect a target uptick that would land him in flex consideration.