This is our weekly look at fantasy adjustments you should make based on venue and/or weather. Entering Week 8 of the NFL season, knowing which players should see an improvement or decline in their projection can be a key to victory.
As we barrel toward November, game-time temperatures are starting to creep into ranges where they affect passing production. Add to that some possible rain and an extra road team this week with another Wembley game, and Week 8 may be the most venue and weather dependent yet this year. Elite subscribers can peruse my full list of venue and weather adjustments, and I'll touch on the most interesting of them here.
Sunday, 9:30 a.m. ET
The early kickoff time should be a clue that this game is in London, and that is mostly bad news for the fantasy value of the players involved, Sir Blake Bortles included. Essentially, it is a road start for both teams, and the forecast calls for sub-50-degree temperatures and moderate winds. Both of those elements hurt the passing game. In particular, the Eagles trio of fantasy stars Carson Wentz (-1.1), Alshon Jeffery (-1.4), and Zach Ertz (-1.4) are projected to lose more than a point even before you consider the Jaguars defense that cuts pass attempts by 10% and cuts passing touchdowns and promotes passing interceptions by 15% each. Wentz tumbles from my true-talent QB No. 4 all the way to 18th for the week. Jeffrey falls from eighth to 18th at his position and Ertz from first to fourth at his.
I actually do give Bortles a slight edge over Wentz for the week as my No. 14 fantasy quarterback. That isn't about London. Bortles' reputation is carried by one of his four starts abroad when he threw for 4 touchdowns and 0 picks against the Ravens early in 2017. Players have good games sometimes. Instead, it's about Bortles' propensity to produce for fantasy with his legs, which help insulate him from weather factors. Still, you can likely do better than both foreign signal-callers this week. Mitchell Trubisky (QB7), Derek Carr (9), and Jameis Winston (10) are all better options that may be available in your leagues.
Sunday, 1 p.m. ET
The weather looks a little spotty in a few spots back stateside, particularly in the Jets and Bears game in Chicago. The forecast there for the 1 p.m. start is for sub-50 temperatures and light rain. Trubisky (+0.9) counterbalances those concerns thanks to the home venue and because of his Bortles-like propensity to produce on the ground. The Jets also allow 20% more passing touchdowns than a typical team. He's safely in my top-10 at the position.
As much as I like Trubisky this week, the real fantasy winner of the potentially wet affair is Jordan Howard (+0.8). Playing at home already skews workload away from third-down backs like Tarik Cohen (-1.0) and toward early-down backs like Howard, and rain would exacerbate that shift. Even light rain reduces teams' pass/run ratios by half a percent. Moderate rain reduces it by nearly 5%. Even in PPR formats, I prefer Howard to Cohen this week. They are my 17th and 26th running backs, respectively.
With Bilal Powell landing on injured reserve and playing for a rookie-led team that likes to run the ball, Isaiah Crowell (-0.1) is my favorite back in this contest over the rest of the season. He just falls a bit short of that for this week, specifically. The Bears defense does it all. They limit pass attempts, passing yards and touchdowns, and rushing touchdowns and promote interceptions and fumbles. Even if the rain induces the Jets to go with an extreme run-focused strategy, Crowell may struggle to find success. I have him as a flex option at running back No. 22.
Finally, try to avoid wide receiver Robby Anderson (-0.9) in fantasy. Sam Darnold has broadened his focus from the early-season starts when he relied almost exclusively on short passes to Quincy Enunwa, but Anderson tumbles from my true-talent 29th receiver to 38th because of the venue, weather, and defensive opponent. He's only a consideration in deeper formats.
Monday, 8:20 p.m. ET
Predictably, the Monday night game in Buffalo rounds out the run of cold games this week. Current forecasts call for temperatures below 40 degrees all game. That's not exactly January in Foxboro, but Tom Brady (-0.9) has mirrored the overall temperature trends of quarterbacks in recent season. On average, he has thrown for 24 fewer yards and produced 2.3 fewer fantasy points in his starts with temperatures between 30 and 49 degrees than he has in warmer games.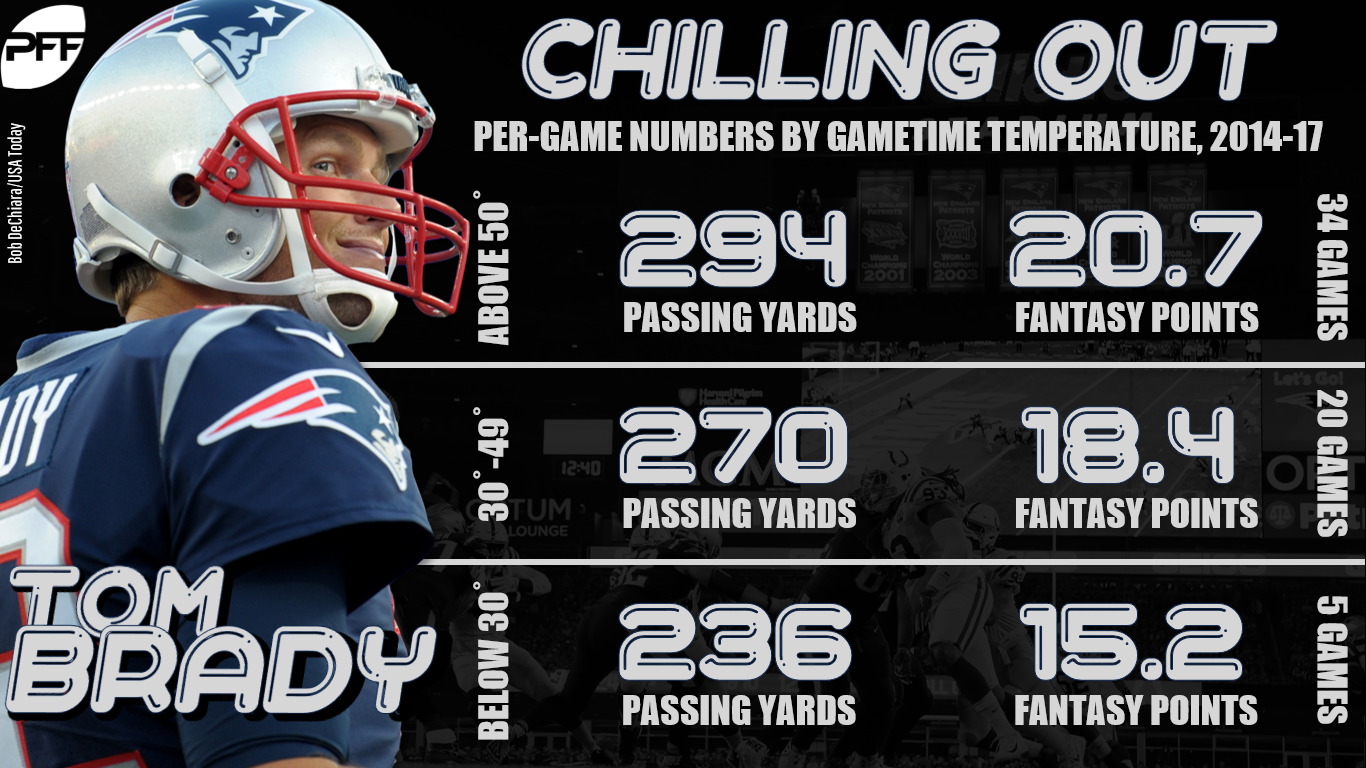 Add to that the fact that Buffalo cuts passing touchdowns by 25%. That puts them just between the Vikings and Jaguars as the second-stingiest defense for fantasy passing production and knocks Brady down even further from my true-talent No. 7 quarterback to QB16. Josh Gordon (-0.9) and Julian Edelman (-0.9) should also suffer and both land outside the top-40 among receivers. Rob Gronkowski hangs on to stay in the top-10 among tight ends as TE9, assuming he plays.
The Patriot I'm most excited to start is running back James White (+0.7). His projections go the opposite direction of fellow pass-catching back Tarik Cohen since he's on the road this week, and he may end up with an unusually large piece of the team's pool of carries with Sony Michel set to miss this start and likely more. I have him sixth at the position in PPR. Kenjon Barner (-0.2) likely won't have the same involvement in the passing game and so loses a bit on the road. Still, he's my 30th running back and is usable in a pinch as a flex option.