This season, we will be taking periodic stock of which teams are being attacked voluminously in specific areas due to a defensive imbalance. It's been about a month since we first looked, so as we head into Week 8 it's a good time to check for faltering, strengthening, or entirely new funnel defense trends.
The term "funnel defense" was coined several years ago by the esteemed Adam Levitan and has become common parlance among DFS players and other fantasy aficionados. It refers to defenses that are simultaneously soft in one area and stout in another. The resulting effect is offenses often funnel action toward the path of least resistance.
Let's begin with some pass funnels.
Everything was going according to plan on Sunday for the defending Super Bowl champions. On the verge of a two-game winning streak, they went up by 17 points at the end of the third quarter and were shutting out the Panthers. By the end of a 21-17 loss, the pass-funnel Eagles allowed Cam Newton to throw for 245 yards and a pair of touchdowns in the second half alone.
No team faces a higher situation-neutral pass rate than Philadelphia (69%), and as long as they keep trotting out the likes of Jalen Mills – our 104th-graded coverage cornerback – few teams deserve it more. Their eighth-highest-graded run defense allows the second-fewest yards per game (85.7). The Eagles haven't allowed many touchdown passes (10; eighth-fewest) due in large part to the overall strength of their defense. Only five teams allow fewer points per game. When it comes to perimeter pass coverage, however, their funnel reputation is well earned.
Week 8: versus Jacksonville Jaguars
There aren't many teams more poorly equipped to take advantage of the Eagles' specific vulnerability than the Jaguars. It's not that Jacksonville doesn't have quality perimeter pass-catchers – Keelan Cole and Donte Moncrief are plenty capable of holding a Mills roast. The problem starts and ends with the disaster behind center. Trust in Blake Bortles is almost certainly at an all-time low, despite public statements to the contrary and a sordid history of tall tales about front office faith in their quarterback.
Bortles was just benched at home for Browns castoff Cody Kessler – who is accurate enough, but doesn't have the arm strength to consistently challenge defensive perimeters. This fact, along with the challenge of running the ball on the Eagles, likely played into the seemingly harebrained decision to hand Bortles his job back. It also makes him mildly interesting for fantasy in Sunday morning's London game. In related news, Bloody Marys will be on the breakfast menu.
The 49ers got run on last week, allowing Todd Gurley a 4.2-yard average on 15 carries, and a 5.0-yard clip to Malcolm Brown on 13 totes. Of course, that happens to nearly every defense the Rams face. For the season, however, San Francisco surrenders the 24th-most yards per carry (4.0), and the 105 yards per game they allow on the ground is the 20th-highest average. On the other hand, the 49ers give up the fifth-highest passing touchdown rate, they have the league's lowest interception percentage, and they allow the sixth-highest passer rating.
Opponents throw against San Francisco at the third-highest situation-neutral rate (64%), and that's with only targeting Richard Sherman 10 times total in five games. His 19.8 snaps in coverage per target are a league-high, by far, and he's allowed a perfect defensive passer rating (39.6). If he is not again sidelined with a calf strain, we'll have an even better idea of where the action will be funneled.
Week 8: versus Arizona Cardinals
When he was in San Francisco for his first road start three weeks ago, Josh Rosen looked every bit the typical rookie quarterback surrounded by questionable talent and instructed by an offensive coordinator who should (and soon would) be at home playing Madden. Okay, perhaps not so typical. The good news is he's playing at home this time, and new coordinator Byron Leftwich – who coached under Bruce Arians when the Cardinals deployed a real NFL scheme – should give Rosen a better chance to succeed.
Last time Arizona faced San Francisco, the 49ers held them to a 2.4-yard average on 23 carries. Hopefully more creative play calling – also known as "not up the middle all game, dummy" – will help the running game. The path of lesser resistance, however, will be the slot and the non-Sherman perimeter – also known as the right side of the defense. It likely will not be to Ricky Seals-Jones against safety Jaquiski Tartt, who helped hold the tight end to a goose egg on five targets last game. Look to an increasingly healthy Larry Fitzgerald, coming off his most encouraging game of the season, to continue building momentum. Also, monitor Sherman's health, as his presence would further sharpen the pass funnel.
Opponents are throwing on the Saints at the ninth-highest rate when games are within one score this season (62%), but during the last month (67%; second-highest), it has spiked for good reason. New Orleans has our sixth-highest-graded run defense and allows, by far, the league's fewest rushing yards on a per-carry (3.1) and per-game basis (72.3). Their third-worst-graded pass coverage is allowing the third-highest passing yards per attempt and has the third-lowest interception rate. The Saints have allowed the second-highest opponents' passer rating.
New Orleans just traded for Eli Apple, who had been marginally better in his third season with the Giants, but still graded as only the 65th-best coverage cornerback. Although he should mercifully brush the pile of kindling known as Ken Crawley off the field, Apple will not force P.J. Williams out of the slot. That's a problem for the Saints. While Crawley ranks an embarrassing 109th among cornerbacks, Williams only sports the 96th-"best" pass coverage grade out of 112 qualifying cornerbacks. Pass defense remains the Saints' most glaring weakness.
Week 8: at Minnesota Vikings
The good news for the Saints is their 10th-highest-graded pass rush should gain traction against the Vikings' second-worst-graded pass-blocking. Wet paper bags think Minnesota's offensive line is flimsy. The bad news for the Saints is Kirk Cousins has deftly dealt with the ridiculous 133 pressured dropbacks by posting the league's third-best passer rating while under pressure (89.9). The even worse news for the Saints is Williams will be the primary burn victim of slot assassin Adam Thielen.
The Vikings are unlikely to spend much time handing off to Latavius Murray, as they are the fifth-most pass-heavy offense during the last month when games are close (67%), and we know how New Orleans funnels action to the air. Stefon Diggs will have Marshon Lattimore on his hands, perhaps in a shadow situation. While Lattimore remains a daunting foe and his game appears to be rounding into form after an uneven start, this looks like a prime chance to roster a premium wideout with muted DFS ownership in a likely shootout.
The Buccaneers have been a pass funnel all season, but it's taken a while for opponents to fully catch on. During the first four weeks, they faced a 57% situation-neutral pass rate, which ranked only 19th highest despite their pass coverage being the clear weakness of the defense. Since then, however, Tampa Bay has faced a 64% pass rate – which would rank third-highest for the full season.
It's not hard to see why opponents are finally attacking the Bucs' seventh-worst-graded coverage and league-worst-graded pass rush, instead of the ninth-best-graded run defense. They allow the ninth-fewest yards per carry and sixth-fewest rushing yards per game, while giving up the highest pass completion and touchdown percentage, most passing yards per game, highest passer ratting, and lowest interception rate. NFL rules allow handoffs against the Buccaneers, but offenses lose yardage whenever they don't pass.
Week 8: at Cincinnati Bengals
This entire game shapes up as a "fire all cannons" situation – assuming you don't have a Buccaneers running back cannon. Andy Dalton has been underwhelming since he started losing talented passing-game weapons, but Tampa Bay's defense is just what the doctor ordered to load some lead back into the red rifle.
Any of A.J. Green, Tyler Boyd, C.J. Uzomah, or Joe Mixon is a recommended play, offering DFS price tags at varying levels and a conveniently narrowed touch distribution – the fantasy silver lining stemming from various Bengals injuries. As has been the case with nearly every Buccaneers game, their opponents' ease of scoring will force them into an aggressive passing stance. Fantasy gamers can pick greedily from this matchup.
Run funnels
It's not so much that teams can't pass against the Bills, it's just easier to run on them. It's also hard to imagine Buffalo scoring enough to make taking many chances against them worth the risk. Their run-stopping grades seventh-worst. They have the sixth-best-graded pass rush and the 17th-graded coverage. Opponents are handing off against them at the 12th-highest rate when games are within one score, and the 12th-highest rate overall.
When the scoreboard tips against the Bills, which has been and will continue to be a frequent occurrence, offenses will try to trample them. It is what Colts running backs did last week to the tune of a 7.3-yard average on 30 carries. Andrew Luck threw four touchdown passes, but only had 23 attempts. He'd been averaging 48 pass attempts per game. This will likely be a common theme in Bills games.
Week 8: versus New England Patriots
Of course, this might not be a typical Bills game. Heading into Week 7, the Patriots were running at the league's 11th-highest situation-neutral rate (47%). Against the Bears, however, they had a 41% run rate as they lost lead runner Sony Michel to a knee injury. Their backfield currently consists only of pass-catching back James White and practice squad jockeys Kenjon Barner and Kenneth Farrow.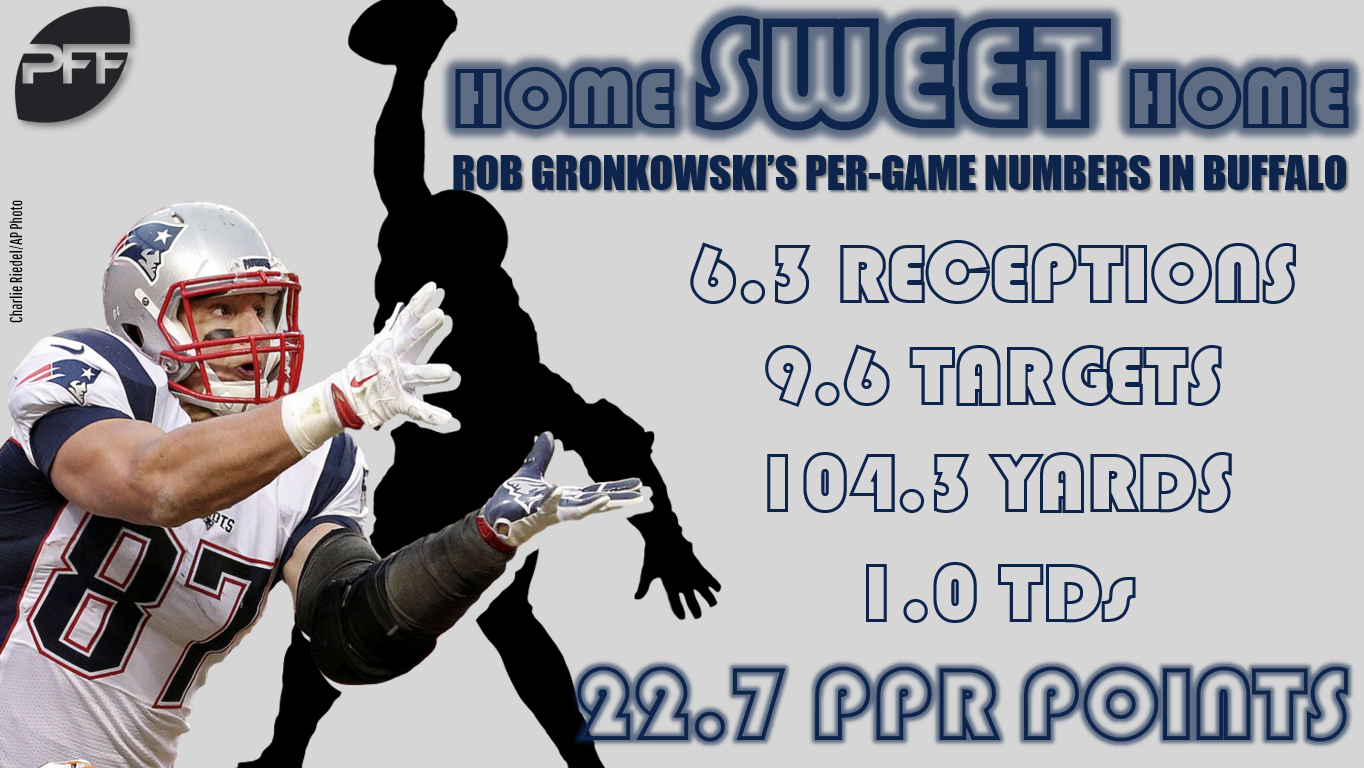 Not that the Patriots haven't made chicken salad out of worse backfields before, but there's a pretty good chance Tom Brady is busy on Monday night despite the Bills' run-funnel defense. Where New England's passes will funnel toward is always a tricky question, especially with Rob Gronkowski's uncertain health and Josh Gordon's integration into the offense. There's a good chance Tre'Davious White shadows Gordon, and an even better chance Gronkowski smashes if he plays in his hometown again – where he's averaged 6.3 catches, 104.3 yards, and a touchdown in seven career games.
Arizona Cardinals
No defense gives up more rushing yards — in total or on a per-game basis (148.3) – than the Cardinals do. Nobody has surrendered more rushing touchdowns (12). It makes sense they would get run on often, as their team has been a lifeless desert crater, and opponents are essentially grinding out leads as they're getting off the bus. Yet, even when games are within one score, the Cardinals face the league's second-highest run rate (50%). Their fourth-worst-graded run defense is a bulls-eye all game, while their 15th-graded pass coverage gets a reprieve.
Arizona is allowing only the 22nd-most passing yards per game and the fourth-lowest touchdown percentage. They have the seventh-most sacks (20) and opposing quarterbacks have posted the 18th-best passer rating. With Patrick Peterson seemingly satisfied with his place on the team once again, and a new offensive coordinator in place – hopefully one with a heartbeat this time – we may see the Cardinals rally a bit. They'll need to start stopping the run first.
Week 8: versus San Francisco 49ers
Whether or not Matt Breida glues himself together again and improbably hobbles onto the field, backup Raheem Mostert looks like an interesting fantasy option this week. Over the last two games, he's gained 126 yards on 19 carries (6.6 average) and will be involved in the game plan regardless of how long Breida holds up. Mostert is also proficient enough in the passing game, in case the game script heads south in this clash of heavyweights.
When C.J. Beathard does drop back, Peterson's presence helps narrow the Cardinals defensive funnel inward. He's lining up on each side at roughly the same rate, but rarely in the slot (2% of snaps). At the time of this writing, there is some ambiguity in the 49ers' receiving corps due to health. Pierre Garcon appears doubtful and Dante Pettis may return. Trent Taylor has a 73% slot rate and is the likeliest to face the physical interior coverage of Budda Baker, who he gave fits in the first meeting. Taylor and ascending tight end George Kittle – five catches for 83 yards in their last meeting – are San Francisco's safest receiving game bets.
The Lions bought Snacks for peanuts when they flipped a fifth-rounder to the Giants for the league's preeminent run-stuffer, Damon Harrison. They need all the help they can get for their run defense, which is allowing the third-most yards per game (139) and a league-high 5.3 yards per carry. Opponents are handing off against our eighth-worst-graded run defense at the highest-situation neutral rate (50%), and it's even higher during the last month (54%).
Whether Harrison alone is enough to put out Detroit's run-stuffing tire fire is another question. The Giants weren't impregnable on the ground either, allowing middling rushing yards-per-game and yards-per-carry marks, and grading only four spots better than the Lions. It also remains to be seen how this influences opponents from a pass/run perspective, as the Lions' pass defense is likely more "untested" than it is "unbeatable."
Week 8: versus Seattle Seahawks
It will be interesting to see if Harrison gets up to speed and into the lineup against the Seahawks – something the Lions are hoping for, considering Seattle runs at the league's fourth-highest rate during neutral situations (49%) and ranks seventh in rushing yards per game. While a lot more goes into playing interior defensive line in a new scheme than just "get in there and swallow linemen," Harrison's main role is squashing rushing attacks and swallowing offensive linemen.
If the Seahawks are forced to the air more often than they'd like, an increasingly healthy Doug Baldwin has an exploitable slot matchup against Nevin Lawson (our 57th-best-graded coverage cornerback) and/or Teez Tabor (98th-"best"). Darius Slay shadows on occasion (twice this season), but predominantly stays on the outside. That's not great for Tyler Lockett, but he too runs a significant handful of routes from the slot. The most likely scenario is the Seahawks remain a run-based offense, forcing us to decide if it's worth investing in a split backfield for what will likely be a low-play-volume game with a suddenly less certain run defense matchup.