When it comes to fantasy football, volume is king. We want players who generate the most targets and touches — more opportunities leads to more fantasy points. But not all opportunities are created equal.
End-zone targets, deep targets (20 yards or more), air yards and carries inside the 5-yard line are prime examples of high-value opportunities. We want players who have a command of their team's high-value touches because that maximizes their fantasy upside.
In PPR formats, an end-zone target is worth nearly double a normal target. Deep targets net 1.3 times as much. A carry inside the 5-yard line more than quadruples the rate of fantasy points on a normal carry. 
Identifying players with high-usage roles is critical to gaining an edge over the competition. That's why I've broken down the high-usage roles across all 32 NFL teams to unearth as much value as we can heading into the 2021 fantasy football season. 
ARZ | ATL | BLT | BUF | CAR | CIN | CHI | CLE | DEN | DAL | DET | GB | HOU | IND | JAX | KC | LVR | LAC | LAR | MIA | MIN | NE | NO | NYG | NYJ | PHI | PIT | SF | SEA | TB | TEN | WFT
Kenyan Drake was no stranger to seeing carries inside the opponent's 5-yard line. The ex-Arizona Cardinals running back's 21 rushing attempts inside the 5-yard line tied for the third-most in the league last season.
With him off to greener pastures in Las Vegas — Jon Gruden laid out some real cheddar — the goal-line duties look to be split in a three-way committee between Kyler Murray, Chase Edmonds and James Conner. 
Murray has a chance to see a Cam Newton-esque workload rushing the ball inside the 5-yard line if he emerges as the favorite. He and Drake were tied with six rushing attempts inside the 5-yard line before Murray's shoulder injury. 
Drake's goal-line carries didn't skyrocket until after Murray was banged up. He totaled nearly 72% of his goal-line attempts (15) starting in Week 11 — Murray only had two the rest of the way. 
Conner is the biggest threat to carve out the main goal-line role. Since 2018, Conner is PFF's second-highest graded (81.6) rusher inside the 5 (32 carries). His touchdown/first down conversion rate ranks third-best (62.5%).
Edmonds has one goal-line carry over the past two seasons, which doesn't bode well for his fantasy upside. Neither does the addition of second-round wide receiver Rondale Moore. The Purdue product's YAC-ability will attract targets close to the line of scrimmage, an overlap that will likely limit RB receiving production in Kliff Kingsbury's horizontal Air Raid offense. 
No RB saw a higher percentage of snaps from the slot than Edmonds in 2020 (26%). 
As for other high-value opportunities, there's not much in the Arizona offense. The departures of veteran wide receiver Larry Fitzgerald and tight end Dan Arnold adds up to the 10th-most vacated targets, but neither of those players was earning any type of premium touches.
Newcomers like Moore and free-agent signing A.J. Green are going to slide into the pre-existing roles, which doesn't leave a ton of room for upside. Fourth-year WR Christian Kirk should slide back into the slot — a more natural fit for his skill set — but that might not be enough to salvage his fantasy value.
Kirk ranked second on the team last year in deep targets, and he still finished outside the top 45 wide receivers in fantasy points per game. 
Simply put: Outside of DeAndre Hopkins and Murray, nothing is alluring about any of these Zona players in fantasy football. 
Calvin Ridley's dominant 2020 campaign was fueled by high-value touches. The superstar wideout finished first in air yards and second in end-zone targets. 
Although the pass-catching corps projects to be more crowded in 2021 with a healthy Julio Jones and No. 1-ranked rookie tight end Kyle Pitts, Ridley is the No. 1 option for fantasy football. Any hit to his 24% overall target share from last season will be balanced out by uber-efficient targets. 
Ridley finished last season first in target rate on 20-plus yard targets (58%) and fourth in target rate on pass attempts to the end zone (48%). Matt Ryan simply can't get Ridley enough high-value targets.
But if anyone is going to eat into Ridleys' share of precious end-zone targets, it would be the 6-foot-6 red-zone monster, Pitts. The stud from Florida led all of college football in end-zone target rate (59%) at the tight end position and was PFF's highest-graded receiver (94.6) on those targets. 
Last year, we saw Arthur Smith orchestrate an offense that heavily used tight ends — third-most fantasy points scored at the position — especially in the end zone. Jonnu Smith tied Corey Davis for the lead in team end-zone targets (10) while also ranking first in end-zone target rate (46%) at the tight end position. 
Pitts is going to hit paydirt a ton in 2021 and will ned to in order to pay off his costly ADP as the TE5. 
Ridley's target share was identical to Titans' WR1 A.J. Brown last season. Projecting Julio Jones to see a Corey Davis target share (20%) and Pitts a Jonnu Smith target share (14%) isn't too far-fetched. 
Todd Gurley's exit from the Atlanta Falcons' offense leaves nearly three-quarters of the team's goal-line touches up for grabs in 2021. Mike Davis looks to take over that role after he led the Panthers in goal-line carries a season ago.
Recall that Gurley was the RB6 through the first nine weeks of the season, averaging a rushing touchdown per game in Atlanta's high-powered offense. 
The Ravens' passing attack was completely reliant on Mark Andrews and Marquise Brown seeing the lion's share of high-value opportunities. Andrews finished sixth in team end-zone target share (39%, second-most at TE), and Brown finished with the league's highest percentage of a team's 20-plus yard targets. The speedy wideout commanded 50% of Lamar Jackson's deep balls (33). 
Unfortunately, these high-end market share numbers aren't likely to continue with the team's additions of veteran Sammy Watkins, 2021 first-rounder Rashod Bateman and fourth-rounder Tylan Wallace. Based on their productive college profiles, the two rookies have a non-zero chance of making noise in the Baltimore offense.
Bateman commanded a convincing 41% air yards share (sixth-best), and Wallace saw 50% of Oklahoma State's end-zone targets in 2019. 
J.K. Dobbins (43%) and Gus Edwards (39%) nearly split carries from inside the 5-yard line, but the former got the most run when the Ravens turned to him down the stretch. Dobbins earned 80% of the goal-line carries in his nine healthy games after Week 11, so we should expect him to reprise the role in 2021. 
Buffalo Bills WRs scored more fantasy points than any other team thanks in part to Stefon Diggs' blow-up season. The wideout finished third in total air yards and third in overall target share (29%). But the sneaky name to highlight is incoming second-year WR Gabriel Davis — his command of high-value targets was utterly impressive as a rookie.
The former UCF standout finished with just two fewer deep targets (26 versus 28) and posted an identical 25% end-zone target share to Diggs. He also posted a higher air yards share (19%) than established veterans John Brown and Cole Beasley.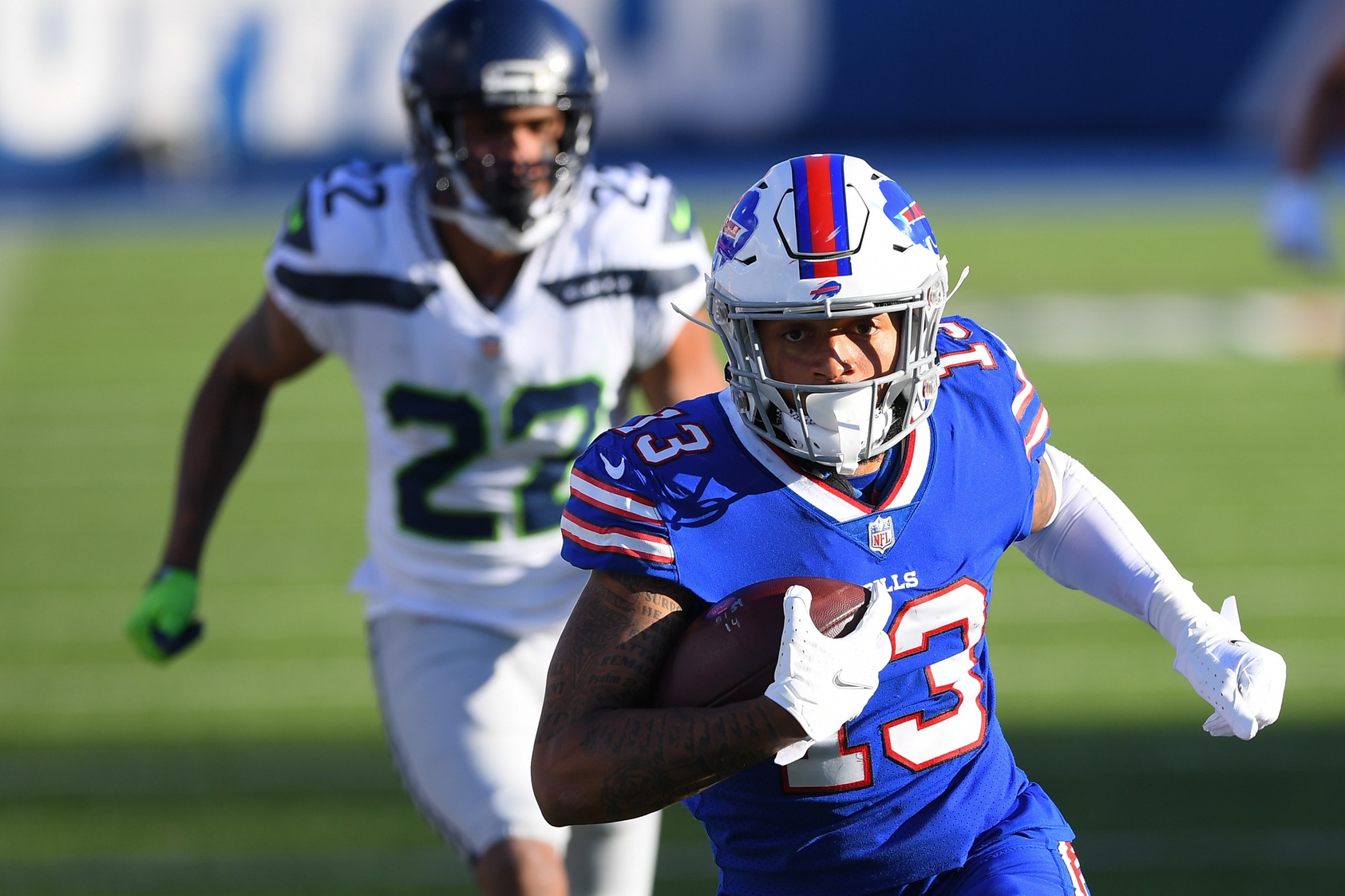 The addition of Emmanuel Sanders after Brown's departure will not hold Davis back. He's got a second-year breakout written all over him.
The consensus is down on Zack Moss because of how little the Bills utilize running backs. But we can't overlook the fact that Moss was banged up all last season and was the team's primary ball carrier when healthy at the goal line in 2020. 
Look past Moss' box score last season, and focus on the fact that he is going to be the lead back on a top-five NFL offense. More times than not, running backs in those situations produce for fantasy. Scoop up the discount. 
D.J. Moore and Robby Anderson cannibalized almost all of the team air yards and end-zone targets from a season ago (both finished top-10), so Curtis Samuel's absence from the offense doesn't necessarily create a pristine situation for rookie Terrace Marshall Jr.  
Carolina's top two WRs will continue to command the lion's share of air yards and targets, leaving Marshall's chance of a Year 1 impact on the shoulders of end-zone targets. Last season, passing to the end zone was a real issue for the Panthers' offense. Anderson and Moore saw a combined 18 end-zone targets but had zero end-zone touchdowns. Ex-Panthers' quarterback Teddy Bridgewater was PFF's worst-graded quarterback in the red zone (29.0). 
With red-zone woes a clear issue, Marshall provides a perfect fix. He ranks 12th in end-zone targets over the past two seasons, and his PFF receiving grade on those targets ranks fourth-best (93.5). He graded higher than former teammates Ja'Marr Chase (84.1) and Justin Jefferson (82.6) during their final collegiate seasons. 
Marshall is my dark horse candidate to lead the 2021 wide receiver class in touchdowns this season.  
The minute rookie quarterback Justin Fields hits the field in the preseason, Darnell Mooney's ADP will be sent to the moon. The former fifth-round pick flashed as a deep-ball threat last season, commanding an almost identical percentage of 20-plus yard throws as teammate Allen Robinson II (30% versus 29%). 
Fields finished second in passing touchdowns of 20-plus yards (29) and third in air yards percentage (71.2%) since the start of the 2019 season, showcasing his affinity to throw the ball downfield. 
The former Ohio State QB also ranked fifth in passing touchdowns on end-zone throws, which bodes well for Robinson. The Bears' No. 1 wideout earned a 35% end-zone target share last season (10th) but only hauled in 31% (21st) of passes thrown his way. 
Nick Foles and Mitchell Trubisky combined for a 48.6 passer rating when targeting the end zone last season, the fourth-worst mark in the league. 
It's a breath of fresh air for drafters to invest in Robinson this year knowing he's going to catch passes from the best quarterback he's ever played with. 
Get on the Cincinnati Bengals fantasy bandwagon. Upgrading from the aged A.J. Green to highly touted rookie Ja'Marr Chase is like going from zero to 100… real quick. Green led the Bengals in air yards share (31%) and end-zone target share (30%) but did little to nothing to translate his five-star opportunities to fantasy production. 
His 1.02 yards per route run (101st) and 7.0 fantasy points per game (92nd) tell the entire story. 
Bengals WRs finished fifth in total expected fantasy points, but due to Green's ineffectiveness, they ended with the most points scored under expectation. Because expected fantasy points are a better predictor of future production — especially when there's a clear scapegoat for why the team underperformed — this passing game can only improve in 2021 with Green out the door in favor of Chase.
Green was considered open on just one of his deep-ball targets last season. In 2019, Chase earned a near-perfect PFF receiving grade (99.0) on targets of 20-plus yards and totaled 24 receptions, 860 receiving yards and 14 touchdowns on deep targets alone.
A healthy Odell Beckham Jr. has a golden opportunity to prove all the haters wrong. He led the team in deep targets, end-zone targets and ranked sixth in the league in air yards before going down with a gruesome injury in Week 7.
Beckham saw more deep targets (12) than Jarvis Landry saw during the entire season (10). He also finished fifth in target rate on deep routes run (52%). 
With a lack of legitimate competition for high-end touches in the Browns passing offense between Landry, veteran Rashard Higgins, second-year WR Donovan Peoples-Jones and the one-trick pony rookie speedster from Auburn, Anthony Schwartz, OBJ is shaping up to be a fantasy value in 2020. Alpha WRs aren't readily available, let alone in the middle rounds of fantasy football drafts.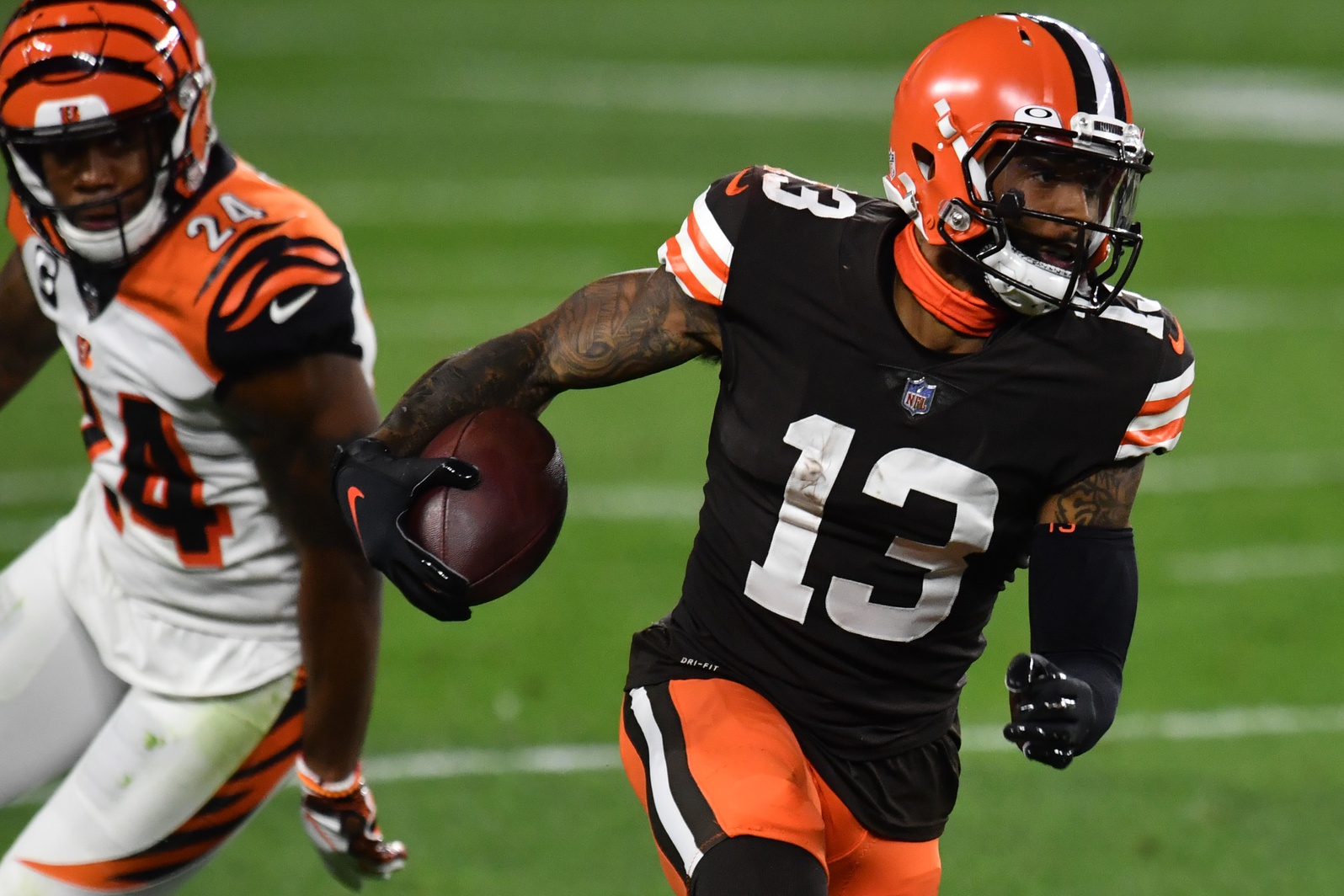 Tight end Austin Hooper is the only other candidate I could envision having a large role as an end-zone target. He finished last season second on the team in end-zone target share (18%). Browns tight ends collectively finished sixth in expected fantasy points, meaning there's more meat on the bone for production from that position in this offense. 
There's no doubt that Nick Chubb would be a top-three fantasy running back if Kareem Hunt wasn't in the fold. The split between the two backs ultimately limits Chubb's fantasy ceiling, most notably when it comes to carries at the goal line. Chubb is the primary option when healthy (11 carries inside the 5), but Hunt is hot on his tail (eight carries inside the 5).
Chubb is difficult to rank too high in fantasy for that reason, but the situation gives Hunt solid RB2 status that is rare to find from one team's backfield. 
Slot receivers don't usually rank highly in terms of deep targets. CeeDee Lamb's 28% 20-plus yard target share tied Michael Gallup for the team lead in 2021.
Even more shocking, Dallas' No. 3 receiver, Gallup, led the team in end-zone target share (32%) in front of both Lamb (26%) and Amari Cooper (21%). It's ironic that Cooper is viewed as the No. 1 receiver because of his team-leading target share (21%) — too few people are considering his share of premium touches in the Cowboys' offense.
Gallup's under-the-radar opportunities from a season ago are a reminder that he's a screaming value going several rounds later than his teammates. Lamb's share of high-value touches make him nearly as valuable as Cooper. 
Dak Prescott peppered Lamb with high-value targets before his injury. The rookie led the team in end-zone targets and hauled in seven deep balls from Prescott — more than all other Dallas WRs combined (six).  
Ezekiel Elliott finished second in the NFL in carries inside the 5-yard line, and that role alone is worth pure gold in fantasy football. All signs are pointing to this offense being explosive with Prescott back in action, so buying Zeke at the back of the first round is a discount too good pass. Even if backup Tony Pollard does see more touches after his impressive 2020 campaign, it's going to still be #FeedZeke when the team looks to punch its ticket into the end zone. 
All hail air yards king, Jerry Jeudy. The Denver Broncos rookie wide receiver finished seventh in total air yards a season ago, but alas only 59% were deemed catchable — the third-worst mark in the league. 
Luckily for him, Teddy Bridgewater is vastly more accurate than Drew Lock, so I'd expect the former to improve his receiving efficiency. Teddy B finished third in the league in adjusted completion percentage (80%) while Lock finished third-worst (68.7%). 
Jeudy's rookie season is eerily similar to that of Curtis Samuel's second season: tons of air yards and deep targets downfield but horrible quarterback play. Only 60% of the passes thrown his way were deemed catchable, which ranked 79th in 2019. Fast forward to 2020, and that rate rose to 86% (first) with Bridgewater at QB.
It's the perfect case study for backing Jeudy as a fantasy target in 2021. His rookie season gave us the opportunity, and the efficiency can only go up from here. 
One of the worst parts about Jared Goff's game is that he doesn't create high-value opportunities for his receivers. The Los Angeles Rams offense ranked 31st in end-zone passes and 29th in deep targets. So, really, the Lions aren't an offense that we should get too excited about outside of pure volume, albeit of the inefficient variety.
Detroit has the most vacated targets and air yards, which is at least great for TE1 T.J. Hockenson to see a massive boost in targets. The vast amount of opportunities also opens doors for D'Andre Swift to catch more passes — he's the team's second-leading returning receiver — in addition to ancillary receivers like veteran Breshad Perriman and rookie Amon-Ra St. Brown. 
Just be aware that many of these targets are not going to be of much value, so don't over-invest in Detroit receivers solely based on volume. 
Jamaal Williams also has a chance to see a bigger workload working in tandem with Swift. The ex-Packers back could easily seize Adrian Peterson's 52% of goal-line carries as the team's "A-back."
It's crazy but factual: Marquez Valdes-Scantling finished with more air yards than Davante Adams. OK, Adams missed a few games which lent MVS the slight edge when it comes to raw totals, but this guy has become a complete afterthought in fantasy football. His 31% team air yards share is on the same level as guys like Chase Claypool, Marvin Jones and A.J. Brown, and his deep-ball percentage ranked 15th in the NFL.
Green Bay drafted rookie receiver Amari Rodgers in this year's draft, but his style of play does not overlap at all with Valdes-Scantling. Rodgers played exclusively as the Clemson Tigers' slot wideout, leading the nation in receptions (68) when lined up inside. His claim to fame was turning short passes into yards after the catch, as he finished first in that category in 2020. MVS finished sixth in the league in deep targets. If anything, Rodgers' insertion into the offense will overlap with incumbent slot receiver Allen Lazard.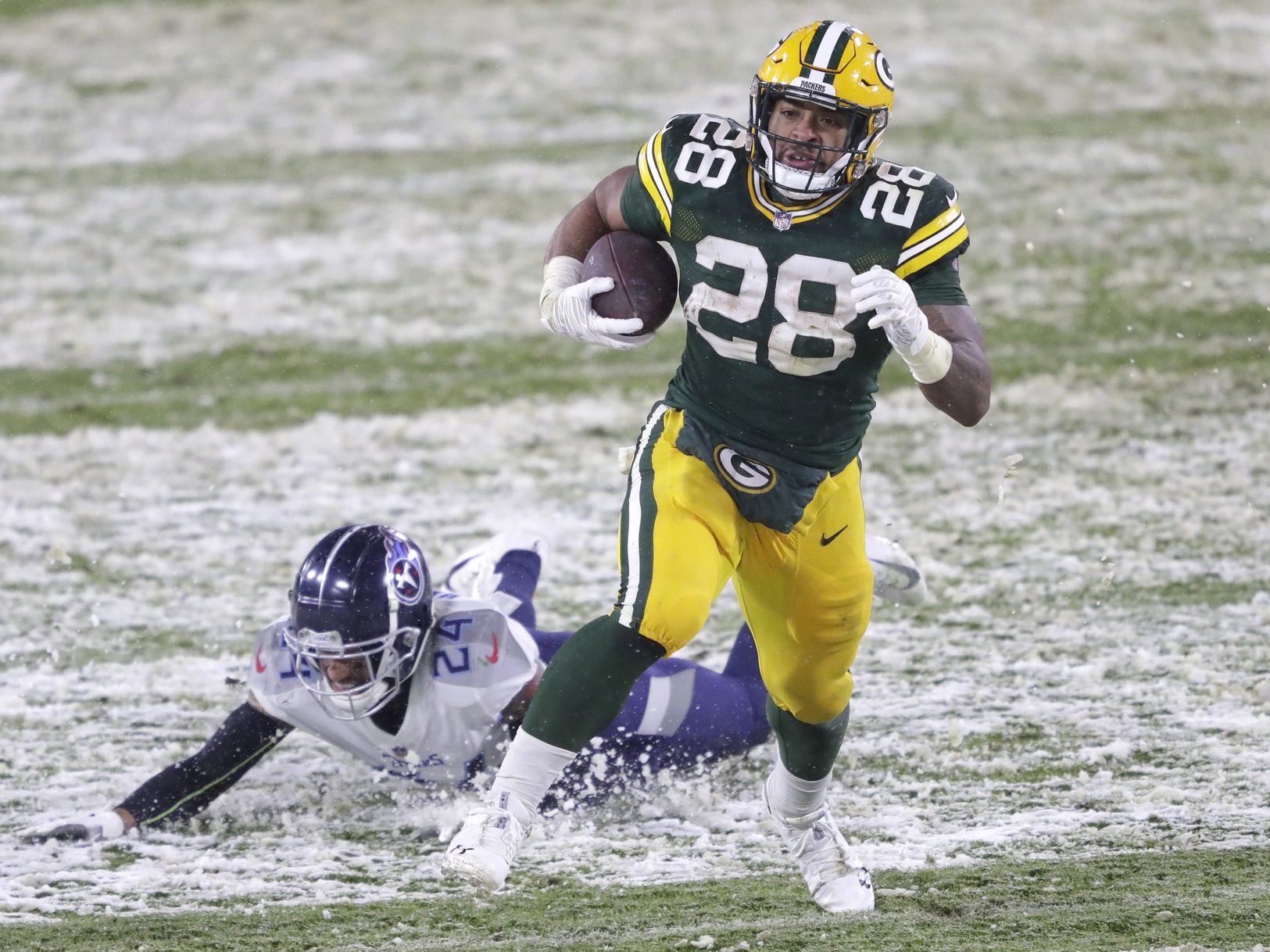 At the running back position, Jamaal Williams is out and A.J. Dillon is in as the team's RB2. Dillon's fantasy buzz came crashing down after Aaron Jones re-signed with the team, but it's fallen too far. Green Bay has a history of using two RBs, and Dillon could easily see a role at the goal line. Williams earned 38% of the team's goal-line carries in 2019, so Dillon should carve out a similar role. 
Houston ranks fifth in vacated air yards and fourth in vacated targets, creating a situation for an unknown player to make a splash. Brandin Cooks will presumably take on his role as the team's No. 1 after leading the team in air yards share (29%) and target share (22%) in 2020. 
But we want to know about sleepers that could emerge from this offense. I've got two in mind: rookie wide receiver Nico Collins and veteran tight end Jordan Akins. Keke Coutee and Randall Cobb are going to cannibalize each other's slot targets, leaving Collins to start on the outside opposite Cooks. 
Collins measured at 6-foot-4 and 215 pounds at his pro day — plenty of size to play on the outside at the NFL level. From 2018-2019, he finished second in contested-catch rate (63.2%), sixth in passer rating generated (120.8) and fourth in yards per target (18.2) among WRs in his draft class when targeted from an out-wide alignment. Collins also finished with 17 end-zone targets during his final season at Michigan. 
Akins is more of a stretch, but hear me out: Houston moved on from veteran tight end Darren Fells, who consistently forced himself into a timeshare with Akins. At 29 years old, Akins fits the archetype of a Darren Waller or Logan Thomas — an older tight end who breaks out well after their start in the NFL. 
But what could be most telling about Akins' potential is that he doesn't block — like, ever. His 24% block snap rate was the lowest percentage at the tight end position for any starter.
As weird as it sounds, Akins has the athleticism and opportunity to be the tight end who jumps from total disregard to fantasy starter. Last year, he set a career-high in PFF receiving grade (74.6), which ranked 12th in the league. Since 2018, he ranks sixth in YAC/reception (6.0) among all tight ends. 
And amid more competition last season in the Texans' offense, Akins finished third in end-zone target share (12%).
Maybe it's the summer fever getting to me, but I'm not afraid to call Akins my breakout tight end of 2021. 
T.Y Hilton is coming off his worst season to date — career-low yards per route run (1.68) — and at 32-years old he cannot be a player to target in fantasy football. We've only seen him function as a consistent producer with Andrew Luck under center, and No. 12 isn't stepping into the Colts' facility anytime soon.
But Hilton's losses are massive gains for other receivers in the Colts' offense because he had an extremely attractive role last season. The veteran receiver commanded a top-12 end-zone/air yards share with little competition around him. 
Fantasy gamers should fully expect Michael Pittman Jr. and/or Parris Campbell to eat heavily into Hilton's premium touches from a season ago. Pittman's rookie season was derailed by a serious calf injury, but we saw him deliver worthwhile fantasy performances later on. In Week 10, he caught seven balls for 101 yards. In the playoffs, he commanded a season-high nine targets and hauled in five for 90 yards. 
Campbell's career has been plagued by several injuries, but all signs suggest he is all systems go for 2021. He should take over as the team's starting slot receiver, which could be tantalizing for fantasy. New Colts' quarterback Carson Wentz loves the slot. He owns the fifth-highest target rate to the slot over the past two years. 
The Jacksonville Jaguars have the third-most vacated targets and fourth-most vacated air yards from last season, so embrace the Travis Etienne wide receiver hype across social media. He is going to be heavily involved in the passing game.
If anything, take advantage of the negative buzz and get ETN while he's discounted because no one thinks he's going to see 15-plus carries per game. *Spoiler*: His body of work at Clemson told us that was going to be the case at the next level.
The vast majority of available opportunities in the offense also gives me an excuse to talk about another sleeper: wide receiver Collin Johnson. The 2020 fifth-rounder is a 6-foot-5 monster and finished second on the team in end-zone targets (8) despite playing only two games with at least a 50% snap share. He also led the team in yards per route run (1.60).
Taking Johnson in the last round of a best-ball draft is a great way to differentiate your roster. 
Third time's the charm, right? The stage is set for Mecole Hardman to go nuclear in 2021 — all that remains is for him to execute because there's a golden opportunity for him to progress with Patrick Mahomes. Sammy Watkins is long gone, and Kansas City didn't heavily invest in anyone else at the position.
Hardman tied Travis Kelce in deep targets (18) a season ago, and only Demarcus Robinson out-paced him in end-zone targets among the Chiefs ancillary WRs. The third-year wideout has a chance to see additional high-end targets in 2021, which he needs to capitalize on because he's never going to see an abnormally large target share playing alongside certified studs like Tyreek Hill and Kelce.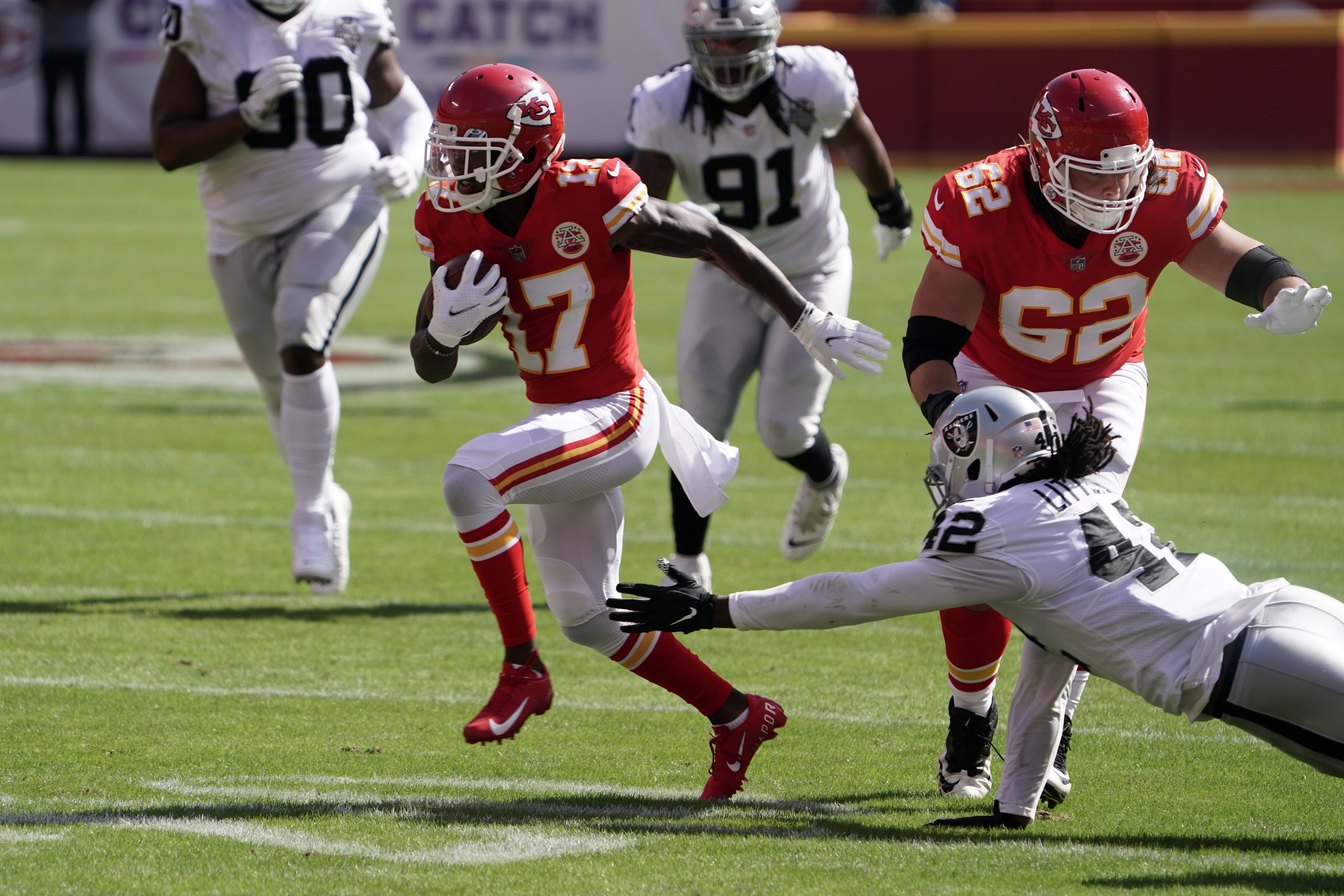 His passer rating generated when targeted (132.2) ranks No. 1 in the league among players with at least 100 targets. Hardman will have a chance to produce as long as he's connected to Mahomes.
Clyde Edwards-Helaire ran ice cold at the goal-line, which means his efficiency can only heat up in 2021. CEH was K.C.'s primary goal-line back to start the 2020 season, but he went 0-7 on his efforts to hit paydirt. 
The actual production is less important as we look toward the future — the fact that he got the carries to start last season bodes well for him to reprise the role. And with a revamped offensive line, fantasy players can expect some strong positive touchdown regression for the second-year RB. 
Nelson Agholor's 36% end-zone target share is the highest by any player who switched teams this offseason. He and Darren Waller actually combined for 64% of the Raiders' end-zone targets in 2020. 
With Agholor off to the New England Patriots, we should expect Waller to lead the team in end-zone targets in 2021. He's also likely to challenge for the top spot in terms of raw target share based on his 27% target share last season, which ranked fourth-best among all positions (No. 1 at TE). 
It's not clear who will step up behind him. Second-year wide receivers like Henry Ruggs III and Bryan Edwards seem like the most logical candidates for expanded roles. I lean toward Edwards as the bigger threat in the end zone. I'm not exactly high on Ruggs entering the 2021 season, and Edwards has the more requisite size at 6-foot-3 to be a force in the end zone.
Ruggs is much more likely to operate as the team's deep threat. As a rookie, he finished second on the team in deep targets (18) behind Agholor. Veteran John Brown shouldn't be forgotten, either. He's just one year removed from leading the Buffalo Bills in end-zone targets in 2019.
Regardless of preference, it's worth taking stabs on any of the Raiders' trio of wideouts late in drafts — somebody else will have to catch passes in the offense behind Waller. 
There's a real chance third-round rookie Josh Palmer makes some noise in Year 1. Last year's No. 3 receiver, Jalen Guyton, finished second on the team in 20-plus yard targets (20) and 13th overall in routes run. The former Tennessee standout is no stranger to hauling in deep targets. He was featured heavily downfield with a very high aDOT (17.1, 12th in 2020) at the collegiate level in addition to commanding a significant share of his team's end-zone targets (48%). 
The end-zone prowess should serve him well considering Hunter Henry and his 12 end-zone targets last season are no longer in the picture. If Palmer can ascend to the No. 3 pass-catcher role for Justin Herbert, he could quickly become a fantasy contributor. 
But the real value in the Chargers' offense has to be No. 2 receiver Mike Williams. The big-bodied wideout took home the high-value triple crown last season, leading the team in air yards share (29%), end-zone target share (27%) and deep-target share (37%).
Receivers that command such a high level of premium targets should not be available where Williams is being drafted. He has to be one of fantasy's best-kept secrets. 
Going from Jared Goff to Matthew Stafford will substantially elevate the fantasy production of all the Rams' pass-catchers. As mentioned, Goff never gave his offensive personnel high-value targets. Case in point, Robert Woods and Cooper Kupp each only saw five end-zone targets last season. They also both ranked outside the top-45 in team air yards share.

Despite this, each finished as a solid WR2 option in fantasy. With Stafford entrenched as the starter, the days of Woods and Kupp being viewed as safe-floor options are long over. This year, they're going to be dangerous. 

The Lions under Stafford finished seventh in end-zone pass attempts, third in team air yards and 11th in deep-ball attempts. These are all dramatically differing than what Goff delivered a season ago. The only receiver Goff would seemingly ever offer deep target or pass into the end zone was Josh Reynolds. 

With Reynolds and Gerald Everett removed from the offense, we can't look at the Rams' WRs like we did in 2020. Stafford should provide way more fantasy-friendly targets to Woods, Kupp, DeSean Jackson, Tutu Atwell and Van Jefferson. 
Will Fuller V is going to take Tua Tagovailoa's deep-ball to the next level. The ex-Texans receiver graded out as PFF's fifth-best receiver on 20-plus yard targets. Last year, Tagovailoa was forced to throw deep to a combination of DeVante Parker and Preston Williams — two receivers that graded outside the top-50 on deep targets. 
Miami doesn't stand out as an offense that would rank top-four in carries inside the 5-yard line, but that's exactly where they finished. Myles Gaskin led the team in goal-line carries (10) when he was healthy — he's due for some serious touchdown regression after scoring just thrice on all of his rushing attempts inside the 5-yard line.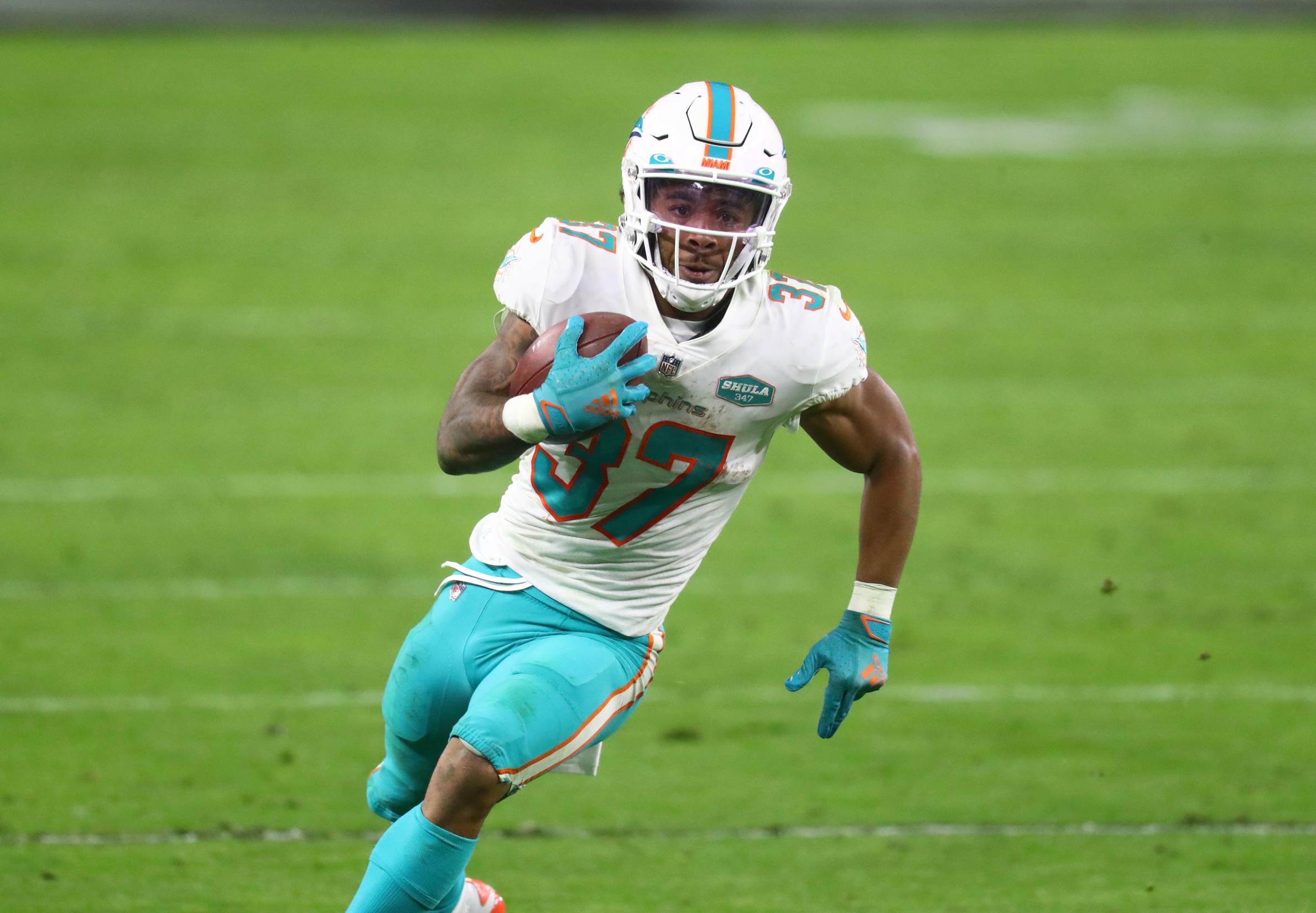 Newly acquired running back Malcolm Brown vulturing touchdowns presents some risk, but Miami has shown a commitment to Gaskin that should give fantasy gamers confidence the team won't roll out the plodder.
Miami tried that a season ago with Jordan Howard, but the team cut him in November. 
Find somebody that looks at you the way Kirk Cousins looks at Adam Thielen in the end-zone. Cousins targeted Thielen 25 times in the end zone last season — a mark that ranked No. 1 in the NFL. The raw total is impressive, but it doesn't compare to Thielen's 49% end-zone target share — nearly half of Cousins' end-zone throws were to Thielen. 
No wonder we saw Captain Kirk toss a career-high 6.8% touchdown rate. The issue here is that whenever QBs throw for career-high TD rates, they almost always regress the following season. 
But an expected drop in TDs won't stop me from going all-in on Justin Jefferson, who commanded all remaining high-value targets. The rookie finished the season fifth in air yards share (36%) and eighth in deep-target rate (39%). If Jefferson can capture part of Thielen's stranglehold on the team's end-zone targets, he could be even better than last year.
The additions of Nelson Agholor, Hunter Henry and Jonnu Smith are going to help the New England Patriots offense tremendously next season. Last year, no team had fewer fantasy points scored by WRs and TEs collectively than the Patriots.
The offense was a fantasy wasteland for pass-catchers outside of Jakobi Meyers. The second-year WR stepped up when inserted into the team's starting rotation. The former undrafted free agent led the team in air yards share (30%) and deep target share (29%). But the No. 1 receiver role isn't likely in Meyer's grip next season. 
Expect Agholor to capture the pseudo No. 1 WR role after he showed out in Las Vegas. The often-ridiculed and drop-plagued receiver was an air-yards and end-zone target monster, finishing top-12 in both categories. 
Damiere Byrd's absence from the offense vacates even more air yards for the taking — eighth-most post-free agency — and trade rumors swirling around N'Keal Harry create the potential for Agholor to take on a massive role in the end zone. Harry's 29% end-zone target share ranked No. 1 on the team in 2020. 
Agholor has a prime opportunity to put up fantasy production in the revamped New England offense.

As for the premium touches near the goal-line, it all depends on who is under center. If Cam Newton is QB1, the fantasy value of all the New England running backs takes a massive hit. Newton's 21 rushing attempts inside the 5 ranked third in the league. 
If Damien Harris or Rhamondre Stevenson is to ascend to reliable fantasy status, they need Mac Jones under center. Jones doesn't run or scramble, so the running backs will see more touches near the goal line in addition to more passes out of the backfield. 
Jones is the skeleton key that would vault the Patriots' backfield into the RB2 conversation. Considering their entire unit finished 11th in total fantasy points last season, there's sneaky value to be had up in New England. 
Get ready for the Michael Thomas show. The Saints' No. 1 wide receiver led the team with four end-zone targets in his healthy games from Weeks 10-14 and through the postseason. Half of Thomas' end-zone targets came from Jameis Winston. 
The Saints don't currently have much of a supporting cast of receivers behind Thomas, and they only added seventh-rounder Kawaan Baker in the 2021 draft. Sure, there can be arguments made for the likes of Tre'Quan Smith, Marquez Callaway or Deonte Harris (my favorite of the bunch) as potential sleepers, but the sharp move is to look at the tight end position. 
Jared Cook's absence is huge for second-year TE Adam Trautman, as the veteran TE has led the team in end-zone targets the past two seasons. Touchdowns are essential for tight ends to be fantasy relevant, and those opportunities give Trautman a chance to break out in Year 2. 
Trautman flashed his receiving ability during his rookie season, leading all tight ends in catch rate (94%) and finishing third in yards after the catch per reception (7.7). 
When former fifth-round pick Darius Slayton leads the team in end-zone target share (31%, 13th overall), air yards share (34%, ninth) and deep-target share (42%, fourth) there's bound to be problems with the offense. That's how things played out for Daniel Jones in Big Blue last season, and the poor results (12 total touchdowns) speak for themselves.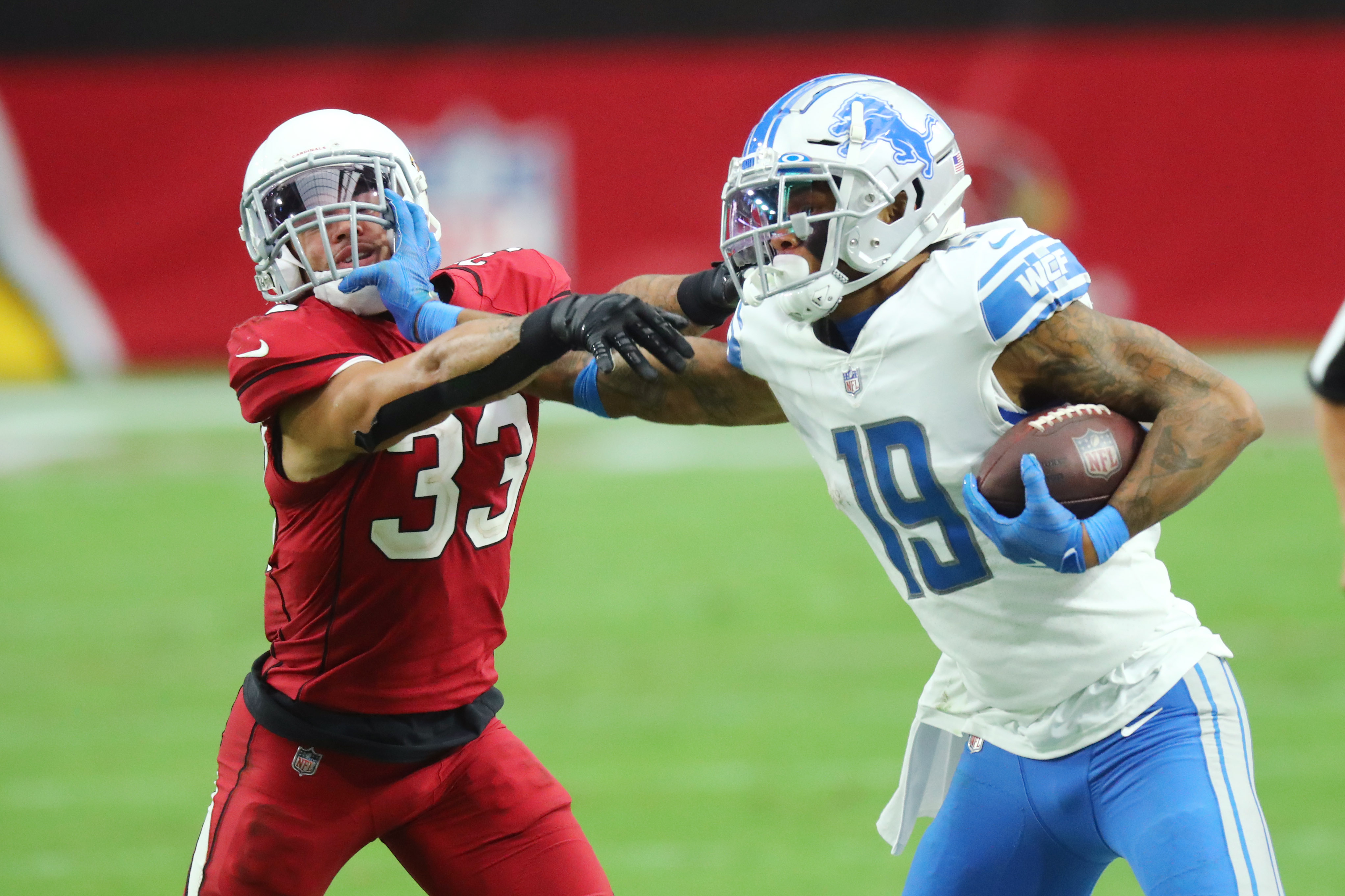 Adding Kenny Golladay to the mix in place of Slayton is going to change the entire dynamic of this offense — for the first time in his career Jones will have a proper No. 1 on the receiving end of his premium passes.
If you're going to bet on any position group taking a leap for the New York Jets, bet on the wide receivers. The RB and TE positions saw little to no opportunity, each ranking outside the top-30 in expected fantasy points. But the teams WRs ranked 15th in expected fantasy points — they just failed due to the ineptitude of the Jets' offense. 
The team lost Breshad Perriman, who commanded the most 20-plus yard targets and air yards on the roster. Free-agent signee Corey Davis looks slated to take on that perimeter receiver role after his career year in 2020. He finished the 2021 season sixth in yards per route run (2.46), eighth in PFF receiving grade (85.6) and 25th in fantasy points per game (14.2).
Rookie Elijah Moore and second-year wide receiver Denzel Mims should also get a crack at capturing some of New York's high-value opportunities, making all Gang Green receivers great selections in the late rounds of best-ball fantasy drafts. 
Moore's aDOT from the slot (10.8) is the third-highest among draft prospects dating back to 2019. Mims finished second on the Jets last season in air yards share (17%) and deep targets, despite playing in only nine games. 
And last but surely not least, tight end Chris Herndon bounced back season. The Jets tight end broke our hearts last season after Adam Gase regulated him to pass-blocking on more snaps than any other tight end, but there was a silver lining to this 2020 campaign. He led the Jets in end-zone target share (19%). Don't quit him yet. 
It's a shame the Philadelphia Eagles couldn't get things worked out for Travis Fulgham, because the kid was absolutely balling. The former sixth-rounder led the team in air yards share (18%), deep-target share (18%) and end-zone target share (22%) last season. With him likely being replaced by first-round rookie pick DeVonta Smith, our only hope for Fulgham is a trade to another team. 
Last year's first-rounder, Jalen Reagor, ranked behind Fulgham in all the high-value opportunities, and that bodes well for his future outlook even as an entrenched No. 2 weapon opposite Smith. Reagor was never destined to be a true No. 1 receiver in the NFL, so his fit alongside another talented WR will be good for his fantasy value. An insane target share won't be there for Reagor, but there will be plenty of splash weeks fueled by a plethora of air yards to keep fantasy managers pleased.
Say what you'd like about Ben Roethlisberger's washed-up arm, but make no mistake: He gave us three relevant fantasy WRs a season ago, and that's no easy feat. Cumulatively, Pittsburgh WRs finished first in total fantasy points scored and second in expected fantasy points scored because of the plethora of high-value targets.
Rookie standout Chase Claypool led the NFL in deep targets (42) and finished fifth in total air yards (1,825). A healthy Diontae Johnson finished second in expected fantasy points per game (18.5) in his healthy games. 
JuJu Smith-Schuster tied Claypool for the team lead in end-zone target share (22%), but that mark ranked outside the top-40 league-wide. The Steelers' slot WR's lack of premium looks compared to his teammates makes him a much less appealing option for fantasy. 
Meanwhile, both Claypool and Johnson provide great upside assuming their roles change much from a season ago. 
The major issue with the 49ers this offseason has been trying to project the team's target shares with Brandon Aiyuk, Deebo Samuel and George Kittle all healthy. But we are overlooking the fact that S.F. lost a huge chunk of targets/air yards from lesser players like Kendrick Bourne, Jordan Reed and Jerick McKinnon. Their departures don't move the needle individually, but they add up. 
The bigger concern from the offense as a whole is a downgrade in total passing attempts with a mobile rookie quarterback under center. First-round pick Trey Lance rushed for over 1,000 yards in college and attempted fewer than 20 passes per game in over half of his college starts.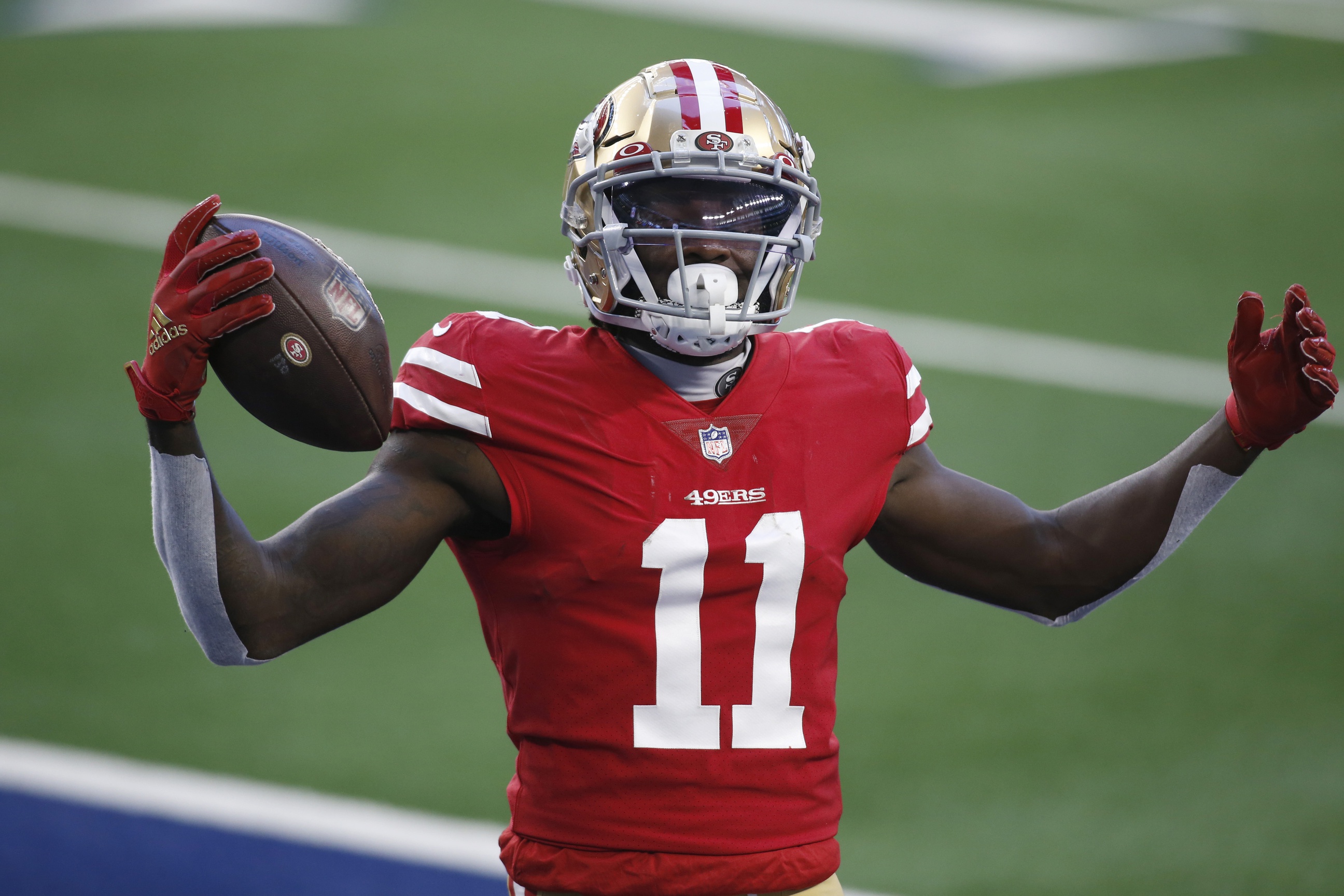 There are going to be fewer targets, making the high-value touches even more precious. In that scenario, Aiyuk is likely the main beneficiary due to his commanding lead on high-value targets in 2020. His air yard share (27%), deep target share (33%) and end-zone target share (28%) all ranked first on the team.
Samuel could be the one most negatively impacted by a mobile QB under center, as his low aDOT (2.2) could become completely eradicated by designed quarterback runs.
D.K. Metcalf posts gaudy fantasy numbers weekly because the vast majority of his targets are extremely valuable. Finishing second in air yards and fourth in 20-plus yard targets will make up the difference in any low-volume passing attack. It's also what separates him from Tyler Lockett as a fantasy commodity.
Seattle's dynamic duo commanded nearly identical target share numbers a season ago (25%), but Metcalf had the edge with his superior deep-target totals. Interestingly enough, the two players combined for nearly 50% of the team's total end-zone targets, and several more will be up for grabs with the departures of David Moore (9), Greg Olsen (8), and Jacob Hollister (6). That's an area of the field that we could definitely see newly acquired tight end Gerald Everett carve out a nice role. 
No team threw more into the end zone more than Seahawks last season, which is a full-blown reversal from Everett's experience with the Rams.
Projecting the Tampa Bay Buccaneers wide receivers is extremely tough because their targets became flat across the board once Antonio Brown joined the squad. But if we turn to the team's leaders in high-value targets, the results offer an inkling of how to evaluate each player from an upside perspective. 
The major finding is that Mike Evans and Rob Gronkoswki were Tom Brady's top guys in the end zone. The duo combined for 50% of the team's end-zone targets. But the love didn't stop there for Evans (sorry, Gronk). Tampa's No. 1 wide receiver also served as the team's primary deep threat, finishing the season ninth overall in deep targets. 
From a target share perspective, Godwin should be the No.1 option based on last season's distribution. But we can't ignore Evans' dominating presence when it comes to premium touches. His target share was 19% last season, which isn't elite by any stretch but was still serviceable enough for him to finish as the WR16 in points per game. 
With Evans' targets unlikely to increase and his efficiency basically maxed out, his current WR15 ADP is priced at his fantasy ceiling. 
The Tennessee Titans have the third-most vacated end-zone targets, second-most vacated air yards and second-most vacated targets entering the 2021 season. Ergo, A.J. Brown has the realistic shot of seeing 160-plus targets and establishing himself as the bona-fide No. 1 WR overall in fantasy.
We got a glimpse of Brown's true upside toward the end of the 2020 season when he commanded a 35% target share and put up 19.9 fantasy points per game — fourth-highest at the WR position.
Still, Brown won't be seeing all the targets in the Titans' offense. Tight end Anthony Firkser is bound to get in on the fun. He was a glorified slot receiver last season (71% slot snap rate), and his target rate on slot snaps was off the charts (80%), ranking first at the tight end position. Firsker was also extremely productive when given chances. 
In the two games last season that Jonnu Smith saw a sub-50% snap share or missed entirely, Firkser averaged 17.7 fantasy points per game. Smith actually had the No. 1 in end-zone target rate (46%) among NFL TEs in 2020, which bodes well for Firsker as he transitions into the TE1 slot. 
Josh Reynolds fits the mold as the team's next deep threat to help replace Corey Davis. Despite being the Rams' No. 3 receiver, Reynolds led L.A. in air yards share (23%) and deep targets (15). 
The Washington Football Team went from an extremely concentrated passing offense between Terry McLaurin and Logan Thomas to a somewhat crowded room with the addition of talented pass catchers. Former Panthers receiver Curtis Samuel figures to slide right into the slot, while third-round rookie pick Dyami Brown looks primed to set up on the perimeter opposite McLaurin after imposing his will as one of college's football best deep threats the past two seasons.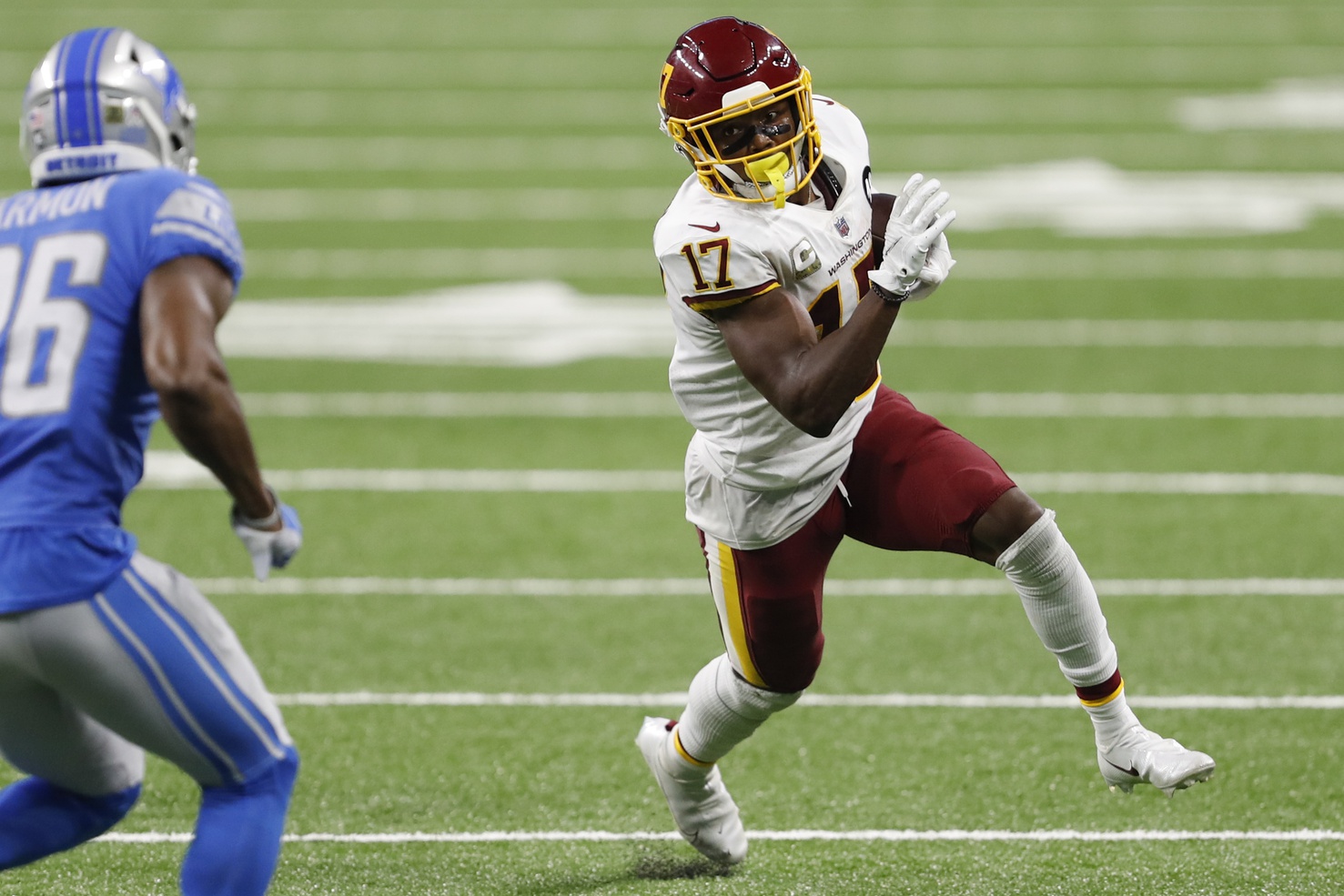 These new faces ensure that the WFT offense will be better in 2020, but it will cost the incumbents high-value opportunities. Most notably, Thomas' 39% end-zone target share (third overall) will be tough to replicate with Brown entering the fold. At North Carolina, Brown finished fourth in his class in end-zone targets. Thomas' 15 deep targets from last season could also be in jeopardy, with Brown's speciality as a vertical threat. 
The rookie won't likely eat too much into McLaurin's 33% air yards share (ninth overall), but could cannibalize the air yards from secondary guys like Cam Sims.
End Zone Targets 
Total END-ZONE TARGETS | 2020
| | |
| --- | --- |
| Player | End-Zone Targets |
| Adam Thielen | 25 |
| Calvin Ridley | 24 |
| Davante Adams | 19 |
| Allen Robinson II | 18 |
| Rob Gronkowski | 17 |
| Mike Evans | 17 |
| Marvin Jones Jr. | 16 |
| DeVante Parker | 16 |
| Nelson Agholor | 16 |
| Tyler Lockett | 16 |
| Mike Williams | 16 |
| Michael Gallup | 15 |
| D.K. Metcalf | 15 |
percent of team end-zone targets | 2020 season (includes postseason)
| | |
| --- | --- |
| Name | Team End-Zone Target % |
| Adam Thielen | 49% |
| Calvin Ridley | 40% |
| Logan Thomas | 39% |
| D.J. Moore | 39% |
| Davante Adams | 39% |
| Mark Andrews | 37% |
| Nelson Agholor | 36% |
| Robby Anderson | 36% |
| T.Y. Hilton | 35% |
| Allen Robinson II | 35% |
CARRIES NEAR THE GOAL LINE (INCLUDING PLAYS NEGATED BY PENALTY)
carries inside the 5-yard line |  2020 season (includes postseason)
| | |
| --- | --- |
| Player | Attempts |
| Dalvin Cook | 25 |
| Ezekiel Elliott | 23 |
| Cam Newton | 21 |
| Kenyan Drake | 21 |
| Derrick Henry | 19 |
| Josh Jacobs | 19 |
| Alvin Kamara | 17 |
| Jonathan Taylor | 16 |
| Todd Gurley II | 14 |
| Adrian Peterson | 13 |
percent of team carries inside the 5-yard line | 2020 season (includes postseason)
| | |
| --- | --- |
| Player | % carries inside the 5 |
| James Robinson | 86% |
| Josh Jacobs | 79% |
| Cam Newton | 75% |
| Todd Gurley II | 74% |
| Kenyan Drake | 70% |
| Ezekiel Elliott | 68% |
| Dalvin Cook | 66% |
| Derrick Henry | 66% |
| David Montgomery | 65% |
| David Johnson | 60% |
| Melvin Gordon III | 57% |
| Wayne Gallman | 56% |
| Aaron Jones | 54% |
| Miles Sanders | 52% |
| Adrian Peterson | 52% |
AIR YARDS AND DEEP TARGETS
Total air yards | 2020 season (regular season)
| | |
| --- | --- |
| Player | Air Yards |
| Calvin Ridley | 2238 |
| D.K. Metcalf | 1926 |
| Stefon Diggs | 1920 |
| Tyreek Hill | 1896 |
| Chase Claypool | 1825 |
| Marvin Jones Jr. | 1778 |
| Jerry Jeudy | 1694 |
| DeAndre Hopkins | 1688 |
| Mike Evans | 1664 |
| Justin Jefferson | 1629 |
| Allen Robinson II | 1629 |
| D.J. Moore | 1626 |
| Nelson Agholor | 1617 |
| A.J. Green | 1568 |
| Brandin Cooks | 1519 |
percent of team air yards | 2020 season (includes postseason)
| | |
| --- | --- |
| Player | Team Air Yard Share |
| Calvin Ridley | 39% |
| D.K. Metcalf | 39% |
| Marquise Brown | 39% |
| D.J. Moore | 38% |
| Justin Jefferson | 36% |
| Stefon Diggs | 36% |
| DeAndre Hopkins | 36% |
| Tyreek Hill | 34% |
| Darius Slayton | 34% |
| Robby Anderson | 33% |
| Terry McLaurin | 33% |
| T.Y. Hilton | 33% |
| Nelson Agholor | 32% |
| Adam Thielen | 32% |
| Allen Robinson II | 32% |
Most 20-plus yard targets | 2020 season (regular season)
| | |
| --- | --- |
| Player | Deep Targets |
| Chase Claypool | 42 |
| Calvin Ridley | 41 |
| Tyreek Hill | 36 |
| D.K. Metcalf | 35 |
| Marvin Jones Jr. | 33 |
| D.J. Chark Jr. | 33 |
| Nelson Agholor | 31 |
| Jerry Jeudy | 31 |
| Mike Evans | 30 |
| Mike Williams | 30 |
| Tee Higgins | 30 |
| Marquez Valdes-Scantling | 29 |
| Justin Jefferson | 28 |
| D.J. Moore | 27 |
| Marquise Brown | 27 |
| A.J. Green | 26 |
| Brandin Cooks | 26 |
| Allen Robinson II | 26 |
| Diontae Johnson | 25 |
| Darnell Mooney | 25 |
percent of team's 20-plus yard targets | 2020 season (includes postseason)
| | |
| --- | --- |
| Player | Deep Target % |
| Marquise Brown | 50% |
| Calvin Ridley | 47% |
| D.K. Metcalf | 44% |
| Darius Slayton | 42% |
| Tyreek Hill | 41% |
| Marvin Jones Jr. | 39% |
| Chase Claypool | 39% |
| Justin Jefferson | 39% |
| D.J. Chark Jr. | 39% |
| Nelson Agholor | 39% |
| D.J. Moore | 39% |
| Mike Williams | 37% |
| Tee Higgins | 37% |
| Brandin Cooks | 36% |
| Marquez Valdes-Scantling | 35% |