Running back red-zone carries are often considered a predictor of future touchdown production in fantasy football. Ezekiel Elliott led the NFL in red-zone carries (61) in 2019 and finished the season as the RB3 overall. But not all red zone carries are created equally. 
Subscribe to
Aaron Jones ranked 15th in red-zone carries (34) last season yet finished as the overall RB2. How does a player who saw fewer red zone carries than Carlos Hyde, Marlon Mack and Sony Michel do that? By seeing the sixth-most carries inside the 5-yard line and converting 10 into touchdowns.
Evaluating running backs on raw red-zone carries isn't enough to project fantasy value — we need to get our carries even closer to the goal line. Last season, a carry between the 20- and 10-yard lines netted an average of 0.68 fantasy points. A carry inside the 10 averaged nearly tripled that (1.91), and a carry inside the 5-yard line more than quadrupled that rate (2.91)
Let's dig into the running back position to find out who saw a surplus of carries inside the 10-yard line last season and see what it means for RB targets come draft day. 
Carries Inside the 10-Yard Line
Touchdown production can make or break some running backs' fantasy performances — that's why it is so crucial that the running backs you target early in drafts have a secure lock on those high-value touches.
Most carries inside the 10-yard line in 2019 (RBs)
| | | |
| --- | --- | --- |
| | Carries | Touchdowns |
| Nick Chubb | 32 | 4 |
| Dalvin Cook | 32 | 11 |
| Christian McCaffrey | 32 | 10 |
| Ezekiel Elliott | 31 | 11 |
| Todd Gurley II | 29 | 11 |
| Sony Michel | 27 | 6 |
| Mark Ingram II | 26 | 9 |
| Joe Mixon | 25 | 5 |
| Derrick Henry | 24 | 10 |
Nick Chubb was the least efficient running back from inside the 10-yard line last season, converting his 32 carries into just four touchdowns. His poor performance can largely be attributed to his offensive line failing to create space. Chubb's yards before contact inside the 10-yard line netted -27 yards. That mark was by far the worst of any running back with at least 10 rushing attempts inside the 10.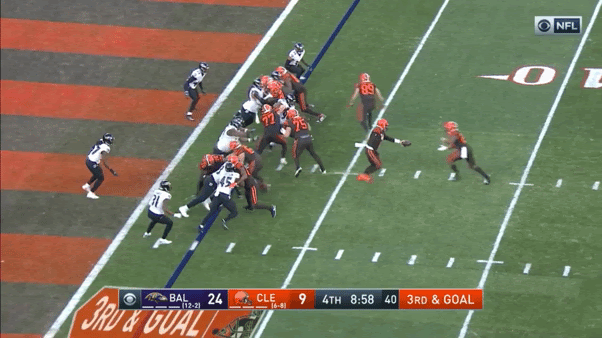 Conversely, the running back who saw the most significant benefit from his offensive line inside the 10-yard line was Dalvin Cook — whose former offensive coordinator is now Chubb's head coach in Cleveland.
Cook totaled 26 yards before contact inside the 10-yard line, which was the top total among all running backs. Even Vikings backup Alexander Mattison saw success near the goal line — he ranked sixth in yards before contact and fifth in yards before contact per attempt (0.93).
Part of the advantage for the Vikings was that they ran out of heavy sets with two tight ends and a fullback. Both Kyle Rudolph and Irv Smith Jr. were on the field for every single carry inside the 10-yard line for both Cook and Mattison. Fullback C.J. Ham was on the field on 50% of those plays.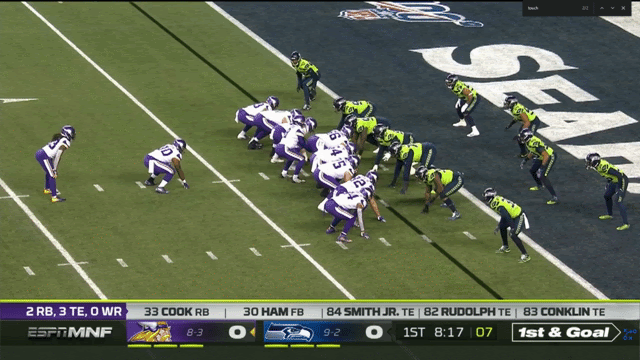 Chubb also saw a significant number of carries from inside the 10-yard line — over 50% actually — out of two-tight-end sets in 2019, but that was behind a hodgepodge group consisting of Demetrius Harris, Stephen Carlson, Ricky Seals-Jones and Pharaoh Brown. None of these players earned a PFF run-blocking grade higher than 62.0 in 2019.
Subscribe to PFF Edge to continue reading
Already have a subscription? Sign In