To wrap up my evaluation of the 2021 wide receiver class, I've decided to look at the rookies who excel as vertical threats. The top slot receivers, alpha outside wide receivers and end-zone target hogs have already been identified, so chasing the high-aDOT monsters is next on the agenda.
These are the high-upside prospects who command valuable downfield targets. During their final college seasons, Gabriel Davis, Tee Higgins, CeeDee Lamb and Chase Claypool all compiled over 500 receiving yards on targets of 20-plus yards. Air yards and aDOT are key metrics worth pursuing as prospects enter the next level. 
View PFF's 2021 NFL Draft position rankings:
QB | RB | WR | TE | T | iOL | DI | EDGE | LB | CB | S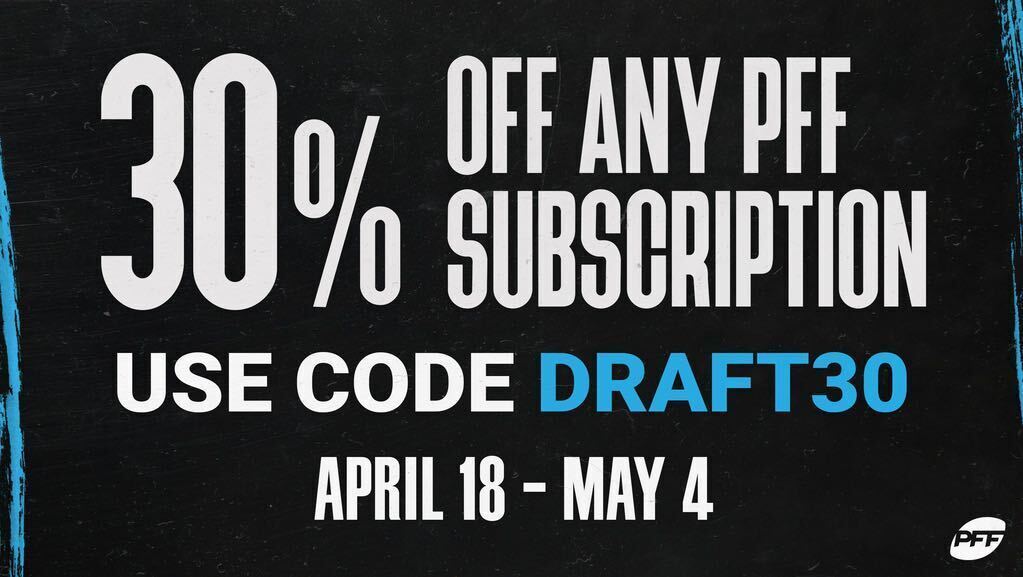 Since the start of the 2019 season, Ja'Marr Chase leads the draft class with a near-perfect PFF receiving grade (99.0) on targets of 20-plus yards. His total receptions (24) and receiving yards (860) rank third, and no receiver has more deep touchdowns (14) than Chase despite the fact that he didn't play in 2020. 
WRs/TEs on 20-plus yard targets since 2019 | 2021 draft class
| | |
| --- | --- |
| Player | PFF receiving grade |
| Ja'Marr Chase | 99.0 |
| DeVonta Smith | 97.9 |
| Isaiah Weston | 97.0 |
| Kyle Pitts | 96.3 |
| Dyami Brown | 94.3 |
| Jaylen Waddle | 93.7 |
| Rashod Bateman | 93.2 |
Chase has a special ability to win at the catch point and pluck the ball out of thin air. On 26 catchable deep targets (tied for third-most), he had just one drop. 
Ja'Marr Chase: Certified deep threat

— PFF Draft (@PFF_College) January 14, 2020
Inserting Chase into the Cincinnati Bengals' offense is exactly what Joe Burrow needs to take another step forward in 2021. Burrow finished with the second-worst on-target rate on 20-plus yard throws (21%) in 2020.
Swapping out A.J. Green for Chase will be a huge boon for the Bengals' vertical passing game. When the LSU duo won a national championship back in 2019, Chase saw the highest percentage of catchable deep targets (68%). 
Kyle Pitts seized the title of college's best deep threat in 2020, posting a league-leading 98.6 PFF receiving grade and 100% catch rate on bombs thrown his way. Pitts' rating when targeted 20-plus yards downfield (142.8) led the draft class — WRs included.
WRs/TEs on 20-plus yard targets in 2020 | 2021 draft class
| | |
| --- | --- |
| Player | PFF receiving grade |
| Kyle Pitts | 98.6 |
| DeVonta Smith | 96.9 |
| Dax Milne | 95.0 |
| Dyami Brown | 94.4 |
Kyle Pitts' top-3 highest-graded plays of his career

#3: 56-yard TD vs Kentuckypic.twitter.com/1zH9HSy3cf

— PFF (@PFF) April 5, 2021
DeVonta Smith isn't particularly known for being a field-stretcher, but his elite route-running prowess allows him to thrive when called upon. Since the start of 2018, he is PFF's seventh-highest-graded WR on deep targets (97.3).
The undersized playmaker also ranks third in deep-ball yards (1,183), second in deep-ball receptions (1,211) and second in deep-ball touchdowns (15). 
Smith finished the 2020 season second in total air yards (1,765) and second in team air yards share (44%). 
DeVonta Smith is fast enough to win a vertical route tree/get off press and attacks the ball well in open & contested situations.

Concerns with his size (6-1, 172), athleticism and age (22) are valid, however.

He'll be an outlier if he blows up in the NFL, but maybe he is one. pic.twitter.com/J9IEs8g5Rc

— Austin Gayle (@PFF_AustinGayle) January 16, 2021
While the receivers listed ahead of him have more well-rounded skill sets, Dyami Brown belongs in the conversation with this year's best field-stretching WRs. 
Brown's effectiveness getting off the line of scrimmage helped him become one of the deadliest vertical threats in all of college football. No player had more total yards (1,116) or catches (26) on targets of 20-plus yards over the past two seasons.
He has averaged 20.1 yards per reception over the same time period (No. 2 overall, trailing only Chase). That's an absurd figure considering the junior out of North Carolina doesn't boast elite speed.
Brown only posted a 4.46 40-yard dash, but he has proven to be a precise route-runner who tracks the ball well. He ranked above the 80th percentile in both the broad and vertical jumps, demonstrating the athleticism that helps him get off the line of scrimmage. 
Dyami Brown called for the ball before the play vs future 1st RD CB A. J. Terrell ????

(h/t @TampaBayTre)pic.twitter.com/PSuoOyIVe5

— PFF Draft (@PFF_College) April 6, 2021
Jaylen Waddle is one of my favorite wide receivers in this class, and he stacks up with the best of this year's WRs when it comes to deep targets. Since the start of 2018, Waddle's PFF receiving grade (97.5) and passer rating generated (142.3) when targeted 20 yards downfield rank second in the class. 
The only reason Waddle ranks lower than the other receivers is that he's more dangerous as a YAC receiver. His aDOT ranks outside the top 80, while his yards after the catch per reception (9.8) is second behind only D'Wayne Eskridge since 2018. 
Buddy, Jaylen Waddle has the juice.

— Austin Gayle (@PFF_AustinGayle) October 3, 2020
HONORABLE MENTION
The Mean Green slot machine from North Texas knows how to get open downfield. During his breakout 2020 campaign, Jaleon Darden finished second in deep targets (32) and separation percentage (81%) on 20-plus yard targets (at least one step on the closest defender). 
separation percentage on 20-plus yard targets | 2020
| | |
| --- | --- |
| Player | Separation percentage |
| Jaelon Darden | 81% |
| Elijah Moore | 68% |
| Marlon Williams | 65% |
| Tutu Atwell | 63% |
| Anthony Schwartz | 63% |
| Dyami Brown | 59% |
| Dax Milne | 57% |
| DeVonta Smith | 54% |
Darden is a savvy route-runner who uses quickness and speed to detach from opposing DBs. He also uses his hands to gain extra separation, showing moves that belie his experience. 
looking for Jaelon Darden film? Look no further. #GMG

YouTube link below, as well as a link to our entirely FREE Film Room. #DraftBreakdown. ???? pic.twitter.com/L0Kco1zOKC

— Fantasy Football Astronauts (@FF_Astronauts) April 12, 2021
Seth Williams and Anthony Schwartz were both dragged down by the Auburn offense, and their downfield stats dramatically suffered. Schwartz saw the fourth-lowest rate of catchable targets on 20-plus yard throws (32%), and Williams wasn't much better (41%).
Lowest % of catchable deep balls since 2019
| | |
| --- | --- |
| Player | % of catchable deep targets |
| Shi Smith | 23% |
| Marquez Stevenson | 28% |
| Josh Palmer | 31% |
| Anthony Schwartz | 32% |
Williams was able to make the most of his 56 deep targets (fifth), converting them into 20 receptions (sixth) for 660 yards (10th) and six scores (17th). In 2020, the contested-catch fiend commanded a 47% air yards share — a mark that ranked fifth-best in the nation in 2020 and No. 1 among the 2021 draft class.
Auburn's Seth Williams called game in Wk 1 last season????pic.twitter.com/fvYlWrZfX9

— PFF Draft (@PFF_College) May 23, 2020
Schwartz wasn't as lucky. With the Auburn offense unable to take advantage of his 4.26 40-yard dash speed (99th percentile) to create explosive plays downfield, he was regulated to low-aDOT duties. Schwartz's career average depth of target is the fourth-lowest for receivers in the top 200 of 2021 PFF Big Board.
It's a shame, too, because Schwartz was able to separate — his 64% rate of separation on deep targets tied Elijah Moore and Tutu Atwell for fourth-best in the country. Those guys combined for 36 receptions of 20-plus yards. Schwartz had six. 
Schwartz only brought down three of 16 deep targets in 2020, but those catches averaged a ridiculous 56.7 yards per pop. 
UAB's Austin Watkins was an air yards monster in 2019, finishing third in total air yards (2,062) and first in team air yards share (45%). The cousin of Sammy Watkins, Austin's 19.1 aDOT since 2019 leads all wide receivers in the 2021 class.
He also ranks fifth in catches (22) and receiving yards (787) and third in contested catches on 20-plus yard targets. Watkins makes up for a lack of straight-line speed with precise route-running and a big catch radius. 
.@UAB_FB WR Austin Watkins Jr. making a name for himself in front of national ESPN audience and checking all the boxes for the @seniorbowl tonight. We see you @Golden_Ticket6! ????

*NFL body ✅
*Deep ball production ✅
*Red-zone skills ✅ pic.twitter.com/EpNpsmc1X5

— Jim Nagy (@JimNagy_SB) September 25, 2020
His usage changed in 2020 — a lower aDOT (15.7 compared to 19.6) sapped some of the overall production, but the skills are there to reprise a downfield role at the next level.
---
More of PFF's 2021 NFL Draft tools here: 
2021 NFL Draft Big Board | 2021 NFL Draft Guide | 2021 NFL Draft Stats Export | NFL Mock Drafts | NFL Mock Draft Simulator