With the NFL's franchise-tag deadline quickly approaching, the Tampa Bay Buccaneers on Tuesday opted to place the tag on wide receiver Chris Godwin, per Adam Schefter on Twitter. 
The move pairs Godwin with Tom Brady and company for another shot at a Super Bowl run. It also creates massive implications from a fantasy perspective for the entirety of the Buccaneers' receiving corps. 
Subscribe to
Most notably, Godwin's return is not a great sign for those hoping Mike Evans can be a WR1 in 2021. Godwin missed some time last season, which opened up the offense for Evans. When the two played together, Godwin heavily outpaced Evans across the board. 
The duo played together in 16 games in 2020. Here's how the production broke down:
| | | | | | | | |
| --- | --- | --- | --- | --- | --- | --- | --- |
| Player | Receptions | Targets | Target share | TDs | Yards per route run | Fantasy points per game | Expected fantasy points per game |
| Chris Godwin | 81 | 114 | 20% | 8 | 1.89 | 14.8 | 13.6 |
| Mike Evans | 57 | 96 | 17% | 11 | 1.61 | 13.2 | 12.1 |
A vast majority of Evans' high-end fantasy production in 20201 came in four games to start the season when Godwin was out with injuries. During that stretch, Evans averaged 20.1 fantasy points per game and 16.1 expected fantasy points per game while commanding a 22% target share.
Those numbers are going to be tough to repeat with Godwin back in the mix.
Godwin seems like a much better bet to pay off his ADP as a low-end WR1/high-end WR2 based on splits from last season. His role as the team's slot receiver is locked and loaded (64% in 2020), and that's where he's been at his absolute best. 
Godwin ranks second in PFF grade (95.9), third in yards per reception (14.8) and third in yards per route run (5.01) from the slot since 2019. 
Ideally, I would have liked Godwin to land in a place where he could be a clear-cut No. 1 receiver and target hog, but he doesn't lose any value here.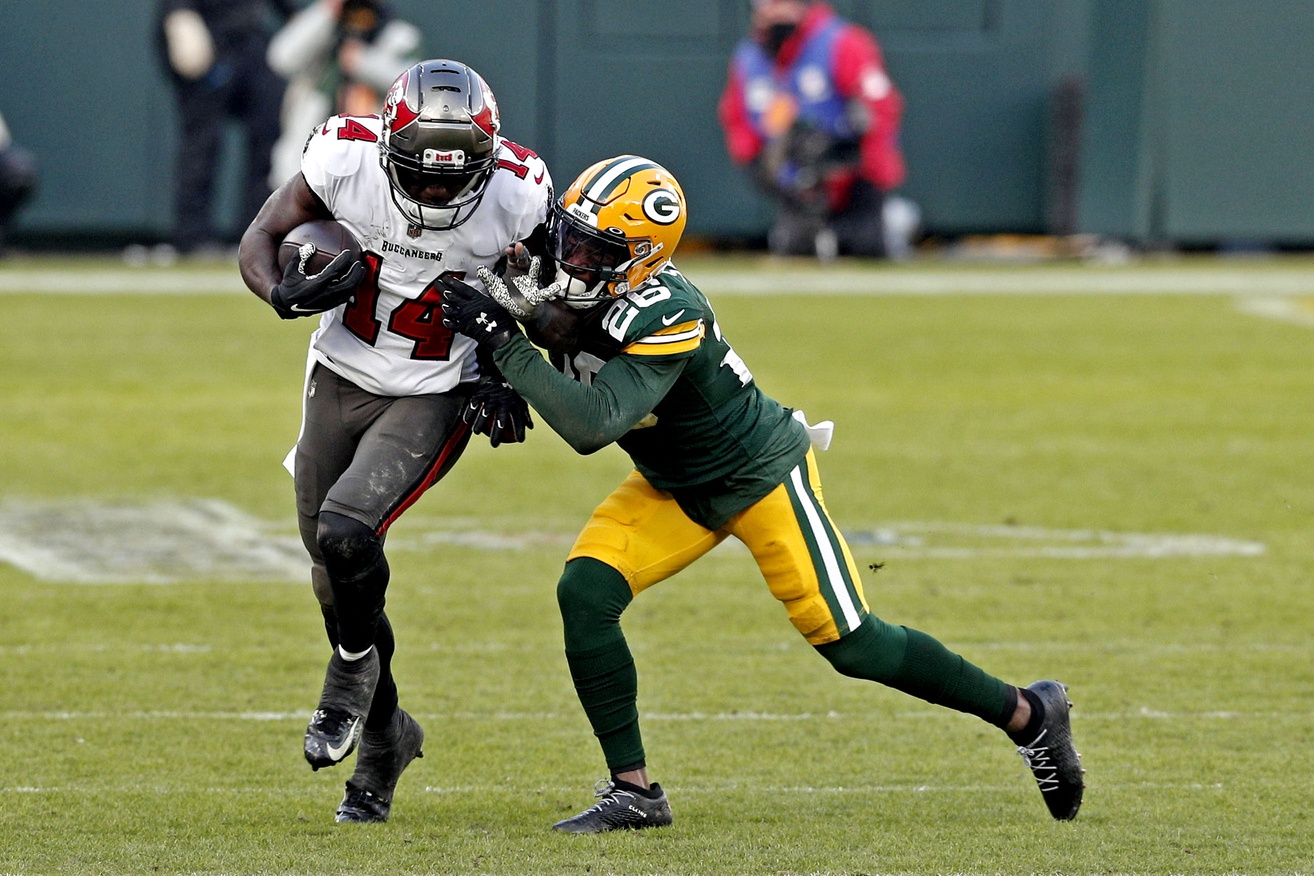 What also complicates the Buccaneers' passing game is the likely return of Antonio Brown to the offense. Brown is also a free agent but has burned too many bridges to find a vast market. Plus, Brady likes him, so TB is the most logical landing spot. AB could be relatively cheap without additional competition for his services. 
Brown was shockingly productive despite joining the squad in Week 9, leading the team in target rate (25%) and PFF receiving grade (82.6). In games when all three of Evans, Godwin and Brown played together from Week 9 onward, Evans was the leader in fantasy points per game (15.2) — but it wasn't by much. Godwin was at 14.3 and Brown wasn't far behind at 13.4. 
The targets were virtually flat across the board, which builds the case for Brown as potentially the sneakiest value of the group in fantasy drafts. Godwin and Evans are being drafted close to each other in the fourth round of current best ball drafts, with Brown going several rounds later.

Just keep in mind that Brown posted the lowest aDOT (9.5) since his rookie season in the Bucs offense, so his path to success will have to be based more on volume than huge downfield plays.
Godwin's return puts a massive damper on a potential second-year breakout for Tyler Johnson. The fifth-rounder didn't grade particularly well in his first season, but he flashed signs of upside. He posted the team's highest passer rating when targeted (142.4) and stepped up big in a spot-start Week 5.
Johnson caught four of five targets for 61 yards filling in for Godwin in the slot and would have been promoted to the same job in 2021 if the veteran hadn't been tagged. 
For dynasty truthers like myself, Godwin's return to Tampa presents the perfect "buy-low" opportunity to acquire Johnson. Godwin could easily be gone a year from now if the two sides can't work out a long-term deal, and there's no guarantee that a 33-year-old Brown will maintain his 2020 production next season.