If you did nothing more than rank quarterbacks by their tools over the past several years, you would have a very good track record of predicting NFL quarterbacks. What is unclear is whether that represents a fundamental shift in how those prospects react to entering the professional ranks, or whether we are just riding a wave of high-variance that will inevitably cycle back down to a lower ebb in the future.
That wave may be a great sign for North Dakota State's Trey Lance as he enters the 2021 NFL Draft, because Lance has an exceptional skill set. He has tremendous rushing ability and a big arm but comes with some questions about his accuracy and consistency. Such a summary could have applied to several of the best quarterbacks in the league when they were entering the draft as prospects.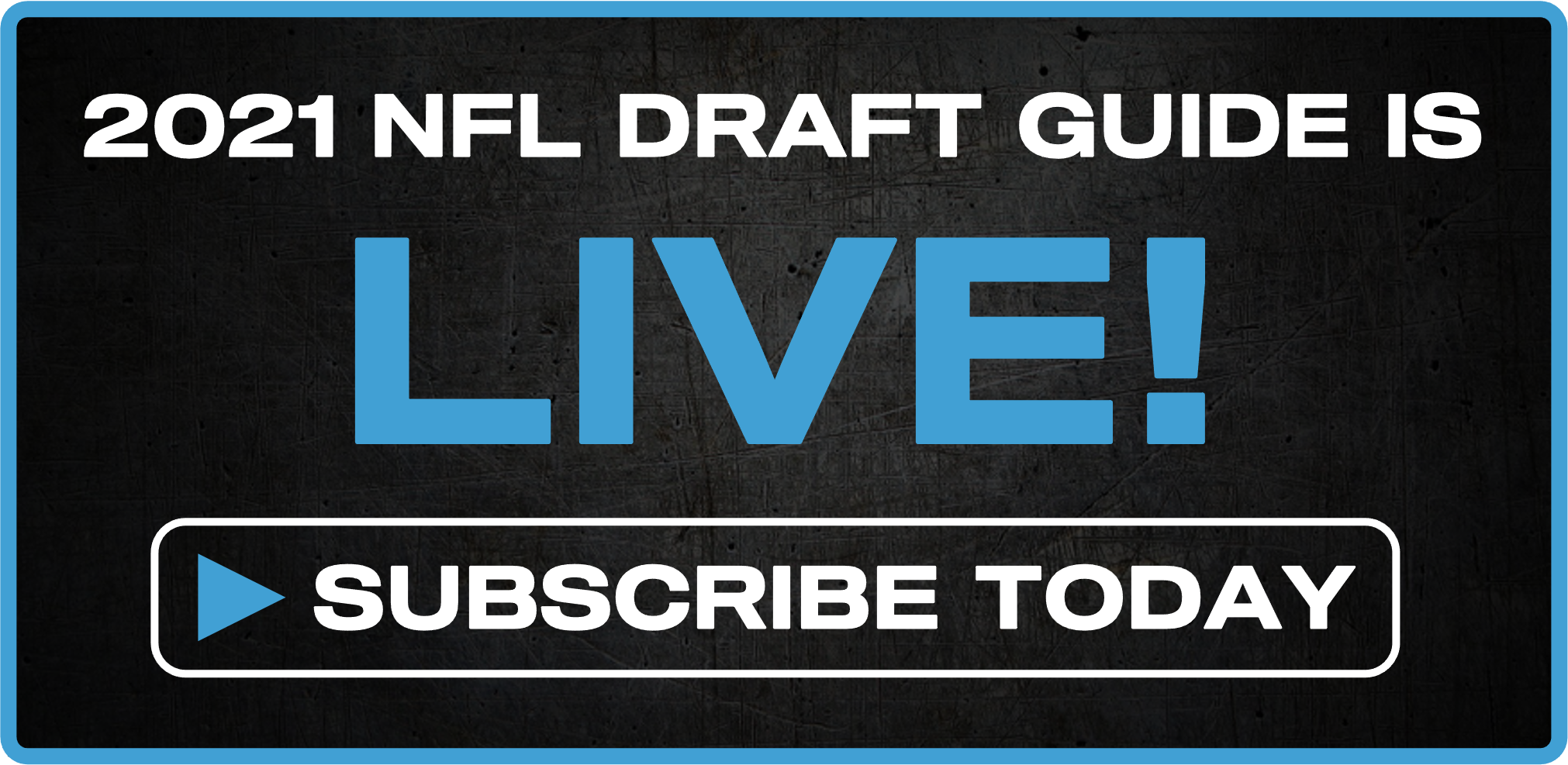 Poor accuracy used to be viewed as a fundamental problem with quarterbacks — something that couldn't be taught; you're either born with or you aren't. But, like almost anything else, accuracy can be broken down into a series of mechanical steps that can each be worked on and coached, and accuracy can be developed. Josh Allen went from a fundamentally inaccurate passer of the football (ranking dead last in adjusted completion rate as a rookie at 64.7%) to an accurate passer (fifth in 2020, 79.1%) in the space of two calendar years.
Lance's biggest issue right now is being relatively inaccurate compared to the other passers in his draft class. His adjusted completion rate in 2019 was 72.0%, which ranked 72nd in the nation when we include FCS schools. Joe Burrow's rate was almost exactly 10 percentage points better as one of the most accurate passers, and this season the four other passers likely to go in the first round of the draft were all over 80%.
If we project with optimism that recent flawed passers with an attractive skill set have been able to improve their flaws and develop their weaknesses, we could assume that Lance will improve on that accuracy. He is still a very inexperienced passer with just 319 career pass attempts at the FCS level. It would be a foolhardy declaration to say that Lance is what he is and to assume that he has no room for growth or development given his experience level. 
Even if accuracy issues lower the ceiling of what Lance can be as a passer, he has plenty of skills to bring to the table that offset the negatives. First, he is the most gifted runner of the ball among the top quarterback prospects this season. Justin Fields might be able to match him for raw speed, but Lance has running back talent as a ball-carrier. Lance has 1,393 rushing yards in his college career, but over 1,000 of them are on designed carries, with fewer than 400 coming on scrambles from the pocket on passing plays.
This is a breakdown similar to that of Lamar Jackson, which runs contrary to the stereotype often thrown at players like that. Both Lance and Jackson are actually natural pocket passers; they just bring an added element to the offense that can be deployed in the run game using them as ball carriers.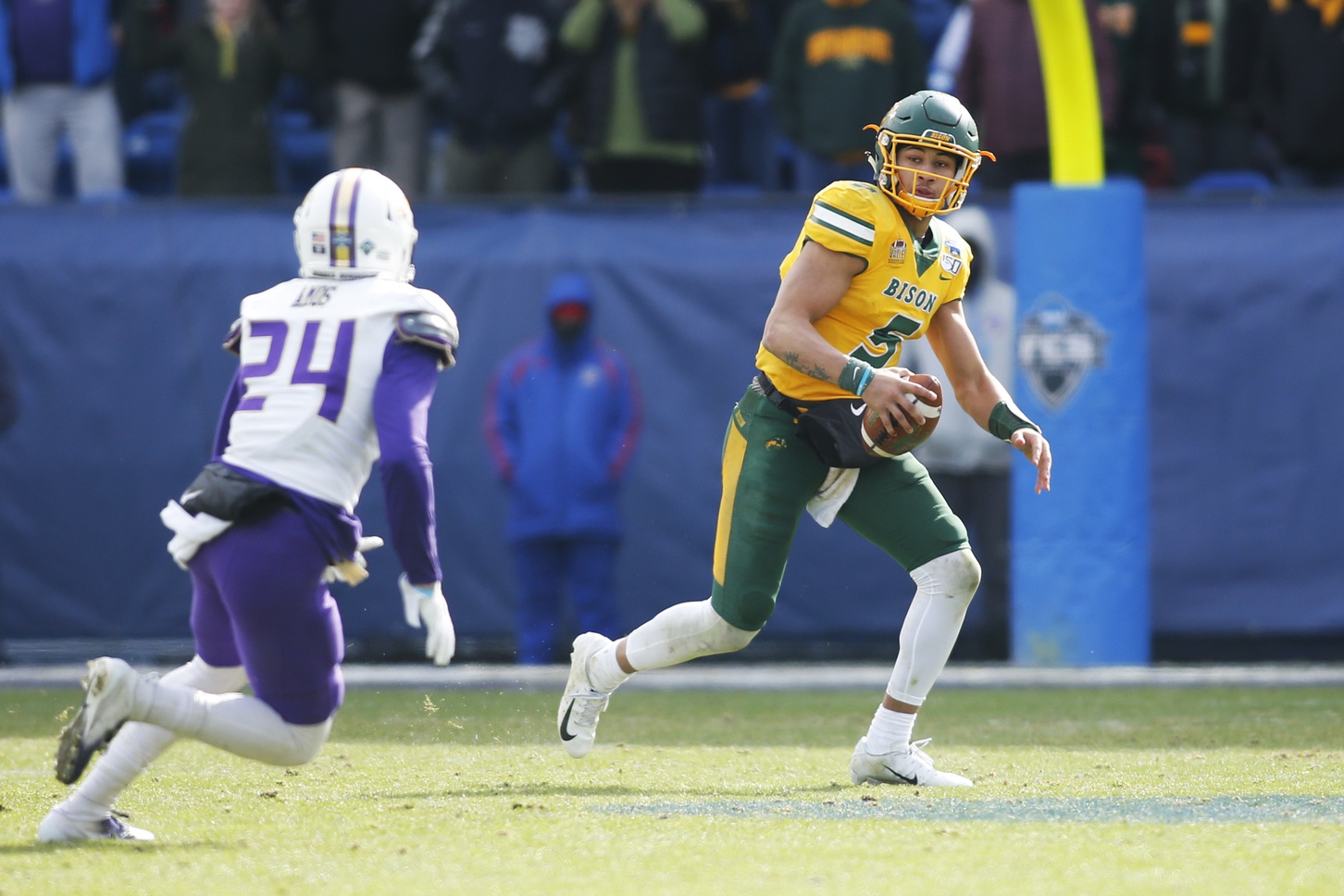 Lance broke 50 tackles on a little over 150 carries, making a man miss an average of one in three times he carries the ball in his career. Almost 1,000 of his yards came after contact. He is a dynamic threat with the ball in his hands. That gives any offense he is a part of a very high floor, like Buffalo's offense with Allen and Baltimore's with Jackson. Even the Philadelphia Eagles last season saw an immediate jump in viability in large part because of the floor that Jalen Hurts brought because of his rushing threat.
Lance also has a very strong arm, which is curiously kept in reserve for much of his play, almost as if locked behind a glass door labelled "break in case of emergency." Every now and then you see him let rip and show off the kind of howitzer he possesses, but it seems like the rest of the time he's consciously taking something off most of his throws, perhaps in an attempt to really focus on accuracy. 
That arm strength can buy him a margin for error if he uses it a little more liberally at the next level. Cam Newton has been able to offset a lot of his more basic inaccuracy over his career by firing the ball into tight windows deeper down field and making two big plays for every one he misses underneath. He doesn't do it very often yet, but Lance could offer a similar dynamic with his arm strength.
I also don't see any evidence that Lance is so raw that he needs to sit for a year and not play as a rookie. Though his accuracy isn't stellar, Lance performs well when he has to read a defense and work through a progression. He earned a PFF passing grade of 86.6 when forced beyond his first read in his full season of action, ahead of Fields that same year and just behind what Fields managed in 2020. It is also a better grade than Trevor Lawrence or Mac Jones managed in 2020. Lance can run an NFL offense well right off the bat and has enough talent to keep things afloat while the team works on developing the parts of his game that do need some help.
Like Josh Allen, Lamar Jackson or even Patrick Mahomes, Lance won't be a finished product early on. We may see him make some spectacular plays as a rookie but be a significant work in progress in need of polishing over the first couple of offseasons with his new team. Tecent history shows that this is a very achievable goal, and the upside of Lance in Years 2 or 3 could be massive.
The only question that remains is whether teams buy into this recent history and believe that quarterbacks who fit Lance's profile should be getting pushed up draft boards over the likes of Mac Jones or others that can't match the same physical and athletic tools. If they do, Lance could be in play as high as No. 3 overall to the 49ers. 
Ultimately, the concerns over Lance's experience, level of competition and accuracy are real and fair. But recent history is very much on his side, and I think the skill set is there for him to play well enough early to buy himself the time needed to work on the weaker areas of his game. The higher in the draft he goes, the more a new team is going to be willing to give him that room to develop given their commitment.
With Lance expected to come off the board early, I think he's one of the most exciting prospects in the draft to watch at the next level and a fascinating gamble for a team to take. His tool set is as good as some of the best prospects recent memory. All that remains to be seen is whether he can mirror their development.
---
More of PFF's 2021 NFL Draft tools here: 
2021 NFL Draft Big Board | 2021 NFL Draft Guide | 2021 NFL Draft Stats Export | NFL Mock Drafts | NFL Mock Draft Simulator