Mac Jones is fast becoming one of the most interesting and talked about prospects in the 2021 NFL Draft, not least because he is becoming more and more likely to be drafted by the San Francisco 49ers with the third-overall pick.
That would represent a major statement from Kyle Shanahan and the 49ers about what they believe a high-end quarterback looks like in their offense. For most, Jones is the fifth-best quarterback prospect available this year — that's his slot on the PFF Big Board — but the 49ers would be selecting him third. They've spent three first-round draft picks to do so when you factor in the trade they executed to get there from their original draft position.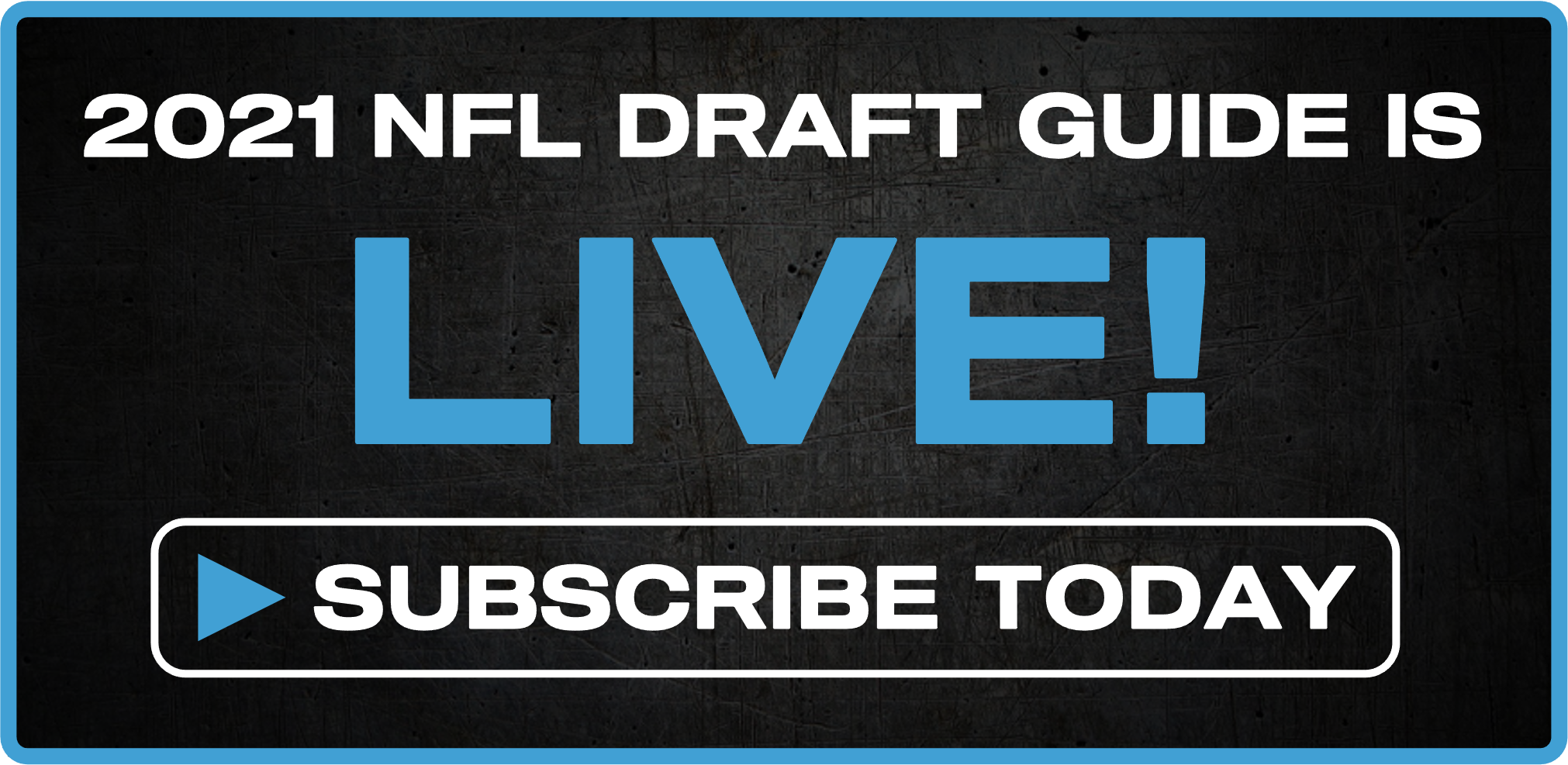 The reason the statement is so resounding is not just because the 49ers may value Jones higher than many draft analysts, but because Jones is stylistically the passer most rooted in top-five QBs of the past. 
The prototype quarterback used to be a tall and often immobile pocket passer who would hang in that pocket no matter what. But the cycle has swung around again toward players who bring mobility to the table. Even if you stop short of looking at players like Lamar Jackson, Kyler Murray and Josh Allen as the new prototypes — players whose rushing threat is an inbuilt part of the offense and a key foundation piece to how they win — the elite players at the position are trending toward having at least an element of creative mobility. The likes of Aaron Rodgers and Patrick Mahomes move around outside of the pocket, extending plays and winning outside of structure, and that's a huge part of what makes them so dangerous.
Tom Brady — another stylistic throwback to the old prototypes — just won yet another Super Bowl, but the prevailing wisdom is that you need to bring all of the things Brady brings to the table to dominate if you play the game in that way in 2021. 
Effectively, a quarterback's physical "tools" have become more important over the years, and the recent history of successful quarterbacks shows a succession of "toolsy" quarterbacks succeeding early. Mac Jones is the antithesis of those players.
Jones isn't a great athlete, has a marginal NFL arm and is rocking a Tom Brady circa 2000 dad-bod. But does he bring enough to the table beyond that to succeed anyway?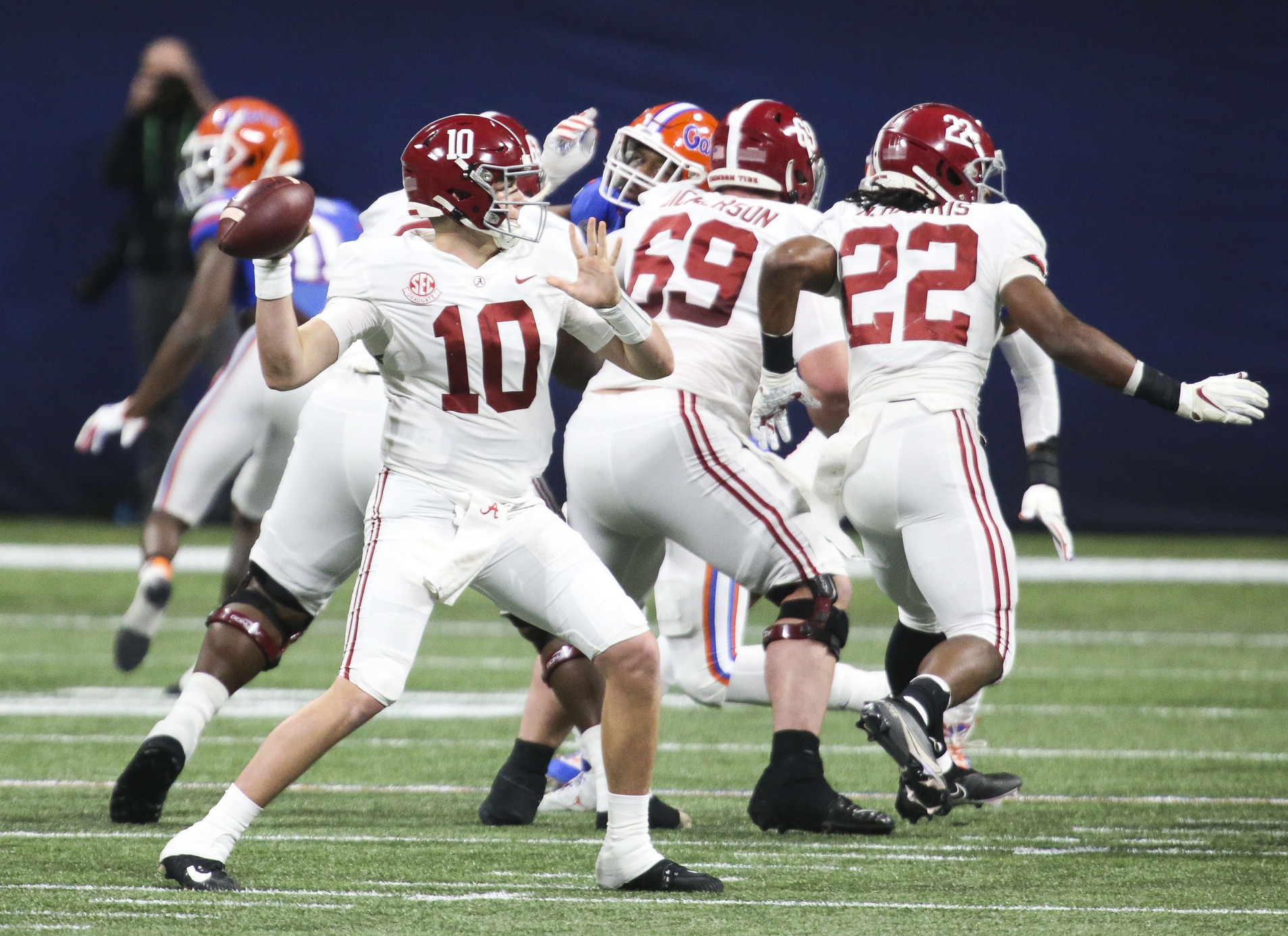 The first thing to note is that Jones' PFF grade last season was exceptional. He finished with an overall mark of 95.8, the best of any quarterback in this class and the best single-season we have ever graded. His adjusted completion rate of 84.2% was also the highest in the nation last year and again the highest we have ever seen. He had an excellent big-time throw rate of 7.4% and a low turnover-worthy play rate of 2.4%. His statistical profile was exceptional and every bit as good as Joe Burrow the year before.
Burrow however, was the No. 1 player on our Big Board a year ago and considered a better prospect than Jones because he was helped out less by his offense, despite throwing to the likes of Justin Jefferson and Ja'Marr Chase with Joe Brady calling plays for him. Burrow completed 124 passes into tight windows that season compared to just 44 from Jones this year. The Alabama offense was such a cheat code — even after losing Jerry Jeudy and Henry Ruggs III to the NFL draft last season — that Jones was rarely asked to deal with tight spaces or difficult situations. 
This is similar to the knock on Zach Wilson — that we simply haven't seen him have to make throws in some of these situations — but a more harmful unknown for Jones because he has fewer physical tools to mitigate the more difficult situations. The fact that Tua Tagovailoa struggled the most among last season's rookie quarterbacks also doesn't help. Tua entered the league with the most marginal NFL arm of the trio of starters and came from a similar advantageous environment in Alabama. His adjustment to the NFL has been the slowest thus far, and that simply can't help Jones' case.
When you turn on the tape, you can see exactly why a team might fall in love with Jones, despite the limitations. He is deadly accurate, particularly underneath and at the intermediate level, and very rarely misreads or misdiagnoses a coverage. The situation is to his advantage, but his tape is a clinic of just finding the right pass and delivering the ball accurately to his intended target. Jones was a distributor and facilitator for the playmakers at Alabama, but he also gave them opportunities to make plays within that.
There were times when he eschewed open shorter passes to give one of his receivers a chance to make a bigger play despite good coverage or a defender with solid leverage on the play. Jones was accurate enough to put the ball away from the defender and allow his receivers to reward that risk with bigger plays than the ones he turned down.
This is a delicate balance, as too much of that YOLO attitude can lead to Ryan Fitzpatrick or Jameis Winston levels of carelessness with the football, but the right degree of aggression is critical for a quarterback who will lose some plays because of a lack of devastating arm strength.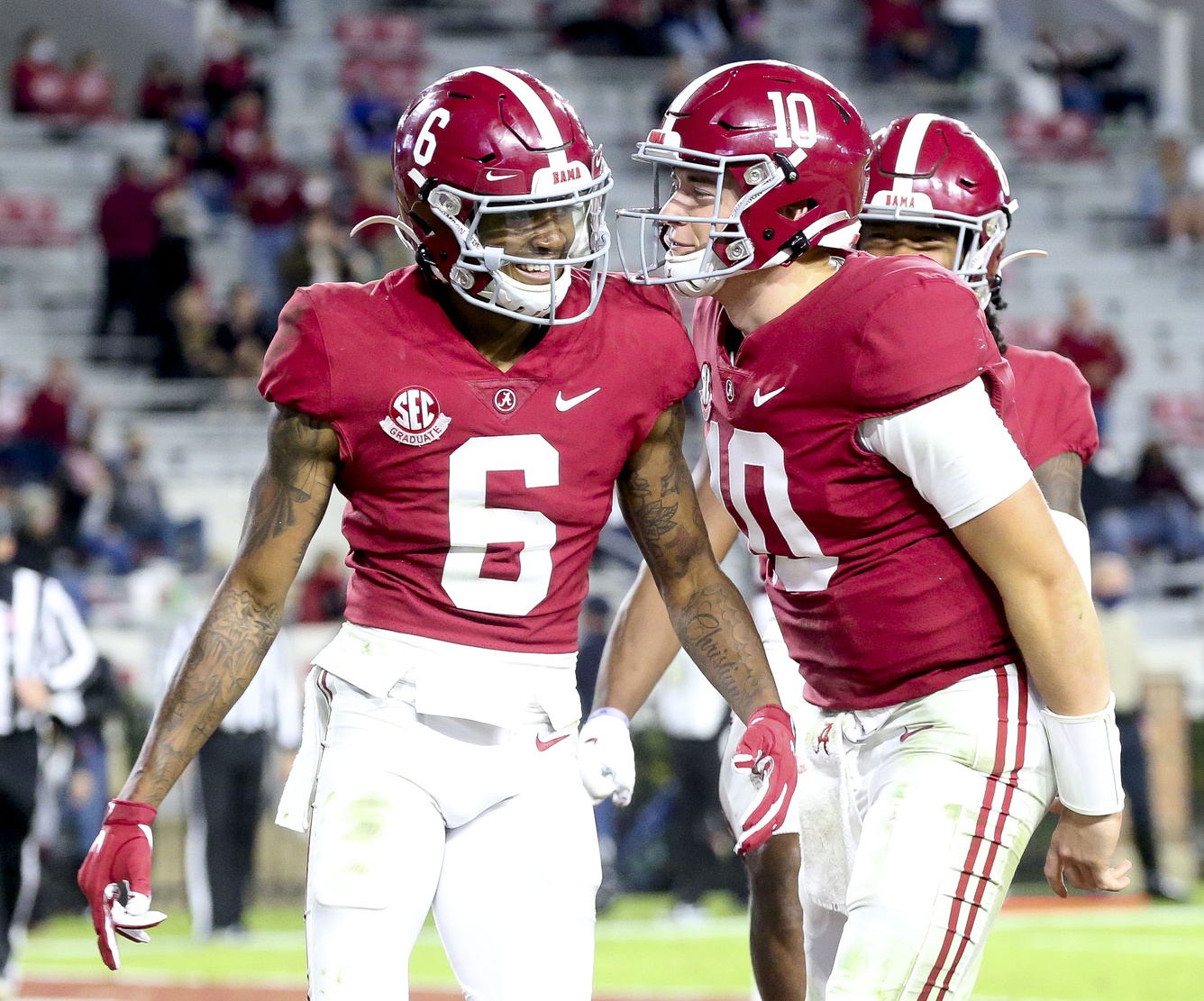 The speed with which Jones can work through his progression on a play and deliver the ball even before being pressured is notable. He can fly through the structure of a play efficiently and accurately on a consistent basis, and that's a trait that NFL play-callers can't help but be attracted to. Jones had an average time to throw of just 2.51 seconds in 2020 — 0.3 seconds faster than Zach Wilson and 0.6 seconds faster than Justin Fields. Effectively, within the structure of an offense, Jones is as good as it gets, and when your offensive structure is as good as Shanahan's, you can see why that would be appealing.
As much as his tools are maligned, Jones actually isn't a horrendous athlete. He ran a 40 time that was around 4.7 and had a 3-cone of just over seven seconds. Those are numbers that rank at least in the 66th percentile of quarterbacks, or the top third of athletes at the position. Now, it's still fair to say that he's likely the worst athlete of the five potential first-rounders, but he isn't as inept in that area as some make it seem. Again, on tape, you can see him move around and navigate traffic at times. He is also aware of his own limitations in this area and often pulls up on the run to dink a pass over or around a defender bearing down on him.
Ultimately, I think you can construct a case that Mac Jones is an excellent quarterback prospect and one worthy of drafting ahead of Trey Lance or Justin Fields, all things being equal. But, at least for the 49ers, all things are not equal because they're spending three first-round picks on that basis if they make Jones their selection. I think you can argue that what Jones is good at offsets the fact that his arm isn't special and that his work outside of structure is passable at best. But it's tough to argue that he is so good in those areas that you have that degree of confidence in him.
The concerns people have about Jones are very fair — in particular how much the Alabama offense helped him in college and set him up for success — and the question of whether he can enjoy similar success at the NFL level when put into more disadvantageous situations is genuine.
I believe that Mac Jones can succeed and even thrive in spite of his overall tools, but I wouldn't be willing to bet three first-round picks on it.