The Bears are the early winners of the draft, as they traded up to pick No. 11 in order to acquire the services of Ohio State QB Justin Fields. PFF's No. 3 overall player, Fields possesses tantalizing dual-threat ability that should immediately raise the ceiling of everyone involved in the Bears offense.
View PFF's 2021 NFL Draft position rankings:
QB | RB | WR | TE | T | iOL | DI | EDGE | LB | CB | S
What follows is a breakdown on what makes Fields such an intriguing prospect, whether or not he fits the mold of a great fantasy football QB, as well as what we should expect from him and this Bears offense in 2021.
It's tough to identify a major weakness from Fields
PFF stated the following about Fields in our 2021 NFL Draft Guide:
"You'll hear about the knocks on Fields throughout this draft process, from the track record of Ohio State quarterbacks to his ugly games against Indiana and Northwestern to his slow processing and decision-making. I'm not here to say those concerns aren't valid, but the physical tools and leadership he brings to the position are too great to ignore. Over the course of his career, Fields has been one of the most accurate quarterbacks we've ever charted. In his first game against Nebraska this season, he didn't let go of a single off-target pass. Add in his rushing ability, and that's a winning combo."
The latter accuracy point went under the radar throughout much of draft season. Fields made one big-time throw after another throughout his two seasons with the Buckeyes, regularly exhibiting the sort of pinpoint downfield accuracy that is needed in order to make a successful transition to the NFL.
giving kyle shanahan justin fields will break the leaguepic.twitter.com/pa0FN3uS5r

— Austin Gayle (@PFF_AustinGayle) March 26, 2021
Fields' 2021 performance against Clemson demonstrated the sort of absurd ceiling he possesses. Obviously arm talent isn't an issue, and there were more than a few occasions over the past two years where he looked like the fastest player on the field. Credit to Twitter for overthinking Fields' skill set for the better part of the last three months; he sure looked the part of a future NFL dtud while wearing scarlet and grey.
Further helping matters for Fields is the likelihood that he's the Bears' starting QB come Week 1.
Don't expect Fields to hit the bench for long and (likely) not at all
The QB position has produced seven rookies that finished their debut seasons as a top-12 fantasy performer since 2010. Among those, only Dak Prescott (Round 4) and Russell Wilson (Round 3) weren't first-round selections.
The larger trends from this group includes 1) being a Week 1 starter, and 2) the existence of a rushing floor. Each of Cam Newton, Andrew Luck, Robert Griffin, Prescott, Wilson and Kyler Murray started from the get-go and rushed for at least 25 yards per game in college. Justin Herbert is the only exception to both rules, although his status as a 1) plus athlete, and 2) Week 2 starter, doesn't make him too much of a wild card.
Note that we're only looking at season-long finishes here. Plenty of other higher-round signal-callers such as Jalen Hurts, Daniel Jones, Josh Allen, Lamar Jackson and Deshaun Watson have managed to supply some serious highs as rookies. This has (again) largely been thanks to their rushing upside.
In Fields' case: We should expect him to find the field immediately 2021, even if Andy Dalton isn't traded. Nineteen of 23 QBs drafted inside the top 10 picks started at least 10 games since 2010; these sort of picks are *usually* not spent on backups. While the content would undoubtedly be hilarious if Matt Nagy somehow chooses to go with the Red Rocket; Fields simply offers the higher ceiling for a team that has largely been without a true stud QB for their entire existence.
Fields deserves to be fired up as a top-15 option at the position
Again: Rushing QBs tend to be a cheat code in fantasy football. We have plenty of evidence that not only is Fields fast (4.44 second 40-yard dash) but also that he's more than capable of making defenders look nothing short of silly in space.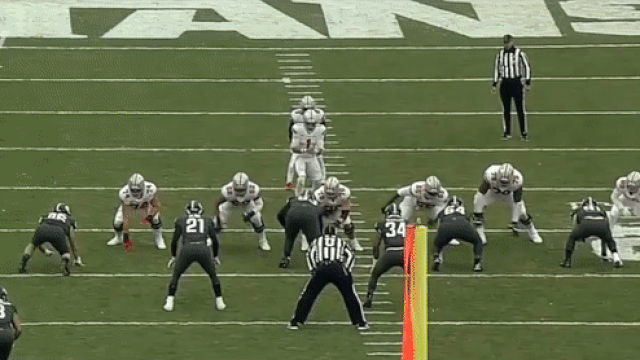 At the moment, Fields, Trevor Lawrence and Zach Wilson appear set to start in Week 1. It remains to be seen if Trey Lance will manage to immediately overtake Jimmy Garoppolo. With that latter point in question: Fields is my highest-ranked rookie QB at the moment. I do believe Lance is the most fantasy-friendly signal-caller in this class; it just wouldn't be surprising if they give him a red-shirt year of sorts (at least for as long as Jimmy G stays healthy).
Special shoutout to Allen Robinson for (probably) getting the best QB of his career; it's about damn time. The likes of Darnell Mooney and Anthony Miller are also beneficiaries, although the latter receiver's standing in the offense remains in extreme question.
Don't overthink this one, people: Fields has been an absolute stud at every level of football. This shouldn't change in the NFL, particularly in fantasy land where his dual-threat ability will be rewarded in a major way.
Rejoice Bears fans, there's reason for optimism once again in Chicago.