The NFL Draft *officially* started when the 49ers selected Trey Lance with the No. 3 overall pick. The rumors were all over the place throughout the offseason, with Mac Jones functioning as the consensus projection for most of the process. Alas: the NFL Draft continues to surprise.
View PFF's 2021 NFL Draft position rankings:
QB | RB | WR | TE | T | iOL | DI | EDGE | LB | CB | S
What follows is a breakdown on what makes Lance such an intriguing prospect, whether or not he fits the mold of a great fantasy football QB, as well as what we should expect from him and this 49ers offense in 2021.
Lance has the look of an immediate fantasy football QB1
PFF stated the following about Lance in our 2021 NFL Draft Guide:
"In an utterly loaded class, Lance may have more pure physical talent than all of these QBs. However, quarterback is still a performance position, and that's where Lance will be a difficult eval. Operating a run-heavy offense against FCS competition is a massive difference from operating a pass-happy system against an NFL defense. But even with some accuracy issues, Lance still has a high floor because of his rushing ability. He is a battering ram with the ball in his hands and will be a weapon in the red zone and short-yardage situations. Combine that with an arm capable of slinging it 70-plus yards downfield in a flick, and it's scary to think what he could become."
That first line is the reason why the 49ers felt the need to spend a top-three pick to acquire Lance's services. He's far from polished as a passer, but the arm talent on hand is borderline erotic.
The farthest career throw from all the top QBs in the 2021 NFL Draft

Thread:

— Mike Renner (@PFF_Mike) February 8, 2021
The ease with which Lance can flip the ball downfield can't be understated. We're obviously battling a lack of sample size here; just realize the physical tools are absolutely off the charts as both a passer and rusher.
The latter points is what makes Lance so intriguing in fantasy land. We only saw Lance once in 2020, and the 6-foot-4, 224-pound dual-threat talent turned his 15 carries into 143 yards with a pair of scores. It's been rare to see Lance not instill his will on the ground against defenses of all shapes and sizes over the years, as he racked up at least 40 yards and/or a score in all but one of his 19 games over the past three seasons.
Lance's average of 73 yards per game over his final two seasons with the Bisons reflected the reality that he's more of a run-first QB at this point in his career. This might lead to a redshirt year of sorts in the NFL in order to better develop his passing ability, but we're looking at an instant QB1 contender in fantasy land once he obtains a starting job.
The question is just how quickly that starting job will come to fruition.
History tells us Lance should start sooner rather than later
The QB position has produced seven rookies that finished their debut seasons as a top-12 fantasy performer since 2010. Among those, only Dak Prescott (Round 4) and Russell Wilson (Round 3) weren't first-round selections.
The larger trends from this group includes 1) being a Week 1 starter, and 2) the existence of a rushing floor. Each of Cam Newton, Andrew Luck, Robert Griffin, Prescott, Wilson and Kyler Murray started from the get-go and rushed for at least 25 yards per game in college. Justin Herbert is the only exception to both rules, although his status as a 1) plus athlete, and 2) Week 2 starter, doesn't make him too much of a wild card.
Note that we're only looking at season-long finishes here. Plenty of other higher-round signal-callers such as Jalen Hurts, Daniel Jones, Josh Allen, Lamar Jackson and Deshaun Watson have managed to supply some serious highs as rookies. This has (again) largely been thanks to their rushing upside.
In Lance's case: We should expect him to find the field at some point in 2021, even if Jimmy Garoppolo isn't traded. Nineteen of 23 QBs drafted inside the top 10 picks started at least 10 games since 2010; these sort of picks are *usually* not spent on backups.
Start Lance once Shanahan decides to do the same.
We're looking at a Lamar Jackson or Jalen Hurts-esque situation here: Lance will be a fantasy QB1 the second that his employer decides to give him the reigns. Dual-threat ability tends to be a cheat code in fantasy land, and Lance's 1) willingness, and 2) high-end ability, to run the football should produce immediate fireworks in the box score, even if he still has a ways to go as a pure thrower.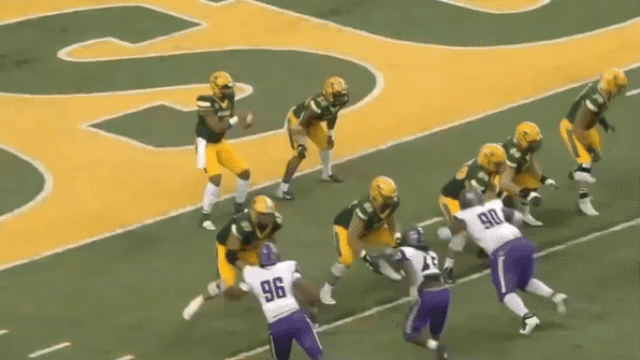 We can argue about whether or not Justin Fields or Mac Jones would've been a superior pick here; Lance is the most fantasy-friendly QB in the draft.
It's rare to find a QB like Lance who seems to actually enjoy seeking out contact. PFF's pro comparison for Lance is "Taysom Hill with legit arm talent." The million-dollar question is whether or not Lance can look as good against NFL competition as he did against his FCS foes; either way, his demonstrated tackle-breaking ability and willingness to rack up rush attempts gives him the potential to be a fantasy darling for however long he can hold on to a starting job.