The NFL draft is nearly upon us. This is objectively exciting: finally rosters are going to be more or less set ahead of the 2021 season. Your favorite prospect will have an official employer in a matter of days, and, hell, we might even get a few trades involving some lame duck veterans.
With that said: Chill out, people. Earlier this week I broke down the reality that in fantasy football land over 80% of top-performing rookies have been drafted inside of the top-three rounds since 2010. We've seen exceptions to this rule, but generally organizations have fed the rock to the youngins that they have the most invested in.
More of PFF's 2021 NFL Draft tools here: 
2021 NFL Draft Big Board | 2021 NFL Draft Guide | 2021 NFL Draft Stats Export | NFL Mock Drafts | NFL Mock Draft Simulator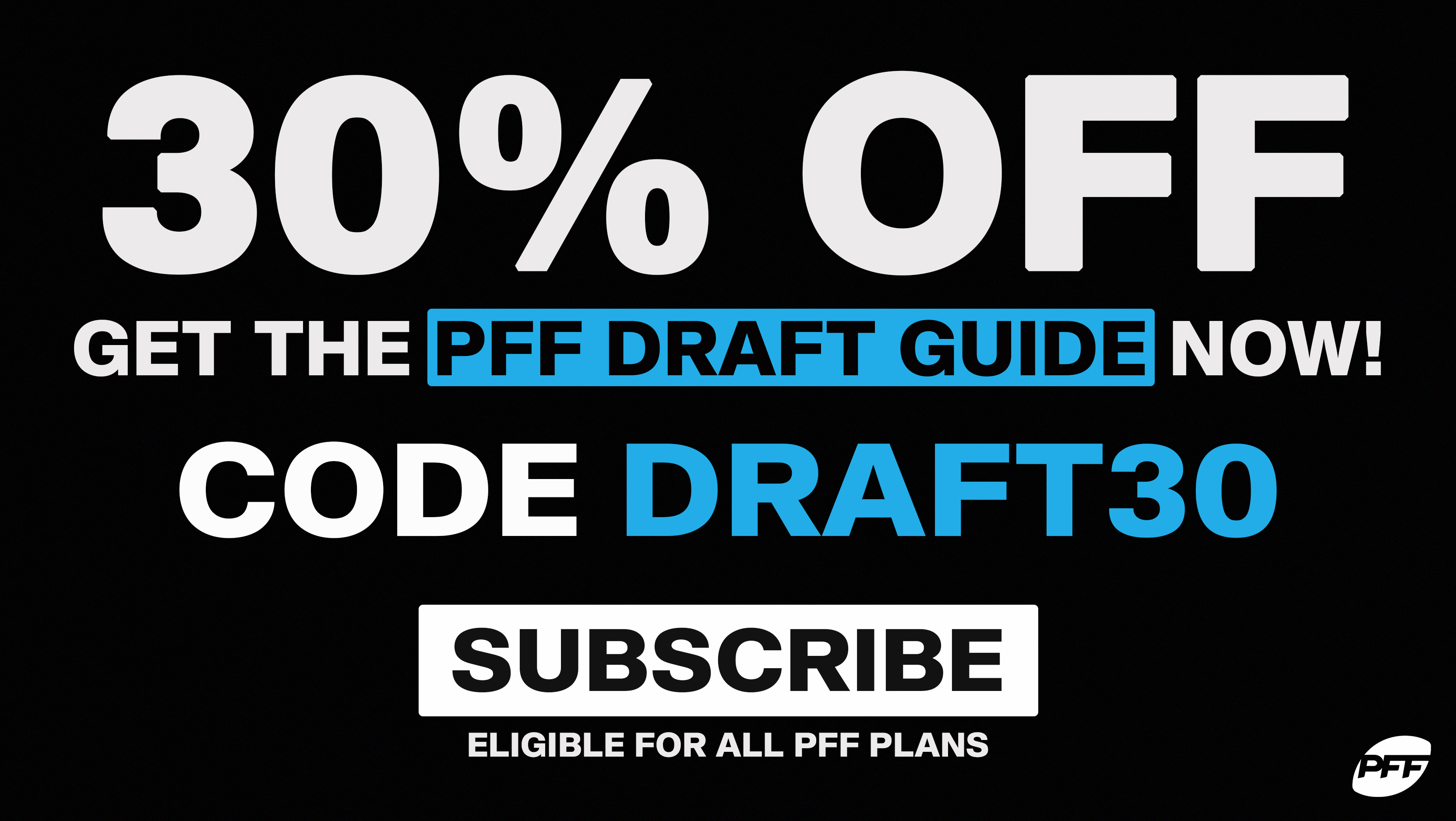 The good news for identifying the next crop of elite first-year performers is that we have some trends to keep in mind:
This knowledge, combined with more specific prospect information courtesy of PFF's 2021 NFL Draft Guide, is absolutely helpful when attempting to figure out which rookie to target in fantasy land. However: Each prospect's landing spot can turn everything on its head in a hurry. I love Justin Fields' potential to put up serious dual-threat numbers in 2021 but not if he's backing up Matt Ryan on the Falcons. Javonte Williams sure looks like a RB capable of making the most out of 200-plus touches; sure would be a shame if Jon Gruden decided to get extra funky this draft season.
What follows is a breakdown on the top five most fantasy-friendly landing spots by position in no particular order when judging expected 2021 production. Obviously things can change in a hurry via trade or front office blessing; these are simply the squads that look most ideal when projecting Year 1 fantasy goodness from a neutral rookie.
Quarterback
Best-case fantasy landing spots: Jaguars, Jets, 49ers, Broncos, Panthers
We know Trevor Lawrence and Zach Wilson will be the top two selections come Thursday. The former is my QB13 in best-ball land; I'm buying Lawrence on a team that *should* offer a fantasy-friendly combination of solid skill-position talent and bad defense. A similar argument could be made for Wilson; I'm just a little more hesitant in assuming his free-wheeling style will immediately translate into high-end NFL production. It's not wise to count someone out in fantasy land before we've seen them play an NFL snap, but Wilson is more of a low-end QB2 option for me at the moment.
The Broncos offer the clearest path to a starting job among the remaining teams. The Drew Lock experience features some highs (fifth in big-time throw rate in 2020!), but generally the flashes of brilliance are outweighed by extreme lows (35th in turnover-worthy play rate). He's objectively a worse QB than Jimmy Garoppolo, and Sam Darnold seems to have more support from his organization. Ultimately, each of the 49ers, Broncos and Panthers offer a mix of fun play-callers and borderline erotic groups of receivers. I believe it'd be best for Justin Fields' long-term career to land on the 49ers, although it wouldn't be unprecedented for Jimmy G to keep the starting job for a portion of 2021.
The reality that Lance is the most raw prospect of the group makes Fields the ideal fantasy option to land with one of the 49ers, Broncos or Panthers. I'd boost him ahead of Lawrence if any of these three scenarios come to fruition; the Ohio State talent offers more fantasy-friendly rushing ability and enough arm talent to soar higher in his debut season inside of any of these superior offenses.
giving kyle shanahan justin fields will break the leaguepic.twitter.com/pa0FN3uS5r

— Austin Gayle (@PFF_AustinGayle) March 26, 2021
Honorable Mention: Football Team, Eagles, Saints, Bears, Lions, Patriots, Dolphins, Falcons, Steelers, Texans
Ryan Fitzpatrick is the ultimate bridge QB and should have the job to himself for 2021; it's still hard to ignore the Trey Lance murmurs. … I'm not buying the "QB competition" talks in Philly, but this is an organization that proved in 2020 that they're not against continuing to add to the position with high-end draft capital. … Maybe the answer to Taysom vs. Jameis is no? … The entirety of the Bears coaching staff and front office have their backs against the wall; I'd imagine it's petrifying to have so much of your future riding on the performance of 33-year-old Andy Dalton. … The Lions claim that they like Jared Goff, but it'd hardly be surprising (or unwise) to scoop up a free-falling QB at No. 7. Just don't expect much good to come out of it inside of anyone's idea of a bottom-five offense. … Cam Newton has plenty of new weapons at his disposal in New England, although who could blame the organization for investing a Day 1 or Day 2 pick at the position. … Tua wasn't as bad as you thought he was as a rookie, but it's a stretch to say he's locked in as the team's long-term answer under center at this point. … Matt Ryan is aging and didn't play great in 2020; just realize he'd still in all likelihood hold off anybody the Falcons might take at No. 4 for at least most of the season. … Big Ben is back for seemingly one last dance; time for Pittsburgh to maybe (finally?) hit on a Day 2 pick at the position. … It's anyone's guess as to how the Deshaun Watson situation plays out; don't be surprised if the Texans want another arm to battle Tyrod Taylor in the event of disaster.
Running back
Best-case fantasy landing spots: Jets, Falcons, Steelers, 49ers, Bills
Each of the Jets, Falcons and Steelers simply don't offer anything resembling a locked-in starter at the moment.
2020 fourth-round pick La'Mical Perine tentatively sits atop the Jets' depth chart, although that could easily be a part of a committee also featuring Ty Johnson, Tevin Coleman and even Josh Adams. There are far worse spots for a rookie to land than this soft of a depth chart, particularly when we consider the potential upside attached to the lead back in an offense run by Shanahan disciple Mike LaFleur.
Mike Davis won

most-improved fantasy player

in 2020 and posted the position's second-highest rate of broken tackles per touch: I believe he can function as a productive three-down back if the Falcons ask. However, his two-year, $5.5 million contract doesn't exactly scream job security. There are more pressing needs elsewhere on the Falcons roster; just realize adding one of the big-three prospects to this offense at pick No. 35 would undoubtedly take a lot of fantasy analysts from six to midnight.

The Steelers leaned heavily on the likes of Le'Veon Bell (25.6 touches per start), DeAngelo Williams (22.8), James Conner (20.8), Jaylen Samuels (18) and Stevan Ridley (17) during the 2014-2018 seasons before having to deal with committees while Conner spent the bulk of the last two seasons banged up and/or ineffective. The favorite to select a RB on Day 1, I'd rank any of Najee Harris, Travis Etienne or Javonte Williams as a top-16 fantasy RB if they're wearing black and yellow this season.
There's also not a ton of competition in San Francisco, but it's hard to believe that Raheem Mostert and/or Jeff Wilson would completely hit the bench due to the presence of a rookie. The good news: Touches for RBs inside of the 49ers offense are more efficient than just about anywhere else. It'd be hard to deny that any sort of high-end RB addition to the 49ers would instantly be in the borderline RB2 conversation; I'm just not ready to count out Mostert balling out as part of this inevitable committee.
Best of Raheem Mostert in 2020 pic.twitter.com/de3rGd81Au

— Ian Hartitz (@Ihartitz) April 22, 2021
The Bills are a distant fifth on this list due to Josh Allen's 1) gunslinger mentality that rarely produces targets to RBs, and 2) penchant for scoring himself inside the 10-yard line. With that said: Zack Moss and Devin Singletary are hardly the sort of incumbent talents we'd need to worry about in the event that Buffalo chooses to splurge on the position early in the draft.
Could add to the room: Jaguars, Broncos, Patriots, Dolphins, Cardinals, Seahawks, Bengals, Buccaneers
I like James Robinson, you like James Robinson: we don't know if Urban Meyer and Darrell Bevell like James Robinson. … It's unclear if last year's DUI will result in missed time for Melvin Gordon; don't be surprised if competition is at least added to challenge No. 2 RB Mike Boone. … There's not enough volume in New England for any single RB to thrive as it is, but perhaps they feel the need to replace Rex Burkhead and further piss off fantasy managers. … Myles Gaskin proved capable of functioning as a solid three-down back last season; that might not be enough to prevent the Dolphins from using one of No. 18, No. 36, No. 50 or No. 81 on the position. … The Cardinals only have two picks before Round 5; it'd be irresponsible for them to add a luxury back to their already-fine RB room, but you could imagine. … Chris Carson is locked in as the Seahawks' bell-cow back; the question is whether Rashaad Penny is healthy enough to serve as the second option. … Will the Bengals finally give Joe Mixon the sort of three-down role that we know he's capable of filling? Or will a Gio Bernard replacement emerge and continue to siphon away pass-down work? … There are more than enough RBs in Tampa to run a high-end offense; just realize Bruce Arians has a love for the sort of three-down backs that his roster is unfortunately devoid of at the moment. 
Wide receiver
Best-case fantasy landing spots: Bengals, Lions, Jaguars, Texans, Titans 
Not every rookie WR can be A.J. Brown and simply ball the hell out without the benefit of a large workload. A closer look at every team's available targets reveals the following 11 teams have at least 150 leftover targets ahead of next season:
Lions (334)

Jaguars (240)

Titans (224)

Panthers (200)

Bengals (195)

Texans (194)

49ers (192)

Rams (176)

Saints (174)

Patriots (171)

Cardinals (156)
Obviously not all of these teams are still in the market for more pass-catchers; each of the Panthers, 49ers, Rams, Patriots and Cardinals either 1) return key players that were injured last season, and/or 2) already made serious investments in their WR and TE rooms in free agency.
This leaves us with our big five. A Joe Burrow and Ja'Marr Chase reunion wouldn't be all that bad for Tee Higgins and Tyler Boyd considering the potential for Chase to 1) simply inherit A.J. Green's 104 targets from last season, and 2) take more attention from opposing secondaries than what we saw from the 2020 version of AJG. The Lions are less appealing on an efficiency scale, although Jared Goff wasn't inept at enabling high-end fantasy WRs with the Rams, and there isn't a softer WR room in the league at the moment. The Titans want to be a run-first offense; it remains to be seen if their defense will allow them to do so. Who knows what this Texans offense will look like in 2020, and any rookie WRs could find themselves behind the organization's absurd free agent signing at the position. There's a bit less room on the Jaguars than the rest considering Laviska Shenault, D.J. Chark and Marvin Jones are expected to start in three-WR sets. 
Could add to the room: Eagles, Ravens, Jets, Falcons, 49ers, Patriots, Dolphins, Seahawks, Football Team, Saints, Bears, Panthers, Packers, Vikings, Colts, Chiefs, Raiders, Chargers, Giants
It'd be borderline malpractice to trot out Jalen Hurts with a three-WR set featuring Jalen Reagor, Travis Fulgham and Greg Ward. … The Ravens are unlikely to get Lamar Jackson a true No. 1 WR, but at least the addition of Sammy Watkins and a high-round rookie will help compared to what he's had to work with over the past three seasons. … Three-WR sets for the Jets and Falcons are cemented at the moment, although the former team's slot receiver is reportedly a cut candidate and the latter might simply be looking to improve overall depth. … Somebody needs to replace Kendrick Bourne as the 49ers' starting slot WR; just don't expect too many targets for whoever that is inside of this two-RB and two-TE heavy offense. … The Patriots figure to again be a run-first offense, but now the passing game will flow through the TE position. … Will Fuller and DeVante Parker are a great one-two punch; perhaps the Dolphins try to get Tua another high-end weapon to go all in. … Somebody needs to join D.K. Metcalf and Tyler Lockett in three-WR sets; just don't expect that person to see a consistent target share. … Ditto for the Football Team with Terry McLaurin and Curtis Samuel. … Tre'Quan Smith is a value at the moment as the No. 2 WR behind Michael Thomas, but another addition could complicate matters. … The Bears are tentatively expected to feature Allen Robinson and Darnell Mooney on the outside; the real question is who will (likely) replace Anthony Miller in the slot. … The Panthers have a bunch of available pass-game opportunities; just realize a lot of that will go to the team's returning target-hog RB. … One can dream about the Packers investing a first-round pick on a slot WR to give the prime Randall Cobb role to, but it'd be the first time they drafted either a first-round WR, RB or TE in the Aaron Rodgers era. … Indy is already muddled enough as it is, although the potential for this to be T.Y. Hilton's last hurrah could lead to another member joining the rotation. … The Vikings, Chiefs, Raiders, Giants and Chargers could add another body to their respective WR rooms; just don't expect that eventual player to garner any sort of dominant target share in offenses that already have locked-in options atop the passing tree. 
Tight end
Best-case fantasy landing spots: Falcons, Dolphins, Bengals, Cowboys, Titans
This is essentially "where do we want to see Kyle Pitts go." There really isn't a team around the league completely devoid of a viable starting TE. This applies to each of our finalists here, as the likes of Hayden Hurst, Mike Gesicki, C.J. Uzomah, Blake Jarwin and Anthony Firkser at a minimum can serve as the position's primary pass-down option as part of a committee on their respective squads. The only exception is probably Gesicki, as he's more of a slot receiver based on his down-to-down usage.
The real allure of these teams would be the reality that each boasts a potential high-scoring offense that could enable multiple fantasy-relevant receivers combined with a poor enough defense to keep the shootouts rolling.
Fantasy's top TE options are Travis Kelce, Darren Waller, George Kittle and T.J. Hockenson. Each is projected to function as their passing game's No. 1 receiver. This scenario is unlikely for Pitts (and any other rookie pass-catcher) in 2021, even if he's one of the best prospects the position has ever seen.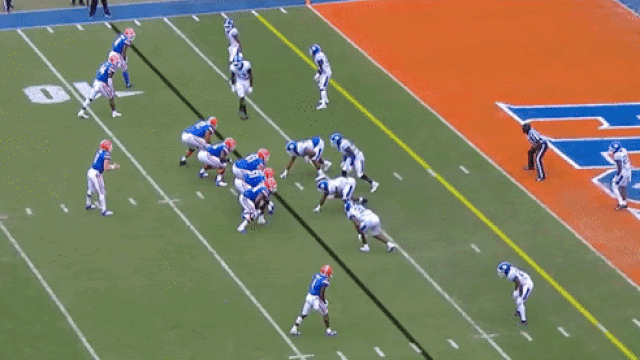 Fingers crossed that we at least get to see Pitts paired with a high-end QB in an offense with triple-digit targets to spare.
Could add to the room: Texans, Jets, Jaguars, Steelers, Cardinals, Bills, Colts
Right now Jordan Akins is the man in Houston; we'll see if they try to find a suitable replacement for Darren Fells. … My standom for Chris Herndon knows no limit; it'd still hardly be surprising if this new coaching staff wants to invest in someone else. … Credit to Tyler Eifert for staying healthy in 2020; that doesn't mean he's someone you can expect 17 full games from. … Eric Ebron is looking like the undisputed TE1 in Pittsburgh after Vance McDonald retired. … The Cardinals could look to add another receiving-first TE after Dan Arnold went to the Panthers; just don't expect that player to have anything resembling a consistent role in the offense. … Dawson Knox usually flashes as a receiver or blocker at least once per game, but the Bills might want a more consistent complement. … The decision to not re-sign Trey Burton (for now) still leaves the Colts with Mo Alie-Cox and Jack Doyle, but noted TE whisperers Frank Reich and Carson Wentz could always want a true high-end option at the position.