The Jaguars became another team to pair their young QB with a former teammate, reuniting No. 1 overall pick Trevor Lawrence with Clemson RB Travis Etienne. Using the No. 25 pick on a RB isn't a good idea in real life, but in fantasy it tends to indicate a large workload is on the way. The likes of James Robinson and even Carlos Hyde could still have a role in Jacksonville; just realize Etienne is fully expected to see the lion's share of touches.
View PFF's 2021 NFL Draft position rankings:
QB | RB | WR | TE | T | iOL | DI | EDGE | LB | CB | S
What follows is a breakdown on what made Etienne a first-round caliber prospect, whether or not he fits the mold of a great fantasy football RB, as well as what we should expect from him and this Jaguars offense in 2021.
Etienne is fast fast
PFF stated the following about Etienne in our 2021 NFL Draft Guide:
"While it's a tad concerning that Etienne's efficiency took a massive hit — Clemson's offensive line faltered this season after losing four starters to the NFL — what Etienne did as a receiver likely turned some heads. He was a downfield passing weapon in the Clemson attack after being an afterthought in that regard early in his career. His 588 receiving yards were the most of any back in the country this year. His explosiveness and tackle-breaking ability didn't go away; rather, Etienne only saw 1.8 yards before contact this season compared to 2.8 in 2019 and 3.8 in 2018."
There have been instances of Etienne looking absolutely unstoppable with the ball in his hands. As the kids say: Speed kills, and Etienne has more of it than any other RB in this class.
Well, I was watching Rashad Weaver cut-ups until Travis Etienne turned it into an Etienne highlight reel.

Wild play. Only a handful of football players at any level have this kind of speed. pic.twitter.com/w8U6IcX4Ji

— Trevor Sikkema (@TampaBayTre) March 8, 2021
I was concerned with Etienne's drop-off in overall explosiveness last season, although the concerns surrounding the team's offensive line, combined with covid-induced issues, makes me willing to give him a pass in a situation expected to afford plenty of touches. That does appear to be where Etienne has landed, as coach Urban Meyer indicated his new RB's dual-threat and big-play ability were the key selling points in making the move.
It's fair for Jaguars fans to not be thrilled about this pick. Nobody looked at the 2020 Jaguars and thought, "If they could only add another RB to the equation." With that said: Etienne has the look of a very solid rookie back.
Etienne should see plenty of work in 2021
RB has nearly twice as many top-24 rookie performers (30) than WR (16) over the past decade. We know the shelf life for the position is shorter than most, so it makes sense that teams look to get the most out of their investments from jump street. Note that we don't see the same sort of reliance on Round 1 at RB compared to QB or WR. There have been more Day 2 (14) backs to ball out as a rookie than Day 1 (10). Overall, 80% of top-performing rookie backs were selected inside of the top three rounds since 2010.
We have more exceptions to the high-round rule at RB than elsewhere, although each instance featured a fairly clear route to the top of the depth chart for the victorious rookie. Opportunity typically trumps talent in fantasy land, people. Every outlier situation featured either the 1) team's incumbent RB leaving during the offseason, and/or 2) offense being run by a Shanahan.
The idea that RBs don't matter is true in the sense that there are far more than 32 high-end backs on planet Earth. Still, RBs still need to matter enough to win their team's respective job, and players that have received the backing from the front office via draft capital have typically performed better as rookies than those that have had to fight to even keep a roster spot. For every Phillip Lindsay, there have been dozens of unheralded backs with rookie seasons that more closely resembled Darwin Thompson or Justice Hill.
Add it all together and …
Etienne deserves to be fired up as a low-end RB2 immediately
It remains to be seen how Etienne will perform as a rusher behind the Jaguars' meh offensive line. Still, opportunity tends to be everything in fantasy land, particularly when it comes to targets. We saw Etienne make a major leap as a receiver in 2020; here's to hoping this aspect of his game is utilized with regularity in 2021 and beyond.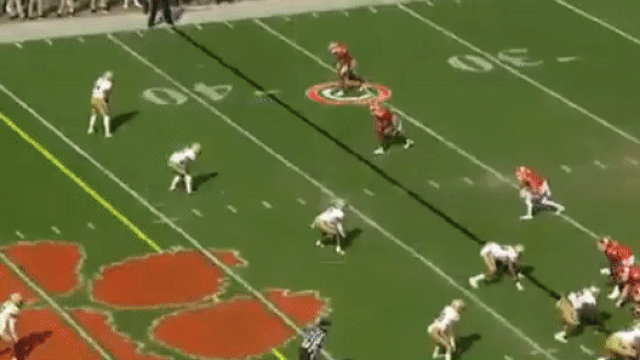 This receiving ability is the biggest selling point for Etienne. Does it make sense that many versions of fantasy football reward a full point for simply catching the ball? No, but that's the game we play. RBs that catch passes have regularly dominated the fantasy game over the years; Etienne has that ability in spades.
James Robinson might as well be referred to as James RB3son moving forward. I'm ranking Etienne behind fellow first-round RB Najee Harris due to the later back having a clearer path to an immediate workhorse role, but don't be afraid to take Etienne ahead of more cemented committee backs like Raheem Mostert and David Montgomery. 
Etienne rests as my RB21 at the moment; I believe Meyer referring to Robinson and Hyde as his "one-two punch" is nothing more than offseason coach speak. Maybe things are a bit more crowded than we'd like to start; just realize this could lead to the usual rookie outcome of Etienne's best games (with the largest workloads) coming when it matters in the fantasy playoffs.