Dual-threat players are a bit of a cheat code in the fantasy football world. Quarterbacks that run, running backs that catch and even the occasional wide receiver (or tight end) rush attempt provides a newfound avenue to production that the majority of players at each position don't have.
The wild part about this ability for QBs is the reality that they don't even need to run that much. Even with a relatively modest threshold of 80 rush attempts in a year (five per game) we can see that investing in mobile QBs has been good for fantasy business.
37 QBs have racked up at least 80 rush attempts in a season since 2010.

The average positional rank in final fantasy finish: 9.4.

Fantasy points per game among all QBs with at least eight starts: 9.3.

50% of fantasy's overall QB1s have had at least 80 rush attempts over the past decade.

24 of 37 (65%) qualified dual-threat QBs finished as a top-12 overall scorer at the position.

25 of 37 (68%) qualified run-heavy signal-callers finished as a top-12 QB in fantasy points per game.

The only QBs from this group that failed to supply at least top-20 production were 2015 Alex Smith (pre-Tyreek Hill), 2013 Terrelle Pryor (numbers flawed a bit from playing but not starting two games) and 2018 Lamar Jackson (same thing except more extreme with seven starts vs. 16 games played).
Obviously fantasy football managers weren't too mad about having Patrick Mahomes or Aaron Rodgers under center in 2020; having a rushing floor isn't the be-all and end-all for the position. Still, it certainly helps matters, especially when we can identify low-ADP first-year talents at the position who might offer this hidden upside.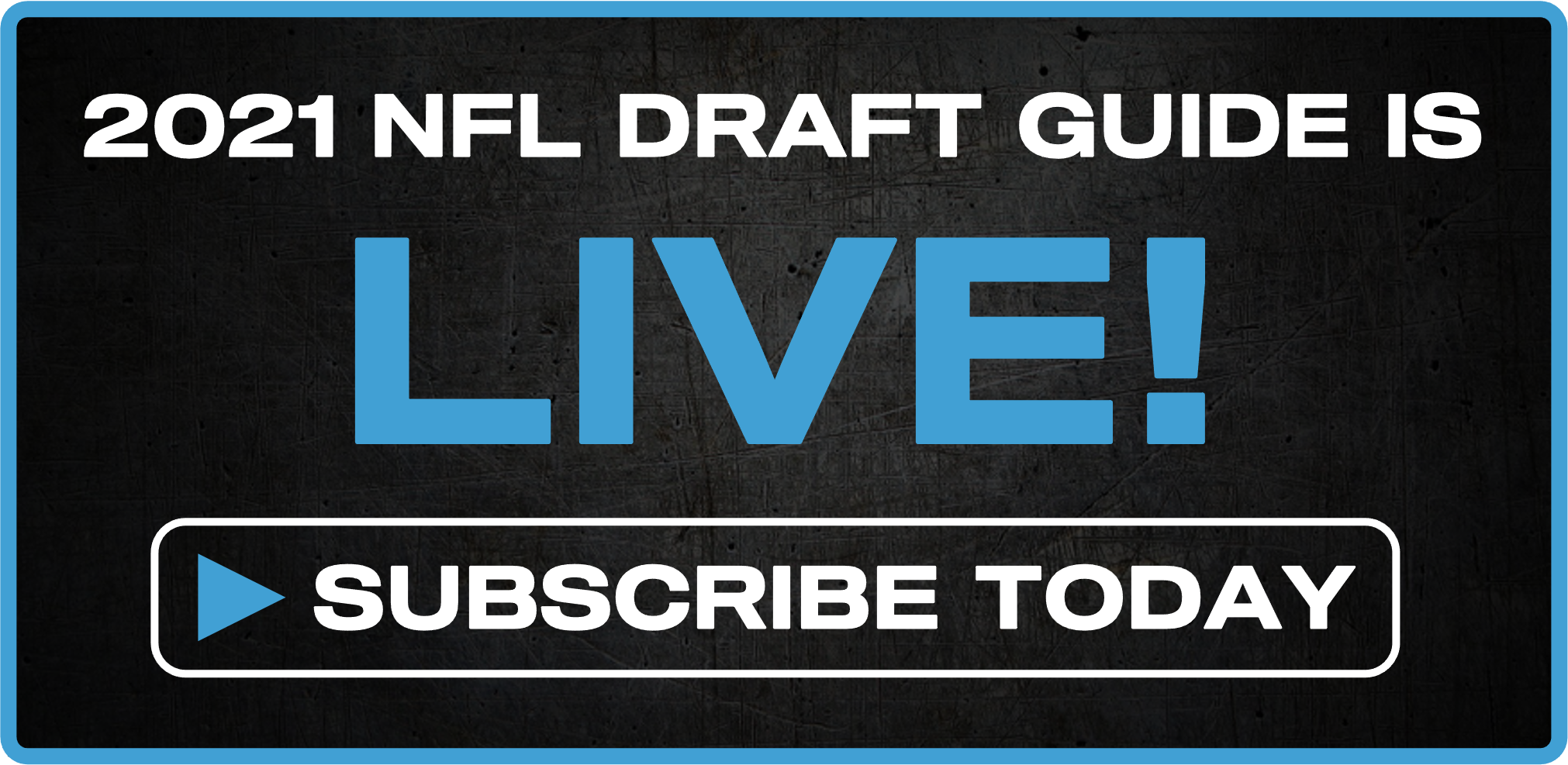 Seven rookie QBs have finished as a top-12 fantasy signal-caller since 2010. The two common characteristics for everyone except Justin Herbert were 1) a demonstrated rushing floor, and 2) the opportunity to start in Week 1. Note that the Chargers' wildly successful rookie boasted enough athleticism to function as a more productive rusher at the NFL level and found himself under center for good in Week 2.
The seven rookie QB1s since 2010 and their rushing yards per game:
What follows is a ranking of the 2021 draft's QBs based on their potential to rack up rushing production. This is not an objective ranking on athleticism or speed; we're looking for guys who have combined their natural talents with a consistent willingness to attack defenses with their legs. We'll just focus on signal-callers inside of the top 105 on PFF's 2021 NFL Draft Big Board in an effort to zero in on those who will be drafted inside the first three rounds since it's incredibly rare, albeit not impossible, for Day 3 rookies and beyond to earn a starting job under center by Week 1.
We only saw Lance once in 2020, and the 6-foot-4, 224-pound dual-threat talent turned his 15 carries into 143 yards with a pair of scores. It's been rare to see Lance not instill his will on the ground against defenses of all shapes and sizes over the years, as he racked up at least 40 yards and/or a score in all but one of his 19 games over the past three seasons.
Lance's average of 73 yards per game over his final two seasons with the Bisons reflected the reality that he's more of a run-first QB at this point in his career. This might lead to a redshirt year of sorts in the NFL in order to better develop his passing ability, but we're looking at an instant QB1 contender in fantasy land once he obtains a starting job.
It's rare to find a QB like Lance who seems to actually enjoy seeking out contact. PFF's pro comparison for Lance is "Taysom Hill with legit arm talent." The million-dollar question is whether or not Lance can look as good against NFL competition as he did against his FCS foes; either way, his demonstrated tackle-breaking ability and willingness to rack up rush attempts gives him the potential to be a fantasy darling for however long he can hold on to a starting job.
Fields would be No. 1 on this list from a raw athletic perspective. His blistering 4.44-second 40-yard dash at the Buckeyes' pro day is backed up by the film.
Justin Fields ran a 4.51 in high school and chased down his own RB last year. Today was no flukepic.twitter.com/yqPq08GcEw

— Mike Renner (@PFF_Mike) March 30, 2021
Fields is a problem when he keeps the ball himself. There's a smoothness to his ability in maneuvering through messy pockets that is constantly on display, and he's also the owner of one of the prettier spin moves you'll see.
The difference in rushing usage between Fields and Lance isn't all that extreme. The former averaged 9.9 carries per game during his final two years at Ohio State, while the latter came in at 10.8. Still, Fields looks to throw first a bit more often. After all, Fields is PFF's highest-graded QB on throws past the first read since 2019 (min. 60 attempts).
The only QB on our list with a designed run rate under 50%, Fields is capable of causing plenty of issues for defenses with his legs whether or not the play design calls for it. Only Cam Newton, Lamar Jackson, Kyler Murray, Mike Vick, Tim Tebow and Robert Griffin have racked up at least 120 carries in a season since 2000; *both* Fields and Lance would be contenders to join this high-usage rushing club with a full season of action.
Mond doesn't have the same sort of size as Lance or Fields, but he's still hardly a slouch at 6-foot-3 and 211 pounds. Throw in a 4.59-second 40-yard dash, and it's easy to picture Mond taking advantage of NFL defenses that fail to respect his ability on the ground.
The allure of Mond on this list is more so due to his willingness to take off and run as opposed to a demonstrated high-level of success when doing so. I'm open to an argument about Trevor Lawrence or Zach Wilson being superior ball carriers than Mond, but at the end of the day the former Aggies QB racked up at least 25 rushing yards in 61% of his career games compared to 43% and 40% for the latter two signal-callers.
Mond ran less than ever in 2020 and doesn't stand out as the sort of QB to actively force the issue with his legs. Perhaps he continues to develop as a passer and carves out a role somewhere at the next level, but he's not someone I'll be actively looking to start in fantasy land due to the expectation of a high rushing floor.
Lawrence is clearly capable of achieving great things as a rusher when asked.
The last time Ohio State and Clemson played in the CFP, Trevor Lawrence delivered this clutch TD run ???? @Trevorlawrencee @ClemsonFB

(via @espn)pic.twitter.com/qs0DgGvcrz

— The Checkdown (@thecheckdown) January 2, 2021
Four of Lawrence's six career games with double-digit rush attempts came in the college football playoff; he'll attack you on the ground if the situation calls for it. Obviously, Jaguars head coach Urban Meyer isn't a stranger to handing his QB a large rushing workload; I'm just bearish on the idea that we see the prodigious Clemson talent asked to do too much in the way of designed rush attempts.
And that's fine! Lawrence averaged a steady 24 rushing yards per game at Clemson, fitting in with the bottom-tier of past rookie fantasy QB1s. The fact that he can move around is what really matters. We shouldn't expect Lawrence to compete for the position's rushing crown, but there should also be a decent-enough weekly floor at least in 2021 on a team expected to see plenty of negative game scripts.
Wilson managed to find the end zone on 10 separate occasions as a rusher during his final season at Brigham Young. Picking up yards on the ground has never been a focal point of Wilson's game: He finished with fewer than 50 rushing yards in all but four of his 30 career collegiate contests. Rather, Wilson uses his perfectly fine athleticism to free himself in the pocket before tapping into his bazooka of a right arm.
What the hell is this gypsy magicpic.twitter.com/EVc4WxNC60

— Ian Hartitz (@Ihartitz) April 7, 2021
Wilson struggled to stay healthy during the 2018-2019 seasons and then thrived against an admittedly awful schedule in 2020. We've seen the likes of Josh Allen and Justin Herbert run more than ever upon becoming professionals; I'm hesitant to think Wilson will be as willing to put his body on the line week in and week out as a pure rusher.
It's in all likelihood far better for Wilson's future that he utilizes his legs to avoid pressure and throw rather than to take off and run. Unfortunately, this sort of behavior isn't rewarded in fantasy land, and we need to recognize that Wilson could struggle to put up immediate high-end production on a likely-porous Jets offense.
It's great that Wilson isn't a statue in the pocket, and his 21.4 rushing yards per game in college were far from bad. Just realize we have to make some larger leaps in projecting how Wilson's athletic ability will translate against stiffer competition than we do with Fields, Lawrence or Mond.
Our final three QBs will never be confused as dual-threat talents:
Mills at least seems to realize that scrambling is in his potential range of outcomes during the course of any given play. Still, he rarely picked up anything more than whatever the defense was absolutely willing to give him. Don't expect to see more from the Stanford QB on the ground than the occasional whoop-there-it-is sneaky bootleg out of the blue.

Jones measured out at 6-foot-3 and 217 pounds while running a 4.68-second 40-yard dash at Alabama's pro day. Perhaps he'll be forced to tap into this part of his game more at the pro level when his typical play doesn't consist of a clean pocket and open receivers everywhere. I wouldn't count on it; Jones surpassed 10 rushing yards on three separate occasions in 30 games and rarely decides to even venture out of the pocket.

Trask was forced to evade pressure a bit more often than Jones, although his 5.1-second 40-yard dash reflects the reality that not much good happened when the former Gators QB decided to take off and run it himself. I'd give Trask the slight lean over Jones when only comparing the 2020 film, but decided to go with the Bama talent based on his more impressive pro day numbers.